IMPORTANT NOTE: DO NOT PURCHASE THIS IF YOU ARE NOT A CERTIFIED EXPERT PSYCHOLOGICAL STAGER™ AS YOU ARE NOT AUTHORIZED TO USE THIS PRESENTATION!
Has the overwhelming task of creating a quality presentation kept you from taking the important step of promoting your staging services at brokerages? Relationships with a few high-producing agents who understand what you do will put a steady stream of money in your pocket and grow your business.
This powerpoint was developed exclusively for EPS™ stagers. It's not just a generic "why you should stage your listings" presentation. Not only does it educate real estate agents about staging is essential in today's market, but specifically why YOUR skills are superior to other stagers in the area. You will effectively be able to demonstrate that not all staging and not all stagers are alike, and why YOUR WORK will make their properties stand out among the rest.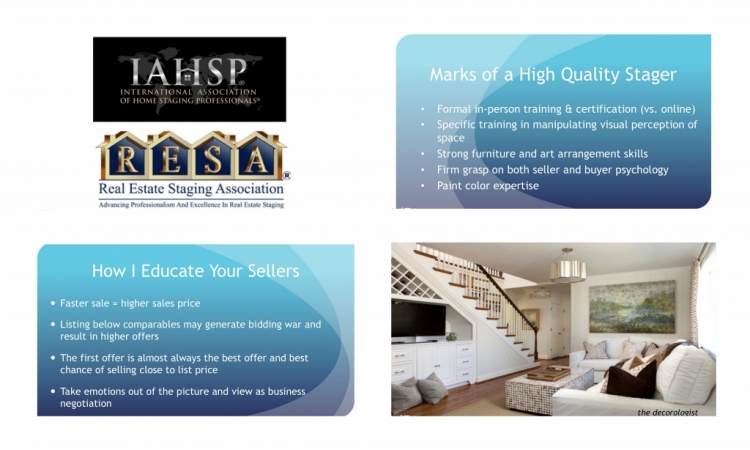 The presentation covers:
The Difference Between Staging and Decorating  (and why their wife or neighbor shouldn't "stage" their listings)
Recent and Relevant Staging Stats
The Wide Range of Quality Among Staging Professionals (and why they should hire YOU)
The Marks of a High Quality Stager (some things they probably never considered)
How a Good Stager-Agent Relationship Improves Seller Compliance (and makes their job easier)
How an EPS™ Stager Can Send Agents Business
How Your Paint Color Training Transforms Properties (and give them a huge advantage)
And so much more!
This powerpoint contains 45 slides and a complete script for you to follow (you will want to print out the slides and notes to read from as you present). Before and after photos* are included to illustrate the kind of transformations you can produce because of your EPS™ training in first impressions, emotional attachments, memory points, paint color, and furniture arrangement. Depending on participation and questions from your audience, this presentation takes 30-45 minutes to present. It is completely editable – you can change the photos to your own, alter the script to match your voice, or edit the length to fit your needs. The only thing you MUST do is change out the first and last slide with your personal information.
*Do not remove watermarks on photos that belong to The Decorologist, and do not claim them as your own work.