——– NOW AVAILABLE ——–
Online Furniture Arrangement Advanced Course from The Decorologist®
The Decorologist's video course will teach you how to combine both beauty and function to create just the right arrangement for your furnishings and art, how to choose the best fabrics and upholstery to work with your existing pieces, and how to design perfect vignettes for every room in your home.
       You will learn:
How to create perfect furniture arrangements
How to group art and accessories in your space
How to use what you have to instantly upgrade your look
How to choose upholstery & fabric combinations
"I loved it! Kristie's advice is so practical, it will work for anyone, for any room, for any style!"

– Mary Ann, Workshop participant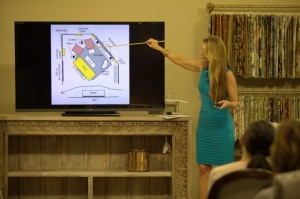 Purchase the entire course and get immediate access to almost two hours of content that you can experience at your own pace, on your favorite device, in any order you choose. Repeat individual modules or the entire course as many times as you want! You'll take away something new each time.
What's included:
Session 1 | Furniture Arranging Concepts & Living Rooms
In this 57-minute video, The Decorologist tells you how to decorate in the right order,  find your focal point, and build your furniture arrangement to create architectural harmony in every space.  You will learn her step-by-step method of creating the perfect living room arrangement, even with the most challenging of floorplans – including those with corner fireplaces, multiple openings, and odd angles.
Session 2 | Furniture Arranging in Other Spaces
The Decorologist covers how to use her method of architectural harmony to arrange furniture in dining rooms and bedrooms in this information-packed 11-minute video.
Session 3 | Art Arrangement
The Decorologist teaches you how to determine what size and shape of art to hang on each and every wall, as well as how to create beautiful and cohesive art groupings in this 14-minute video.
Session 4 | Arranging Accessories
In this 9-minute session, you'll learn The Decorologist's secrets for creating perfect pillowscapes, choosing the right lamps for your space, and putting together amazing tablescapes with your accessories.
Session 5 | Choosing Upholstery & Fabrics
In this 19-minute session, you'll learn how to choose the right upholstery and fabric for your home.  The Decorologist will tell you exactly what you need to bring with you shopping to make no-fail choices that you will love, as well as show you how to mix (not match) different fabrics.  You'll also learn about the kinds of fabrics not only look stylish, but that are the best bets for busy families with children and pets.
The entire advanced course (over 110 minutes), is available for immediate online access.