Psychological Color Expert Course
Professional certification training for designers, home stagers, decorators, and novice color lovers alike! Learn the system that will teach you how to create beautiful and harmonious color palettes every time and make you a Psychological Color Expert.  In-depth training from The Decorologist® includes the exact colors and color combinations you need (in both Sherwin-Williams and Benjamin Moore) to get amazing results.
Description
What You'll Receive with Psychological Color Expert Training
Get the best interior paint color training by a leader in the field and become a Psychological Color Expert™!
Deep dive into the world of interior paint color. Learn how to systematically create perfect paint color palettes for any and every home, with Decorologist-approved colors, color combinations, and color placement that are only available in this course.
You will receive:
Over 11 hours of video instruction by Kristie Barnett, The Decorologist® (one year of access)
Lots of photographic examples and before/afters – all actual paint specifications by Kristie Barnett
A spiral bound, full color Psychological Color Expert™ Manual filled with Lesson Notes and 20 Go-To Guides
Curated lists of Decorologist-approved colors for specific applications
Perfect Paint Palette™ kit with 19 SmallWall® boards in Sherwin-Williams® paint – each w/detailed printed instructions on backs
100+ labeled photos of Kristie's paint colors and paint color combinations
Benjamin Moore® Designer Kit & fan decks
Sherwin-Williams® Designer Kit & fan decks
Psychological Color Expert™ certificate, press release, and official logo
Psychological Color Expert™ Paint Color Schedule
and so much more!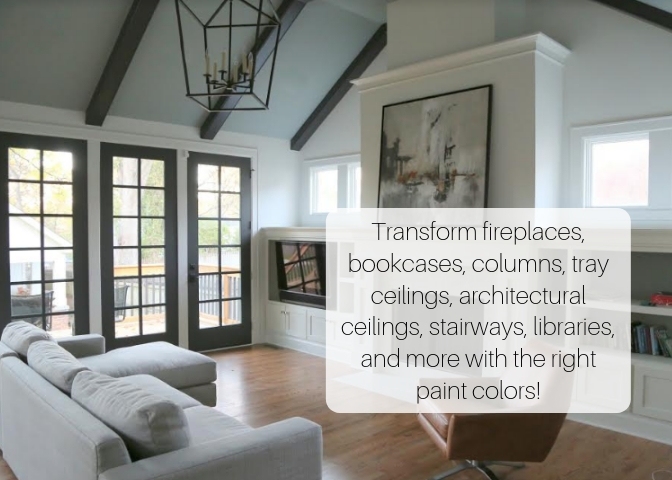 Lesson 1 The Psychology & Science of Color 
Paint color makes the biggest visual impact and creates a first impression that no amount of decorating can match. In this lesson, we will explore studies that reveal facts about color perception, universal perceptions of color, and the psychology of color.  You will learn the relevant color vocabulary needed in the color consulting business and begin to explore the concept of hue families and undertones.
Lesson 2 Working with Paint Color
Specifying paint colors isn't as easy as picking pretty paint colors out of a fan deck. In this lesson, you will learn how to sample and test new paint colors, address natural and artificial lighting challenges, and avoid all-too-common mistakes when specifying colors. You'll also learn which paint sheens and products are best for the paint colors you specify.
Lesson 3 Psychological Color Palette Process
In this lesson, we discuss where to start when creating paint color palettes and take you through the process of choosing just the right Anchor Neutral™ for a given home. You'll then learn how to add in Grounding Basics™, Memory Tones™, and Accent Shades™.
Lesson 4 Color & Placement: Walls & Trim
Color placement is as important as the specific paint colors that you choose. In the first of the three Color Placement lessons, we discuss color trends and color placement trends. We cover color and placement for walls, trim, columns, below chair rails, for interior doors, windows, and staircases.
Lesson 5 Color & Placement – Ceilings
There are many different kinds of ceilings and issues with ceilings, and you'll soon be an expert in how to paint them. We discuss when to use white on the ceiling and when to use color, how to deal with architectural detail on ceilings, tray ceilings, vaulted ceilings, and slanted ceilings. You'll learn how to create both subtle and dramatic effects on ceilings and alter the appearance of height in a space. You'll learn how crown molding might impact your ceiling color decision, how to deal with textured ceilings, and more.
Lesson 6 Color & Placement: Everything Else
In this lesson, we talk about painting bookcases, using paint color to downplay the television, how to update fireplaces with paint, and all on-trend options for painting kitchen and bathroom cabinetry. Kitchens can be the most challenging rooms for choosing paint colors, so we spend time learning the best paint colors to go with any stained wood cabinetry. And finally, we talk about choosing paint colors for historic homes and why your choices may be different than those you make in modern homes.
Lesson 7 Perfect Paint Palettes
This lesson is about using your new-found knowledge to practically and systematically create unbelievably transformative paint color palettes for your clients. It's time to delve into the Perfect Paint Palette™ kit and learn how to use it efficiently. You will see examples of paint color palettes created from the kit, and then you will practice choosing better paint colors and color placement for homes with dated color.
Lesson 8 Coding Your Paint Fan Decks
Coding your fan deck will give you cues and help you remember which colors work best in different situations.  This lesson will show you step-by-step how to code your paint fan decks with Decorologist-approved colors to make it easy to identify the best paint color options for your clients – and help you avoid making embarrassing paint color mistakes.
Lesson 9 The Business of Color Consulting
Now that you are a color expert, you will learn exactly what you need to bring to a paint color consultation, how to structure your consultation, how to engage your client and maximize your time with them, and how to receive payment.  Pricing, scheduling, logistics, and marketing your services will be covered. You will also learn how to complete a Paint Color Schedule for clients and painters.
Need to Know MORE Before Deciding on the Psychological Color Expert Course?
Click here for lots more information: