Many of you know that my life was recently changed for the better after working with my professional organizer, Shelley. She found a way for me to convert my cramped master-closet-for-two into my own personal wonderland!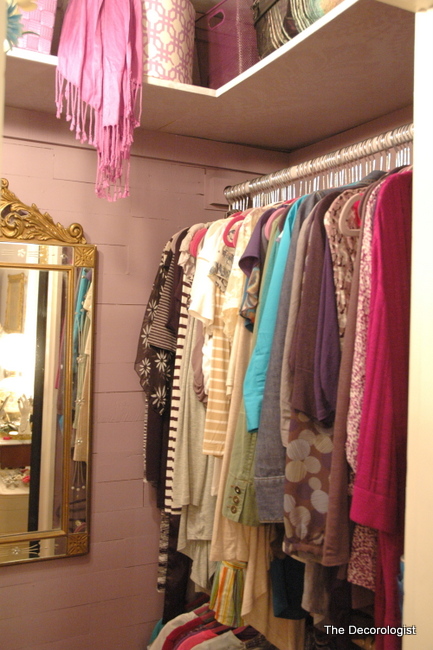 An Organized Closet
In order to make this happen, we moved an armoire from another room into my bedroom, painted it to match the other that was already in the room, then promptly moved Mr. Man into his "new" personal closet.  There is a matching armoire on the other side of the bed that holds my coats and dresses, as well as our bed linens.   You can see that transformation of this room here.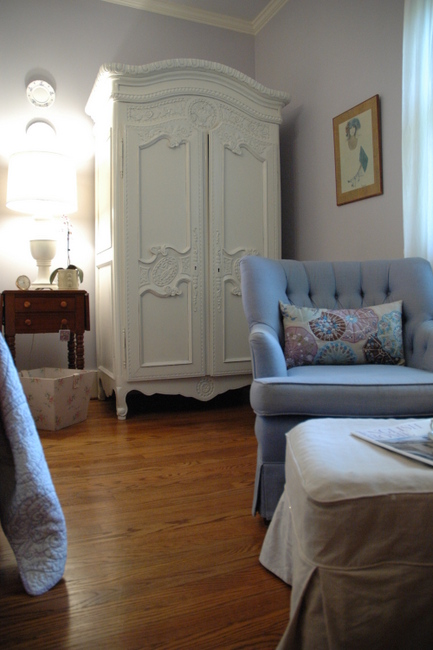 I was inspired by this gorgeous wallpaper, and definitely wanted to use something like it in the closet.  However, it was cedar-lined and I decided not to go to the expense of ripping it out and drywalling it.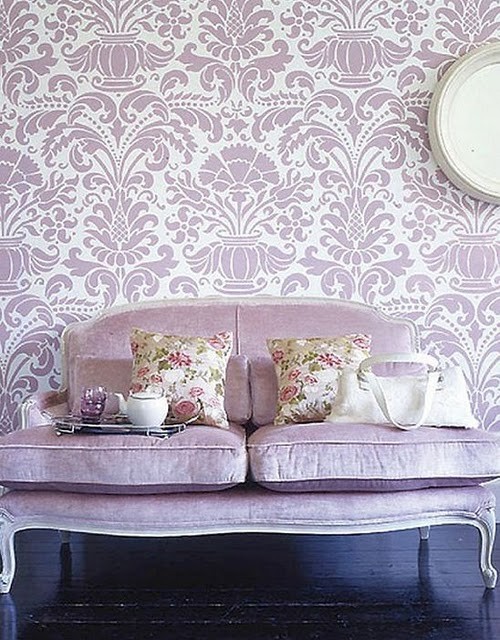 I don't have any true "before" photos of when my husband shared the closet and it was packed full.  I suppose I really didn't imagine there was much we could do to improve it's appearance at the time, so I gave no thought to taking a "before" shot!   Here's a photo I took after Mr. Man moved out and I had already pulled out some crazy mismatched storage pieces.  I had installed the pegboard a few years ago and used it to pile belts, scarves, and hats on – it was horrible.  Notice the water stains on the old cedar and the ugly gray pipe.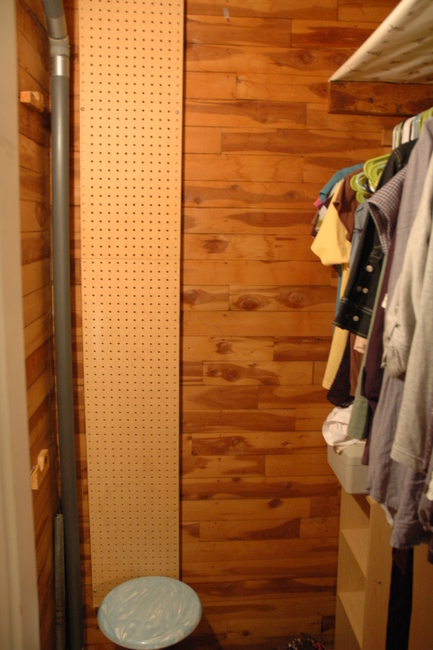 Ugly Closet Before
My side of the closet with a single rod and junky organizational units below. At this point, my professional organizer helped me go through my belongings and PURGE. I think I got rid of at least 60% of my clothes! A good organizer understands that many of us need a beautiful, personalized space in order for us to care enough about keeping it organized. There's not a lot to care about here: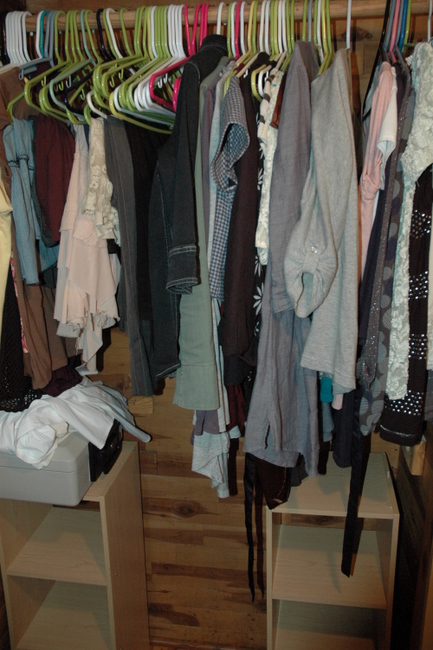 But now that has completely changed!  Putting away my clothes has become a JOY rather than a CHORE.   Ready for the "afters" of my quirky, highly-personalized, and very organized new closet?   Here's the entry – I can actually walk into the closet and get completely dressed without bumping into things!   The cedar walls were painted in Annie Sloan Chalk Paint, so no sanding or priming was required!  I hung a gilt mirror so I can check myself out after I'm dressed, and we painted a stool the same color as the walls that I can stand on to reach the highest shelves.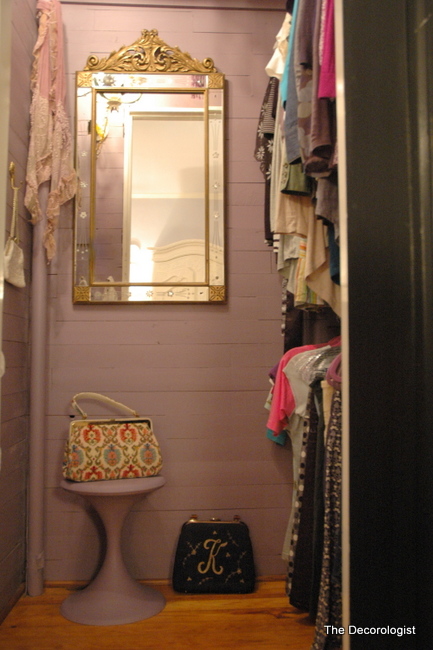 This is the right side of the closet where all my hanging clothes hang.  We lifted the upper rod and added a lower rod so that the hanging space is virtually doubled.  I'm using all velvet hangers in shades of lavender and pink, except for the clear hangers with clips that I'm using for skirts below.  No more wire coat hangers!  Or plastic ones, for that matter.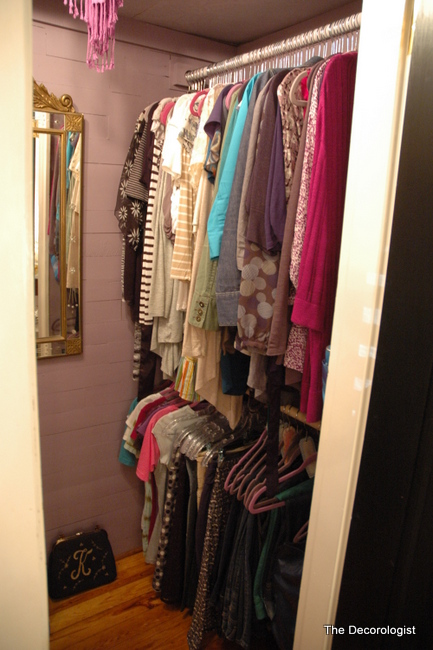 My tops are organized by color – not in true Roy G. Biv order, but in a way that makes sense to me.  Now I know exactly where to find any shirt in an instant.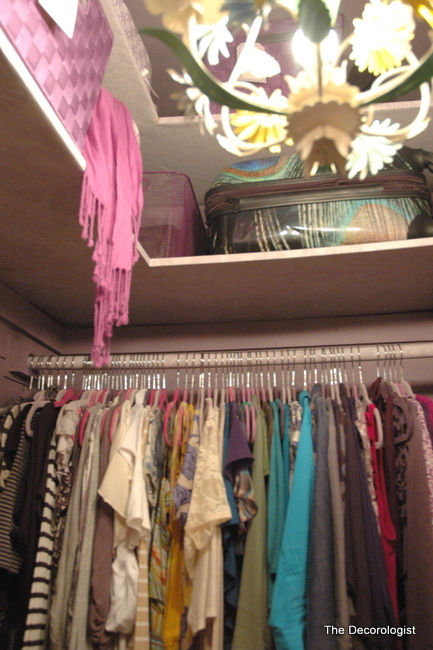 I bought beautiful wallpaper in a lavender damask from Kirkland Floor to Ceiling in Franklin, TN and used spray mount to apply it to all the wood shelves.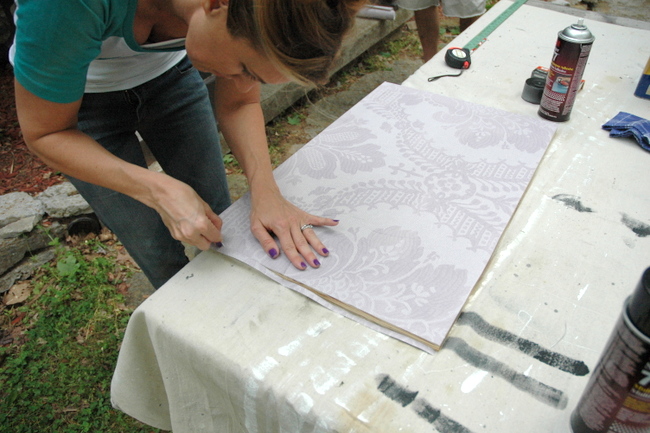 We installed some L-shaped shelving in the top of the closet to better-use some previously wasted space.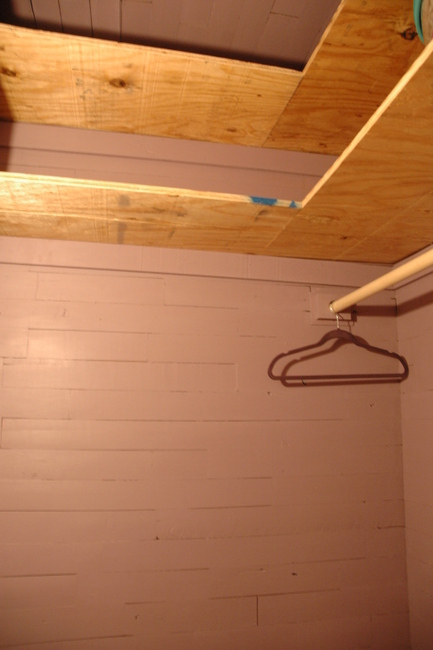 You can see the wallpapered shelves below.  We hung a vintage tole chandelier on a chain – there used to be a bare bulb that screwed into the wall.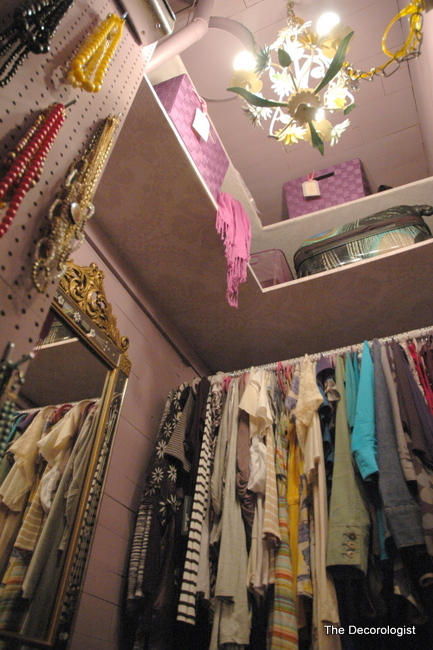 Here is the other side of the closet before the makeover.  A pair of rods had previously hung in front of these shelves, so the shelf space had only been useful for long-term storage.  This was formerly Mr. Man's side of the closet.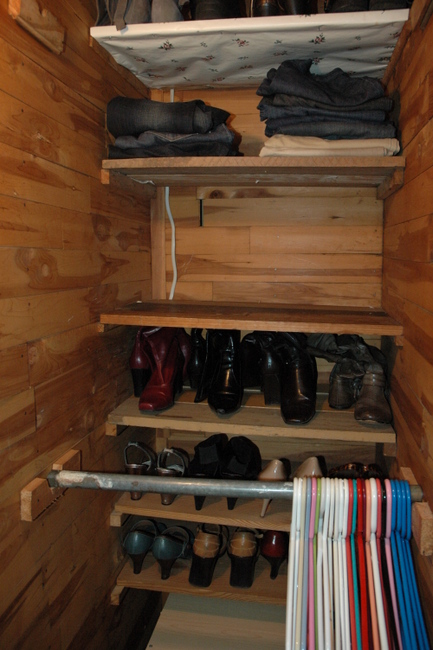 How things have changed!  See how happy Mr. Man was to install my painted pegboard for hanging my jewelry?  There's nothing hotter than a good man at work!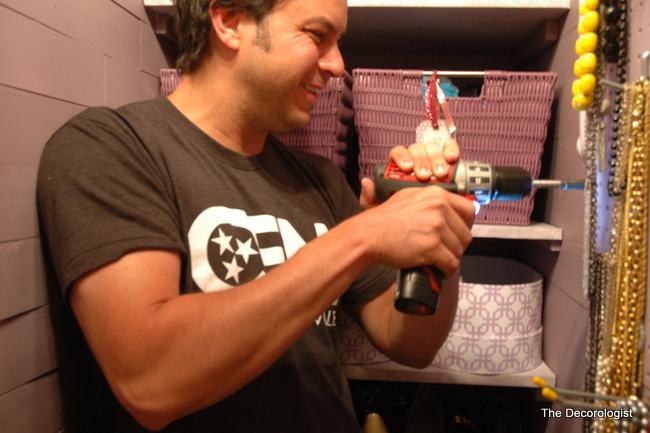 Mr. Man Hard at Work
I love all the new baskets and boxes we found to organize my stuff!  Most of this came from HomeGoods.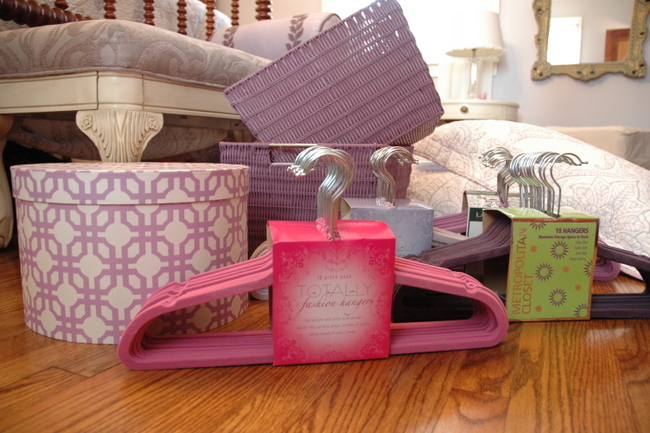 Shelly helped me determine what exactly I needed based on what I already had: scarves, legwear, purses, swimsuits, belts, etc. We even labeled them with cute tags from Michaels.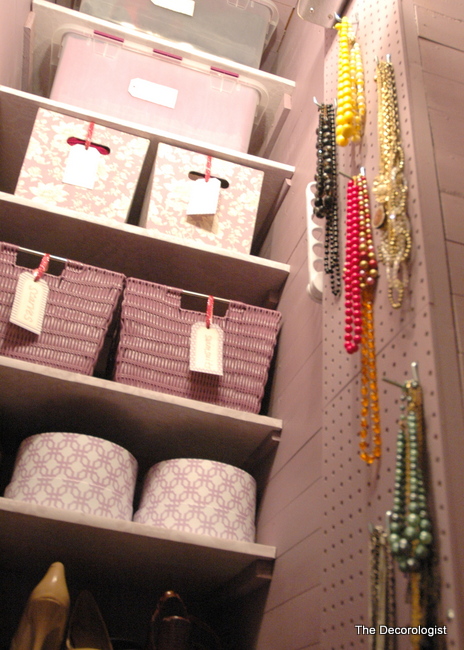 Boxes and Baskets from HomeGoods
Shelley even found this cool doo-hickey that holds my outfit for the next day, then folds back up against the wall when not in use.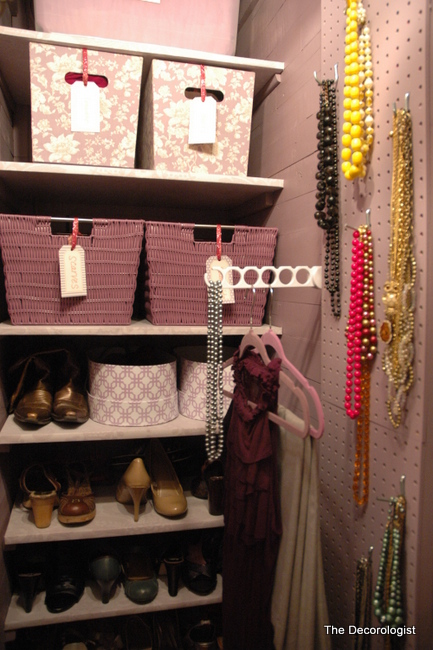 Now for the shoes.  One glance and I can find the perfect shoe color and heel height.  I never thought about facing one in and one out like this, but it makes sense!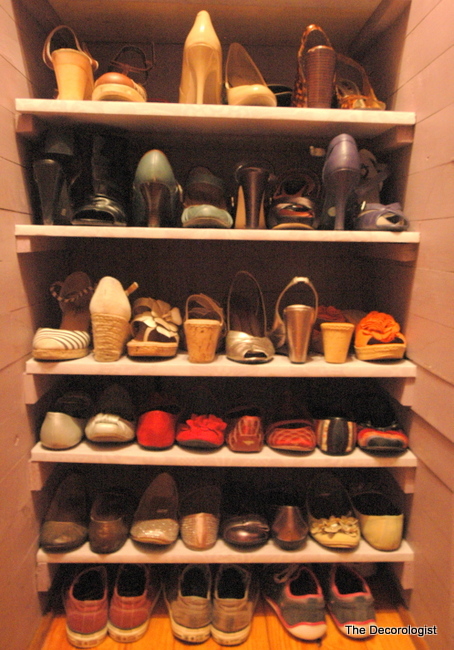 This closet makeover has truly changed my life – I can't tell you how much time I save choosing an outfit for any occasion.  And getting dressed is fun now, because everything in my closet fits and looks good on me.  It's hard to believe it took me this long to get rid of so many ill-fitting, space-hogging pieces.
Share this Post