My client had been stewing over this dining room for quite some time.   She is a fantastic gourmet cook and loves to entertain family and friends with her unforgettable meals, so her dining room should measure up to her high standards.  Sadly, it did not.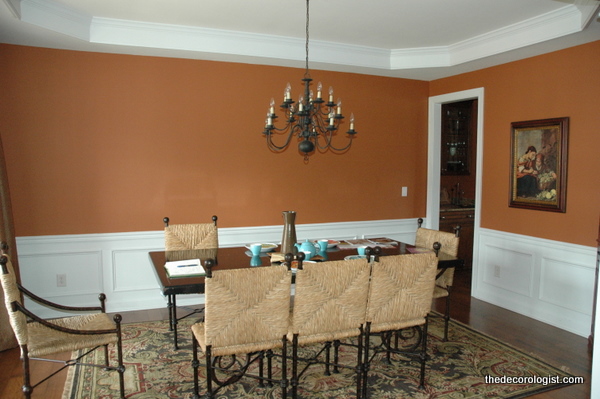 Here's what she wanted to keep in this room:  the cinnamon-pumpkin wall color, the table (due to cost of replacement), and the corner hutch.  Here's what she wanted to be gone:  those big, hulking chairs.  Here's what she wanted to incorporate into the room:   mismatched seating, a new look for her old table, a unique ceiling treatment, and a blown-up photograph of her favorite place on earth – her grandmother's farm.  After we decided the size and scale that would work best in the room, Chromatics in Nashville did a beautiful job of transferring a beloved photograph into a landscape that stretches in three pieces across the back wall of the room.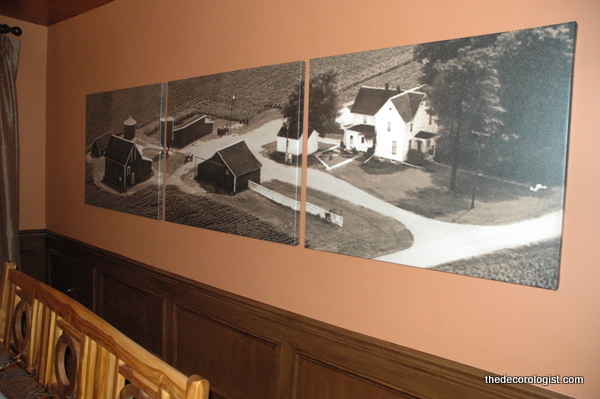 With this landscape as the inspiration for the room,  we were able to cast a vision for a whole new vibe in this space.   The look we'd be going for might be described as Elegant Farmhouse.  Or Upscale Rustic.  We needed a darker dramatic setting for lavish gourmet meals and candlelight.  Think heavy wood trim.  Large, rough-hewn accessories.  Substantial and unique seating that invite guests to linger for hours.
We both agreed the rug needed to go.   Her husband could refinish the tabletop in a grayed wood finish.  My client had previously had a faux wood treatment done on her fireplace in the living room, so she was open to applying a similar finish to wainscotting in the dining room.  Applying that same finish to the two columns in the hallway was a harder sell, but all the white trim was not giving us the feel we were going for.  I referred her to a wonderful faux paint artist, muralist, and blogger Heather Spriggs Thompson, who did an amazing job in transforming the formerly white woodwork into a dramatic statement. 
My client had always wanted a unique ceiling treatment in this room, but struggled to decide which direction to go.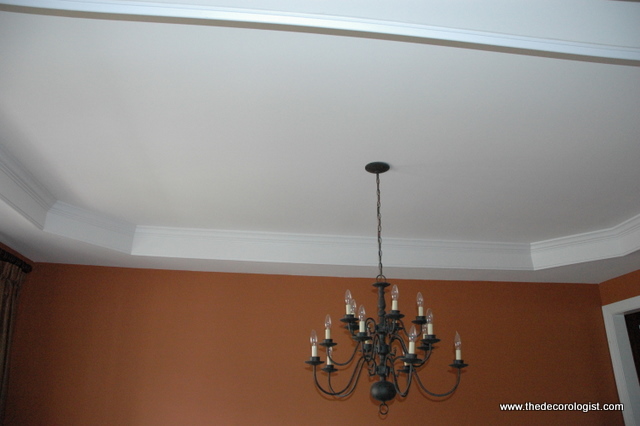 We discussed a lacquered option, as well as something with a metallic effect.  Heather was able to bring it all together with her fabulous leather-like, copper metallic treatment.  Hold your breath –  this is how it turned out: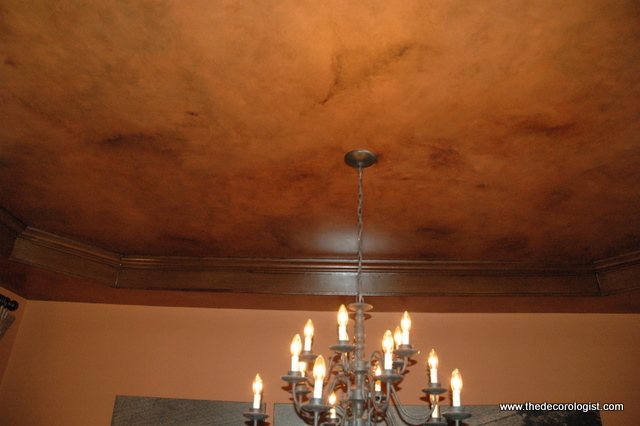 In regards to seating, we considered different mixes but decided upon 3 matching upholstered chairs in a gray-blue fabric for one side of the table, a bench for the other side, and 2 wingback chairs for the ends.  My client found a super deal on outdoor bench seating that worked great.  She checked Craigslist to find matching wingbacks that needed reupholstering.  My fabulous seamstress at Ruffled Linens whipped up custom slipcovers to take the chairs from drab to fab in no time, for less money and a more customized look than new wingback chairs.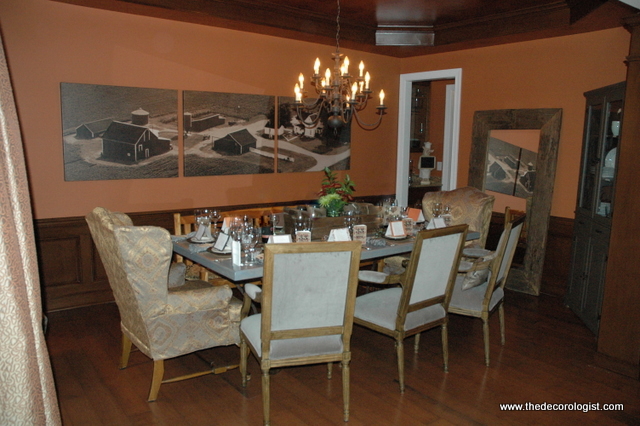 The rough-hewn framed mirror adds drama and presence propped against the wall.  The formerly red corner cabinet goes gray to blend in rather than stand out.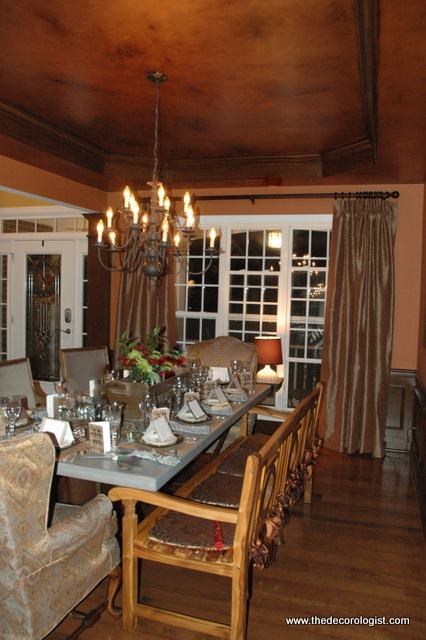 The wall color, draperies, and chandelier stayed the same, yet the difference is stunning!  This dining room was the product of a team of creative people focused on bringing to life the vision of this homeowner.  Here's one more look at the before and after.  This is the before.   Hover over photo for the after.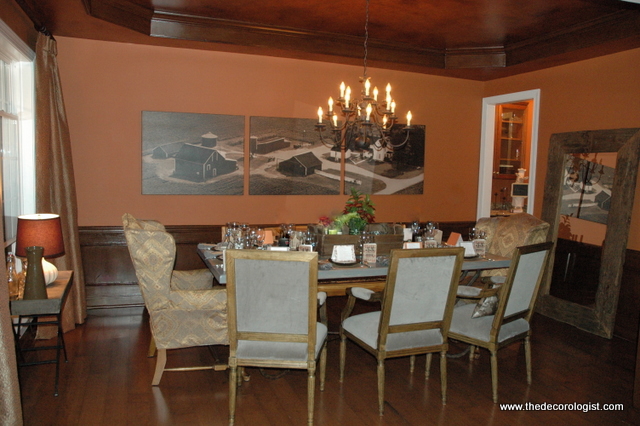 If you need help making for your dreams come true in your dining room, contact The Decorologist for a design intervention!   To schedule your appointment, email [email protected].
Share this Post