In our May Expert Psychological Stager™ certification course, we packed a whole lotta learning in the 3-day intensive training. With a limited amount of time to spend with my students, I try to share the most important information about real estate staging that I have learned over the last eleven years of staging hundreds and hundreds of homes of all kinds.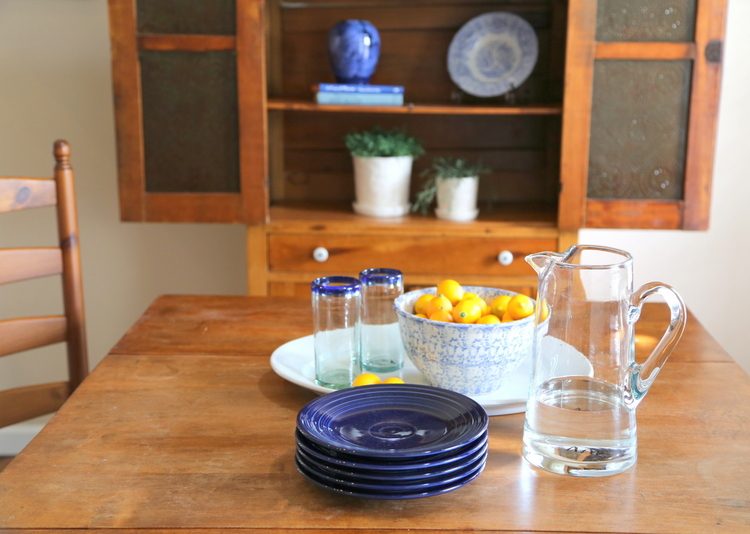 staging vignette from our latest EPS™staging
There's nothing quite like sharing three days with a group of people who really, really want to learn everything you have to share! I am very blessed to be at a point in my career where I can impart my experience, processes, and (hopefully) a little bit of wisdom about growing a thriving and successful business.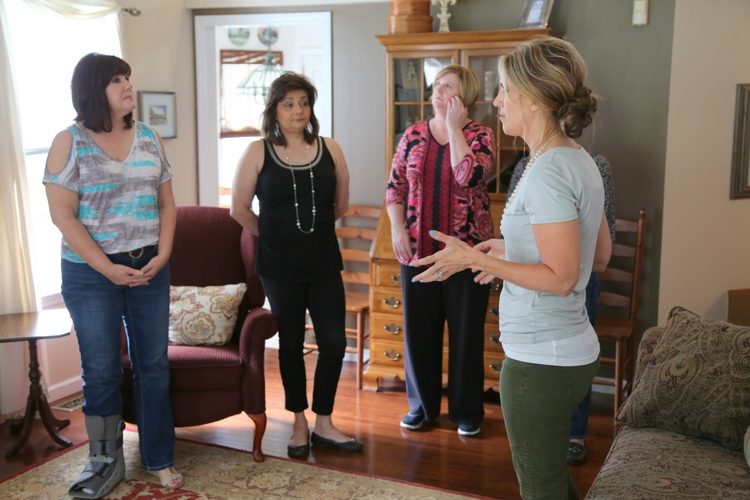 So here's a few things I think our EPS™ graduates learned about real estate staging that they may not have fully grasped before: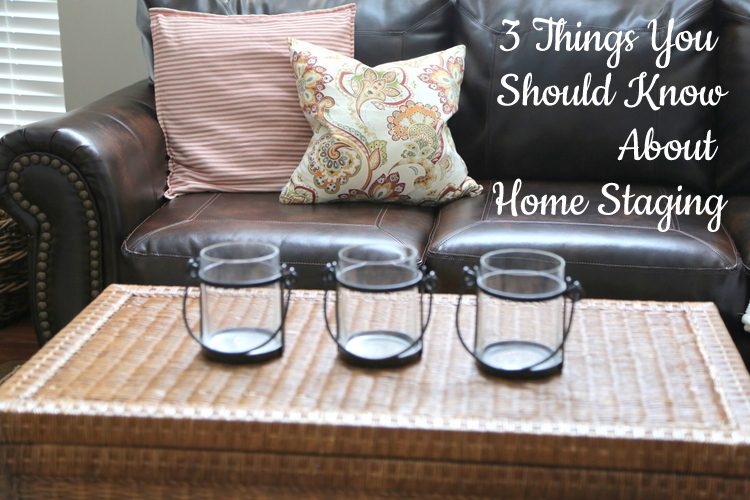 1) Real estate staging not only requires you to understand what buyers want, but also what sellers feel.
You need to know how to stage the property to represent an idealized lifestyle, yes, but you also need to understand the emotions of the homeseller. Selling a home is one of the top five stressors people experience – right behind death and divorce!
If you don't connect with the sellers, they will never take your advice or allow you to do what you need to do in order to get their home sold for the most money in the least amount of time. In my Psychological Staging course, I focus on how to cultivate a positive, trusting relationship with homesellers in a short amount of time. This is a critical yet often overlooked goal for anyone in the real estate profession.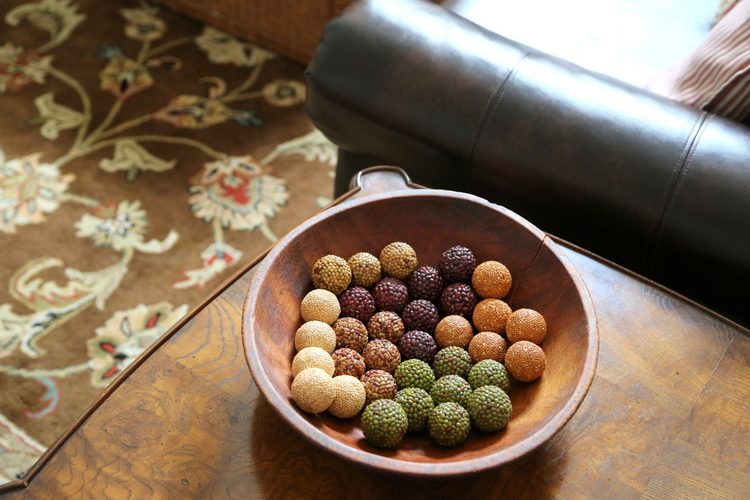 When sellers realize you are on their side, they will be much more willing to put their house in your hands, so to speak. Afterall, home staging is a service for homesellers and it requires a relationship of trust between stager and sellers. If you are thinking of selling your own home, you should definitely read the book I wrote just for sellers, Psychological Staging – Homeseller's Edition.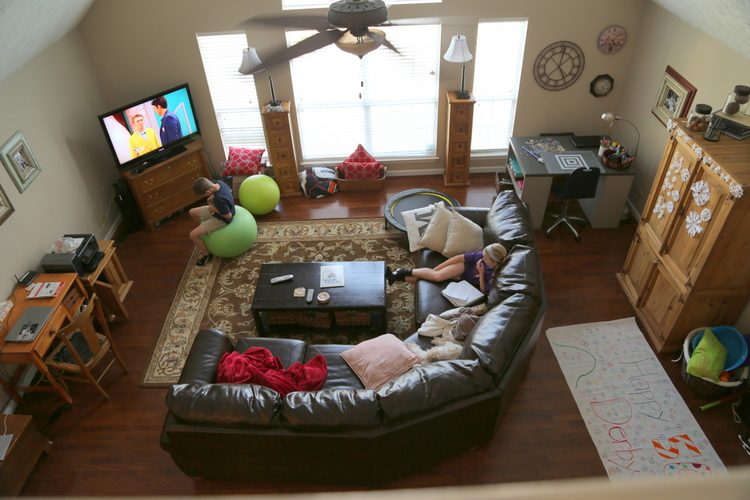 family room before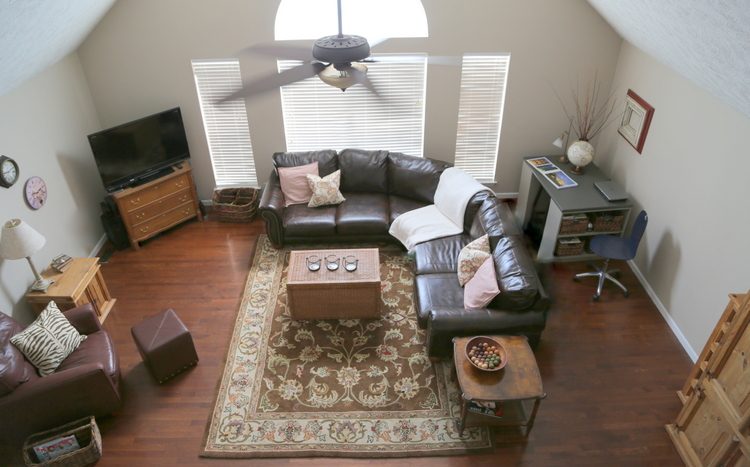 family room after staging
Watch how this family room goes from overwhelming: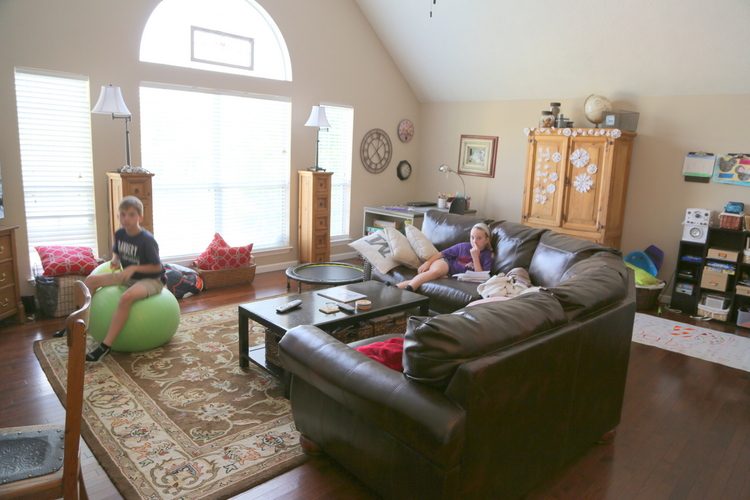 before
to simply welcoming: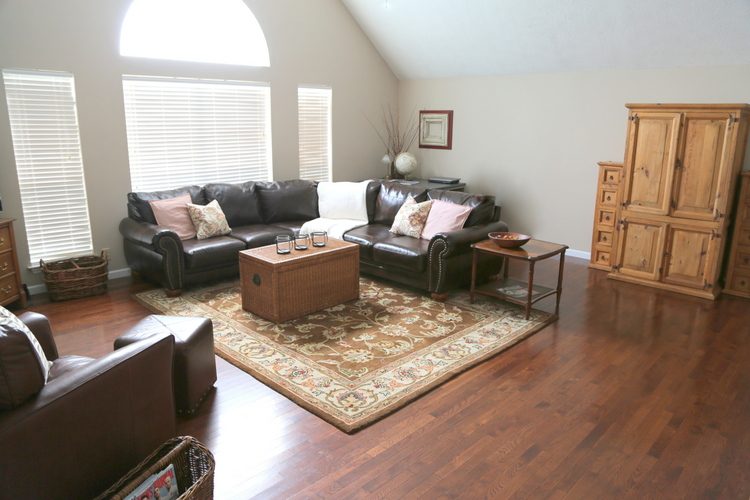 after
2) Real estate staging requires quick decision-making and about what you can realistically accomplish and what you can't.
In home staging, you never know what challenges you may walk into! If you are an artist or a creative person, you may be able to walk into a room and come up with lots of amazing ideas of how you can improve it. But real estate staging is more about solving problems within a tight budget of both money and time. You have to be resourceful, but you also have to be realistic. A successful home stager has to focus on the BIG PICTURE (e.g., does the furniture arrangement make the room appear larger and draw you in?) while most laypeople get hung up on things they can't realistically change (the dining room is too small for entertaining).
This home had a small dining room that was being used as a sitting room that actually functioned more like a mudroom and extra furniture storage.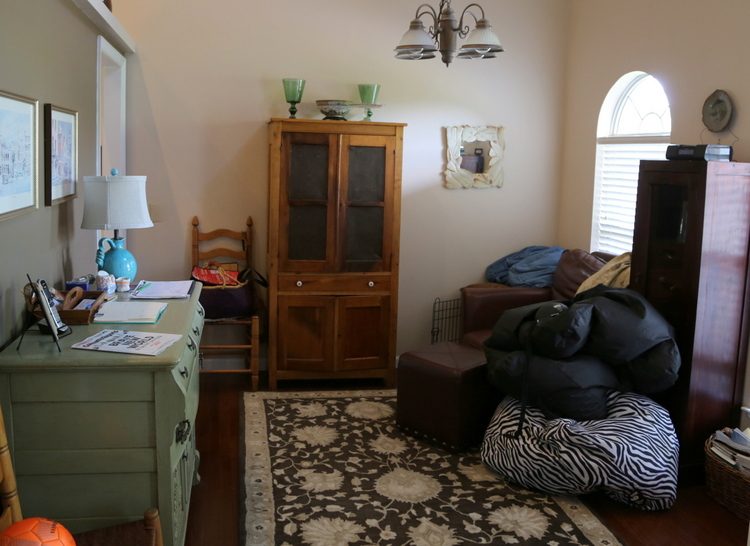 before
Because the breakfast area in the kitchen only seats four, it was crucial to convert this room back into a dining room. Although an updated light fixture would have been ideal, for this hands-on staging exercise, my students were required to work with what we had in a limited amount of time.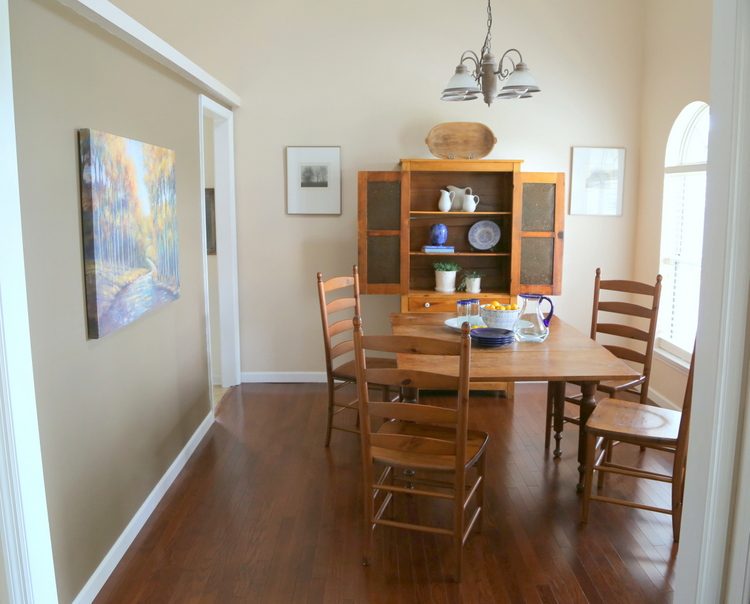 The dimensions of the room did not change, but this room definitely feels more spacious and functional – so we eliminated the possible hang-up this room could have caused buyers.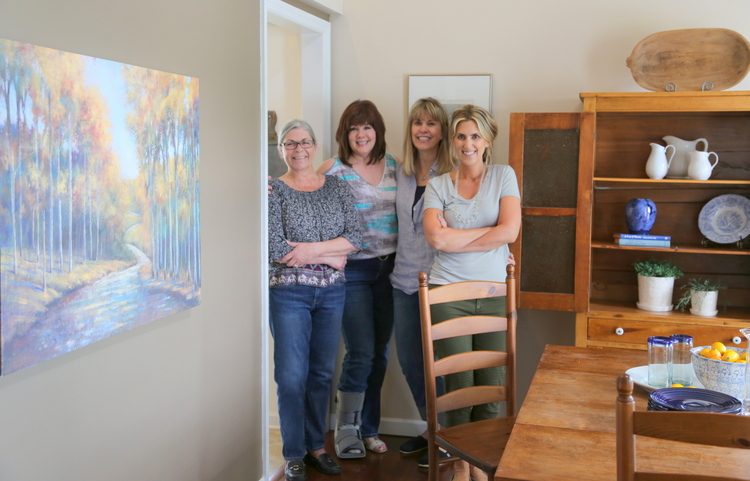 The resourceful part I mentioned comes in situations like when you have a dated sofa, like the one in this house we were staging. I wrote last week about how we remedied that situation in a short amount of time and zero money.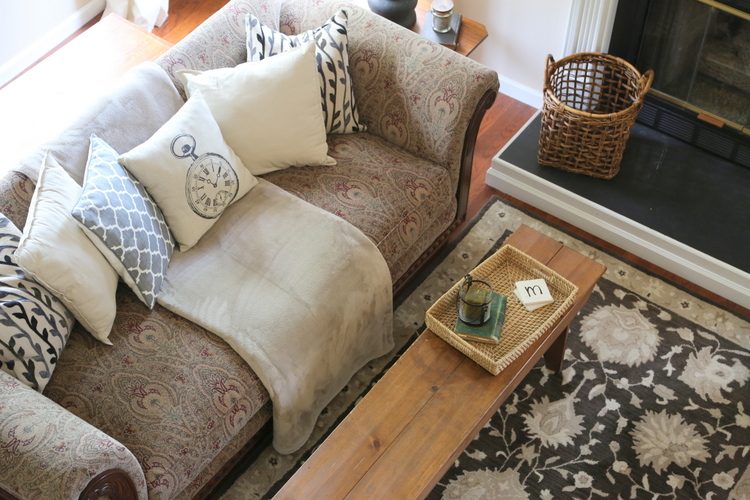 updating a dated sofa with a few properly placed props!
3) Staging is all about how to use what you've got and take it up a notch or two.
Unless you are staging a vacant property that requires rental furniture and accessories, a home stager may be limited to the furnishings and decor of the homeseller. Although you may be bringing in staging props to supplement, you can creatively use what the seller already has in the house. This was the before of the bedroom my students were charged to stage: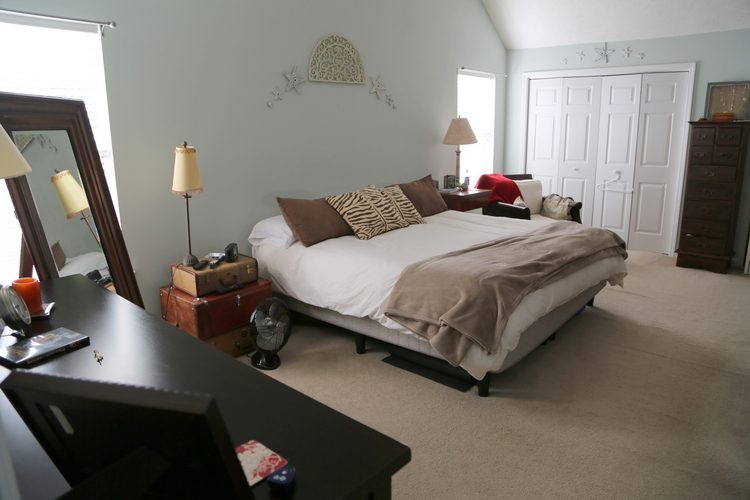 It's an impressively large bedroom with a soaring ceiling, but it's a home stager's job to make it even better. The sellers had a number of large, interesting frames throughout the house that held family photographs.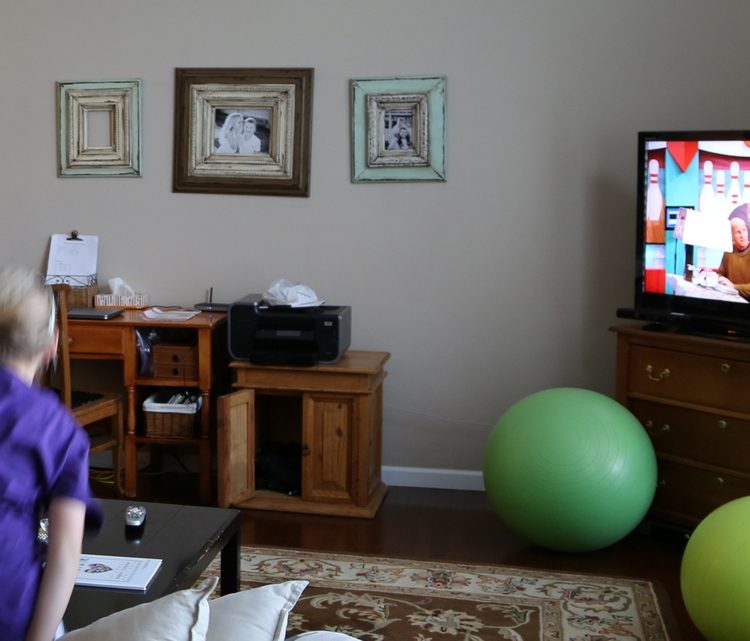 you have to learn to notice everything!
Personal photographs must be stored away for staging, so we decided to use the frames to create an artistic focal point for the bedroom.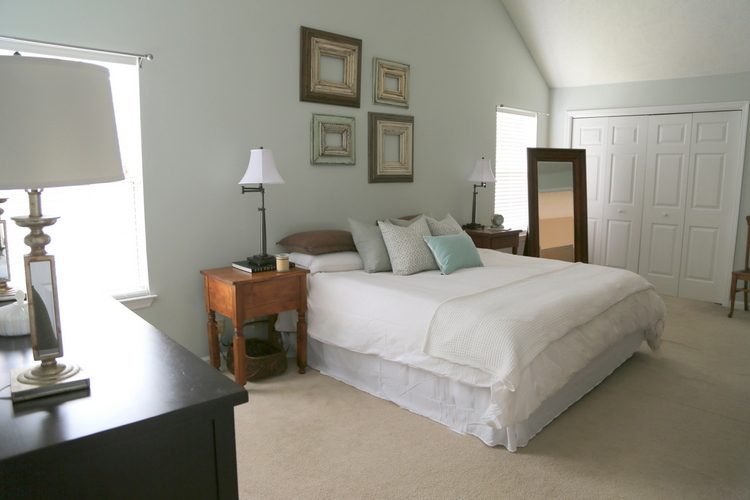 Here's a before shot from vantage point in the room: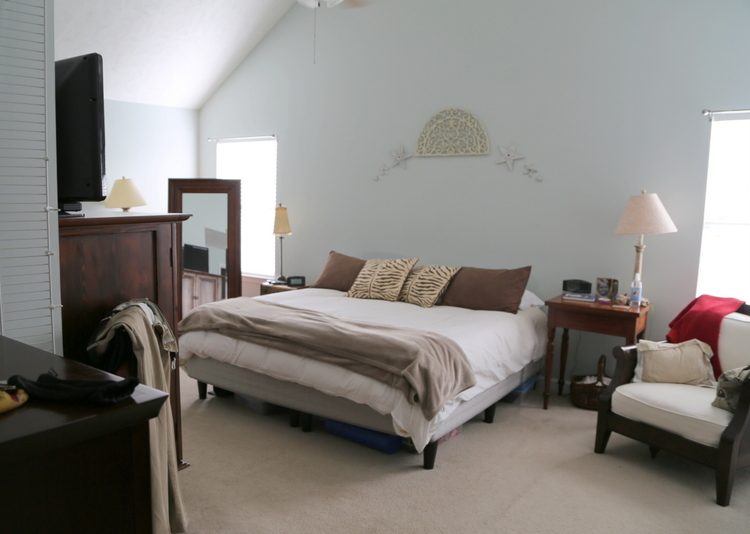 And here's the after: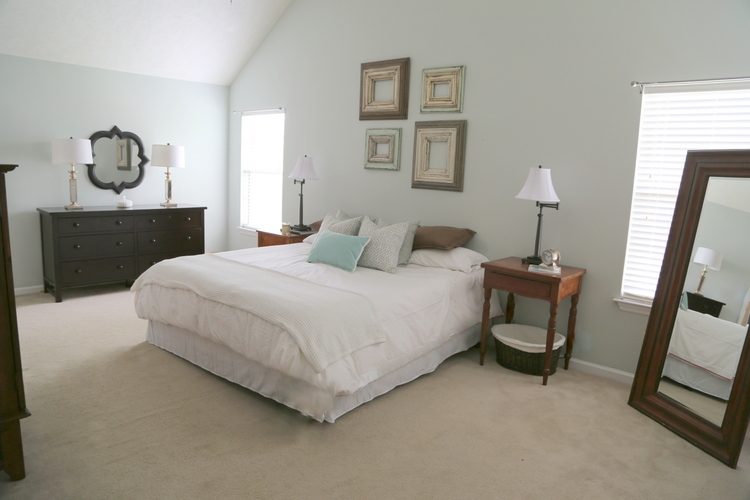 staged bedroom
I'm so proud of this class of Expert Psychological Stagers™! They did an amazing job on their final test – staging a real home to market for the Allen Team with Brentwood Area Homes.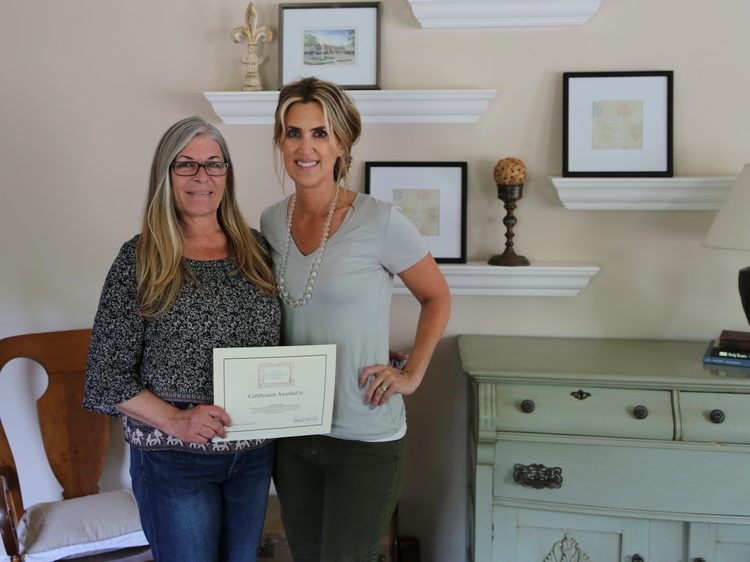 If you want to be a part of our next Expert Psychological Stager™ course, you can learn more about it here. Don't let distance hold you back – most of our attendees are from out of state, from all across the country. It's a great opportunity to learn and visit a fun city (Nashville) at the same time! In order to give you enough time to plan and make it work for your schedule, we are opening sign-ups today for the next course September 17-19, 2015. Spots are limited, and it will likely be the last opportunity to take this course in 2015. Be one of the first to sign up to get our Early Bird Special!
For more information or to sign up, click below: