For many years, no one wanted mint green anything.  But over the last couple of years, mint green has been everywhere.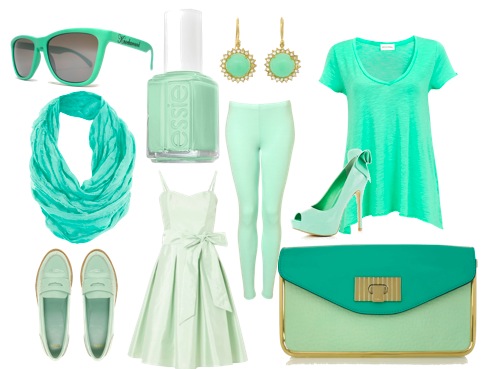 Lately, I've seen it finally trickle down into home decor.  And I'm loving it!  The most current light greens are not olive or sage or limey.  The freshest green paint colors are a bit like retro jadite, a slightly grayed mint.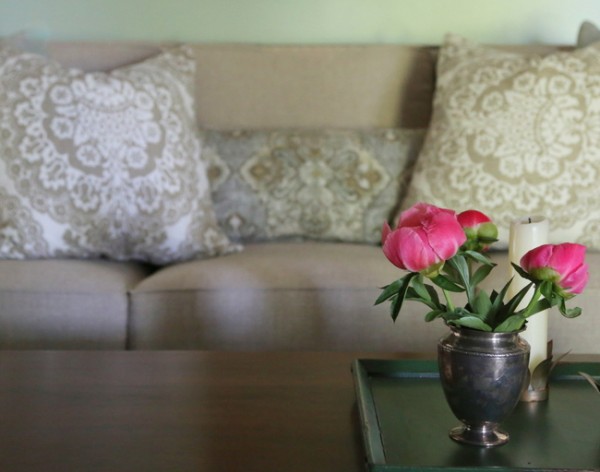 the new spa blue?
Let me show you how this worked in a recent client's home.  This was her living room before: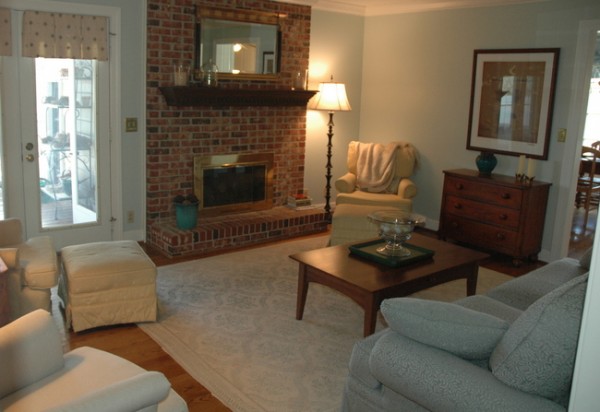 living room before
This was a room with very little natural light during much of the day – the french doors lead onto a covered back porch.  My client was ready for a new wall color, new upholstery, and a new rug.  When I suggested that painting the fireplace would brighten the room, she was all in.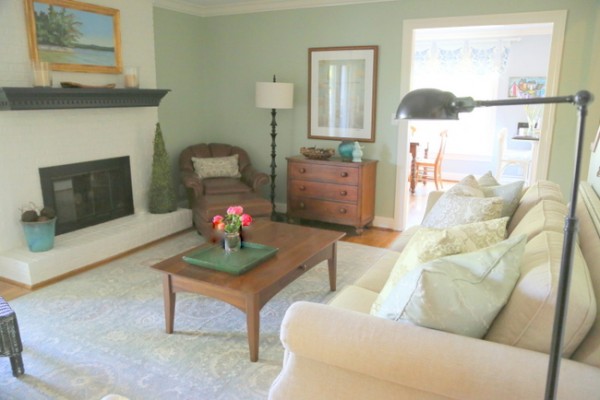 living room after
She loved how the grayed mint felt warmer than the previous light blue, while still brightening the space.  The mint is a nice complement to the periwinkle blue in the kitchen.  And what a difference the painted fireplace brick made!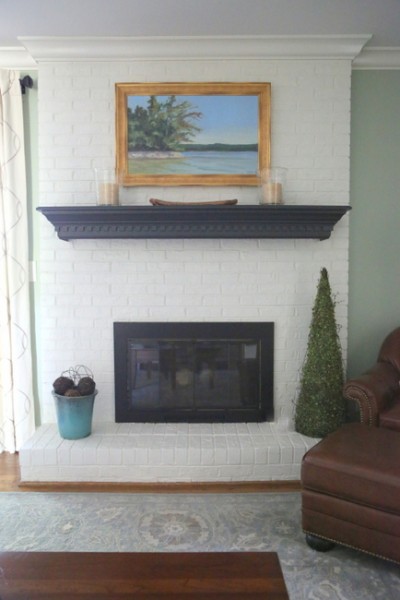 painted fireplace brick
Although the red brick was not unattractive, it was not working with the clean blue color on the wall.  An earthy fireplace like this begs for warmer colors all around.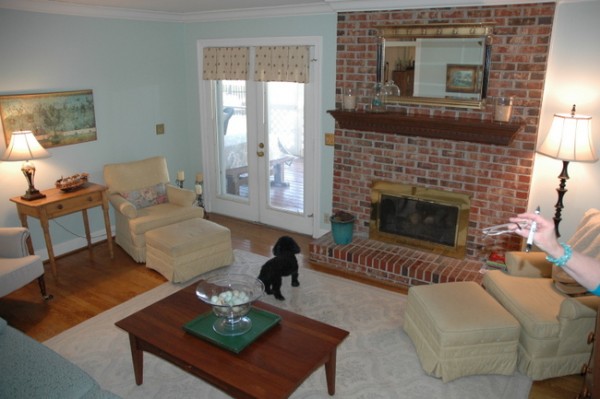 before
My client wanted a fresh and "happy" look.  The fireplace is painted out with latex paint in trim color, while the gold fireplace insert was painted with a heat-resistant black paint you can find at any hardware store. The updated window treatment is a big improvement over the previous valances on the french doors.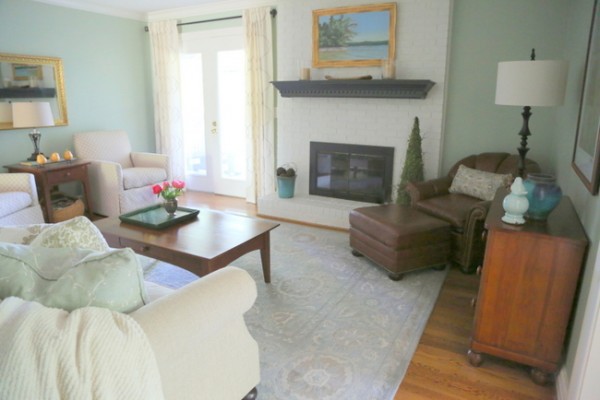 after
Here's a before photo from the entry of the kitchen.  This is a better representation of the paint color she started out with.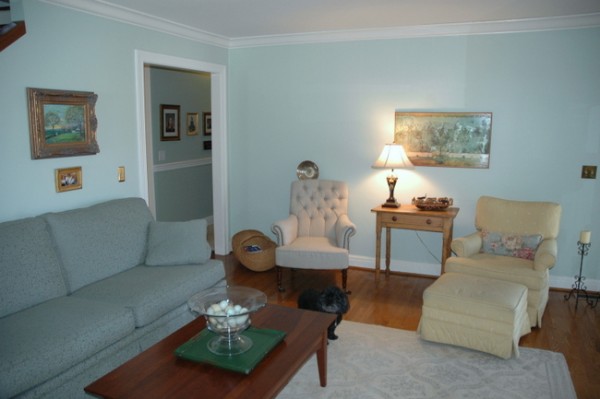 living room before
The after features the greener paint color and new seating, pillows, and rug.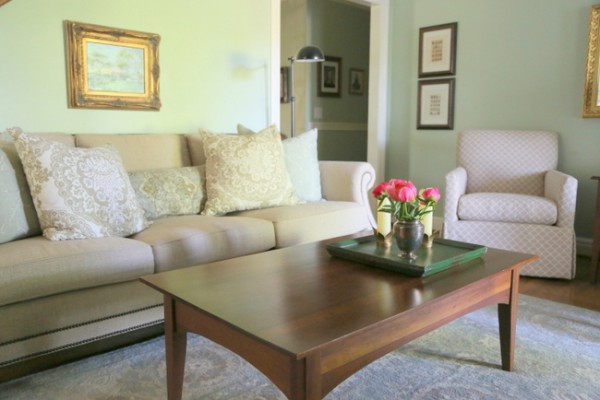 living room after
Let's talk about the change that went down in the dining room.  Before, the room was nondescript with a boring neutral above and below the chair rail.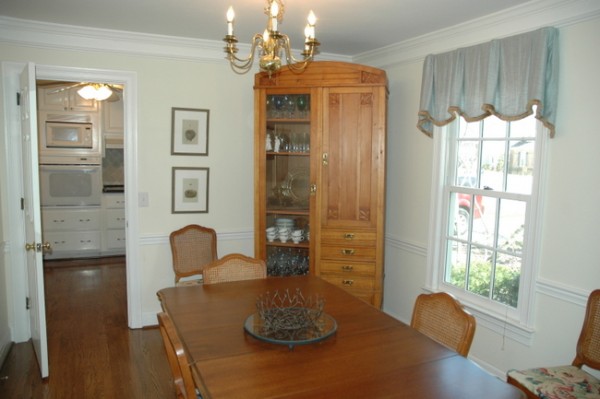 dining room before
We decided to continue the grayed mint color in the dining room and hallway, making it our "superneutral" in this home.  Doesn't the wood furniture look so much richer in the after?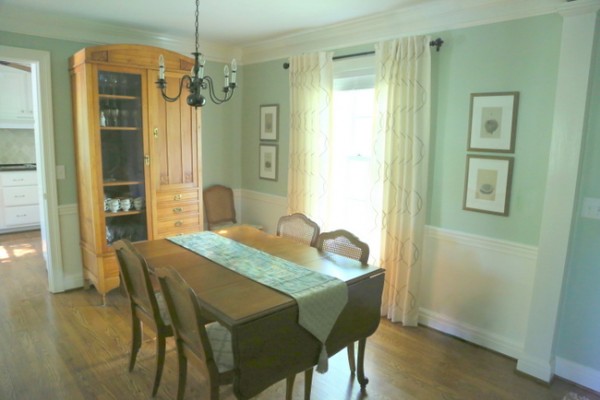 dining room after
I suggested she paint the dated brass chandelier black – did you notice that change?  Also, the new window treatments are definitely an improvement over the former valance.
after
So, what do you think?  Could mint green be the new spa blue?  If you want to know more about the latest in paint color trends paint color placement, check out my Color Workshop video here.