I recently had clients who requested that I cast a vision for their nursery.   They didn't want a typical nursery.   Not only did they want a non-gender nursery (they don't know if they're having a girl or boy), but they also agreed they wanted a "non-babyish" nursery.  No typical baby color combinations.  No typical baby themes.  A sophisticated room that didn't scream, "I'm a nursery!"  Here's an idea board I put together for them to help them envision such a nursery.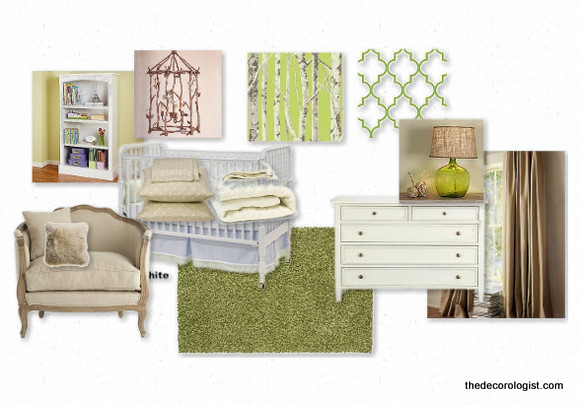 This is what I suggested:  a non-pastel green paired with whites and creams.  An awesome accent wall of treed wallpaper, a plush grass-like area rug, linen drapery panels and atypical but comfy chair to nurse in, a clean and simple white dresser and crib with simple, light-colored bedding (no bunnies, no frills!).   No, it's not a typical look for a nursery.  But there's no doubt it's a nursery, right?  I mean, there'll be a crib centered on the glorious accent wall.  A slightly whimsical birdcage-like light fixture.  Baby toys and board books to occupy the bookcase, stuffed animals in the crib, a changing pad on the dresser. 
Could you do a non-babyish nursery?  Have you ever even considered it?
Share this Post