This is a true story in which decorating fears had to be conquered in order to get to a beautiful outcome.  Last year I worked on a great room design with a wonderful couple who had recently built their dream home. They wanted a welcoming, comfortable gathering space for their active young family to hang out, watch movies, and entertain guests.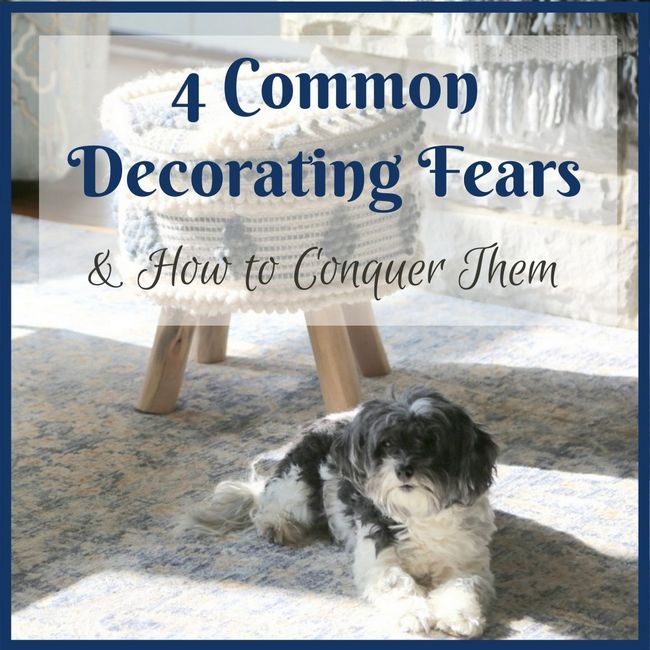 The architecture of the space was amazing! Tall ceilings, stained wood beams, stone fireplace, and a massive bank of windows showcasing a beautiful view. It was time that the furnishings matched the beauty of the architecture.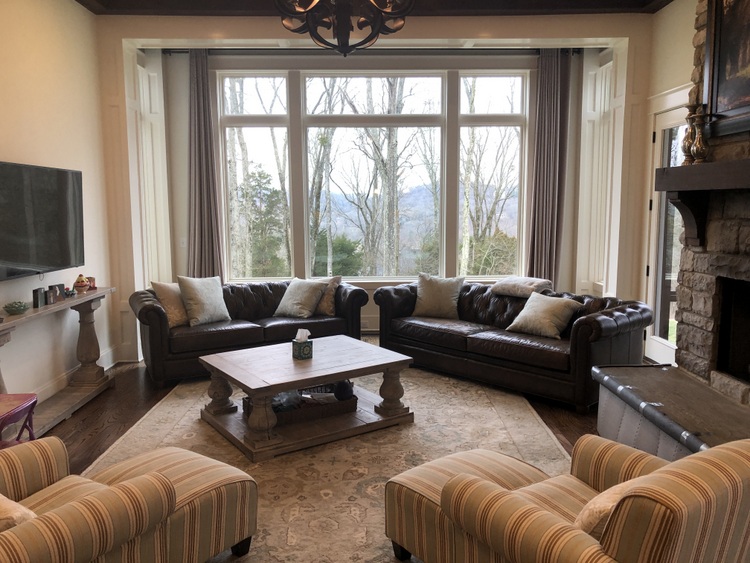 The Mr. really didn't want to part with the brown leather sofa and loveseat, but the Mrs. wanted a significant transformation to take place in the room. This is when common decorating fears begin to show themselves  in a design consultation.
Common Decorating Fear:  Starting from scratch
The Mr. was afraid he would have to give up his favorite piece of furniture, while the Mrs. was fearful that she wouldn't get the fresh, new look she hoped for if they didn't start from scratch. Rather than throwing the baby out with the bath water, I offered a compromise:
Keep the larger brown leather sofa in the space, move the smaller loveseat to the library/office, and replace everything else.
Sure, we'd need to lighten up that heavy sofa with some beautiful pillows. But first, we chose a pair of swivel chairs to flank the brown leather sofa, a beautiful chaise that would hold a snuggling pair watching a rom-com on Netflix, and an additional upholstered chair to balance things out. The most difficult choice to make was the upholstery for the new seating. Which brings me to the next common decorating fear:
Common Decorating Fear: Too much color
The popularity of neutrals has given rise to an unreasonable fear of COLOR. Those who are afraid of committing to color often end up committing to neutrals, which may result in a bland and lifeless interior. Adding color isn't as risky as you may think – as long as it's a color you like. Or, choose blue or green to add in with your neutrals. Blues and greens are practically neutral themselves, as they work with pretty much anything. Plus, blues and greens are true naturals – they are the colors most seen in nature!
The Mr. was particularly concerned about adding color to this space, until I pointed out the blues and greens outside their bank of windows. We agreed that adding blues wouldn't be scary at all – in fact, using darker blue opposite the dark brown leather sofa would help distribute visual weight in the room.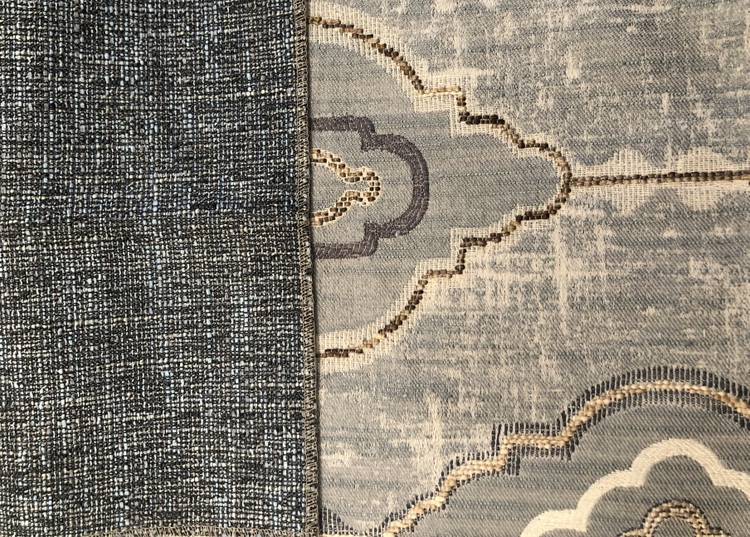 For this couple, there was also a real fear of  pattern, as they didn't want to detract from the architecture and exterior views of the room. Time to conquer another common decorating fear . . .
Common Decorating Fear: Mixing patterns
Clients can get really overwhelmed with fabric choices, but that's where I can help them make decisions that they will be happy with for many years to come.  Mixing upholstery, rug, and pillow patterns can paralyze your decision-making if you don't know what you are doing.  I typically narrow down the options to a handful that I believe will work best in the space, and then we talk about where to use which pattern and why.
It's important to  view fabrics and patterns from across the room, from a distance, rather than inspecting them up close. Smaller patterns that you may think are busy in your hand may actually read like a solid when viewed from a few feet away. And those bolder patterns? They don't seem bold at all from across the room.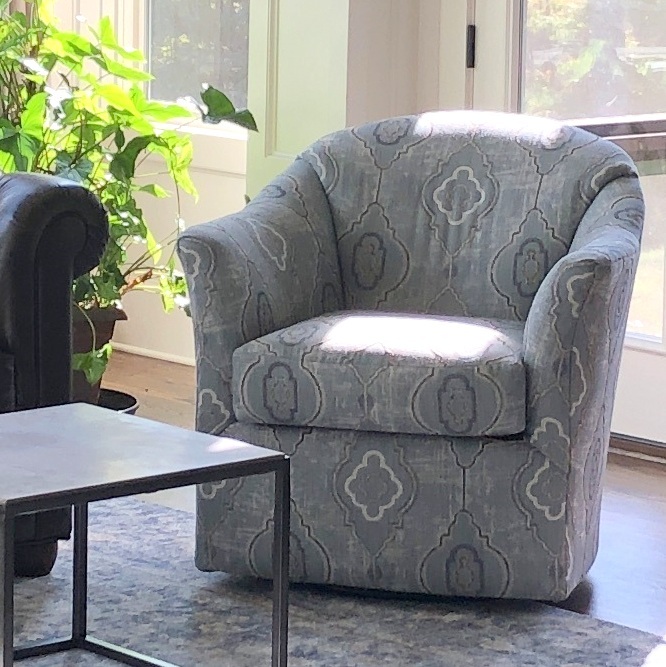 And don't forget how art plays into the overall mix of color and pattern. The art previously above the fireplace was replaced with this gorgeous piece to better complement the stone, and to lighten and brighten the beautiful focal point of the room.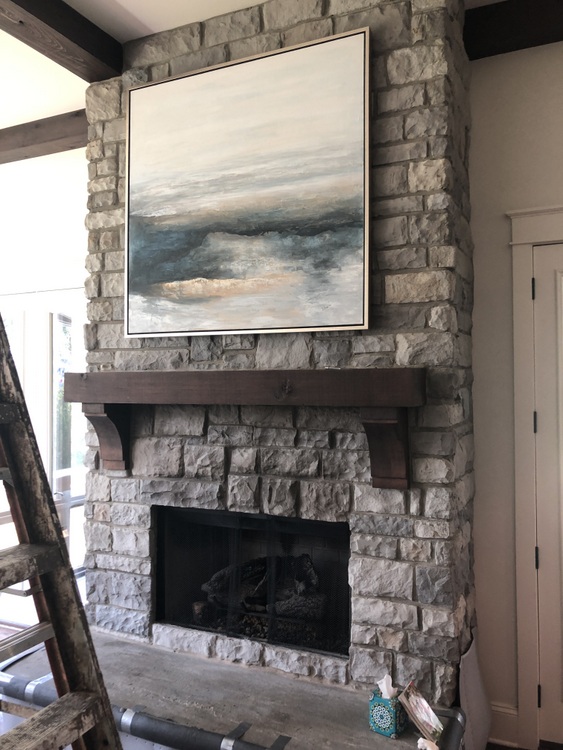 Common Decorating Fear: Getting the Scale Wrong
The previous hanging light fixture was too small for this large room. When I showed my clients a significantly larger fixture in a lighting gallery, they were scared that it was too large for their great room. Undersizing lighting is one of the most common mistakes homeowners make, but it doesn't have to be that way. I've written articles here, here, and here that can help you make the right decision about the scale of your lighting in various situations.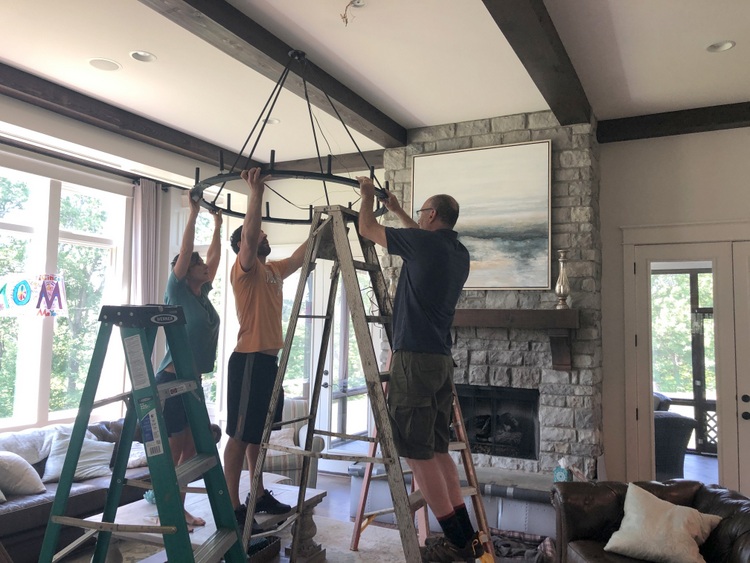 After the furniture arrived, I filled out the room with coordinating items, like this shapely ottoman, some fantastic pillows, and a few lovely lamps.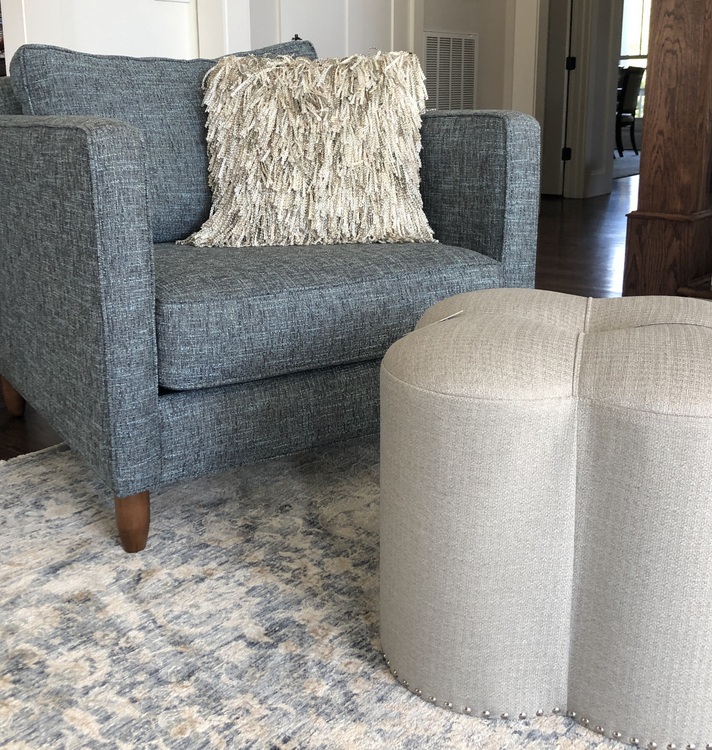 This coffee table is super-functional and impervious to wear and tear. Just pull the smaller pieces out for additional tabletops, footstools, or even additional seating.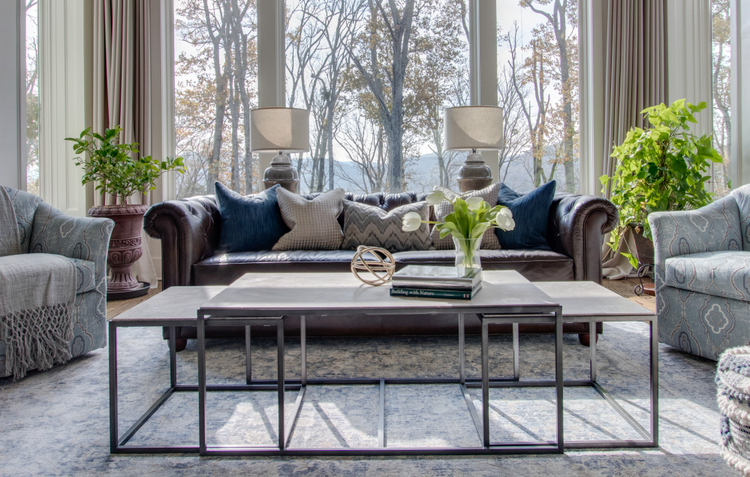 Ultimately, both the Mr. and the Mrs. overcame their decorating fears, and the result is nothing to be afraid of!
Let's check out the befores and afters: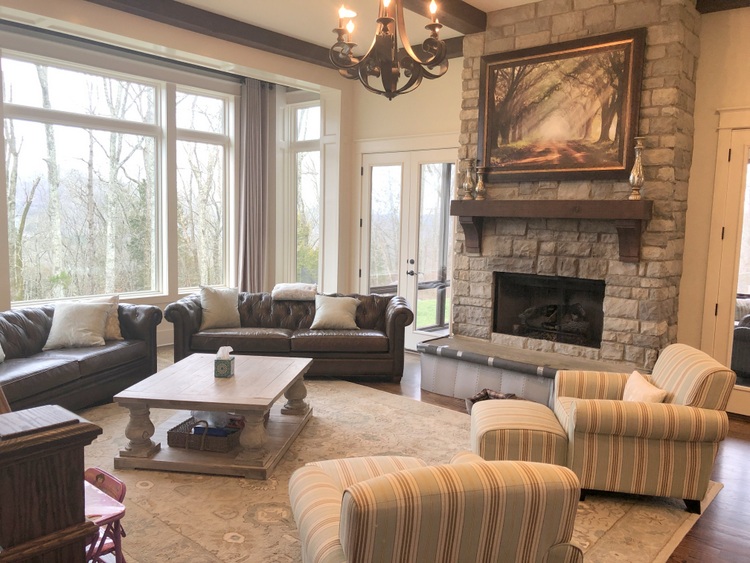 before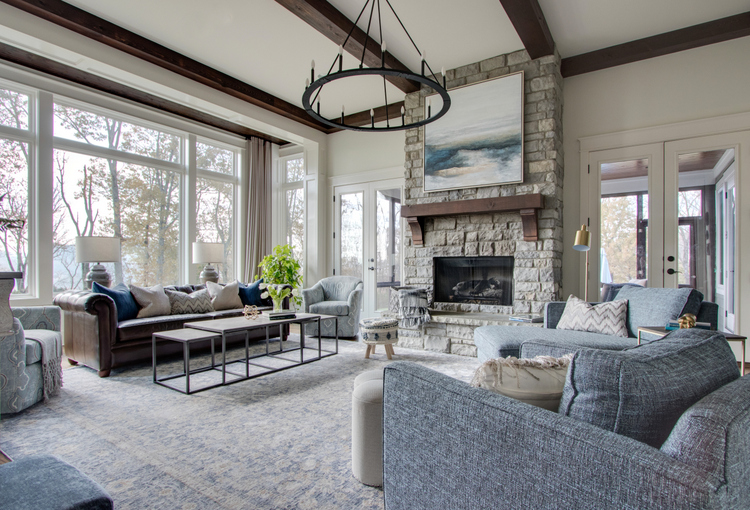 design by The Decorologist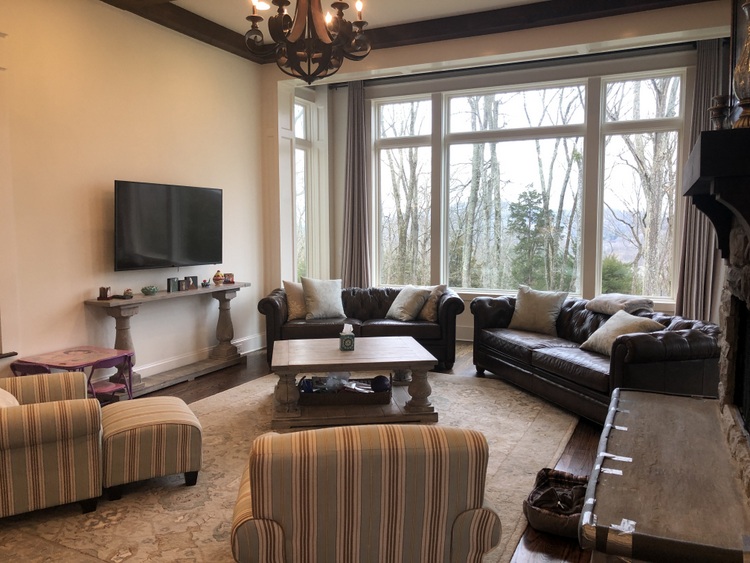 before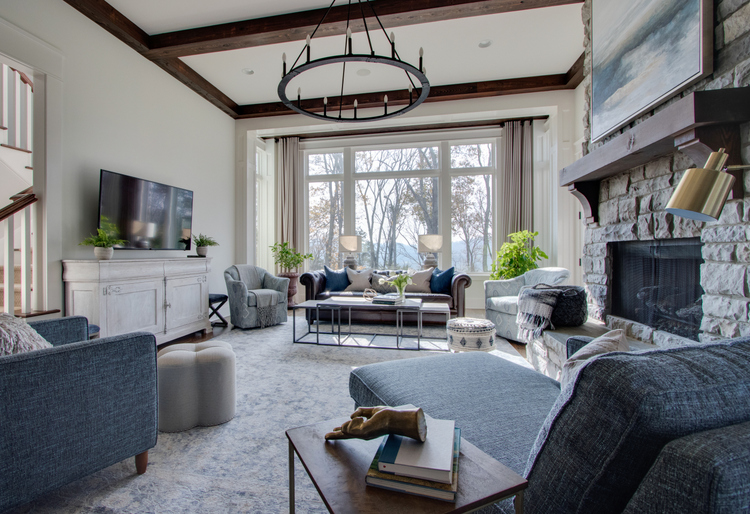 design by The Decorologist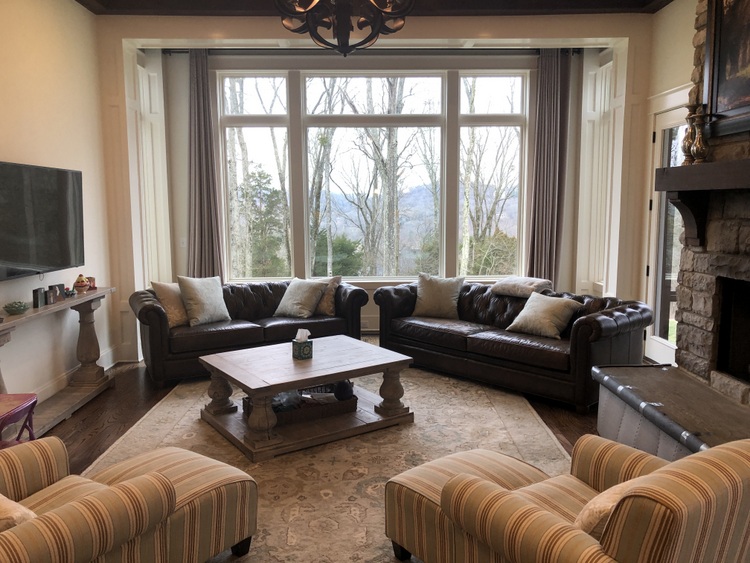 before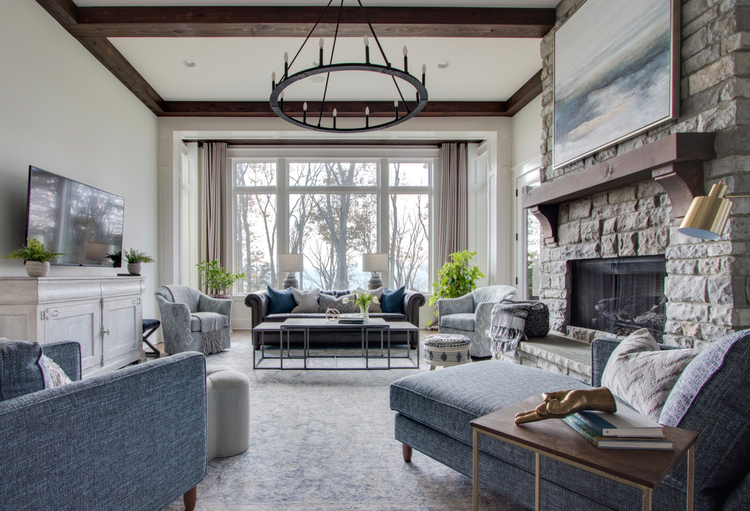 design by The Decorologist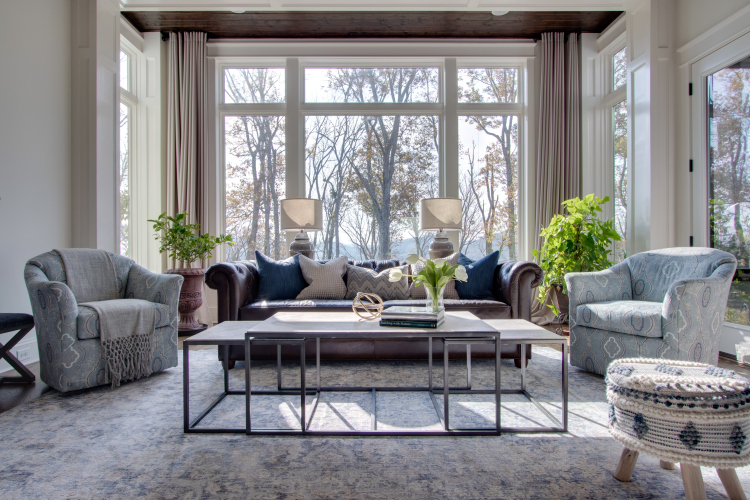 I hope you enjoyed this transformation of my clients' great room! If you need help overcoming your decorating fears, schedule an appointment with me today.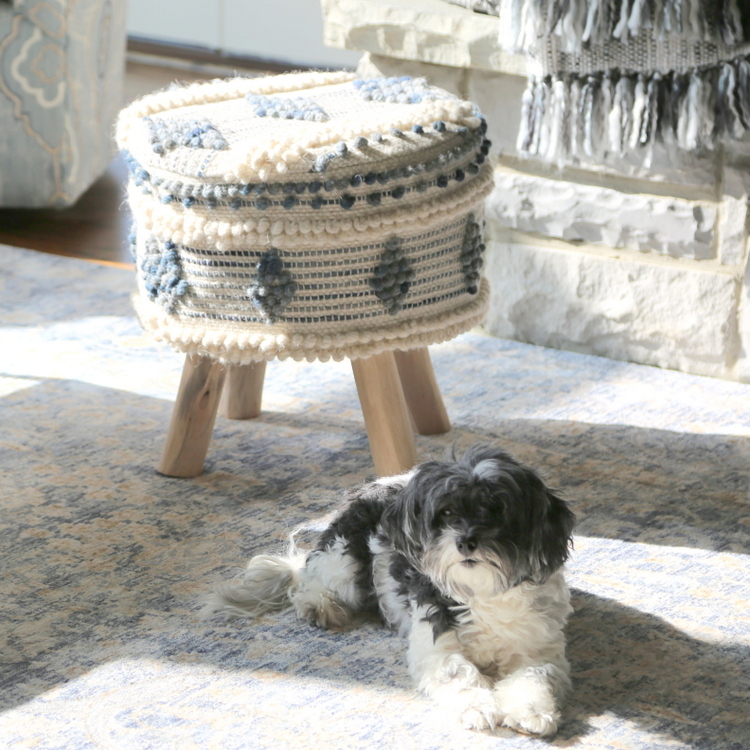 If you want to overcome your fear of COLOR, the cure is definitely my in-depth online Psychological Color Expert™ training program! Find out how you can become a certified expert in all things paint color: