Several of you have asked for specifics regarding some "issues" that we had in Allison's (my lovely assistant) home makeover, so today I am highlighting a few biggies in her living room.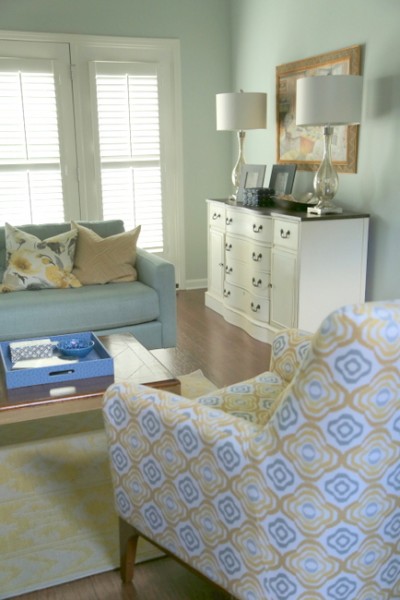 Allison's "new" living room
You probably know how I like to take on challenging fireplaces (see here, here, and here). Allison's fireplace had ceramic tile that was pinky-beige, while her adjoining kitchen floor was greeny-beige.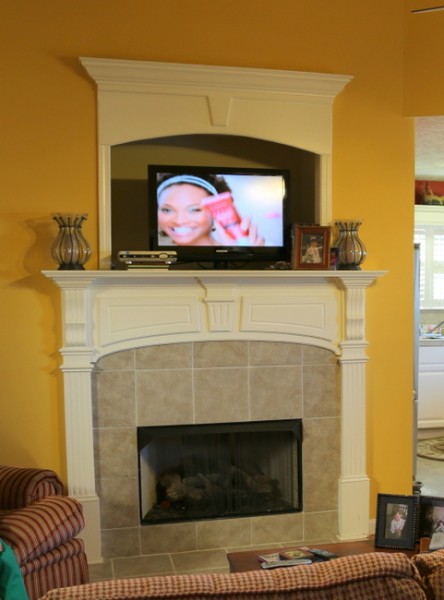 before 
Bad enough on its own, but even worse when compared to the other.  Something needed to be done, but ON A BUDGET.  Nothing's cheaper than paint, so Allison was game when I told her to paint the tile in trim color.  The trick is in the preparation – a coat of XIM Primer Sealer Bonder, and it's ready to paint with regular latex paint.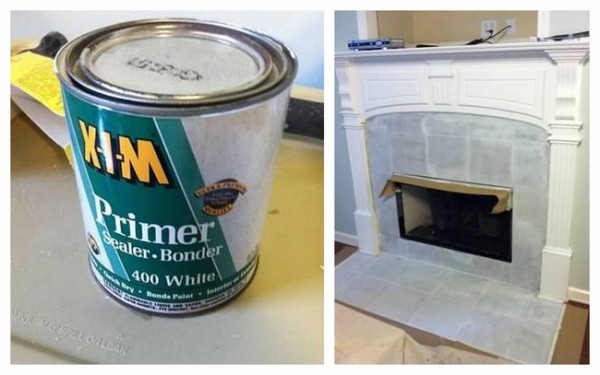 how to paint a tile fireplace
The result is a crisp, clean fireplace with timeless appeal.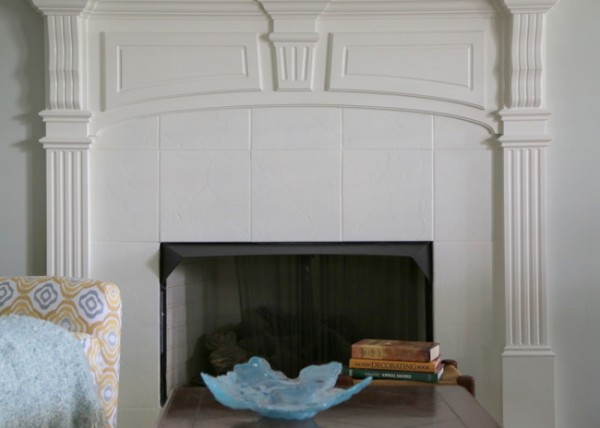 painted tile fireplace after
Now I'm not suggesting you paint just any tile, anywhere.  This decision was not problematic because this tile will not be exposed to water or trampling upon, like tile in a bathroom might be.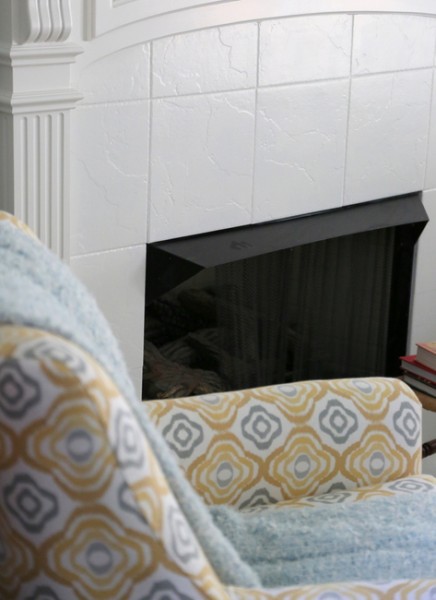 painted ceramic tile
Painting tile on the fireplace is a fairly straight-forward DIY job, no great skill needed.  Now on to the next challenge.  If you remember, there was a vaulted ceiling in Allison's living room and a lot of choppy paint colors going on.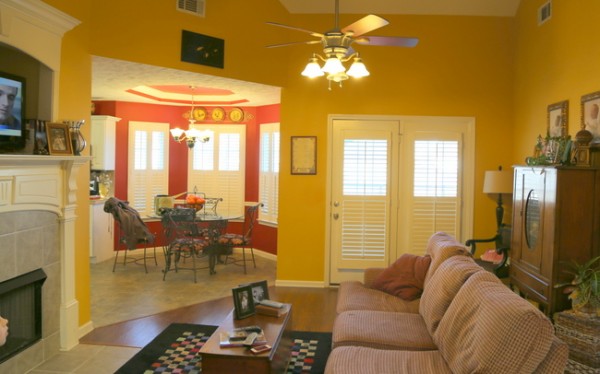 Allison's living room/kitchen before
You can see where the "ceiling" starts – look for the white line.  Everything on the slants and above are textured.  Not a popcorn texture ceiling, but a stamped texture.  I wish, I wish, I wish I had taken a straight-up before photo of the ceiling, but unfortunately I'm a loser and didn't. Here's a shot from the other side of the room: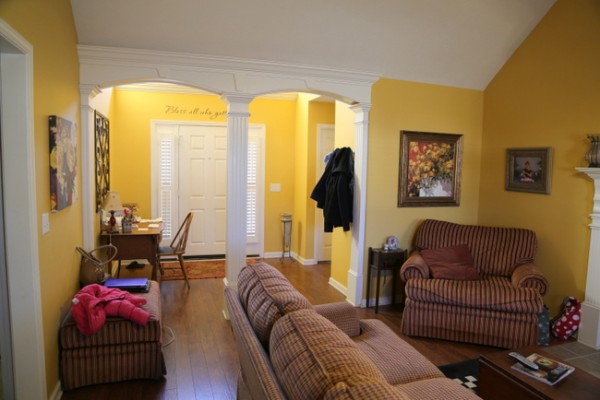 living room before
When vaulted ceilings are painted white and there's a darkish color on the wall, it's like you visually chop the top third of the visual plane right off.  A third of what you see upon entry is a looming white ceiling.  Even though we've always been told never to paint a textured ceiling any color other than white, I encouraged Allison to take the plunge and wrap the light gray-blue color we chose for the walls onto the slants and entire ceiling in the living room.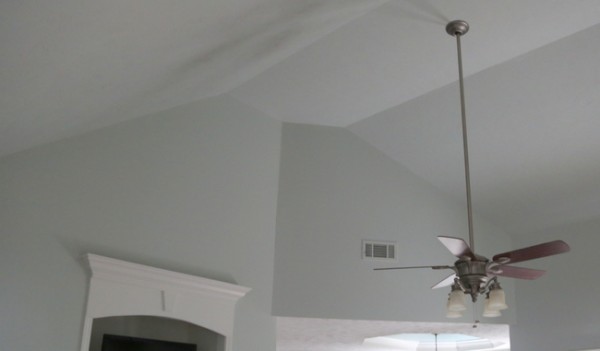 painted vaulted ceiling after
The day they painted the ceiling, Allison called me to tell me how great it looked.  She said it was like all those odd angles were gone – nothing but sky in her living room!  Again, I'm an idiot for not taking better before shots, but I marked up this photo to try to illustrate the choppiness of the "before":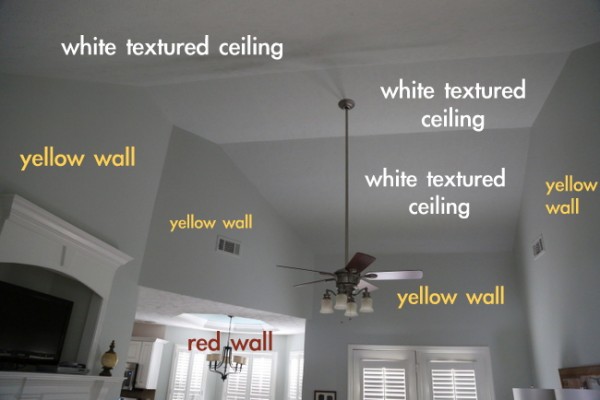 can you imagine the "before?"
Odd and varying angles in a room can make a room so visually busy that it's hard to attain a peaceful, relaxing feeling in a space, which is what Allison was hoping for in this home makeover.  The decision to wrap this color on the ceiling solved that problem.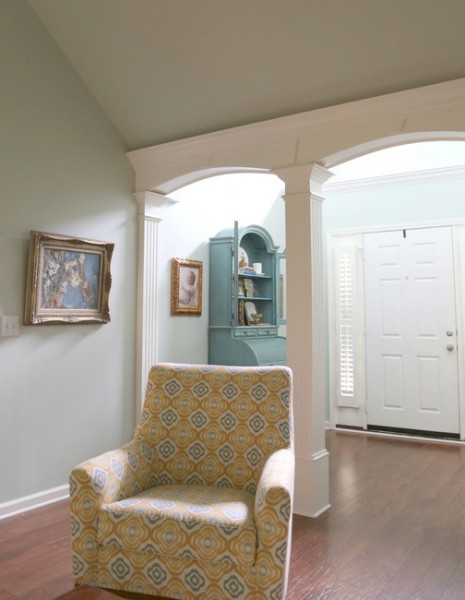 after
I should tell you, I had the painters use an eggshell finish on the walls, and a flat finish on the textured slants and ceiling.  A sheen would have drawn more attention to the texture, while a flat finish makes it less noticeable when the light hits it.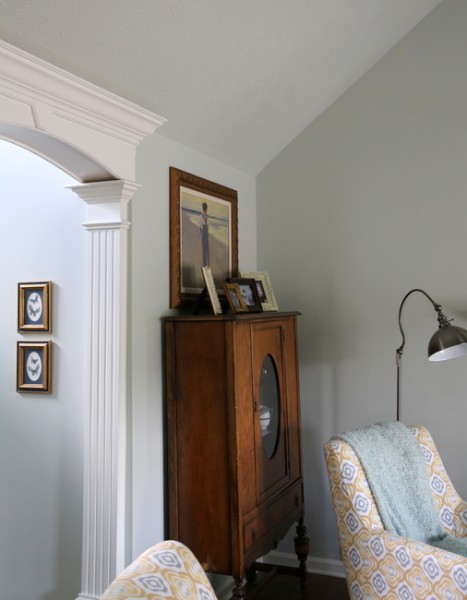 painted ceiling after
Since the ceiling is pretty high, you barely see the texture.  I zoomed in close so that you could see it's still there: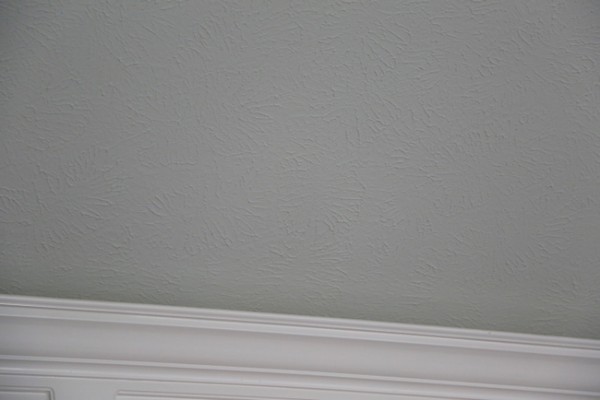 painted textured ceiling
My lesson for the day?  Be brave, my friends!  Thinking outside the box and carefully considering all of the possibilities can lead to some awesome results.