I recently hosted Cooking Club at my home.  I'm a lousy cook, but I set a really cute table.  So it really is all about the theme for me – I chose a retro Palm Springs theme for this one.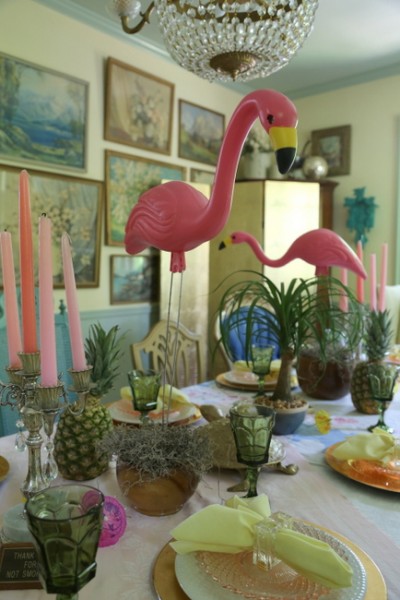 Palm Springs, baby!
Retro Palm Springs makes me think of saturated, candy colors like pink, yellow, green, and blue.  Also – plenty of gold and lucite. See those lucite napkin rings?  Found a set of 12 of them last summer at an estate sale.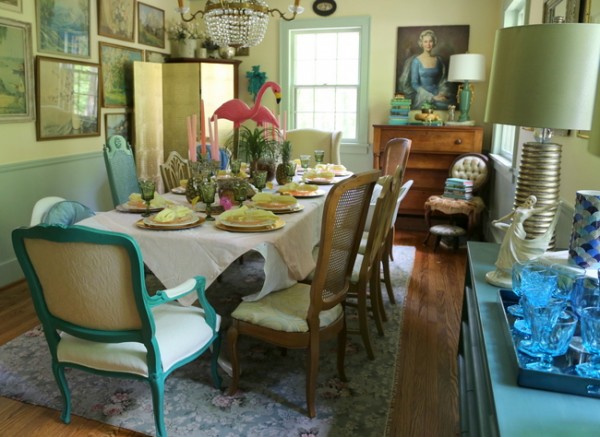 Palm Springs tablescape
I found a potted palm at Lowes and picked up a couple of pineapples for the tablescape.  You might notice a few vintage ashtrays on the table.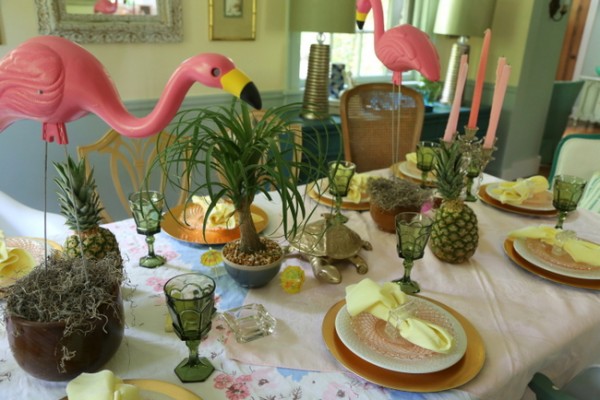 Palm Springs Dinner Party
When I think of retro Palm Springs, I  think of a lot of glamorous people smoking cigarettes.  But don't worry, we didn't do that at the party.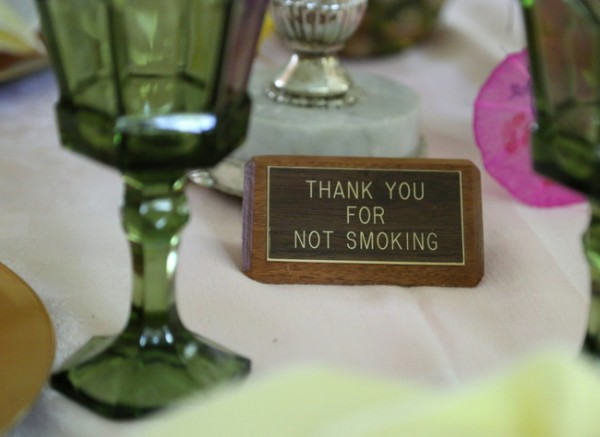 absolutely no smoking . . .
A few little umbrellas in the drinks served from a gold bamboo tray . . .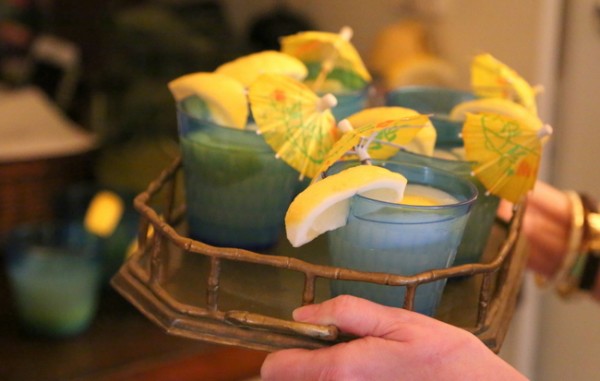 nothing says Palm Springs like a gold bamboo tray
I thought you might like some of the recipes from the meal.  Even though I'm a lousy cook, I must say I did a pretty good job of picking out some fabulous recipes!  We started with an appetizer:
Blue Cheese and Walnut Spread
4-ounce bar of cream cheese, room temperature
1/2 cup walnuts, chopped
Coarse salt and ground pepper
4 ounces (1 cup) cold crumbled blue cheese, such as Stilton
Crackers or crostini, for serving
Apple or pear wedges, for serving
In a medium bowl, stir cream cheese with a wooden spoon until softened. Mix in walnuts; season with salt and pepper. Gently fold in blue cheese, breaking up as little as possible. Transfer mixture to a small bowl; smooth top. Serve with crackers or crostini. To store: Cover with plastic wrap and refrigerate, up to 1 week.
I figure Palm Springs recipes should include lots of fruit, right?  This starter was really good: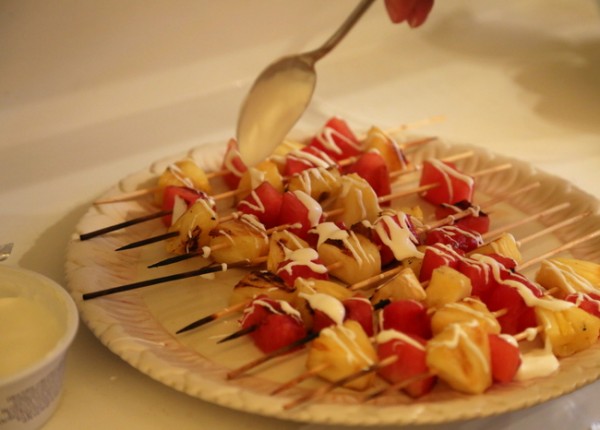 Grilled Pineapple and Watermelon Skewers
1/2 golden pineapple
1/2 seedless personal watermelon
1  c.  margarita or piña colada mixers concentrate, thawed
1  c.  crema fresca 12  bamboo skewers, soaked in water for 30 minutes
Peel and cut the pineapple and watermelon into 1 ½-inch cubes and set aside. Alternate 2 cubes each of watermelon and pineapple on each skewer. Place the skewers on a tray and brush each with the margarita or piña colada concentrate. Cover the fruit with plastic wrap until ready to grill. Heat gas or charcoal grill to 375°F. Spray grill rack with nonstick cooking spray. Place fruit skewers on grill rack and grill each side for 3 minutes. Place the grilled fruit skewers on a tray and drizzle with margarita concentrate and crema fresca. Serve warm.
We served the fruit skewers with a mango and hearts of palm salad with lime vinaigrette :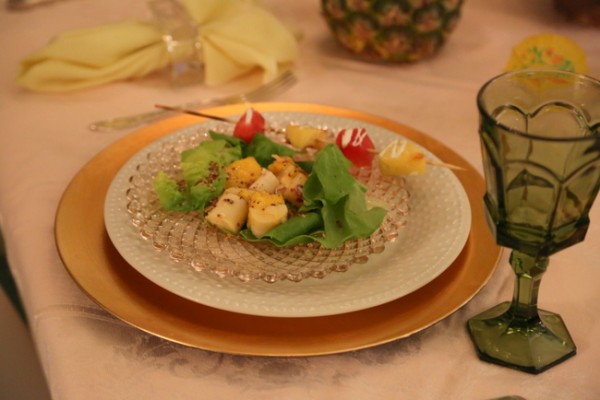 Mango salad
Mango and Hearts of Palm Salad with Lime Vinaigrette 
1/2 cup fresh lime juice
8 teaspoons Dijon mustard
2 large mango, peeled, pitted, and cut into 1/2-inch wedges
1 small red onion, finely chopped
2 cans (14.5 ounces each) hearts of palm, drained, halved lengthwise, and cut into 1-inch pieces
Salt and pepper
2 head Boston lettuce (about 8 ounces), washed and dried
In a small bowl, whisk lime juice and Dijon. Set vinaigrette aside.
In a medium bowl, toss mango, onion, hearts of palm, and half the vinaigrette; season with salt and pepper.
Evenly divide lettuce among plates; top with mango mixture. Season with salt and pepper, and drizzle with remaining vinaigrette.
Here's the main course – Palm Springs chicken, black bean and mango salad, and coconut rice.  So good – I've made the chicken twice since the party!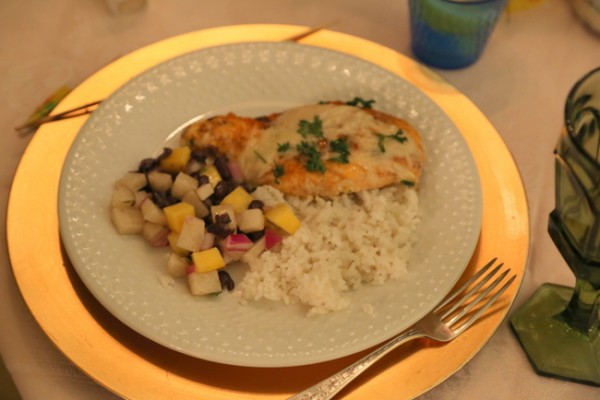 Black Bean and Mango Salad 
(double recipe)
1/4 cup extra-virgin olive oil
2 tablespoons cider vinegar
1/4 cup freshly chopped cilantro leaves
Kosher or fine sea salt and freshly ground black pepper 1
(15.5-ounce) can black beans, drained and rinsed
1/2 mango, peeled, flesh removed from the pit and cut into 1/2-inch dice
(1 generous cup) 1/2 small jicama (about 1/2 pound), peeled, and cut into 1/2-inch dice (about 2 cup; see Note)
1/2 small red onion, cut in 1/2, then into thin slivers (about 1/4 cup)
Whisk the olive oil, vinegar, and cilantro together in a large bowl until blended. Season lightly with salt and pepper. Add the beans, mango, jicama, and onion and toss gently to coat with the dressing. Season with salt and pepper, to taste. Serve right away or let stand at room temperature for up to 30 minutes. Toss and check the seasoning before serving. Note: If you can't find jicama, which adds an apple-y note to the salad, substitute a large green apple. Core the apple, leave the skin on, and dice it as you would the jicama.
Palm Springs Chicken
¼ C flour
2 t salt
1 t paprika
12 halved chicken breasts (skinned and boned)
1 t cornstarch
1 ½ C half and half
¼ C Sherry
½ pkg dry chicken broth
1 t grated lemon peel
1 T lemon juice (I use 2)
1 C grated Swiss cheese
½ C parsley, fresh chopped
Mix the flour, salt and paprika. Coat chicken with this mixture. Lightly brown the chicken (use vegetable oil, margarine or butter) Add ¼ C water and simmer covered for 30 minutes. Arange the chicken in your fanciest in the oven to table baking dish.
Mix the cornstarch and ¼ C of the half and half. Stir this into the drippings, cook over low heat, gradually stirring in the remaining half and half, sherry chicken broth, lemon peel and lemon juice. Cook, stirring until thickened – like gravy – pour over the chicken.
Cover and bake at 350 for 40 minutes. Uncover and sprinkle the cheese and parsley (which you have mixed together before hand) on top of the chicken, return to oven just until the cheese melts, about 10 minutes. Recipe can be cut in half.
Coconut Rice
6 servings (double) If you can only find regular coconut milk, buy 2 cans and use the thick cream that's floating at the top. The coconut cream will caramelize during cooking, leaving sweet brown flecks in the rice.
2 cups jasmine rice
1 cup coconut cream
1 1/2 tablespoons sugar
1 teaspoon kosher salt
Rinse rice in a large bowl with cool water until water runs clear. Drain rice. Combine rice, coconut cream, sugar, salt, and 2 cups water in a medium saucepan. Bring just to a boil, stirring to dissolve sugar, then cover and reduce heat to low. (Alternatively, cook rice in an electric rice steamer.) Cook until rice is tender and liquid is absorbed, 40–45 minutes. Fluff rice with a fork; cover and let sit for 20 minutes.
The playlist included plenty of Frank Sinatra and the rest of the Ratpack.  And maybe even a little Doris Day.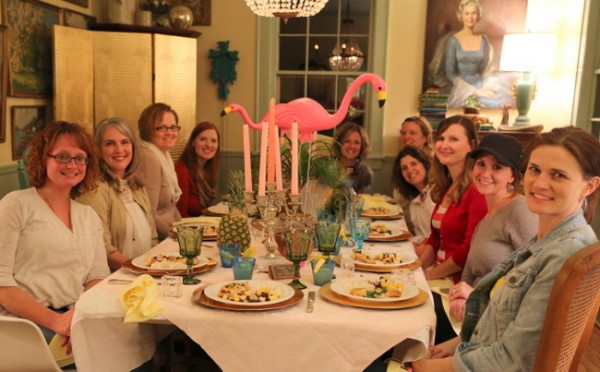 This is the delicious dessert we had:
Chocolate Coconut Bars
3 cups finely ground cookies (12 ounces), such as graham crackers or chocolate wafers, or a combination
1/4 cup sugar
3/4 cup (1 1/2 sticks) unsalted butter, melted
1 cup pecan pieces
1 cup semisweet chocolate chips or chunks
1 can (14 ounces) sweetened condensed milk
1 1/2 cups sweetened shredded coconut
Cook's Note:  Sweetened condensed milk is made by heating whole milk and sugar until much of the liquid has evaporated. Do not substitute evaporated milk, which is unsweetened.
STEP 1
Preheat oven to 375 degrees. Lightly splash a 15-by-10-inch rimmed baking sheet evenly with water, then line with parchment paper.
STEP 2
In a large bowl, stir together cookie crumbs, sugar, and butter until combined. Evenly press onto bottom and up sides of prepared baking sheet. Bake, rotating halfway through, until firm, about 10 minutes. Transfer to a wire rack; cool, about 20 minutes.
STEP 3
Sprinkle cooled crust evenly with pecans and chocolate. Pour condensed milk over the top, spreading to cover completely (do not let it drip over the edges). Sprinkle with coconut.
STEP 4
Bake until coconut is toasted, 10 to 15 minutes. Transfer to rack; cool completely. Trim edges, if desired, and cut into equal-size bars.
We had a great night!  Do you ever host themed dinner parties?