Hello, and welcome to those of you coming from The Space Between blog
In the interest of honesty and full disclosure, I am NOT a fall kind of girl.  When the days grow shorter and the nights grow colder, I begin to get a bit SAD (seasonal affective disorder). Please tell me I'm not alone???  When Kelly Elko of Eclectically Vintage asked me to participate in her 2014 Fall Home Tour, I was hesitant. Click here for the tour of Kelly's home, then read on below for mine.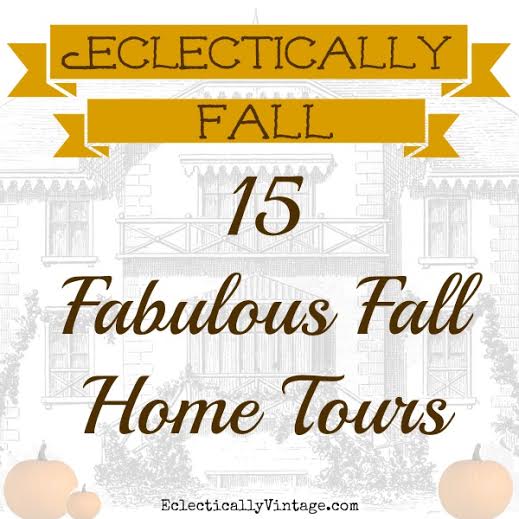 I love summer – oh, how I love summer.  And you'll never here me complaining about the heat. BRING IT.  But the cold?  It's just really hard on me.  Cold weather just makes me want to curl up under a blanket and get absolutely nothing done.  It makes it hard for me to produce, and I'm the kind of girl who likes to produce, work, achieve – you get the picture.
Oh yeah, and I also hate football.  So there's really nothing for me in the fall.  Dead leaves, bulky clothes, and football.  Yay, team. You won't see pumpkins, corn stalks, or hay bales in my fall decor.  Instead, I embrace fall by changing a few of my pastels to jewel-tones.  I ramp up the emerald and sapphire and add in a heavier dose of gold to warm things up.  I also add in my collections of woodland animals, because they need to come inside from the cold.  Ok, so here we go with my Fall Home Tour: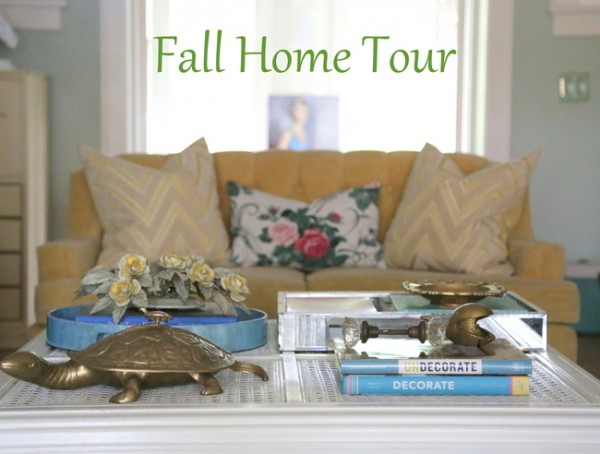 This is the "fall" version of my living room: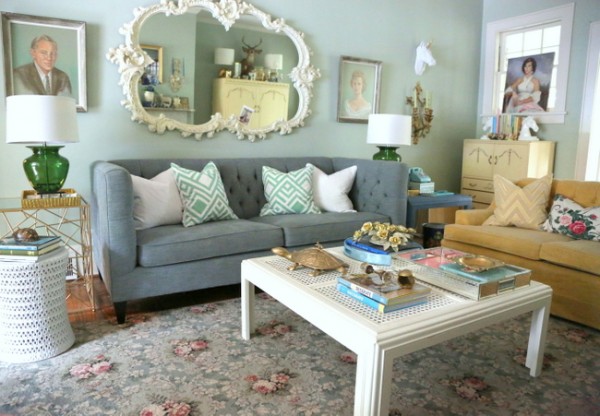 I know, it doesn't feel very fall-ish, but maybe you should see my "summer" version: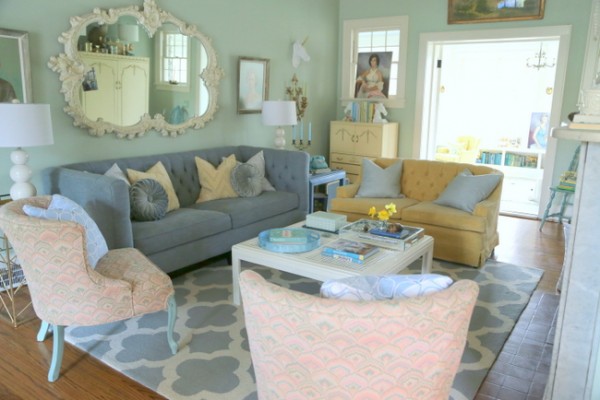 See?  It's all relative, isn't it?  The main things I switch out in the fall are my rugs, pillows, and some lamps and accessories.  I have a prop closet where I have some storage space to cycle out my things and to keep it feeling fresh.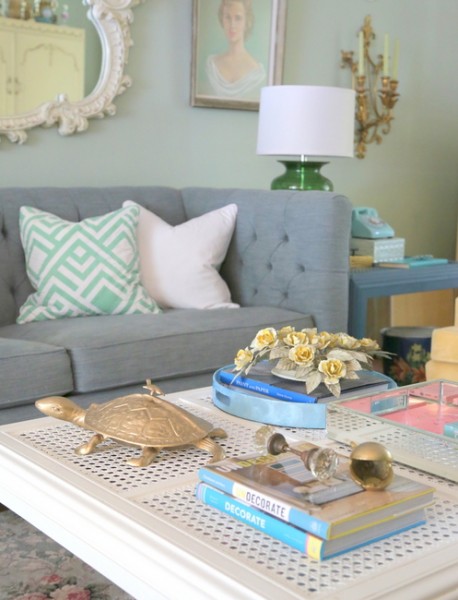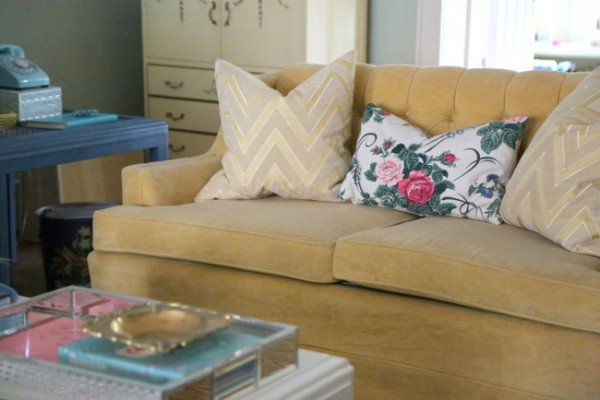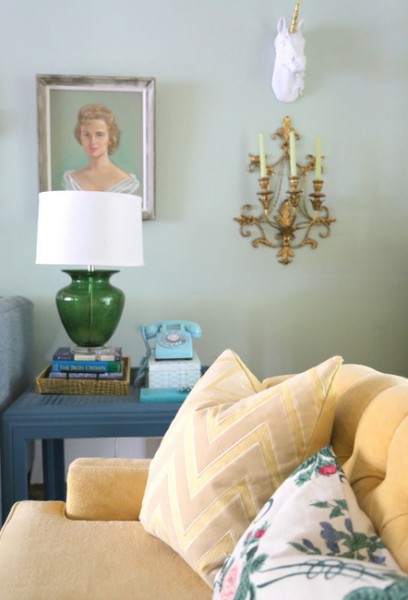 Yes, that's a unicorn with a golden horn on the wall.  Don't judge.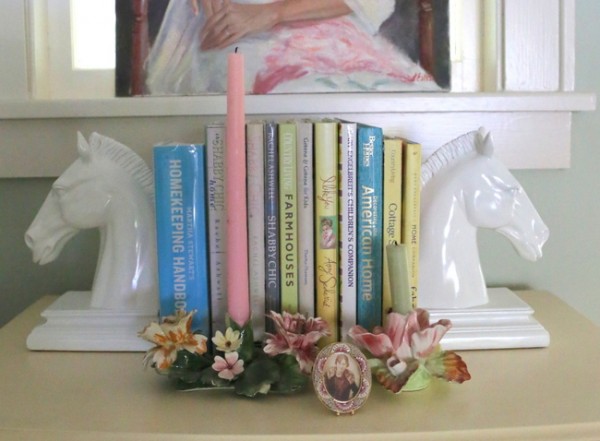 Among the many things I tend to collect are these vintage trophies.  I never won any as a kid, so these aren't mine.  But for some weird reason, it makes me happy every time I look at them.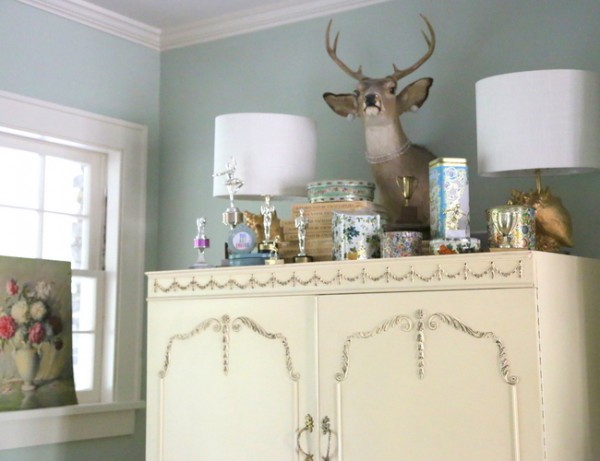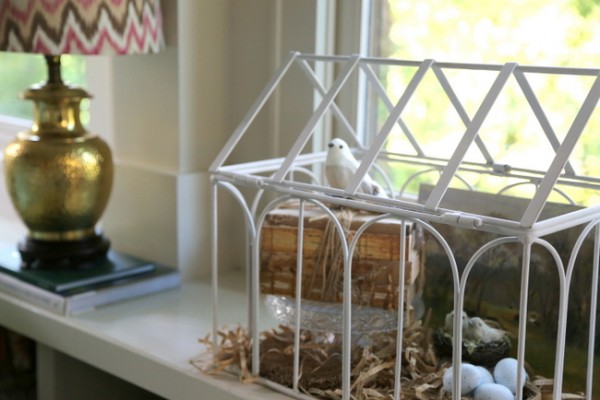 This is a chair that I painted with chalk paint last year – not just the wood frame, but also the upholstery.  It's one of my favorite chairs.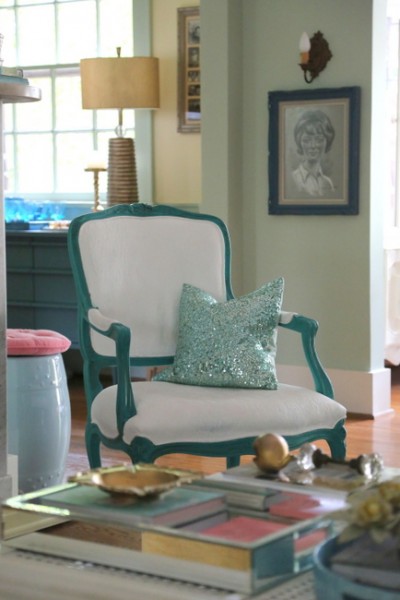 My fireplace mantel is an ever-changing vignette of books and collected vintage items.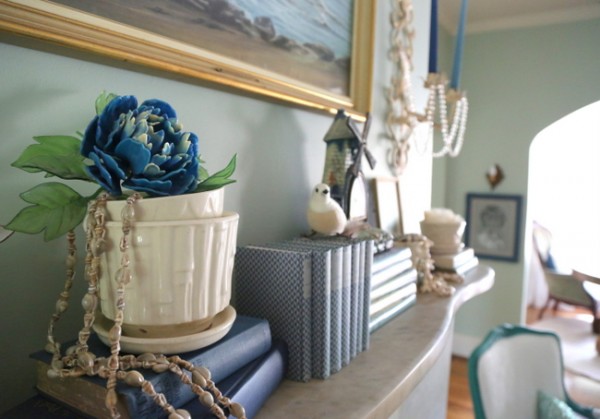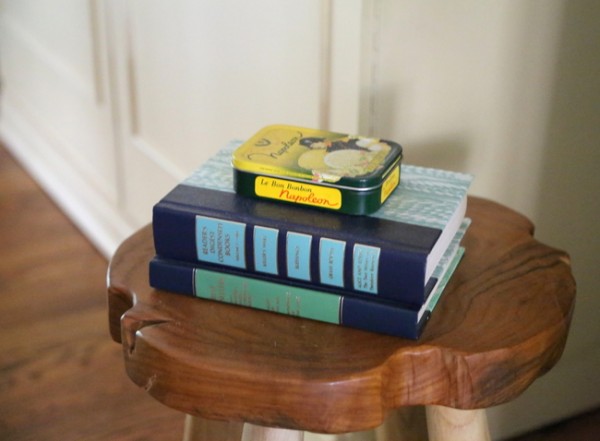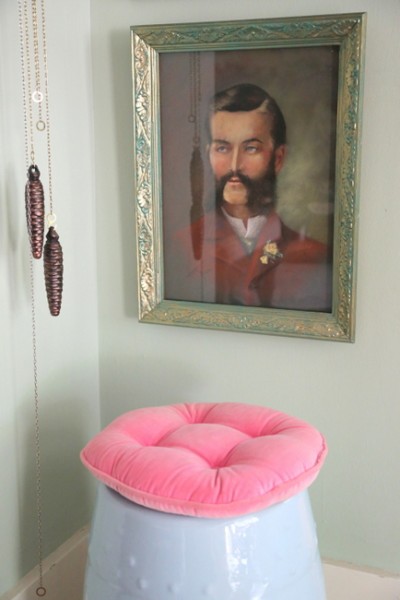 I have lots of books, and I stack them here and there – on shelves, mantels, tabletops, and little stools.  All over the place.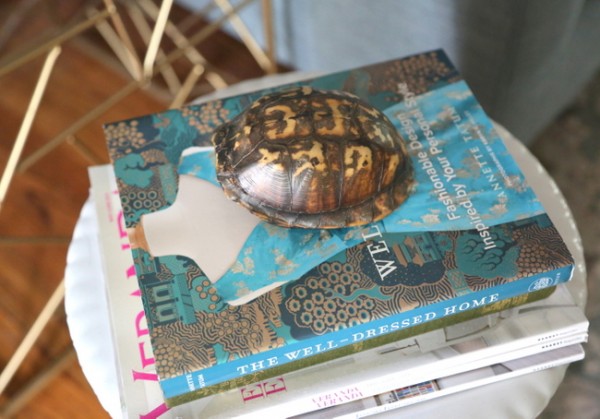 This table is in the entry of our home. The pillow on the victorian chair is from World Market's Woodland Retreat Collection.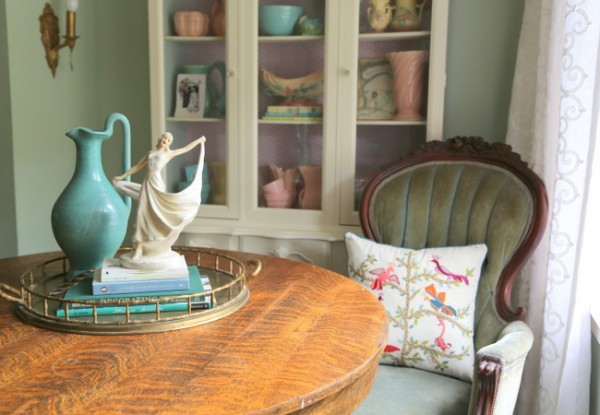 World Market pillow
I love my owl lamp – it was originally brown, but I painted it with chalk paint, too.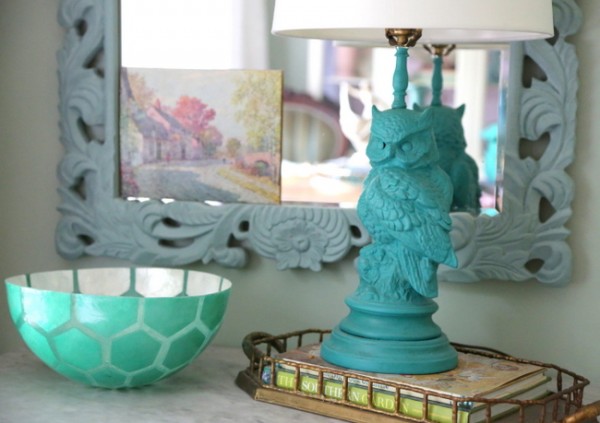 I often rotate some art pieces with the season. I like to tuck small art and postcards in the corners of mirrors, like this one.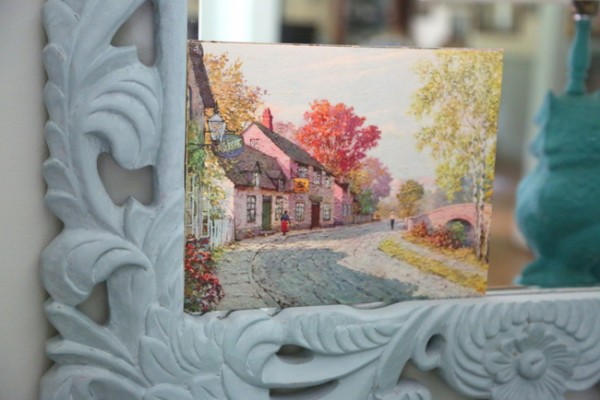 I have a mixture of painted and natural wood finishes in my dining room.  Too much dark finished wood looks dreary to me.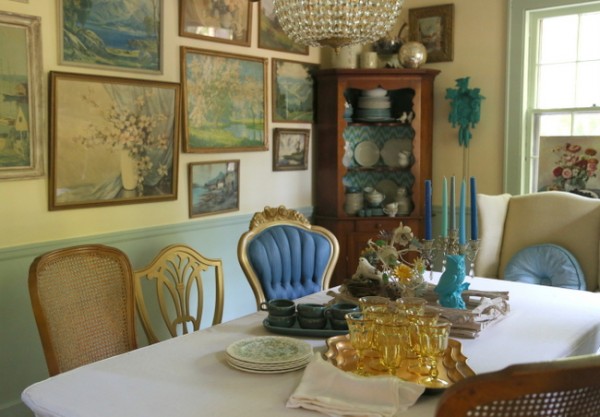 I applied a flamestitch shelf liner in the back of my antique hutch, which really lightened up the interior and makes my dishes more visible.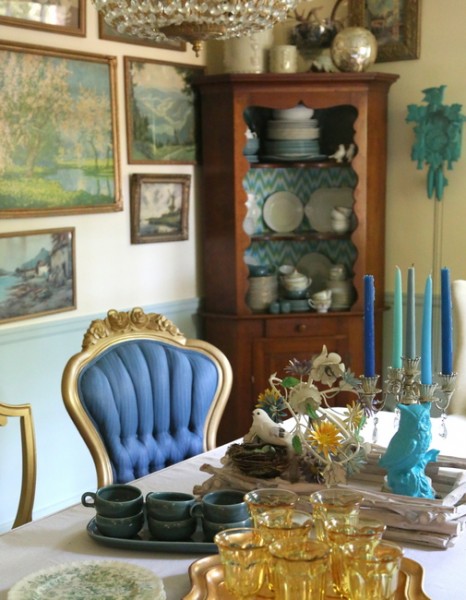 This old tole chandelier once hung in a rental home we have.  Rather than hanging it, I use it as part of my tablescape.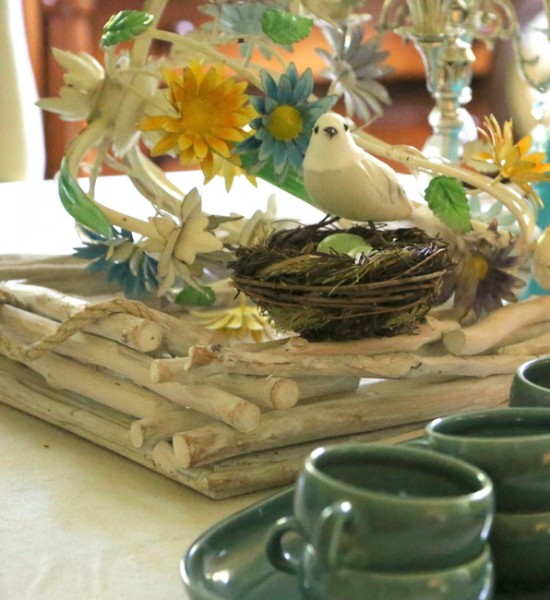 There's rarely a rhyme or reason in my tablescapes.  I just use what I like and experiment with the interplay of color and texture.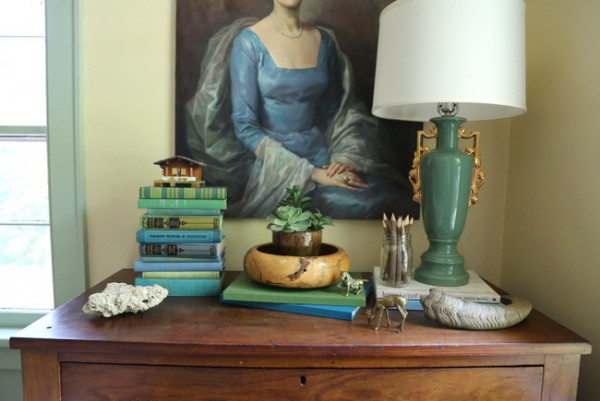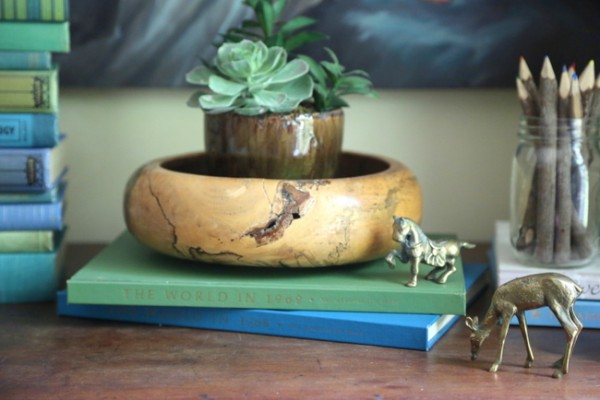 World Market was so kind as to give a $200 gift certificate to all of Eclectically Fall Home Tour bloggers to help us "fall up" our homes.  Did I go for a little bit of this and a little bit of that? Nah. I saw this kelly green desk and lost my mind.  Had to have it.  It's the perfect desk for my girls to do their homework in their "new' homeroom den (the room my younger daughter is moving out of into Mr. Man's former office).  I blew my gift card on that, but it was worth it.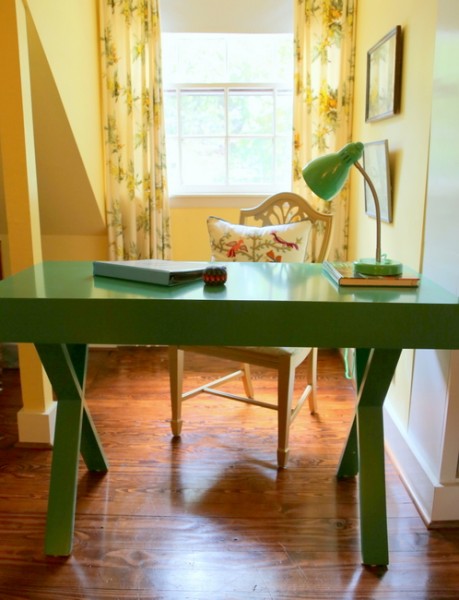 I also bought a couple of pillows – you saw the other one in my entry, and this one sits on the desk chair.  I just love the patterns in World Market's Woodland Retreat collection.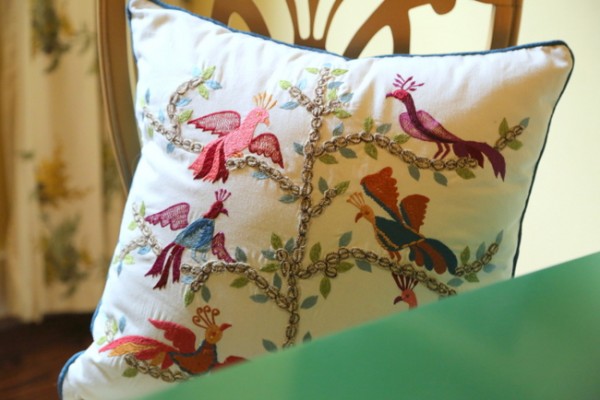 Thank you visiting my home!  If this is your first time here, I typically blog about interior decorating, paint colors, and home staging and would love to have you visit again or subscribe to my free emails for lots of decorating tips and tricks. Also, we're currently giving away a Dyson DC59 Motorhead vacuum – it's lightweight, powerful, and CORDLESS.  Check out this post to enter. Only a few days left in the giveaway!
Make sure you check out the other fabulous fall tours on Eclectically Vintage by clicking the image below!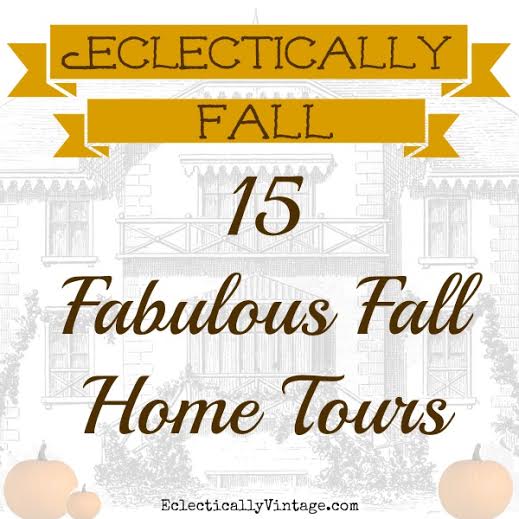 Happy Fall, Y'all!!!