Holiday gatherings are approaching quickly, and it's time to say goodbye to the traditional dining room.  It's time to close the doors on the gloomy, twice-a-year, precious surfaces, traditional dining room of yore.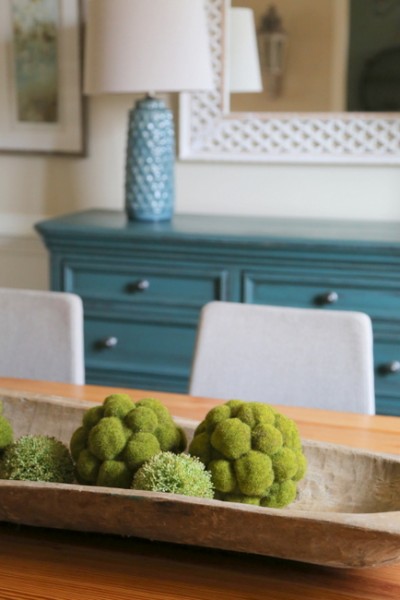 It's time to actually use and enjoy that wasted space of a room that sits sad and empty until holidays or parties.  So where do you start?  Think beyond the matchy-matchy dining room sets in their dark wood tones.  I so remember my grandmother polishing her cherry dining room suite – you couldn't set anything on the tabletop without first putting on the big felt pad and a tablecloth.  When I first got married, I was given an antique dining table which I used for several years in our dining room.   It was frustrating to me when I had guests, because even if I like the look of the table, I had to completely obscure it with a tablecloth in order to use it without damaging it!  So, my advice to you is to look for a table that is user-friendly.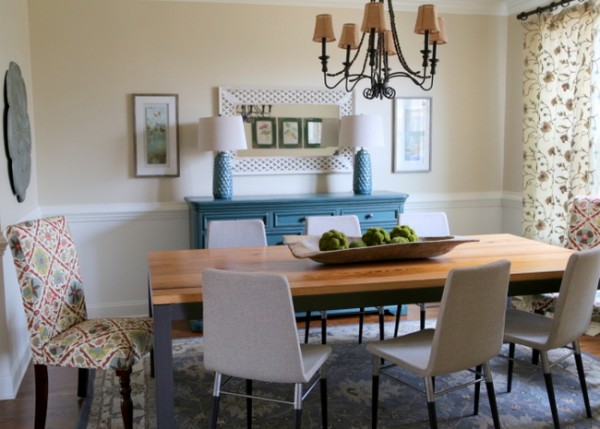 Fortunately, there are more and more companies that are producing family-friendly tables in large sizes (not just breakfast-room sized).  You should be able to find some good options if you look around a bit.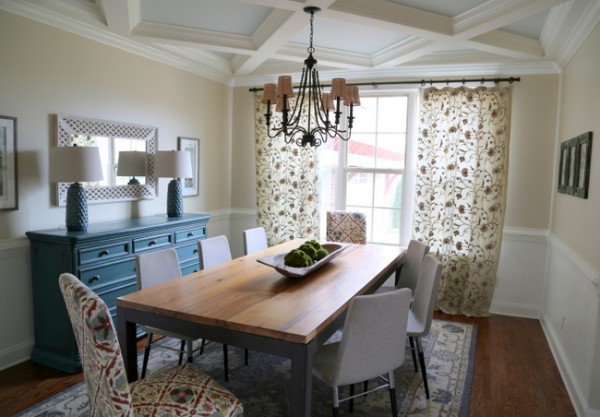 Don't fall into the rut of buying a complete set of matching dining chairs, either!  They don't need to "match" the table, but they do need to complement it.  Mix it up by using contrasting chairs on the ends of the table – parsons chairs or wingback chairs are great for this.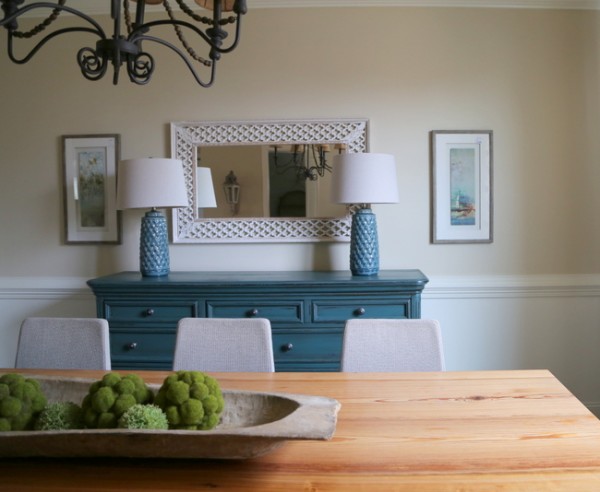 You may not need or have room for several other dining room furniture pieces, so don't pack a hutch, side board, and other storage pieces in your dining room.  Choose one and make it an interesting one.  Rather than purchasing a brand new sideboard, I suggested we take the homeowner's Pottery Barn dresser from the seldom-used guest room.  After a custom paint job, it's been transformed into a lovely sideboard/credenza with plenty of storage for the dining room.  See the before/after here.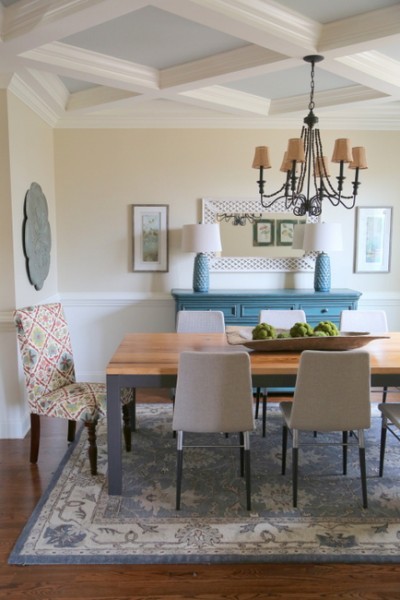 A large rug for beneath the table is a wonderful addition to a dining room.  It adds color, pattern, and serves as a sound absorber during a rowdy gathering.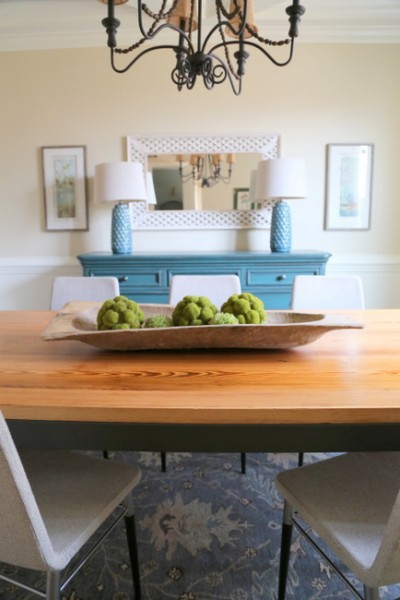 PLEASE – don't use a dining room rug that is very expensive, a precious heirloom, or that is dark. If you actually use the room, food will inevitably end up on the rug.  And you don't need to worry about it if it does.  Choose an inexpensive rug with an updated pattern to complement your room.  The look and feel of indoor/outdoor rugs has improved greatly over the last couple of years, and they are less expensive than their wool counterparts.
Would you like to see this dining room before the design began?  Here it was: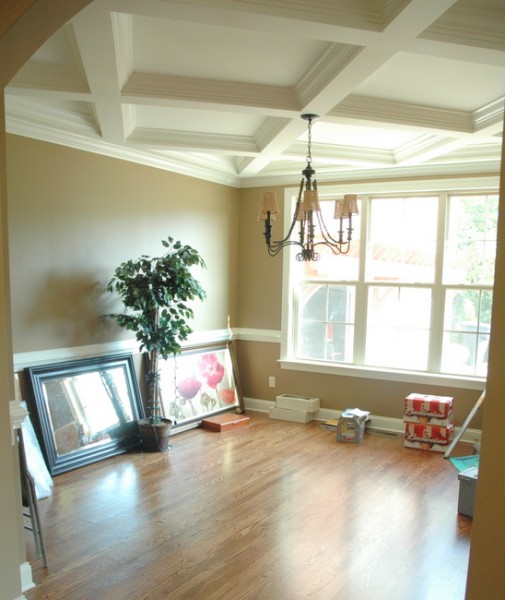 before
The most difficult thing about designing a mismatched dining room is the process.  One decision determines the next one, and so on.  There needs to be a vision for the room or you may give up mid-stream when it is in its beginning stages: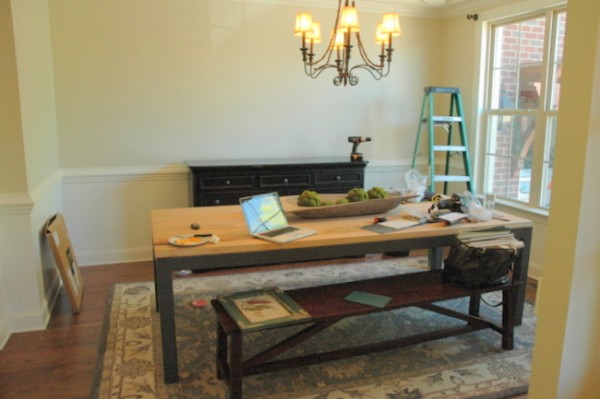 beginning stages of design – not so pretty
If you trust and wait for the full bloom of the mismatched, but well-coordinated dining room, you will be thrilled with the result: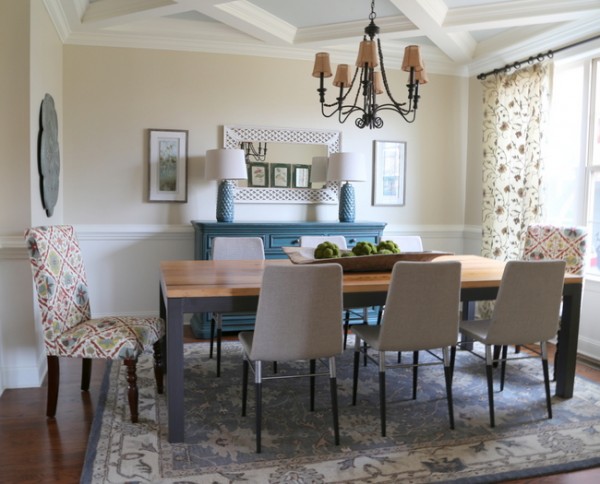 design by The Decorologist
I hope you all have a wonderful Thanksgiving – check in with me Friday for a Decorologist Black Friday special!