This week, I've been working on a design plan for a client with an oddly-shaped living room.  For me, space-planning is all about creating a furniture arrangement that is in harmony with the architecture.  That can be particularly challenging in a room like this one: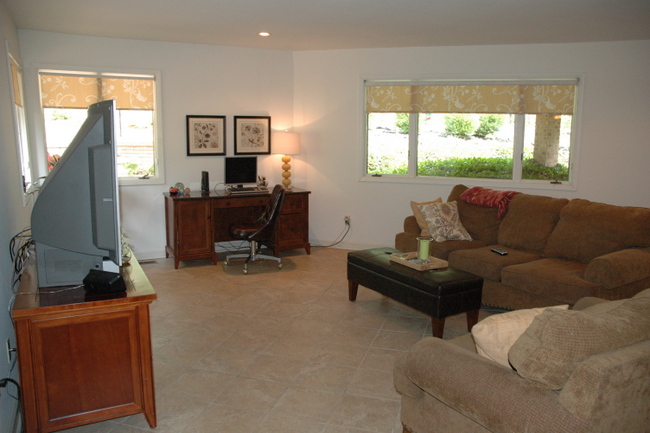 Living Room with Diagonal Wall
The room has 5 walls, and the wall with the bank of windows runs on the diagonal.  The area opposite these window walls is almost a hallway from the front of the house (to the right of this room) to the dining room and kitchen (to the left of this room).  My client wants new seating and a rug for this room, as well as accessories to warm up this tiled space.   The first thing we needed to do was to establish how to arrange the furniture to address the unusual architecture of the room.  This is the floorplan I came up with: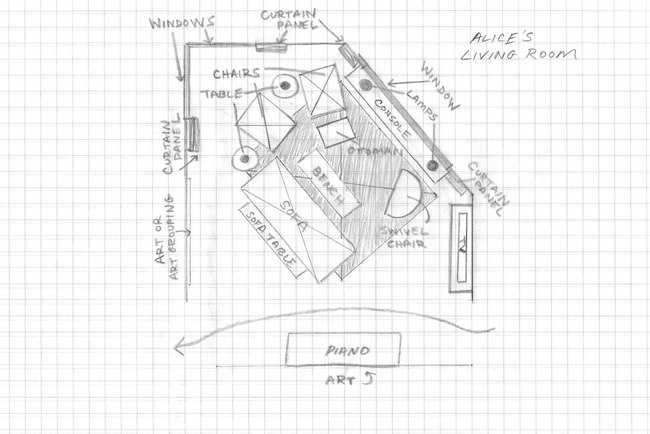 Rather than ignoring the architecture, we addressed it by using the bank of windows as our focal point for the living room.  Now you are facing a lovely view, but can also see the television when seated.  An art grouping will replace where the television was formerly, which is the first thing you see when you walk in from the entry (see arrow).  My client was having a difficult time visualizing the finished room, so I created an Inspiration Board to bring together the items I selected for the living room: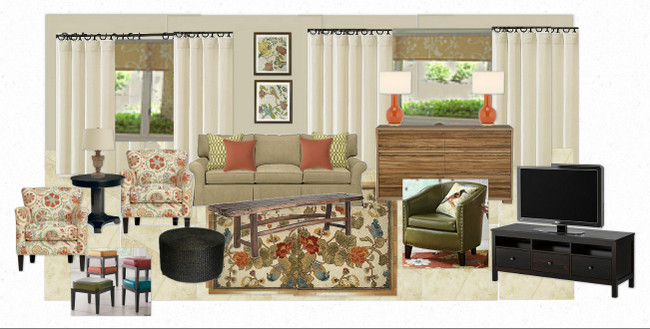 Inspiration Board by The Decorologist
Do you have a room that stumps you when arranging your furniture?  What architectural feature gives you the most difficulty when arranging your room?