To paint or not to paint?  That is the question and the debate between wives and husbands throughout the land.  Here is a stunning example of when painting the woodwork (and brick) is the RIGHT choice.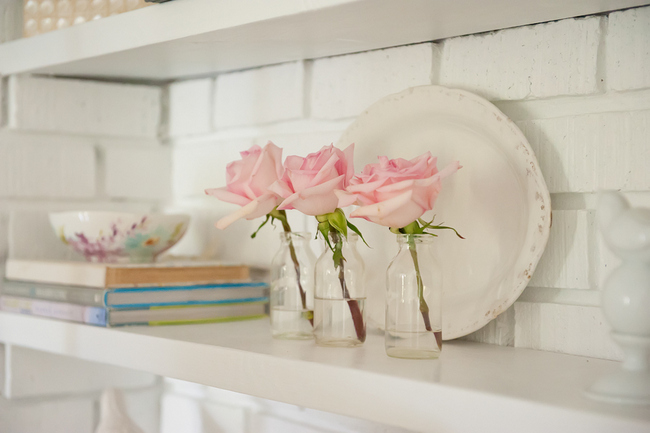 Painted Brick
This client knew what she liked – I mean she REALLY knew what she liked.  So why did she ask for a paint color consultation with The Decorologist?  Because choosing paint colors is a very tricky deal, haven't you noticed?  My client and her family recently moved back to Nashville and found a house with a great layout in an ideal location.  However, the finishes were dated and harkened back to the late 1970's.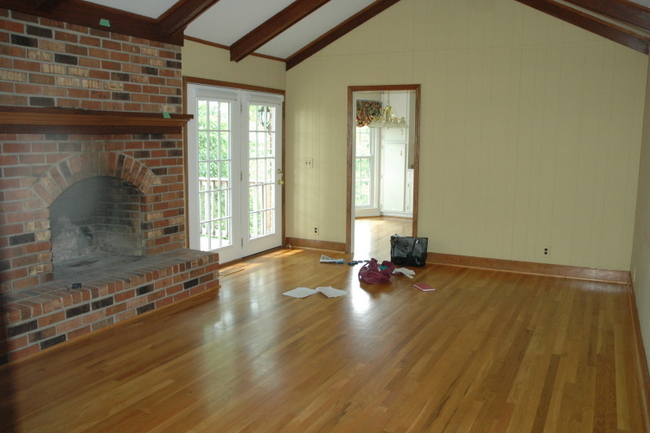 1970's Living Room
The paneling had (mercifully) been painted already, but the beams were orange and the brick fireplace dominated one entire side of the den as you entered.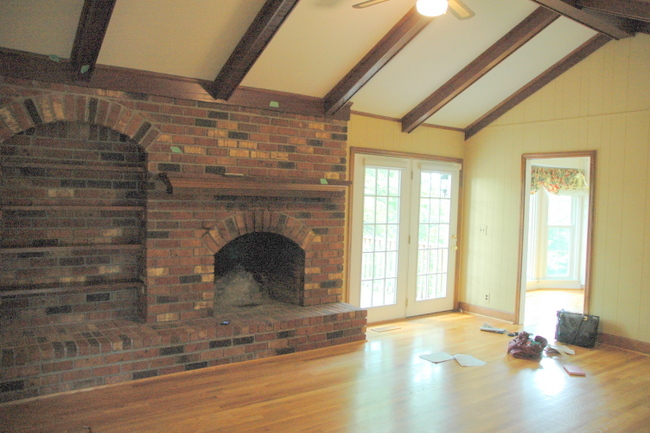 Lots-o-Brick and Wood Beams – To Paint or Not to Paint?
My client knew her own taste and had furnishings that reflected that.  She knew that she needed the transformative power of the RIGHT paint colors to make this dated house her dream home.  You may need to take a deep breath to prepare yourself for the unbelievable change in this space after the new colors were in place and her furnishings filled the room: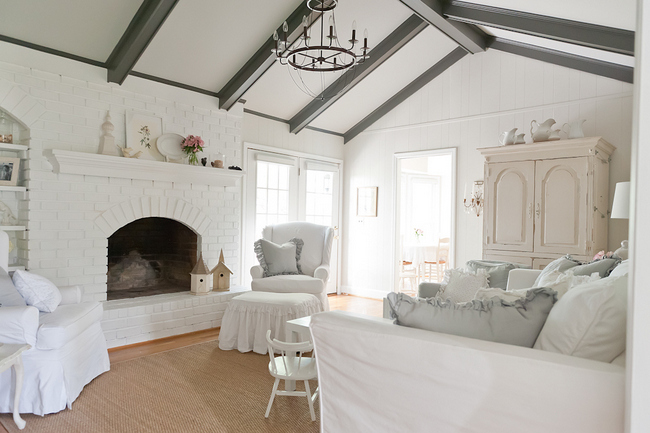 After – Color and Accessorizing by The Decorologist
Can you believe this is the same room as in the "before" photos?  As peaceful and simple as it seems, I chose 4 paint colors for this room.  See if you can differentiate them.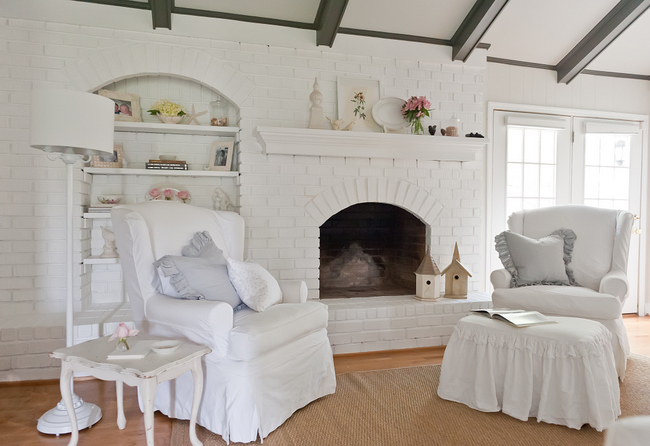 Painted Brick and Wood Beams
Lest you forget the "before" of this room: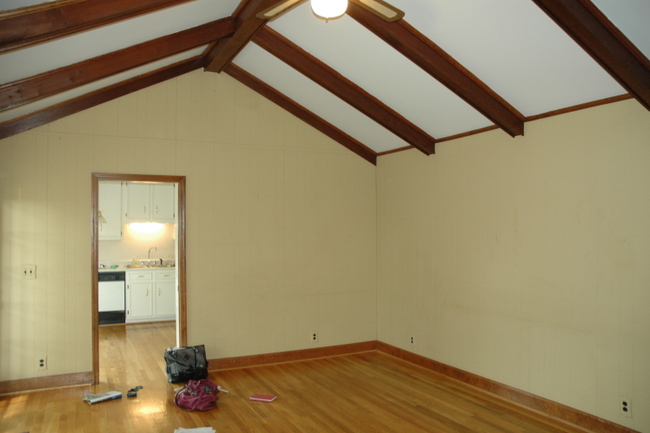 Before: Orangey Wood Beams and Trim
Although many homeowners would have kept the dark wood beams, knowing my client's aesthetic helped me make the RIGHT decision to paint the orangey beams and baseboard woodwork in colors that made it possible to take an outdated den to a Belgian Chic living space for a growing family.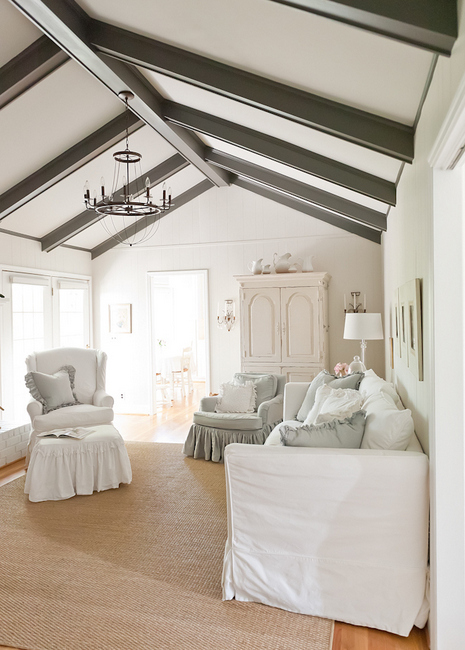 Belgian Chic by The Decorologist
Notice how the ceiling ties in ever-so-gently with the gray-blue muslin slipcovered chair and pillows?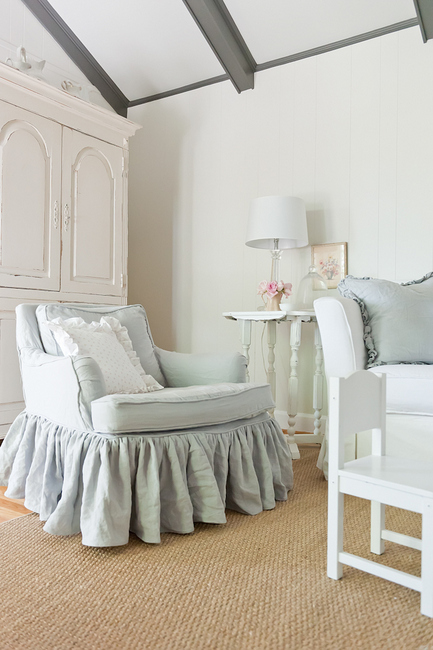 I want to read a wonderful novel right here . . .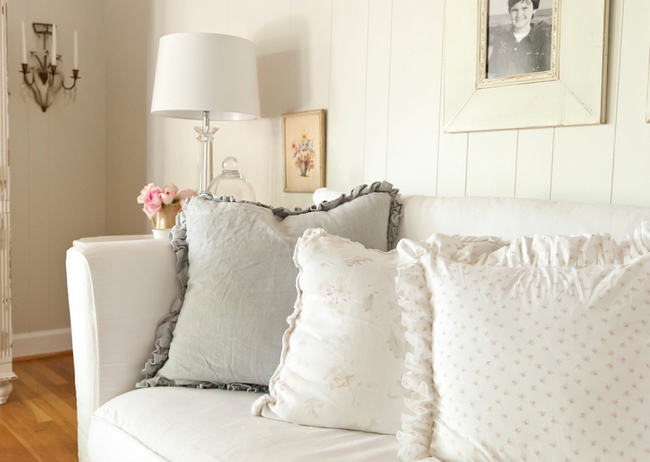 Of course, I made it a priority to create a flow in the color palette from room to room of this home.  This was the condition of the entry leading into the living room at the time of the paint color consultation: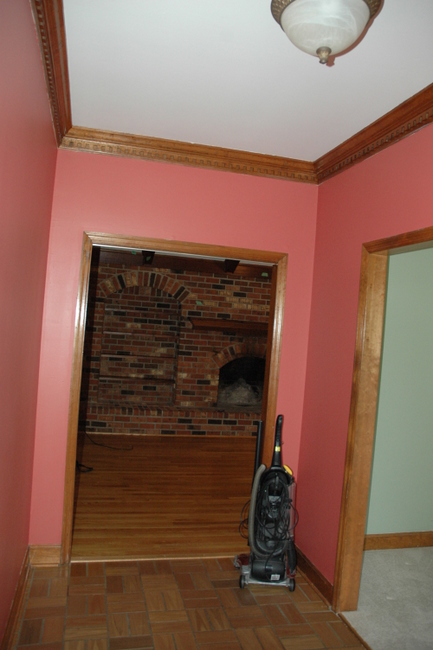 Interior Colors Before The Decorologist
Below is the transformed entry, complete with a fun IKEA light fixture.   Walk right in and say, "Ahhhhh."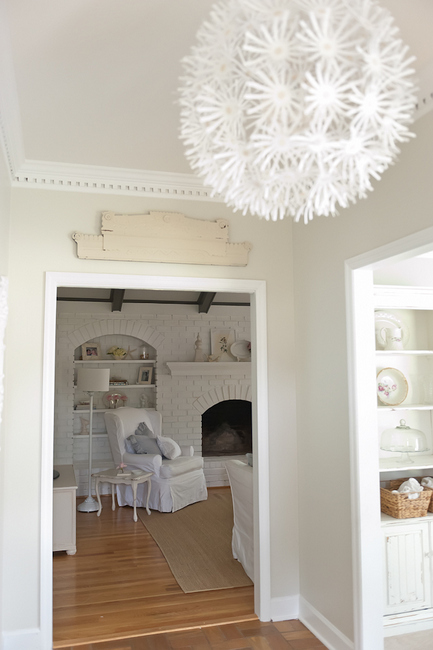 Entry "After" – A Whole New Aesthetic
I've said it before, and I'll say it again:  there is nothing I love more than to come to an understanding of a client's innermost desires for their living spaces and cast a vision even better than they could have imagined on their own.  That is my heart-felt hope and mission in this seemingly-silly vocation of interior decorating.  Just a little sliver of heaven on our little sliver of earth.  Can I get an "Amen?"