Wondering about 2016 kitchen trends? Last week, I attended the International Builders Show (IBS) in Las Vegas, which included the Kitchen & Bath Industry Show (KBIS).  Let me tell you: I LOVED so many of the new looks and products that were introduced at the show.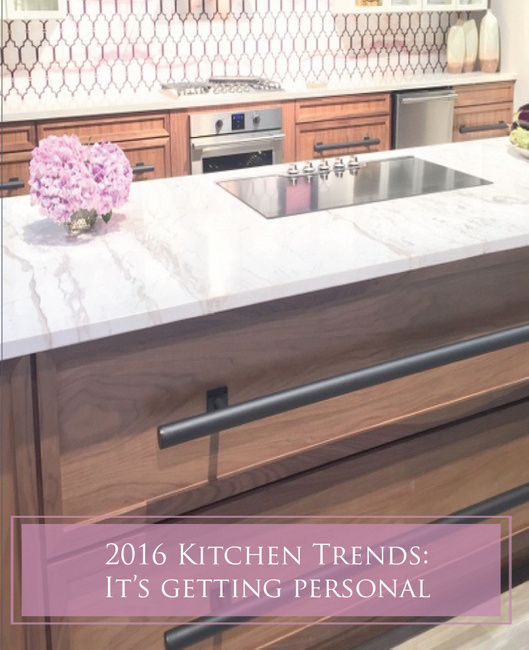 I noticed four dominant 2016 kitchen trends. It's all good news, as far as I'm concerned!
1) More Color
White kitchens are still going to be the standard, but color is the choice for those comfortable pushing the envelope. The most popular and most on-trend color for cabinetry at KBIS? Dark, moody blue. It's the new black!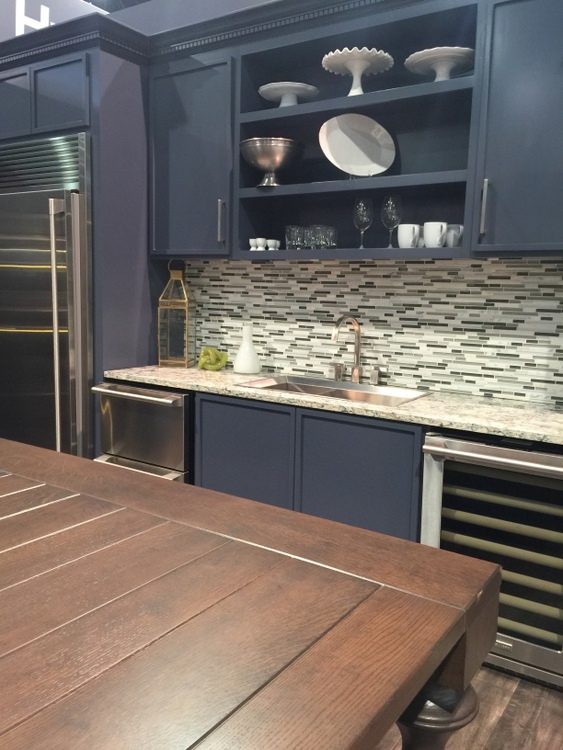 Beyond the blues, greens were big: gray-greens, mint green, and teal.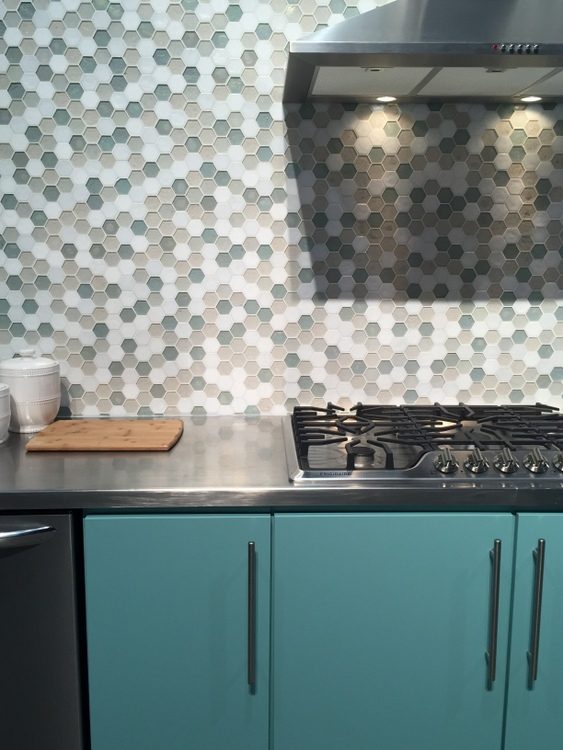 Where there were wood cabinets, they were paired with colorful islands or backsplash tile.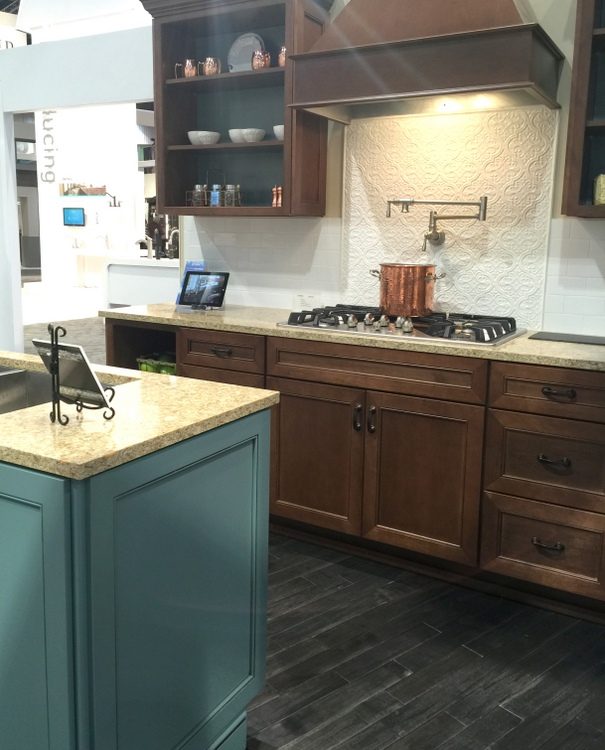 Laundry rooms were colorful and all about personality. You might as well enjoy the time you spend in there, right? Notice there is wallpaper in the backs of these cabinets.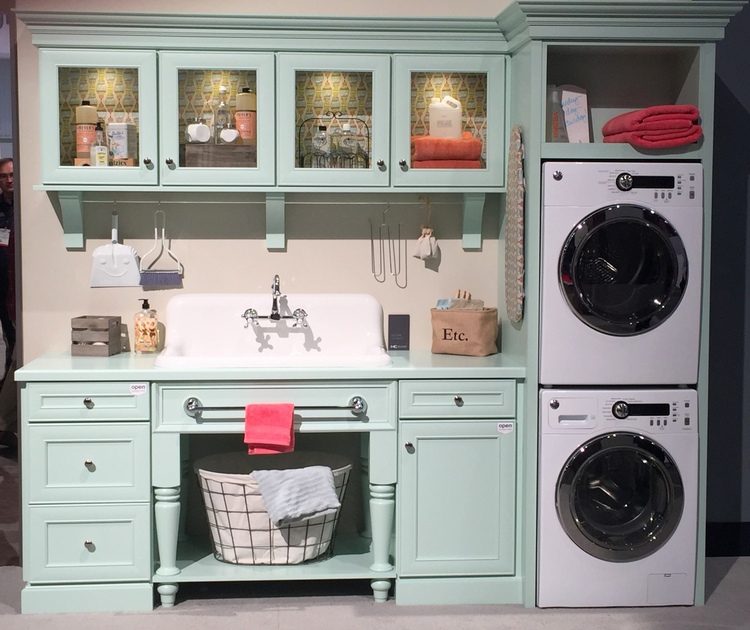 2) Mixing Colors on Cabinetry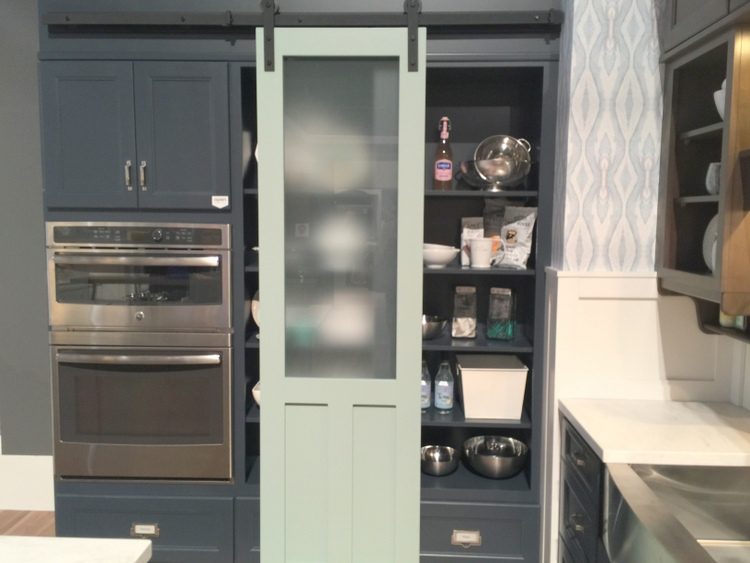 Sure, we've seen a mix of neutrals on upper and lower kitchen cabinetry. And an accent color on islands, but THIS is new:  the 2016 kitchen trends include actually mixing cabinetry colors like this beautiful navy and mint green kitchen design demonstrates.

This was my FAVORITE kitchen at KBIS, and I was salivating over the wallpaper, too! There was actually quite a bit of wallpaper featured in kitchens there.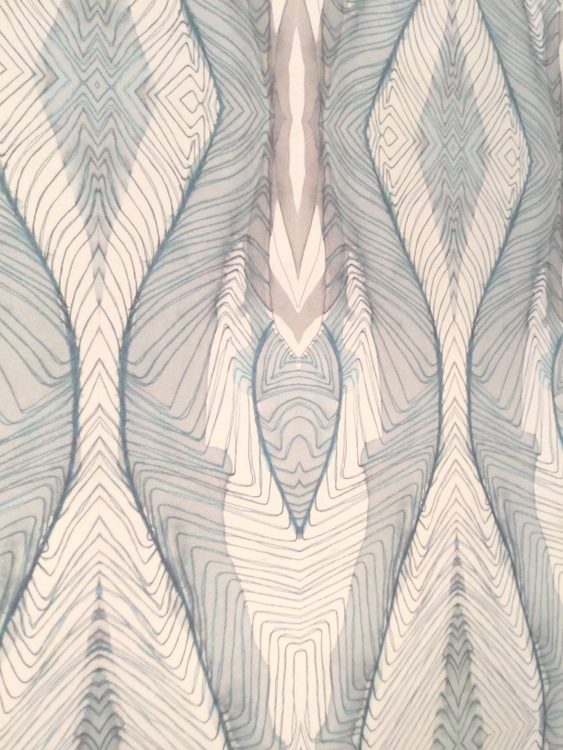 Check this kitchen design out. Dark and light cabinetry mixed side-by-side, and ORANGE in the backs of the glass front cabinetry! Now, that's a bold statement.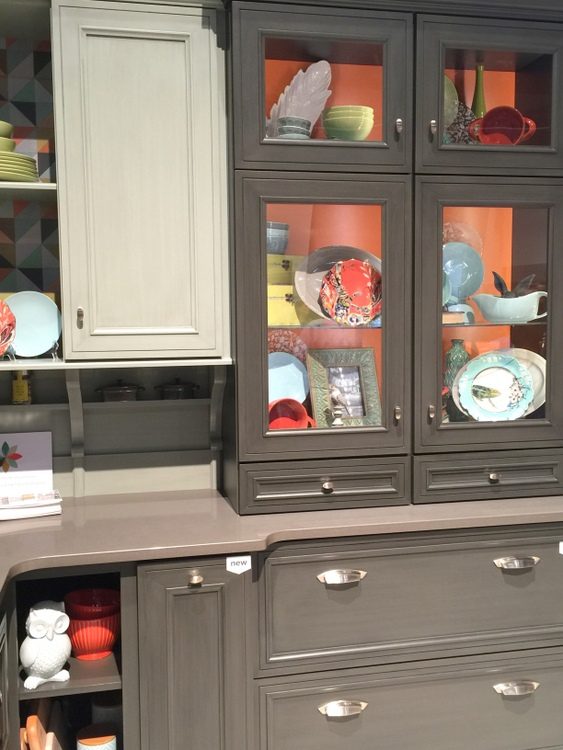 And some of the glass front cabinetry in the same kitchen was backed in THIS: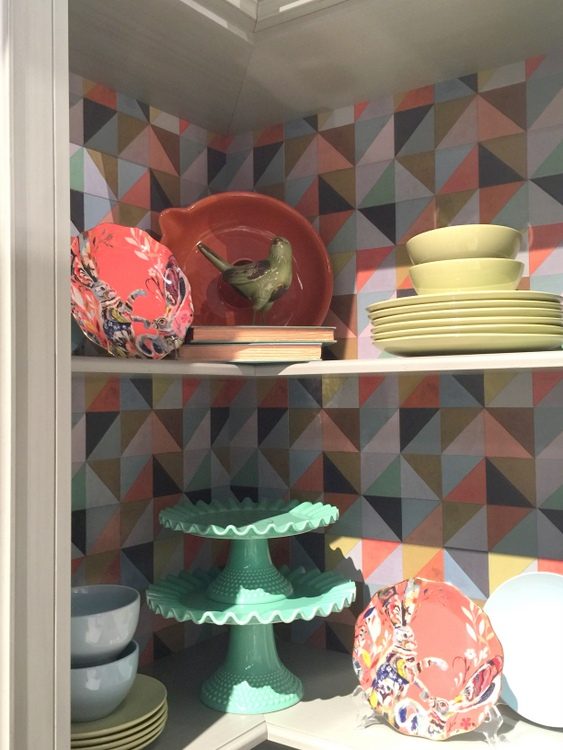 Here's another kitchen design that featured mixed cabinetry colors, just not as boldly as the one I just showed you: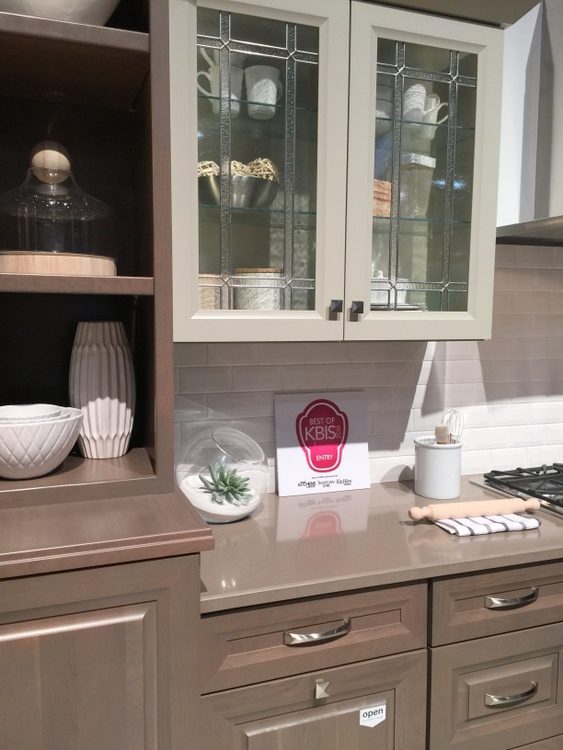 3) Furniture Detailing
Furniture detailing is definitely in the 2016 kitchen trends. Kitchen cabinetry, shelving, and banquettes have the look of stand-alone furniture.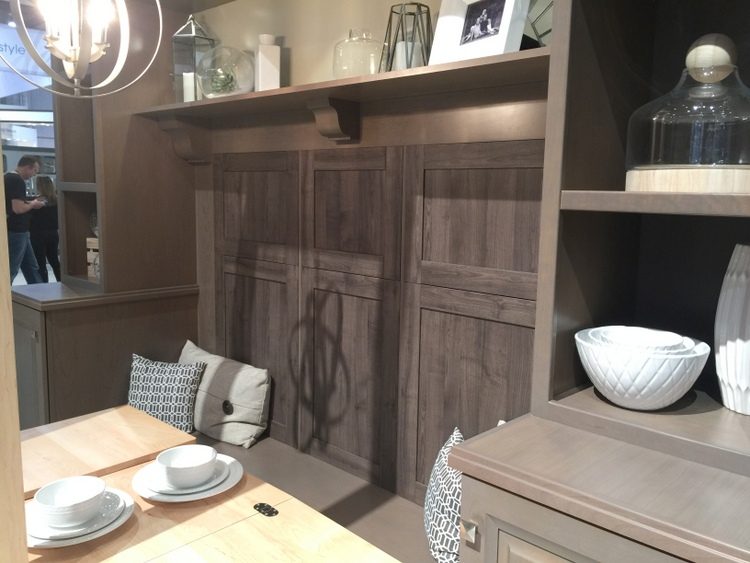 See how the legs on this cabinetry make it look like a piece of furniture? Such a custom look:

Mudrooms have become a given nowadays – they are simply expected in new builds. Notice how the curved brackets make it feel like furniture?

It's timely that Laurel Bern recently posted about the "unkitchen" movement in design, because that's what I saw at KBIS this year!
4) Gold and Copper
Although polished nickel was the most popular metal I saw at KBIS, gold and copper are the options for the trend-setting crowd. I love using black/white with gold to create a retro yet modern look.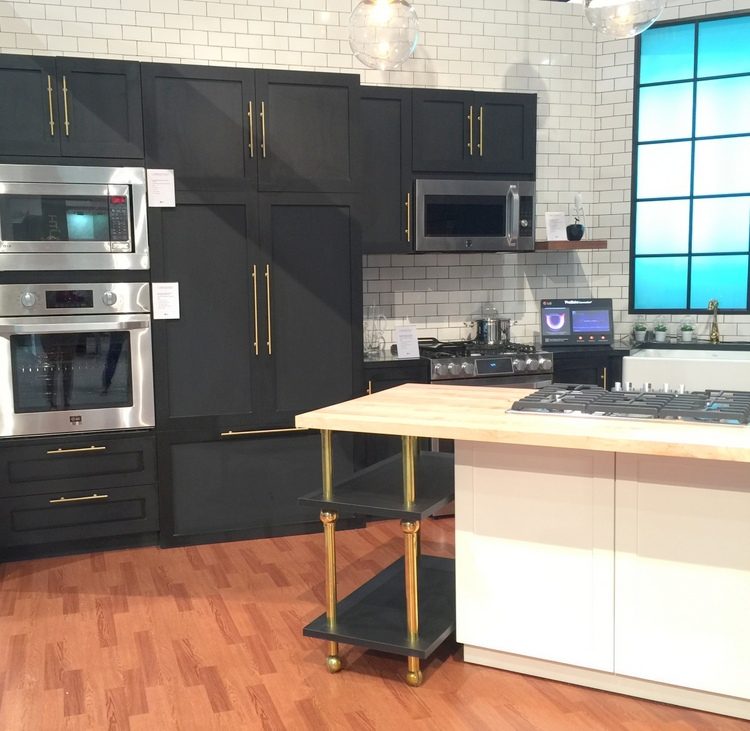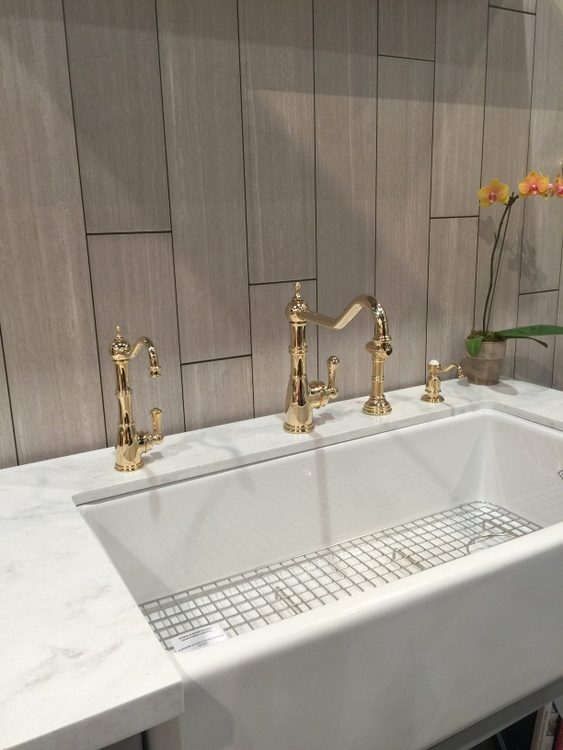 There were many examples of copper sinks: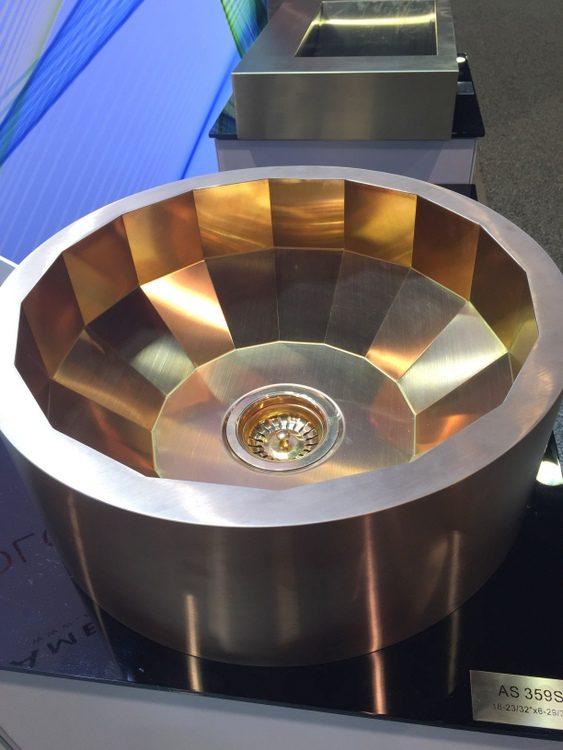 And THIS was my favorite! Wish I had a place for this piece of art from Thompson Traders: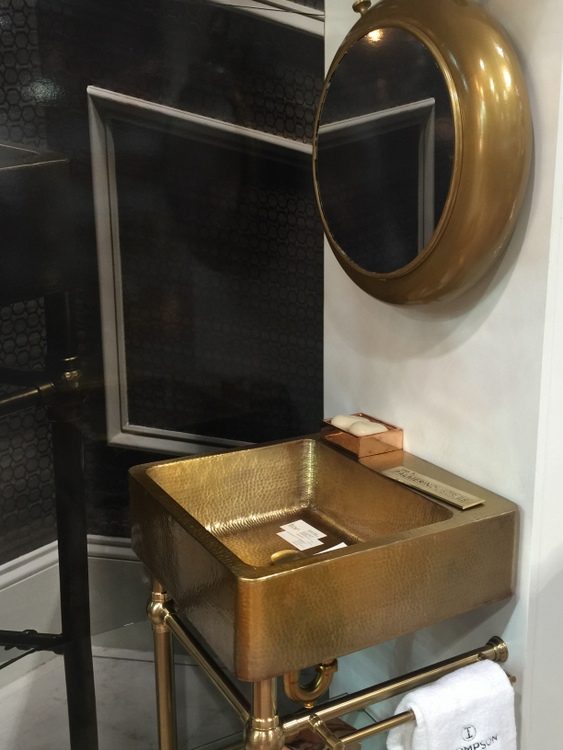 What do you think of the 2016 kitchen trends? Are you excited to see the variety in color and materials, or is it all too much?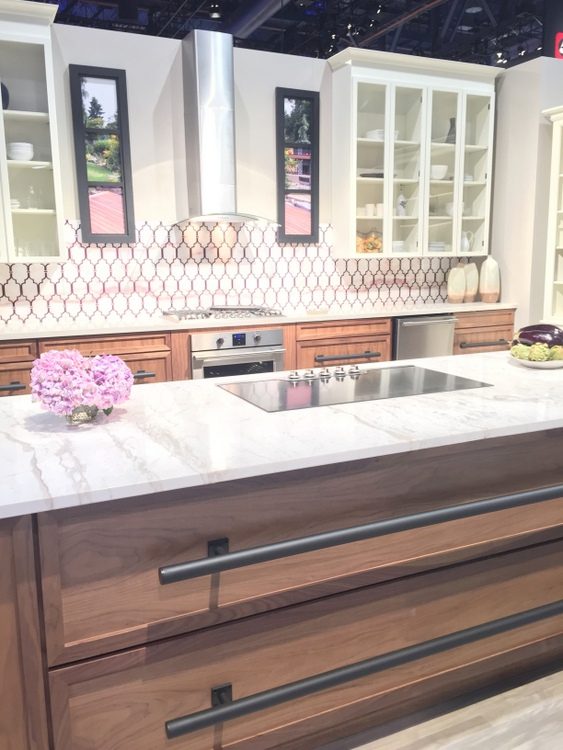 Would you like for me to personally train you to be an Expert Psychological Stager™? Click below to find out more – sign up soon for our next course before the spots are filled!