Many people are loving a clean, minimalist look for their homes. But then there are others who are embracing a completely different kind of aesthetic. Maximalism is an unapologetic love for mixing and melding all the things they love, no matter how quirky. I can't wait to share some inspiration from my visit to the Graduate Hotel Nashville!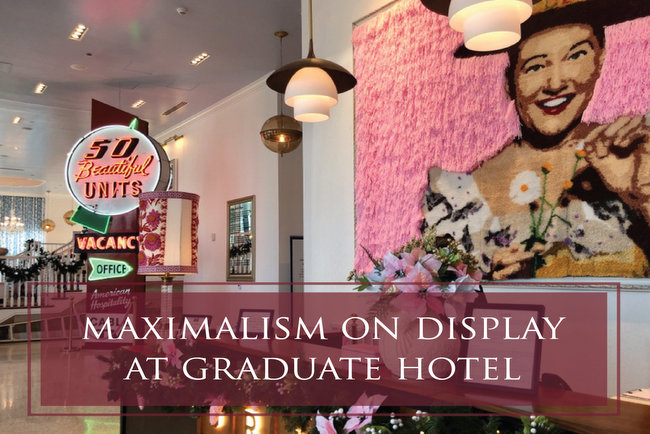 For Christmas, our very thoughtful daughters gifted Mr. Man and me with a one-night getaway to the new Graduate Hotel Nashville. The reservation was for the day after New Year's Day, and we were uncertain whether we would still be able to stay there after the shocking bombing in downtown Nashville on Christmas morning. One of the buildings that was destroyed was where my husband and I first met, and another was one a music studio where he worked for several years in our early marriage. Fortunately the Graduate Hotel is not in the heart of downtown, and we were able to have our special night there afterall.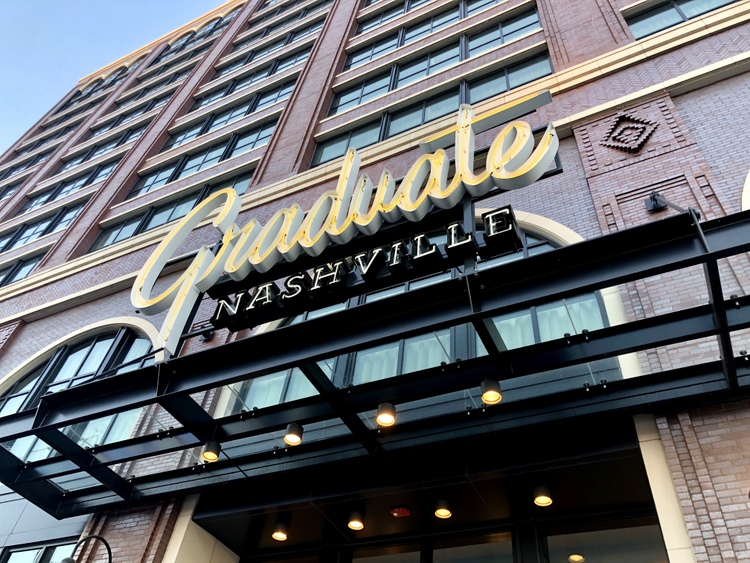 One of the things I've missed most in 2020 is soaking up inspiration from visiting and touring design-forward places. I can appreciate almost any style or historical period of design. That doesn't mean I'd want to live in that style myself. But I have to admit, it would be a whole lot of big fun to live in the Graduate Hotel! In fact, in addition to hosting tourists and out-of-towners, this hotel offers sophisticated living for many college students who study at the many nearby universities.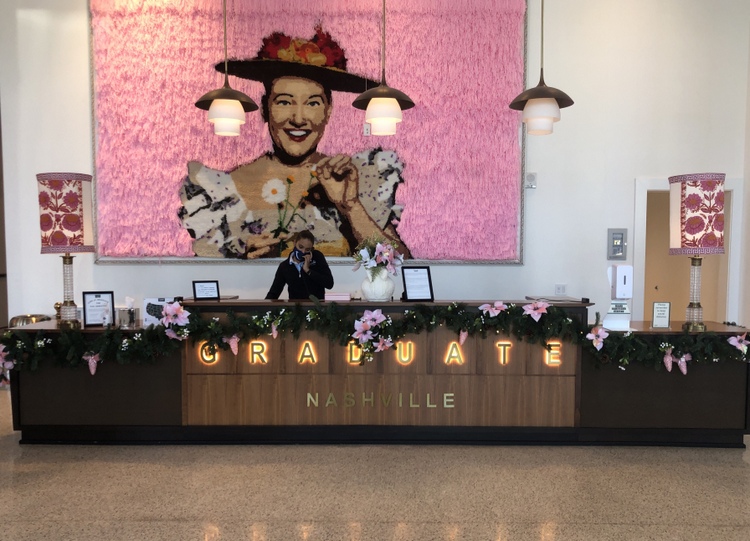 The lobby of Graduate Hotel Nashville is a visual feast. It's difficult to take it all in, and I was hesitant to go straight to our room before walking around and processing all that I saw! The massive Minnie Pearl piece is masterpiece in textile art, and the neon sign is the original from the James K Polk Motel in Columbia, TN.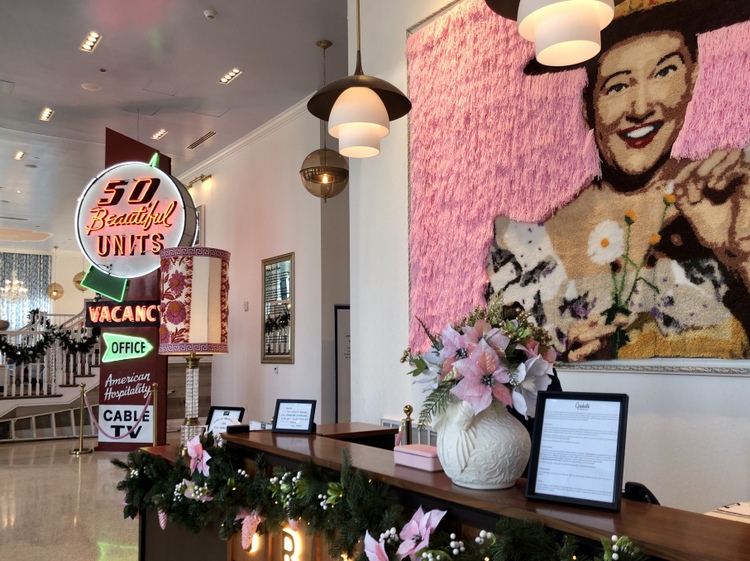 Here's the view from the top of the tiered, theatre-style seating in the lobby. We had afternoon coffee at the top of the staircase of vintage sofas while perusing vintage coffee table books.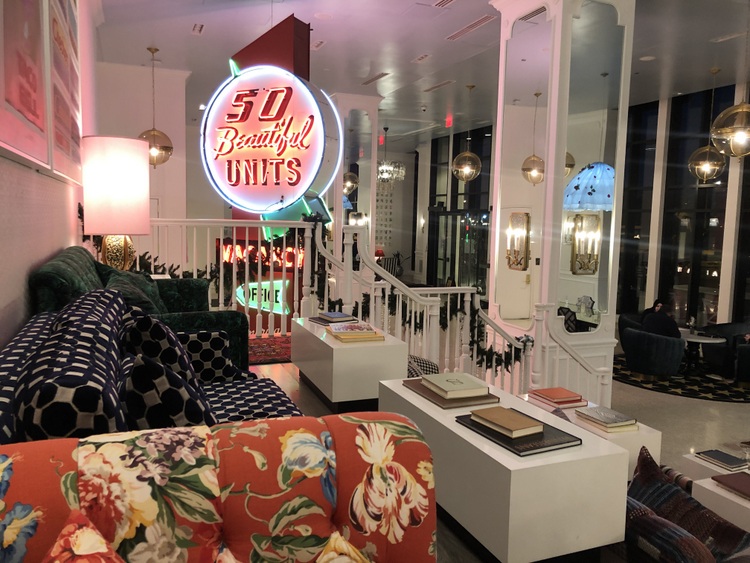 Here's a professional shot from Graduate Hotel Nashville's website. If I were a grad student in Nashville right now, THIS is where I'd be hanging out to do homework! Because I've lived in Nashville all my life, I knew immediately that the Taco Bell and Checkers art display wasn't as random as one might think. It actually pays homage to the businesses that previously stood on this very spot!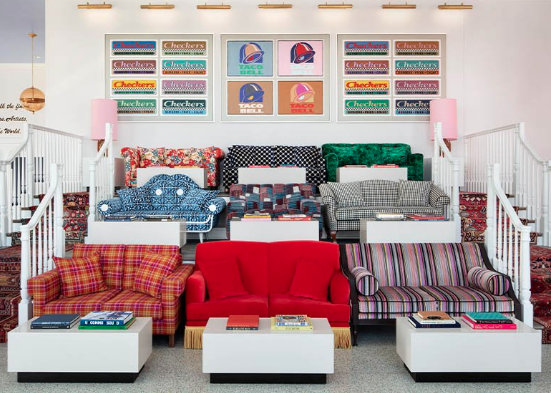 Maximalism scares most people – it's a bold choice that can illicit consternation from the more serious-minded. Maximalism can be executed in varying degrees, of course. It doesn't necessarily mean that your home is chocked full of knicknacks and haphazard furnishings. More often, true maximalism design is a careful curation of furnishings with true personality and an artful blending of patterns and fabrics.
Graduate Hotel Nashville includes a heavy dose of country music kitsch. I mean, Nashville IS Music City. Abstract Dolly Partons are featured in the hallways, while more true-to-life representations hang over many of the beds (as you will see shortly).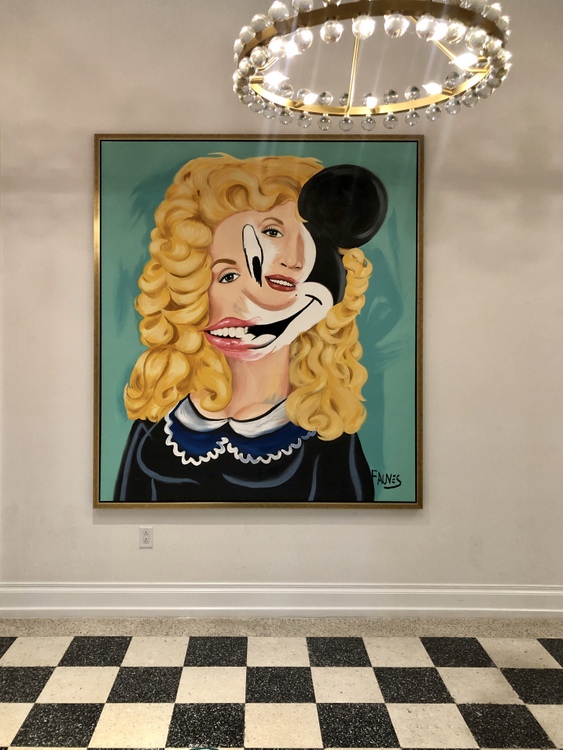 Dolly + Mickey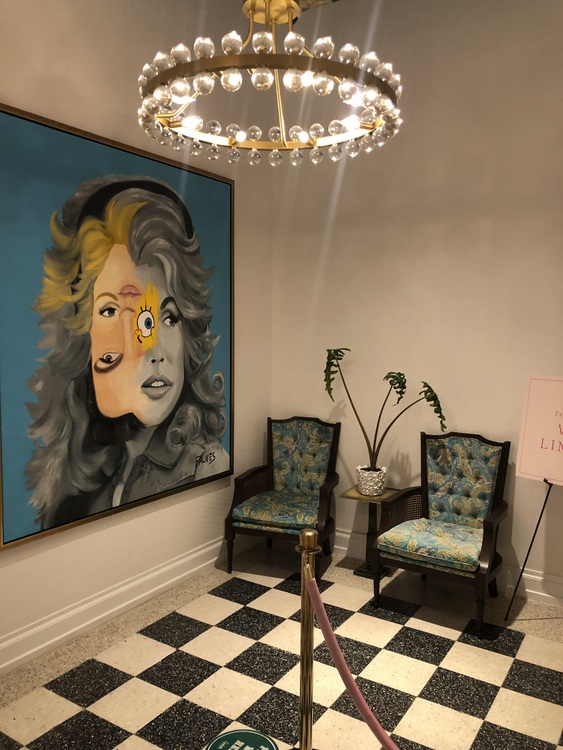 Dolly + Spongebob??
Let me take you upstairs to our room so you can get a glimpse of the mash-up of maximalism there. The tagline for this hotel is "We are all students." Kinda clever, although not always understood.  I overheard several people take it quite literally, asking the employees if they were all college students (haha)! By the way, they were not.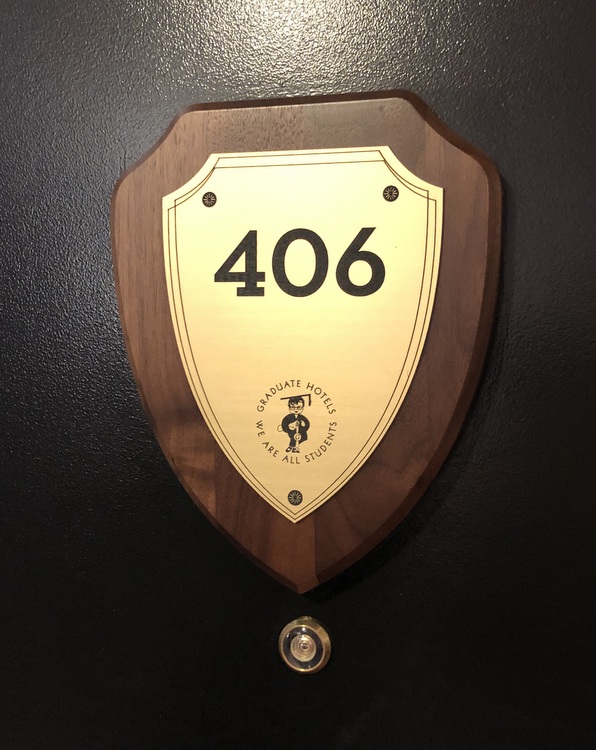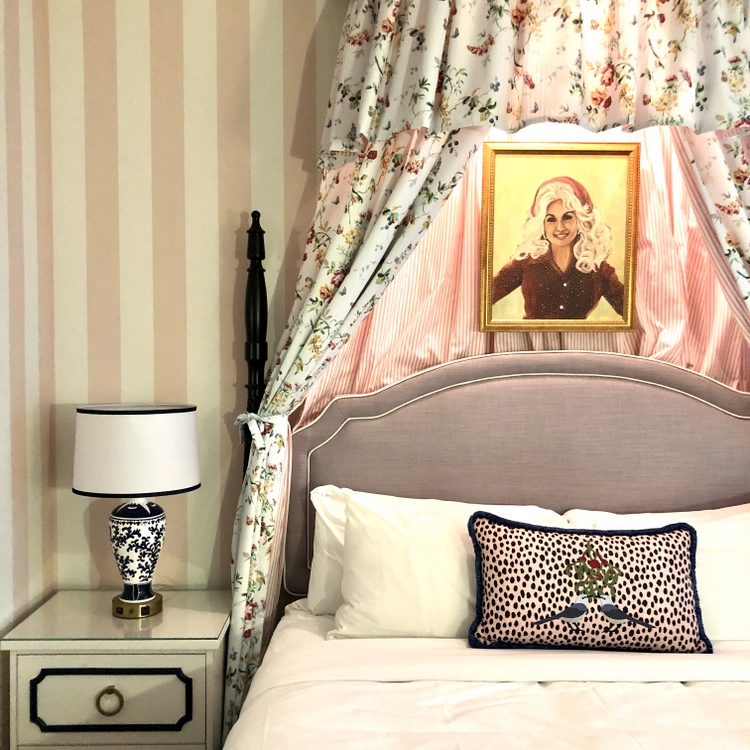 Our room was overtly twee (you may want to look that up), and I loved it! Sweet and sassy, with splashes of throwback Dorothy Draper and Laura Ashley. Oh, and COMFIEST BED EVER!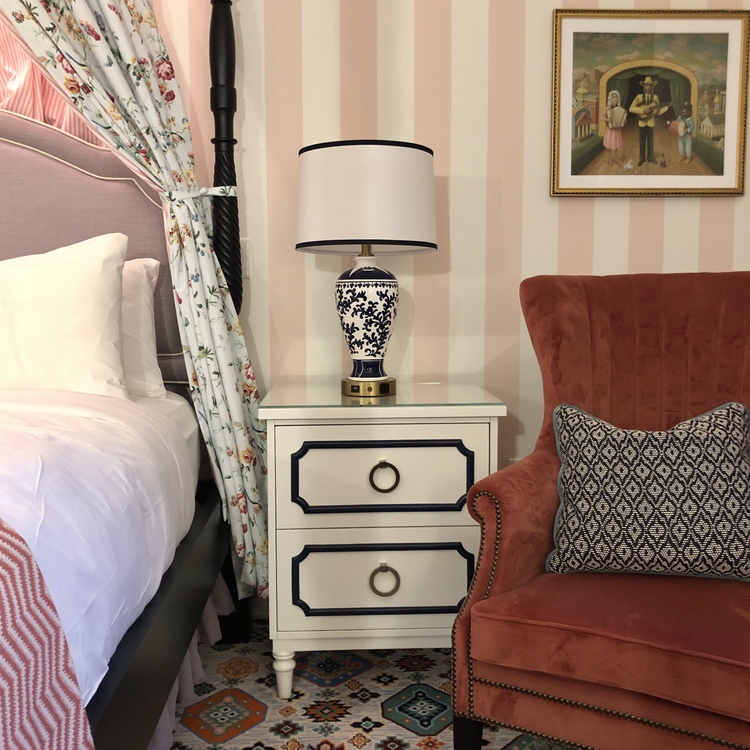 Whoever designed this room had no fear of mismatched patterns and color combinations. I found it to be absolutely delightful!  I NEED this pillow: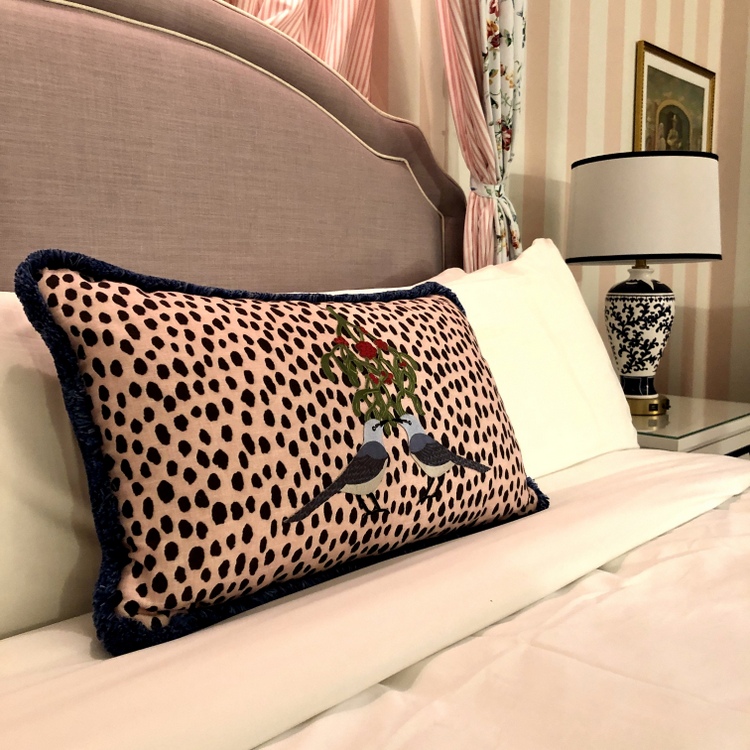 Cabana stripes, pinstripes, mini-florals, and tribal patterns play together around a view of iconic West End buildings. It's the kind of room that probably has fun even when no one is there . . .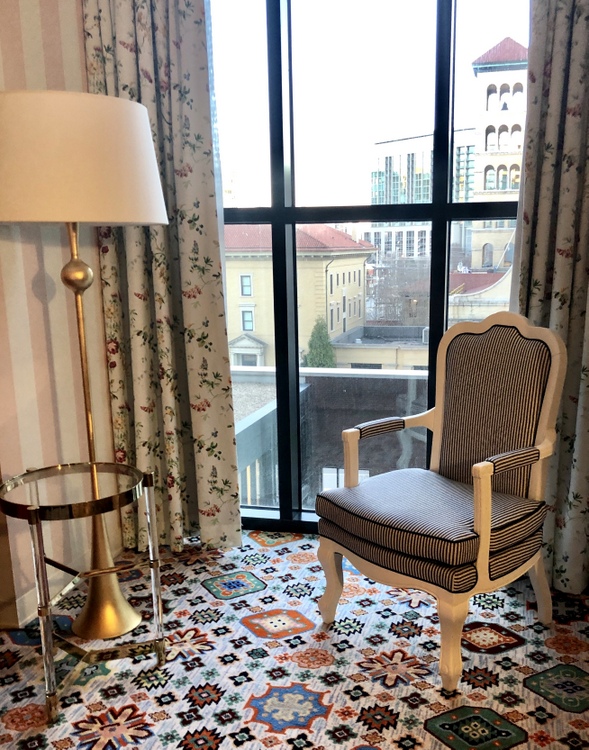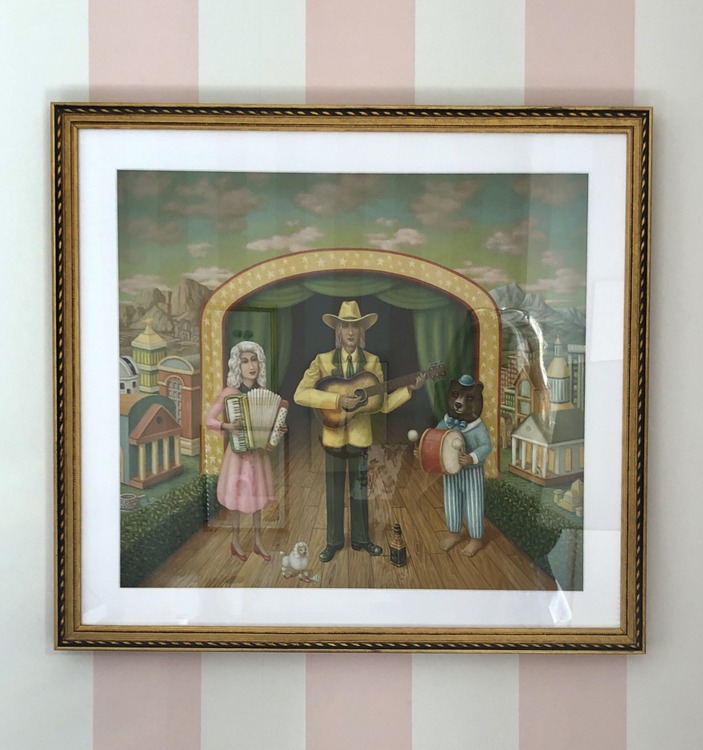 Ok, it may be just too much for you to live in on the daily. But for a fun weekend away? Absolutely! I loved all the little details – especially these squirrel drawer pulls: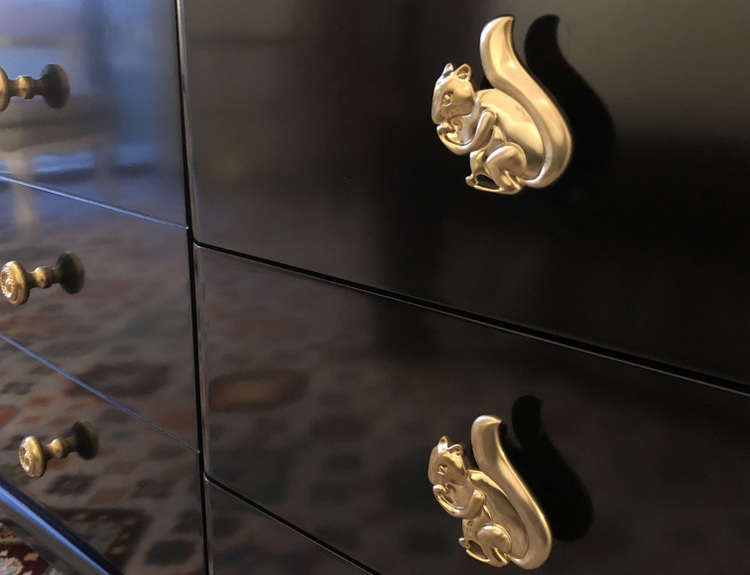 Check out the country music take on a federal style, eagle motif, convex mirror: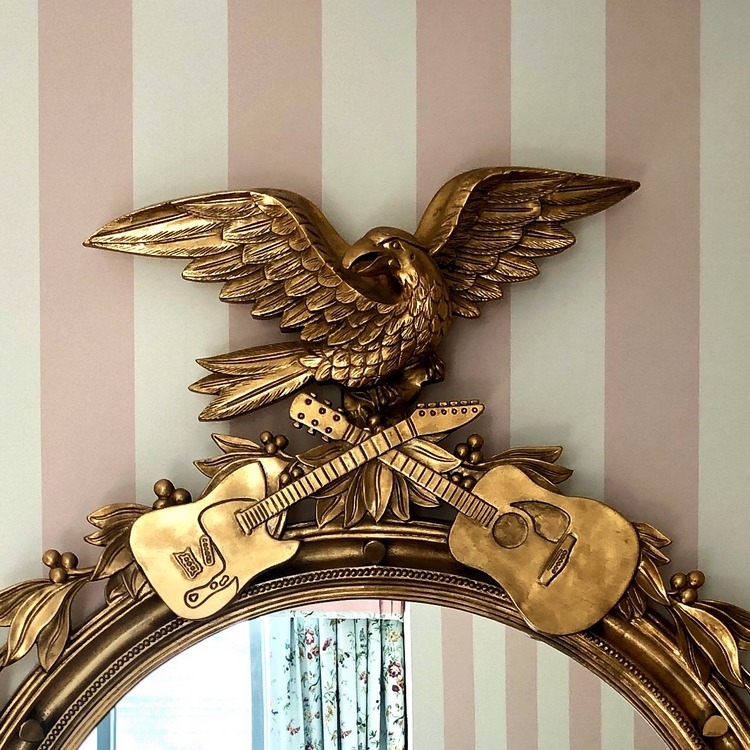 If you decide to visit, be sure to check out the Limozeen restaurant at the tippy-top of the Graduate Hotel Nashville. It actually has a rooftop pool where you can lounge as you eat, but it was FREEZING the night we stayed there. Isn't Mr. Man dreamy with all the glam in the background?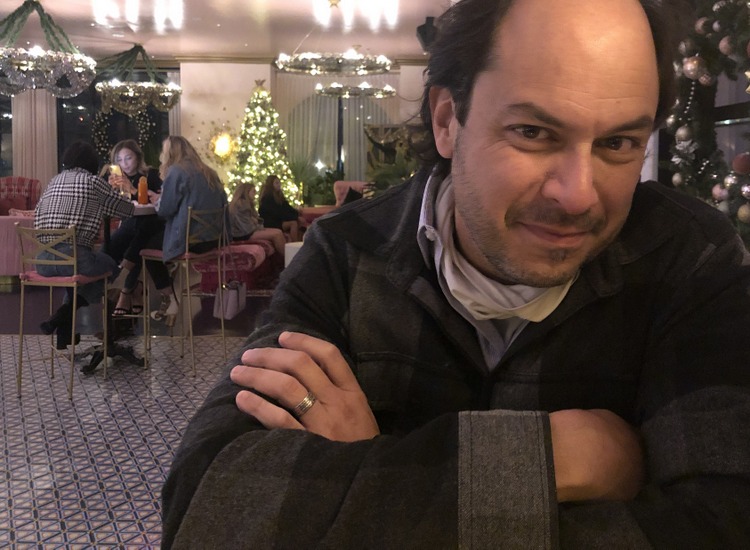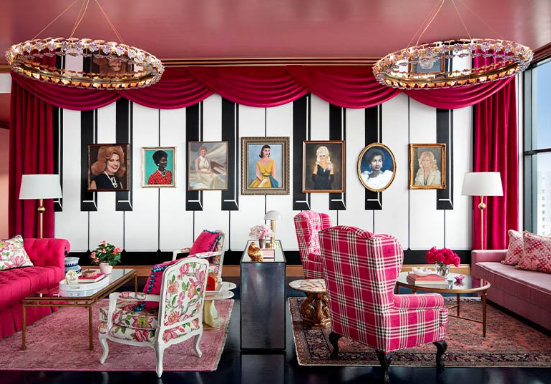 portrait gallery in Limozeen restaurant
Even the bathrooms are fun! I always feel a little creepy taking photos in ladies rooms, but hey, a girl's gotta do what a girl's gotta do!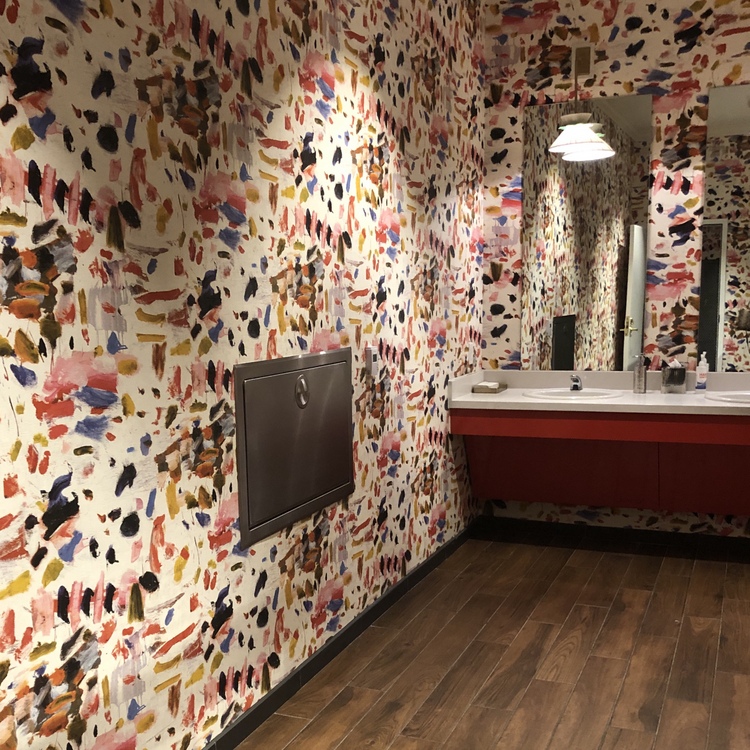 Ok, just a few shoefies before I close out this post. Not at all about my shoes, just about the flooring!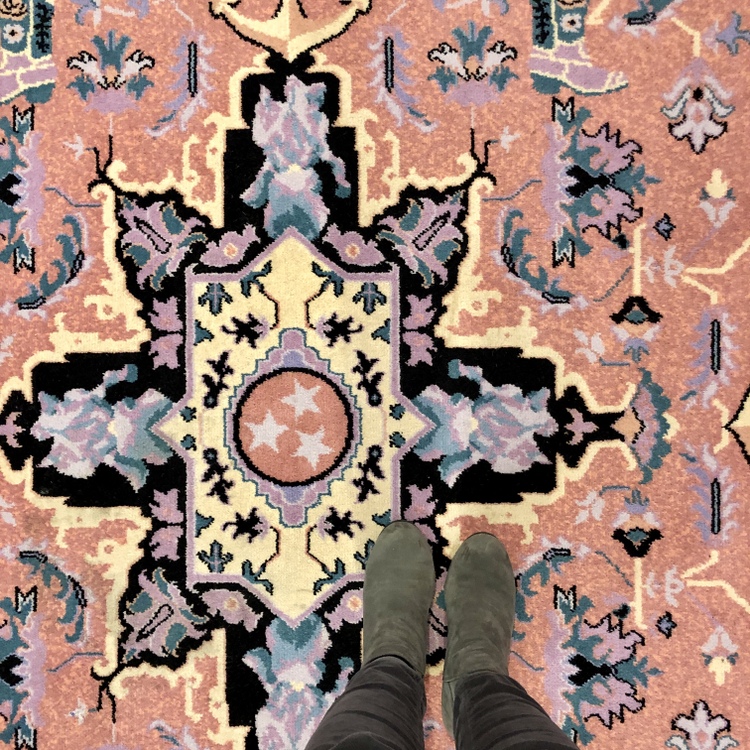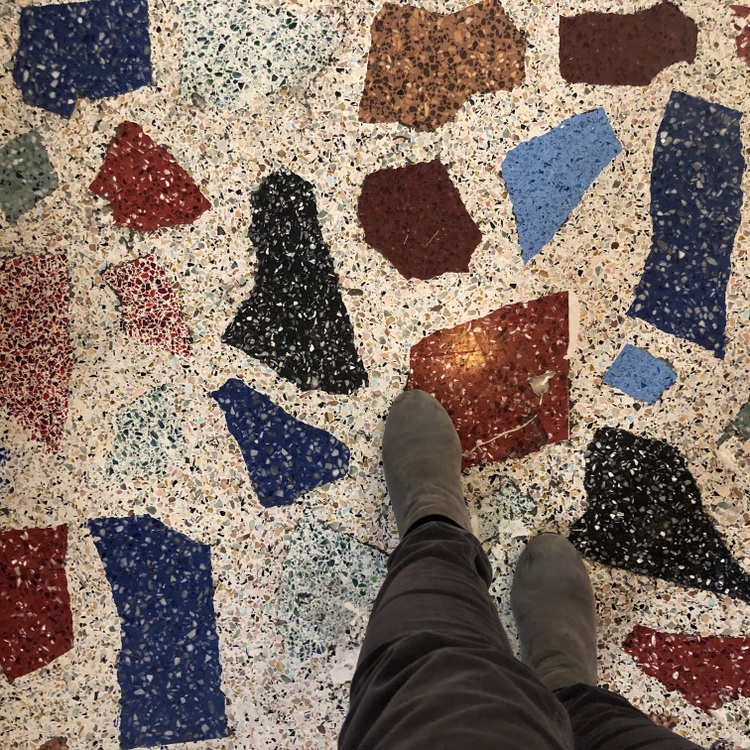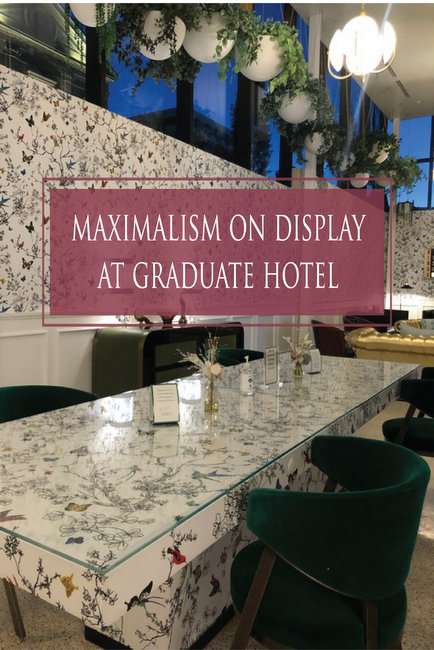 There are a bunch of Graduate Hotels across the country, all with their own unique themes. I think I'll make a point to visit them all when travel gets back to normal. Doesn't that sound fun? Pin the image above if you want to do the same!
I hope you enjoyed the tour of Graduate Hotel Nashville. I have to know what you think, for good or for bad. Leave your thoughts in the comments below. Believe me, there is still a lot to see – I highly recommend it for a romantic night with your main squeeze or even a fun night with the girls. Let them know I sent ya! 😉
If you are like me and think COLOR IS LIFE, take my Psychological Color Expert™ course and make money specifying beautiful paint color palettes!