Making lighting decisions is a big deal, whether you're building a new home or just redecorating. I get lots of questions about lighting, and today I'm going to share important dining room lighting tips with you. There are many things to consider – lighting size, shape, height above table, finish, and style.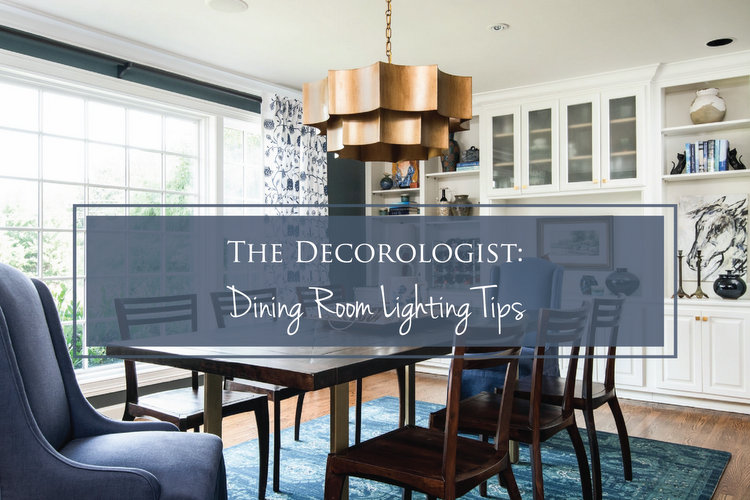 Dining is an intimate activity when shared with others, wouldn't you say? While it's fine if your current dining room has recessed lighting, you may feel as though you are eating in an office or high school cafeteria when there is only recessed canned lighting.  And that's not at all romantic, now is it?
Every dining room's focal point is the dining table, and that focal point should be punctuated with a light fixture that hangs down significantly from the ceiling. No flush mounts or semi-flush mounts should apply for this job!  Adding sconces or at least a pair of lamps to a nearby sideboard or credenza adds warmth and ambiance to a dining room, as well. Always consider how much wattage you'd like to have since you are typically using this room in the evenings. I highly recommend installing a dimmer.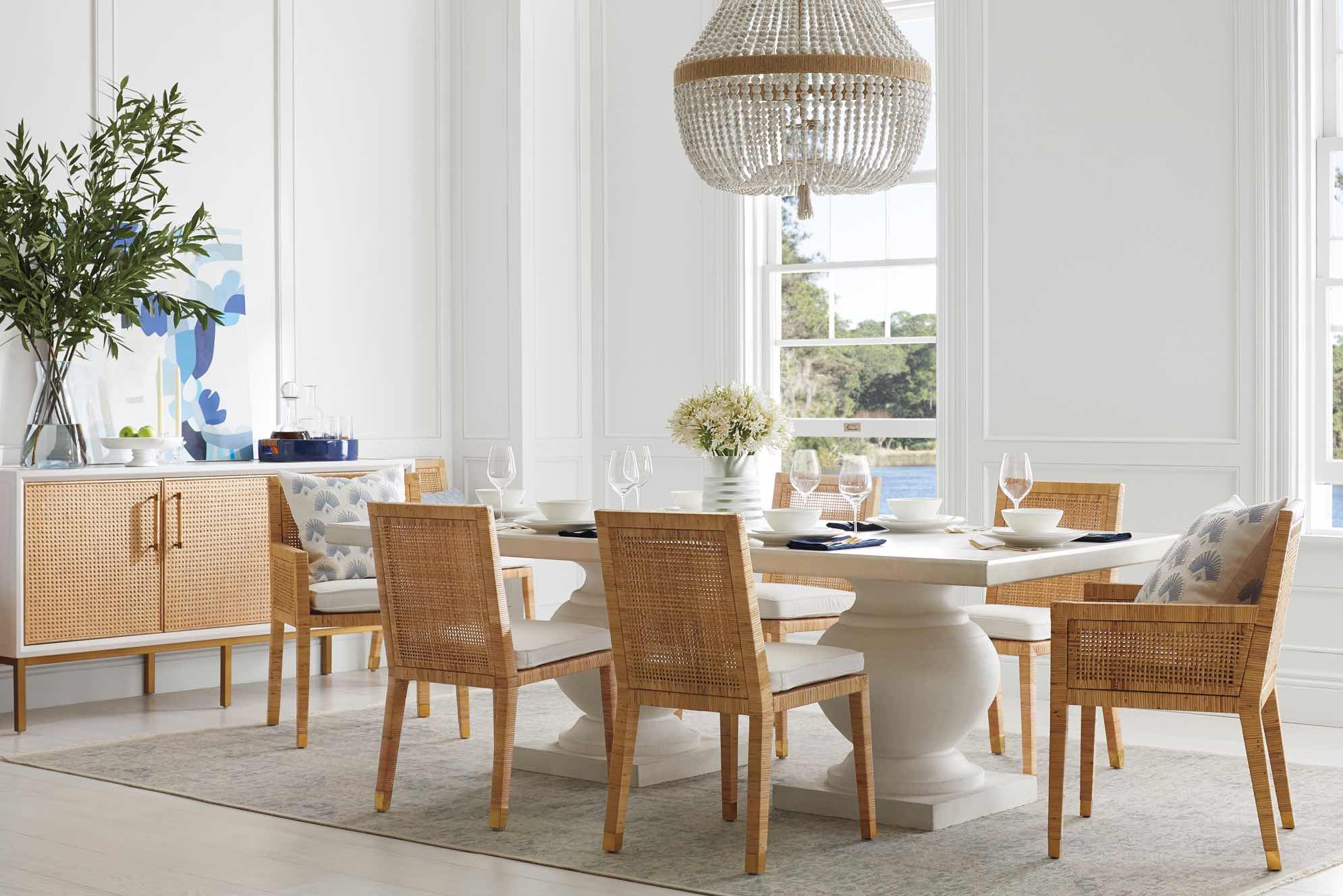 Serena and Lily
Dining Room Lighting Tips – Size
Over the last few years, larger dining room light fixtures have been trending. Dining room fixtures in particular should make a significant visual impact. Many people have difficulty deciding just how big they should go, usually fearing they will choose too big.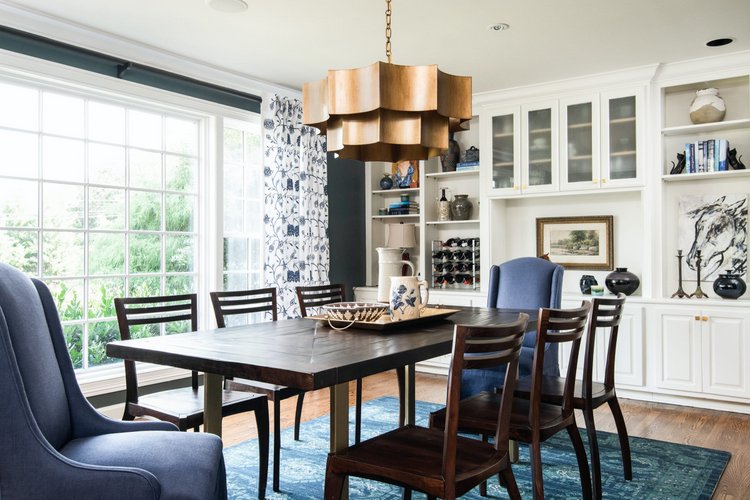 The Decorologist
Here are two of the best dining room lighting tips for size of fixture:
1. Add width and length of room (in feet). This is the ideal width (in inches) of lighting.
2. Multiply ceiling height (in feet) by 3. This is ideal height (in inches) of lighting.
If your dining room is 12 feet by 12 feet, the ideal width of your lighting would be 24 inches wide. If your ceiling is 8 feet tall, the ideal height of that light fixture would be 24 inches tall. Naturally, the larger the room, the larger the light fixture should be. But in a dining room in the size described, you'd narrow your lighting search to fixtures that are roughly 24″ x 24″ in size.
3. Ideally, your chandelier should be at least 6 inches narrower than your dining table's width or diameter.
Dining Room Lighting Tips – Shape
With a typical rectangular shaped dining table, you are open to any shape light fixture you choose. A large central fixture can be round, square, or rectangular, or you could choose a pair or grouping of pendants.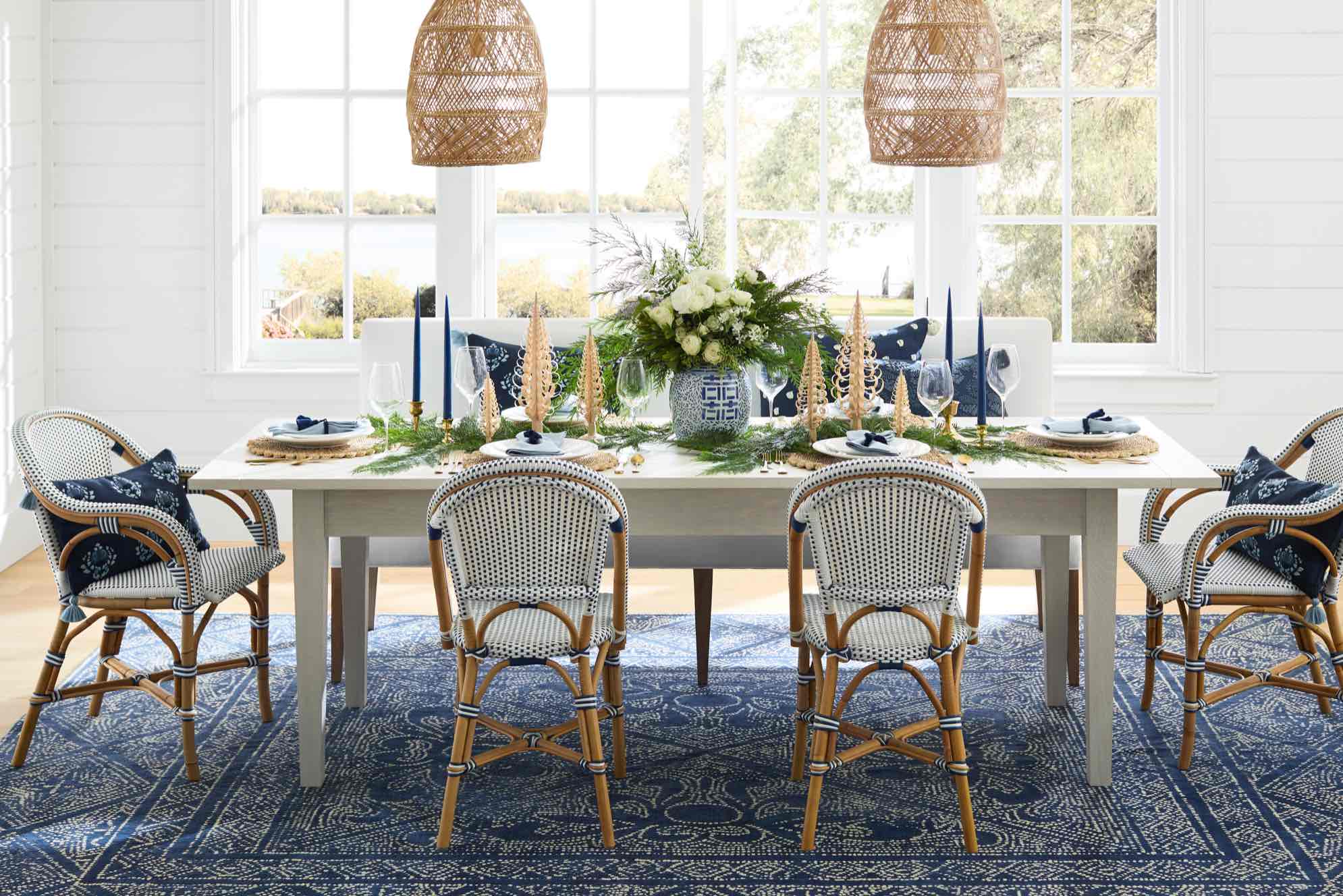 Serena and Lily
If you are considering hanging a long rectangular or multiple pendants, these two dining room lighting tips are important:
1. The table (and lighting fixture/fixtures) should be oriented so the long side is viewed from the room's main entry.
2. Don't choose these types of fixtures if there is even a chance that you may change the orientation of your rectangular dining table or change to a round dining table in the future.
If your table is round or square, round light fixtures will look perfect.  I especially like a large square lantern over a round table.  An orb fixture has bands that create interesting patterns on the ceiling and sometimes walls. See what it looks like turned on before purchasing, if possible.
Dining Room Lighting Tips: Height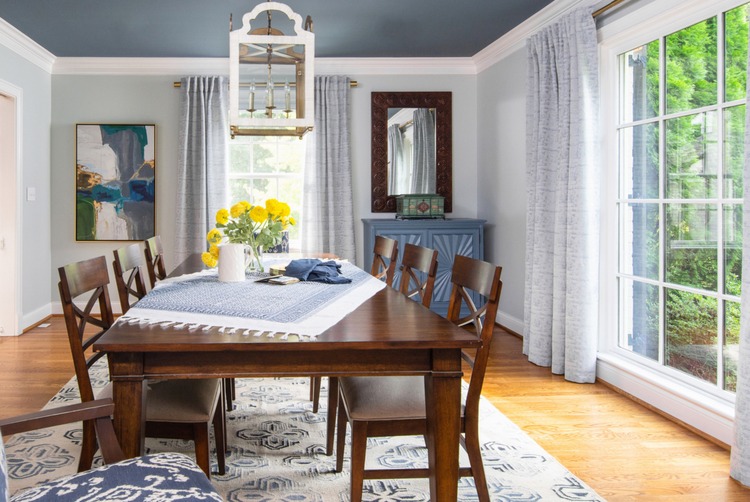 The Decorologist
When it comes to dining rooms, most are concerned that they may hang it too low, but I believe most actually make the mistake of hanging it too high! While hanging it too low can cause a functional problem like impeding sight lines, hanging it too high can create a sterile, less intimate feeling in the room.
Hang it about 30″ (+/- 2) from the tabletop in a typical 8 foot ceiling dining room. Add an inch or two for every extra foot of ceiling height.
If you have a dining room ceiling that is 9 feet or taller, consider using a two-tier chandelier and make the sure the base hangs about 30″-32″ above the table.
Dining Room Lighting Tips: Finish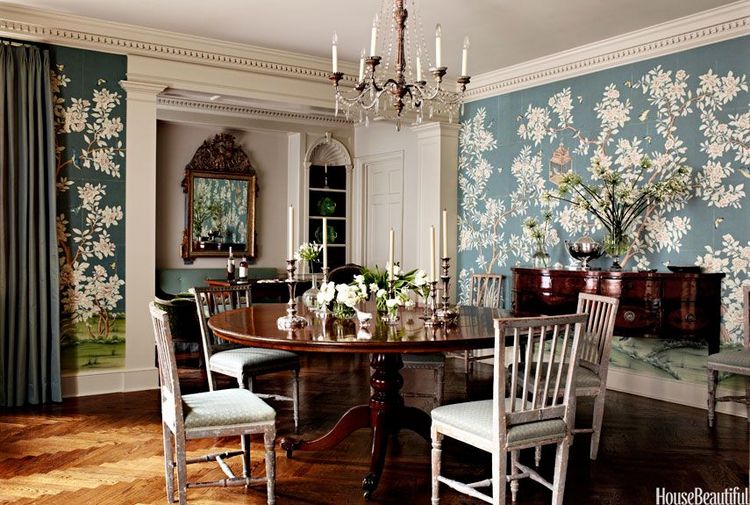 Suzanne Rheinstein via House Beautiful
When deciding on the finish of your dining room lighting, consider any rooms that are either open or adjacent to your dining room. If you have a sideboard, hutch, or other furniture in the space, take into account what hardware finishes are there. You don't have to match – in fact, mixing metals is now completely mainsteam. Gold or iron are great trending choices. If you want to choose a silver finish, polished nickel would be appropriate for a dining room. But I would suggest avoiding brushed nickel or chrome, which will cheapen the room.
Dining Room Lighting Tips: Style
Lighting is the jewelry of the room and is really important to finish off any space. Think of it as the statement accessory for your outfit.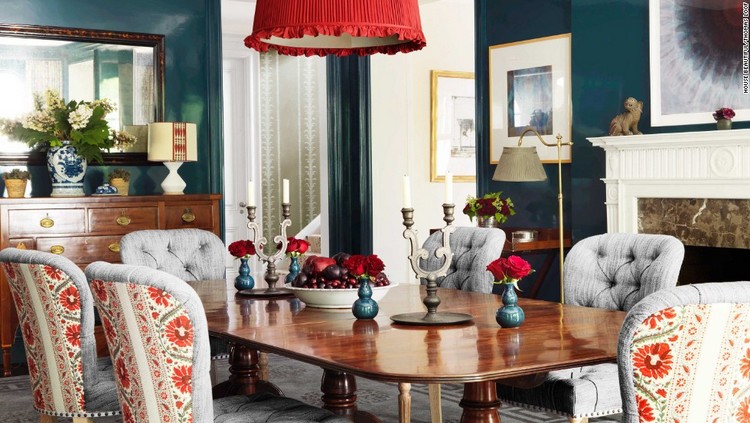 Markham Roberts in House Beautiful
Chandeliers are great for traditional and transitional dining rooms. They can be more or less formal, depending on the finish and what material they are made of.  Branch and linear fixtures work well in eclectic and modern spaces, while wood and iron fixtures are at home with more casual, industrial, and farmhouse style. Woven rattan fixtures are popular right now and can freshen up your room if you want more texture and warmth – but keep in mind that they typically have only one bulb vs. multiple ones.
I hope these dining room lighting tips have been helpful. Leave a comment below if you have any questions about dining room light fixtures!
Find out about my professional certification courses here and here!