If you are considering updating your kitchen this year, I've got the scoop on everything you need to know about 2021 Kitchen Trends. In this post I'm sharing the top trends reported by the best current trend studies, as well as my thoughts on what will be popular in kitchens this year.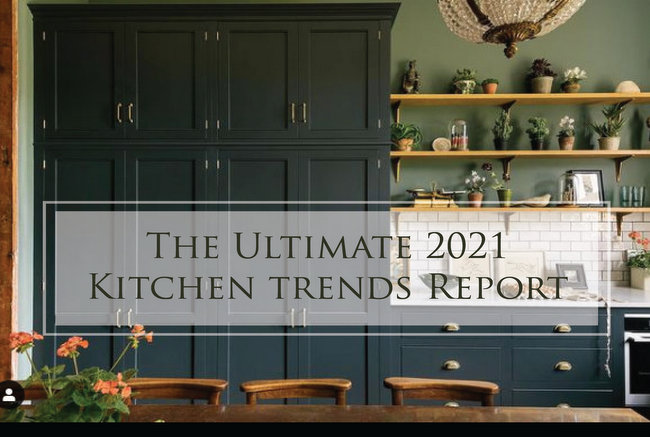 Houzz.com just put out their U.S. 2021 Kitchen Trends Study based on feedback from those who had completed a kitchen remodel or addition in the last 12 months or were in the process of doing so. The results of their study are reflective of the most popular kitchen-related choices in 2020.
The median spend on major kitchen remodels in 2020 was $45,000 for large kitchens and $35,000 for small kitchens.  The median cost of a minor remodel on a large kitchen was $12,000, while a minor remodel on a small kitchen was $5,000. The most popular feature upgrades include countertops, backsplash, sinks, faucets, light fixtures, and flooring.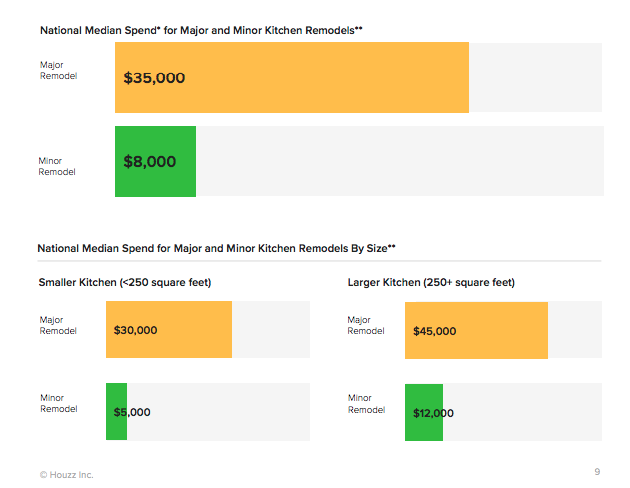 Houzz Top 2021 Kitchen Trends Study
Regarding Kitchen Storage
Most kitchen renovations included adding cabinetry or replacing all cabinetry. A growing percentage of homeowners were adding or upgrading pantry space, whether that meant walk-in pantries or pantry cabinets. White shaker-style cabinets continued to be the popular choice for those adding cabinets or replacing cabinet doors.
Regarding Kitchen Layout
In the last two years, the number of homeowners creating an open-concept floor plan by opening up their kitchen to other spaces has dropped significantly. There are definitely reasons for this, which I wrote about here. The most popular kitchen layout is L-shaped, followed by U-shaped. The most popular kitchen wall colors were gray or white.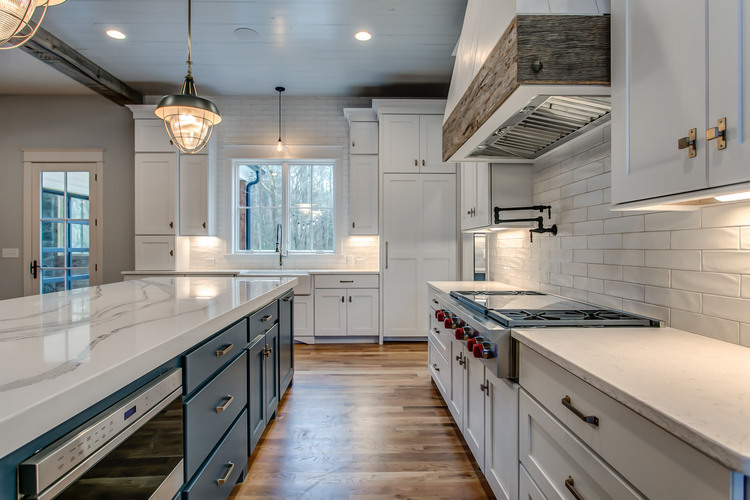 Kole Custom Homebuilders, color design by The Decorologist
Regarding Kitchen Islands
41% of homeowners chose to differentiate their kitchen islands from their other cabinetry. The most popular colors in 2020 for islands were blues and grays. Nearly all who added or upgraded an island included at least some storage. Most popular storage are cabinets with doors and drawers, but some are adding a few shelves of open storage. Most islands added are 6-7 feet in length, although a third are more than 7 feet long. More than half of new or upgraded islands featured a new appliance, most frequently dishwashers and microwaves. Most who upgraded above island lighting put in 2-3 pendants.
Regarding Kitchen Backsplashes
Houzz reports that an increasing number of those remodeling their kitchens are no longer doing those dated, short backsplashes (usually an extension of their countertops), but of course we knew that! White subway tile is still the top choice, but more are wanting to install multi-colored tiles which suggests a growing desire for statement backsplashes. A growing trend is to extend quartz countertops all the way up the wall to the upper cabinets and range hood. Almost 10% are now choosing to take backsplash tile all the way to the ceiling where there are no upper cabinets (often around the sink).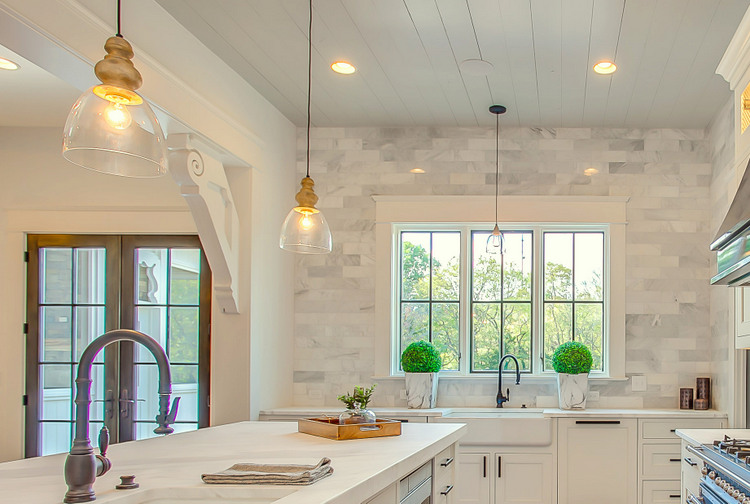 Kole Custom Homebuilder, color design by The Decorologist
Regarding Kitchen Flooring
While hardwood flooring is still the first choice for many kitchen remodels, it's use dropped in 2020 and ceramic or porcelain tile took first place. This is likely due to the increase in popularity of multi-patterned flooring and encaustic-look tile. Although less often used, vinyl or resilient flooring is growing in popularity due to affordability and improvement in design options. Vinyl is now considerably more popular than engineered wood flooring.
Regarding Kitchen Countertops
While engineered quartz is by far the leading material for upgraded kitchen countertops, it dramatically declined in popularity in 2020. Houzz is absolutely correct in attributing the decline in use to the increased tariffs on imports from China, where most quartz comes from. Another reason is because so many people chose to use a different countertop material on their islands than on their perimeter cabinets, with butcher block or wood slabs being popular picks there.
Here are the top-selling products of 2020 from the Houzz website: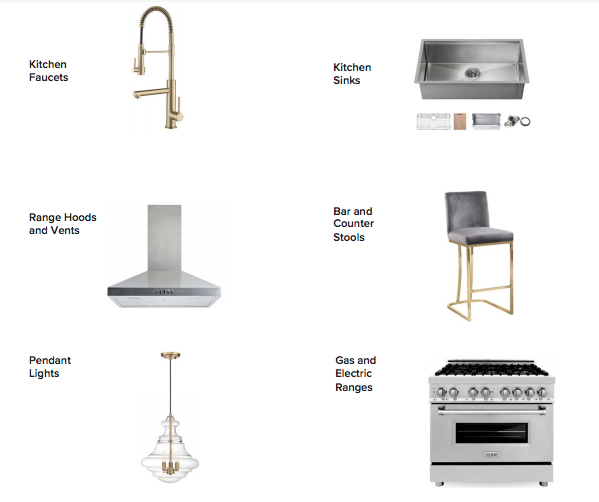 find links to these products in my ideabook here
FIXR Top 2021 Kitchen Trends
FIXR.com also put out a report based on a survey of 68 top designers and industry professionals, chosen on the basis of their professional portfolio, social media influence, and industry awards. I happened to be one of those chosen to participate, so my own opinions played into their findings. While the Houzz study reflected on what actually happened in 2020 kitchen remodels, the FIXR report is more a prediction of 2021 kitchen trends.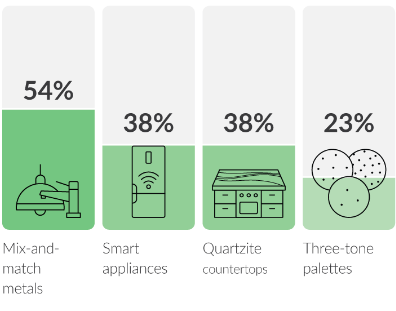 1. Mix and Match Metals
According to FIXR, people are beginning to turn away from a kitchen of solid stainless steel. "Mixing different materials on appliances, sinks, faucets, lighting fixtures, and cabinet hardware creates a deeper, more dynamic design, which can make the kitchen a cozier, more interesting room to be in."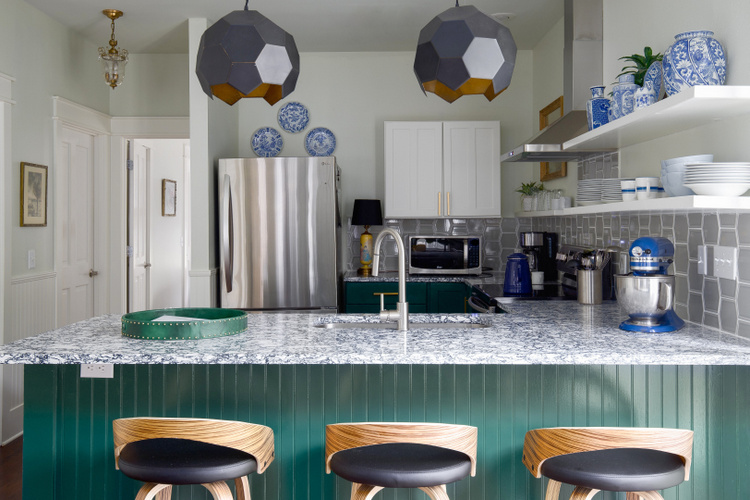 The Decorologist – see how I remodeled this dated kitchen for under $10K
2. Smart Appliances
One of the most popular 2021 kitchen trends in smart appliances is touchless faucets. Covid-19 has driven the desire for touchless technology, and 78% of professionals say there is an increased interest in easy-to-clean surfaces. Growing in popularity. copper and brass are anti-microbial – so you can be on-trend AND extra hygienic! Two other top trends are smart refrigerators and smart ovens. Technology has driven the desire for, well, more technology. Or maybe Big Brother wants to know exactly what's in your highly-guarded secret recipes . . .
3. Quartz and Quartzite Countertops
While most industry professionals believe that engineered quartz will still be the top choice for new kitchen countertops, quartzite is trending higher than before. There are likely two reasons for this: 1) some want to use a natural material in their kitchen that differs from the standard granites, and 2) quartzite offers some dramatic options to meet a growing demand for bolder countertops. That being said, quartzite is more expensive than either quartz or marble, and can cost hundreds of dollars a square foot before installation.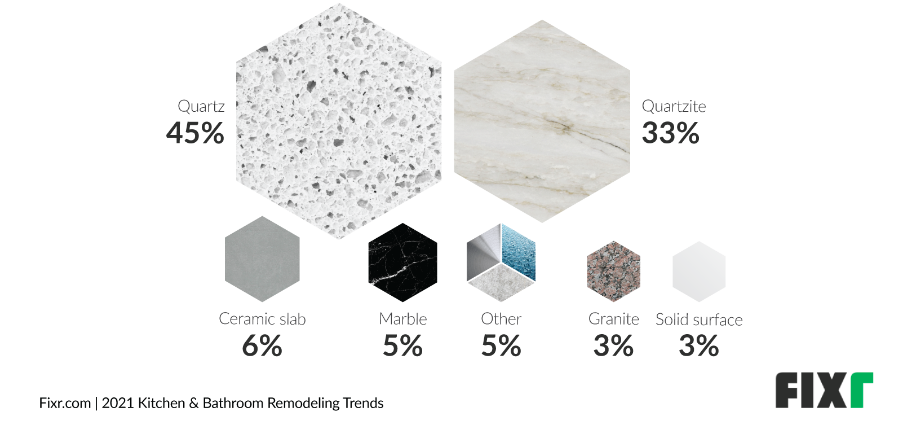 4. Three-Tone Color Palettes
We've done the all-wood kitchens, the all-white kitchens, and the two-tone kitchens. Looks like 2021 is the year for trending three-tone kitchens! This means mixing wood and painted cabinets, as well as more color in backsplashes.
Studio McGee
You can read the entire FIXR trend report here.
The Decorologist Predictions for 2021 Kitchen Trends
A couple other things I see trending in kitchen design include larger-scale backsplash tiles, colored and mixed cabinetry, matte finishes, copper accents, area rugs, statement hoods, lots of plants, and the addition of "prep" kitchens.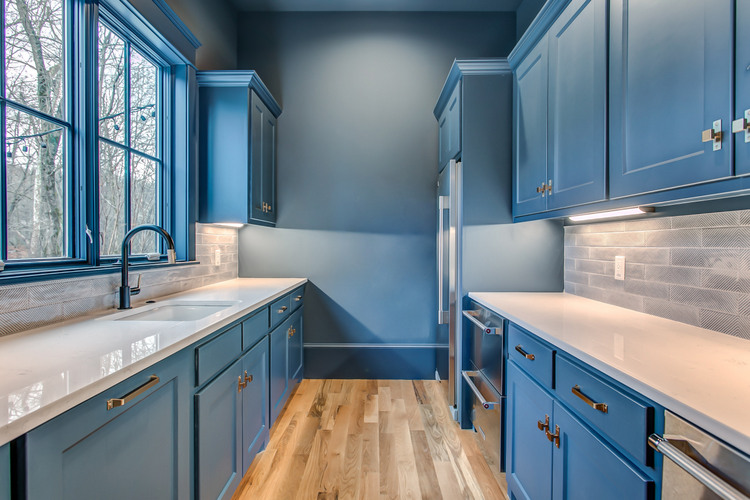 prep kitchen, Kole Custom HomeBuilders, color design by The Decorologist
If you are planning to sell your home within the next several years, you can stop reading here and just focus on the Houzz and FIXR 2021 kitchen trends reports. If you plan on staying where you are for the long haul, then read on! My predictions really aren't specific to 2021, but to the next 5-7 years. You can do like most, and pick and choose a few to embrace to freshen up your kitchen. Or, you can embrace your inner designer and create a uniquely personal space where you can nest (and cook) to your heart's content, as I predict that 2021 will be the year of The Decorated Kitchen.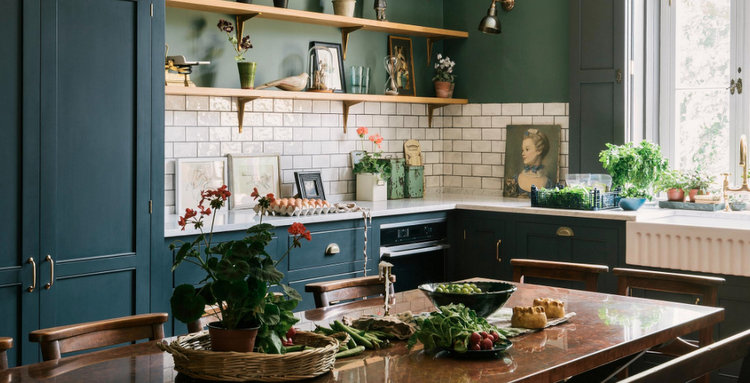 deVol
Kitchens, like the rest of interior design, are warming up. Moody palettes have been gaining popularity, thanks in part to the edgy deVol kitchens we now salivate over. Green is gaining traction for the kitchen cabinet color of choice, be it emerald, hunter, olive, sage, or mint. English and "heritage-inspired" kitchens are capturing the imagination of design-forward homeowners, incorporating furnishings like vintage hutches, plate racks, and artwork that might have only hung in a living or dining room before. Kitchens aren't all about cooking. We long for them to be more livable and inviting – maybe there's room for comfortable chairs, a fireplace, a place for the kids to do homework while dinner is being made.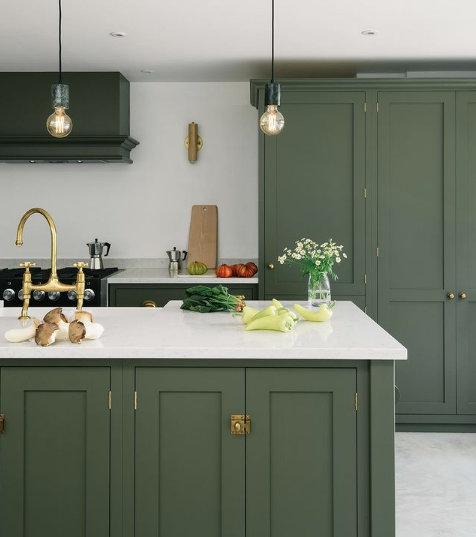 deVol
We'll be seeing lighter and mid-tone woods mixed with painted cabinetry and woven light fixtures that look handmade.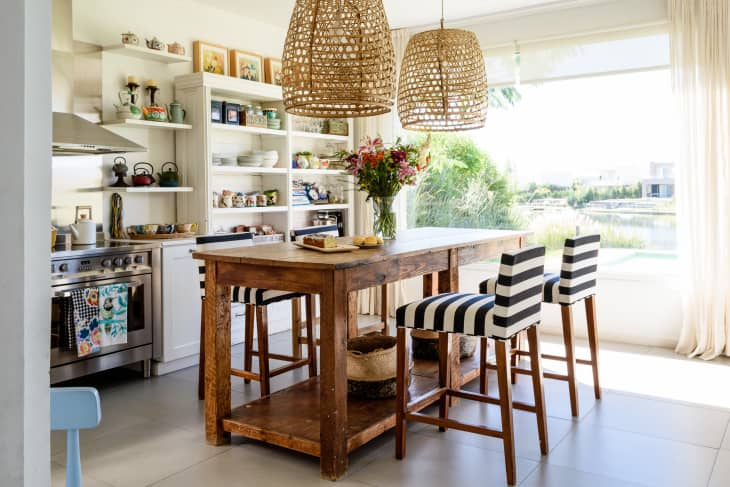 Haris Kenjar via Country Living
Square, textured backsplash tiles will be popular, while other interesting shapes emerge to offer a change to those tired of white subway. We'll see larger tiles and tile patterns, leaving the smaller glass mosaics behind in the previous decade.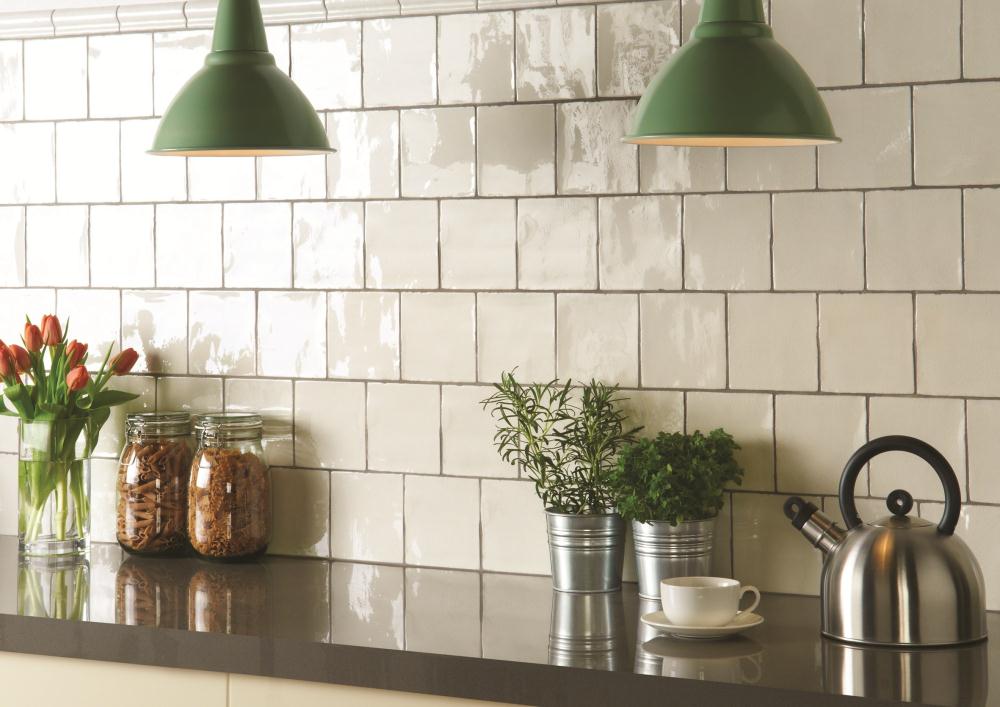 Winchester Tile
Encaustic-type patterned floor tile will continue to be popular, but we're moving away from the grays and towards warmer color palettes. Terra cotta and brick kitchen floors will begin cozying up rooms, as well.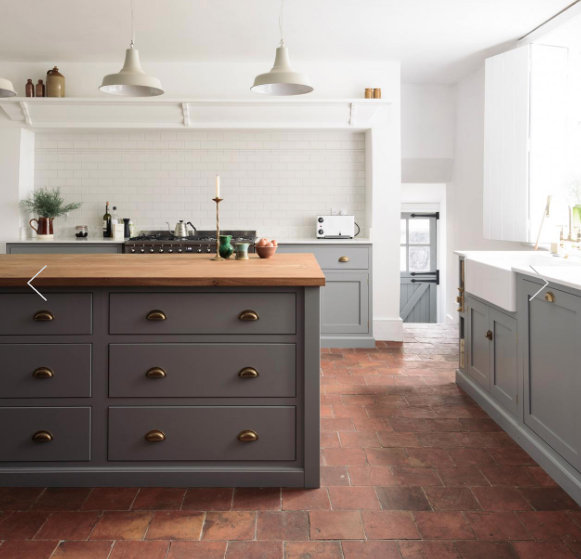 deVol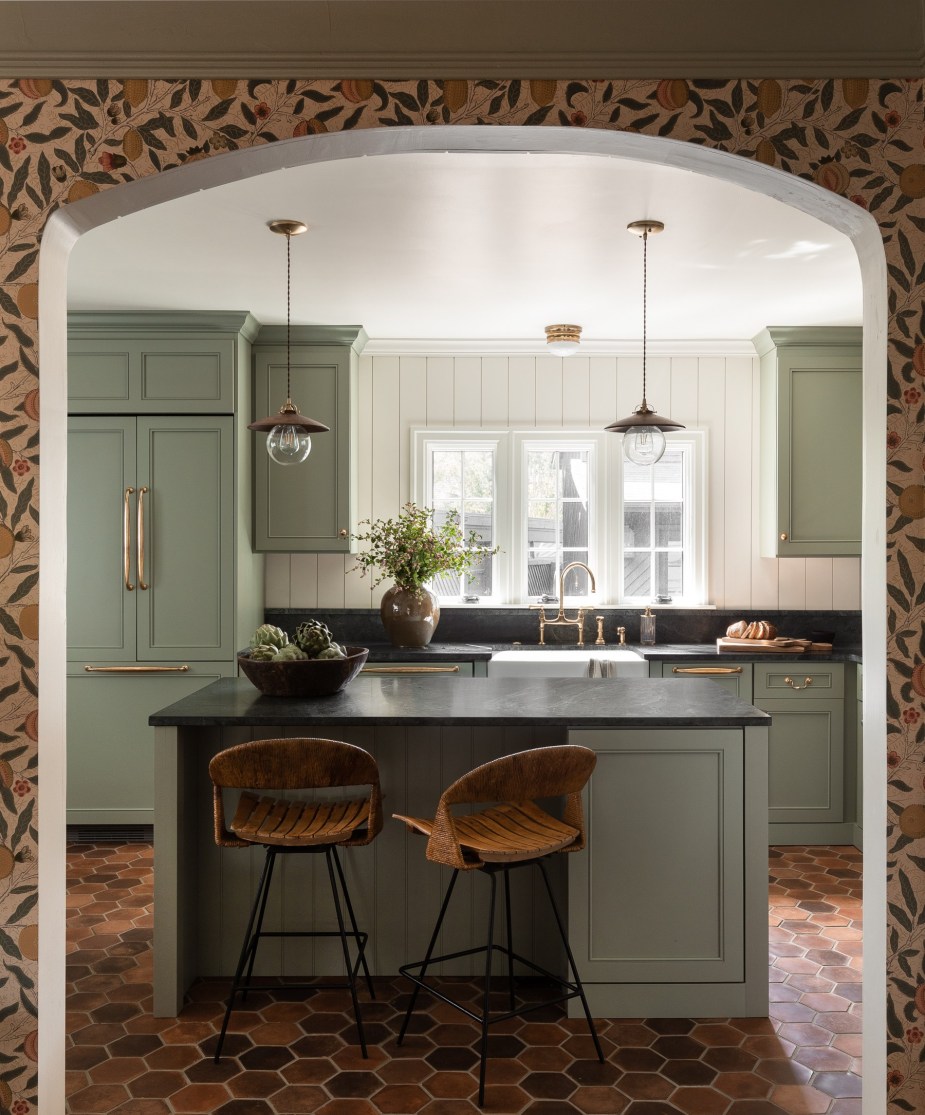 Heidi Caillier
Wallpaper is becoming an option for kitchen backsplashes and walls again, and the available variety can help you create the most un-cookie cutter kitchen of your dreams.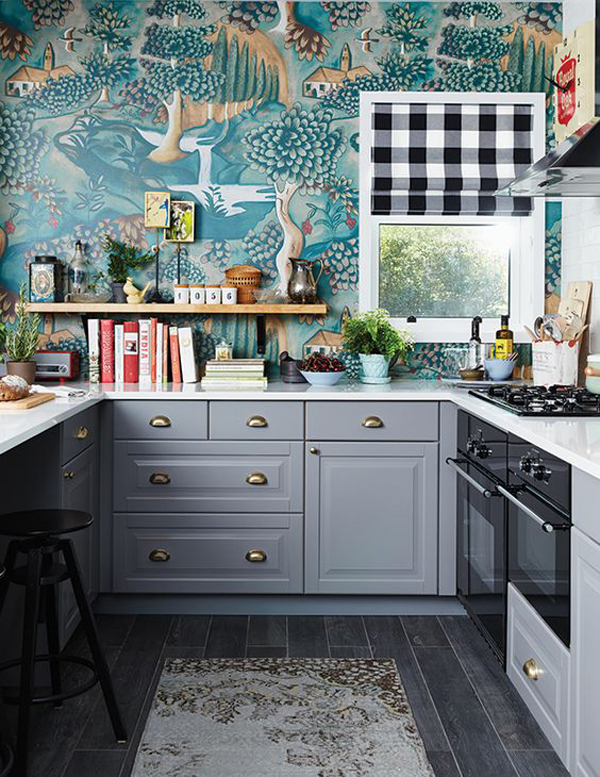 found here
With such a small amount of wall space in most kitchens, it makes more sense to put the COLOR up top – on the ceiling. We'll see more architectural ceilings, including painted or stained panels. Wallpaper is trending, and placing it on the kitchen ceiling will lift your gaze and your countenance in 2021!
Things you can do this spring to make your kitchen a happier place to be (for very little money) include adding live plants, putting wooden cutting boards and baskets on display, and hanging a favorite piece of art .
Pin this for future reference: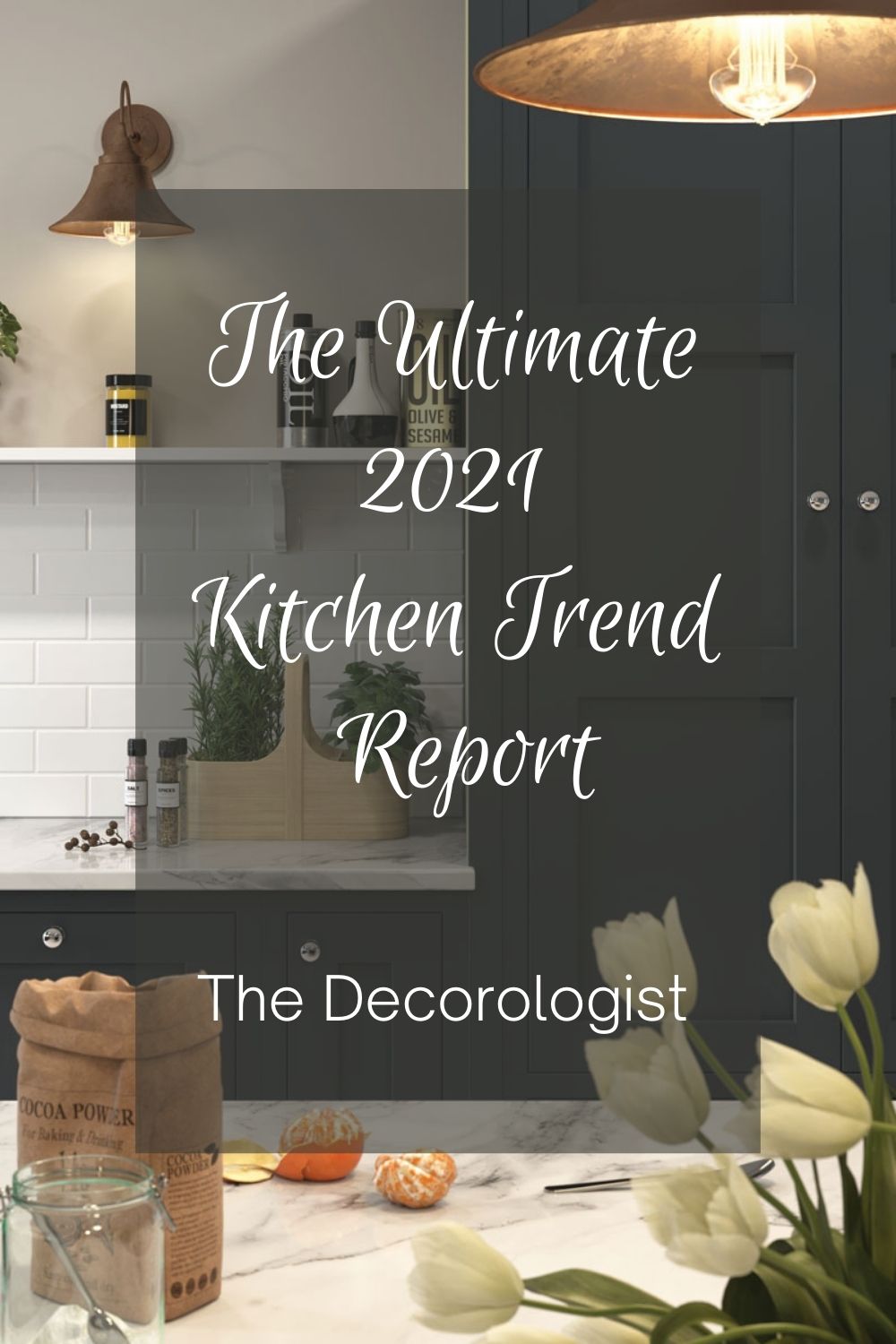 What trend would you like to incorporate into your kitchen this year?
Learn about my professional home staging and paint color specification certification courses!