So, you can't change the layout of your boring kitchen. You can't replace the too-short cabinets. Is there a way to dramatically transform a kitchen so that it looks fresh, updated, and new (without breaking the bank)? According to the Houzz 2018 Kitchen Trends Survey, Americans spend an average of $42,000 on kitchen remodels. About 10% spend over $100,000! This recent project will give you ideas for how to dramatically transform a kitchen for under $10,000 and STILL get a high-end look.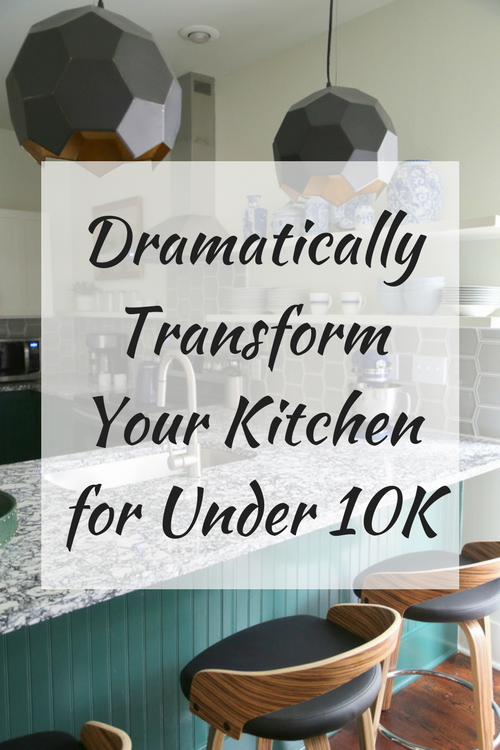 I'm excited to share with you this redesign of an existing kitchen in the beach vacation rental I worked on over the winter. The whole house has been completed and has been renting for about six weeks now. I'll share all the info at the end of this post in case you'd like to vacation there yourself!
Let's start at the very beginning (a very good place to start). Here is the "before" of the kitchen that was installed 15 years ago: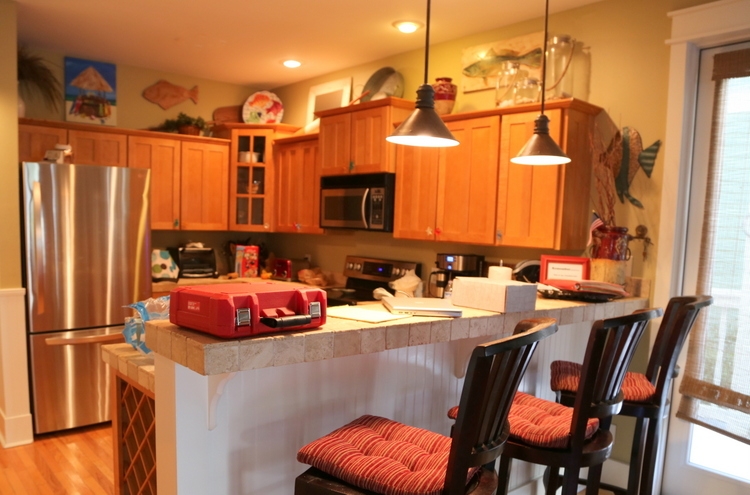 before
The first thing I do when taking on a redesign project is to help define the goals the owner has for the space.  The goals for this kitchen included making the space feel larger, brighter, updated, and more integrated with the adjoining dining and living area. Retaining function and keeping costs down were also important considerations!
You may remember the Inspiration Board I created a couple of months ago?
The existing cabinets were in great shape, but the short upper cabinets read "dated" and created that dreaded above-the-cabinets dead space that ends up getting filled with dusty ivy and decor. If the cabinets had gone to the ceiling, I would have simply had them painted. However, removing the cabinets gave us the opportunity to open up the space a bit.  The raised counter bar (also a dated feature) blocked the kitchen and made it feel even more separated from the rest of the open space. Bringing that area down to regular cabinet level was definitely the way to go since we were replacing the tile countertop anyway.
So, off came the upper cabinets and countertops: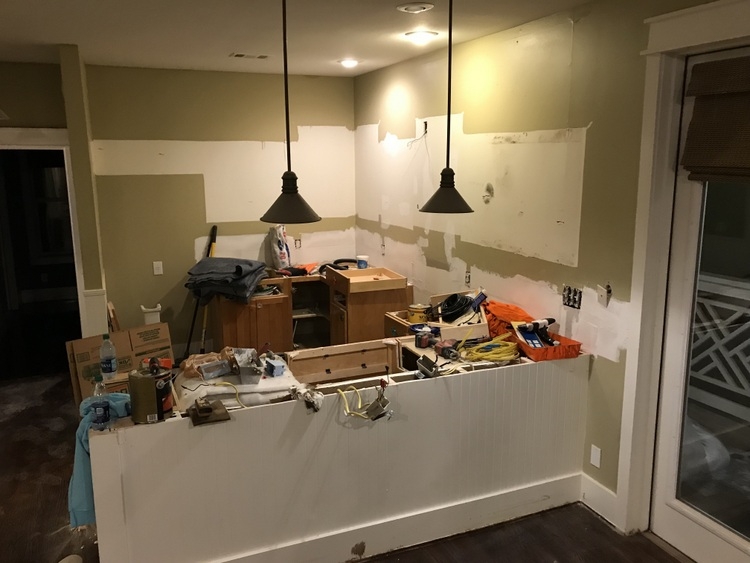 before
I had the contractor retain but cut down the beadboard to regular counter height. I knew I wanted to use black and white quartz, but I wanted something a bit more interesting for this fun vacation spot than the classic marble look. I waffled between Cambria Rosedale and Rose Bay. Rosedale has "patinaed" areas that remind me of a favorite pair of faded jeans: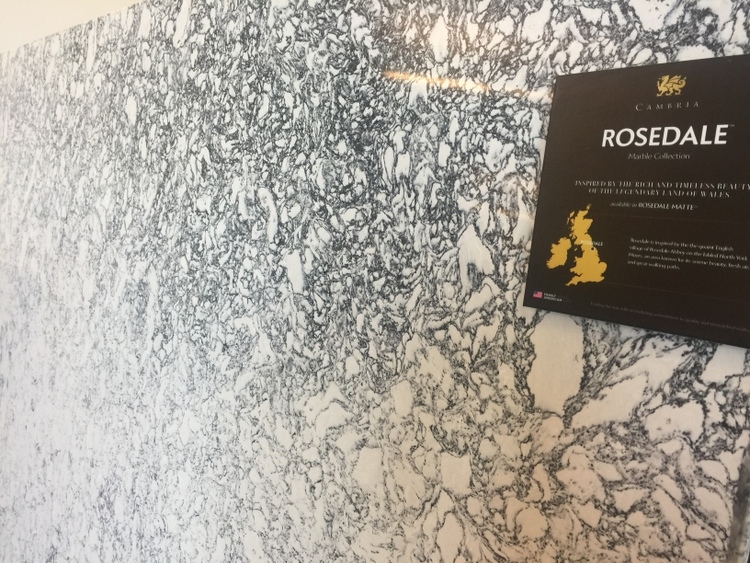 Rose Bay is bolder and more consistent in pattern, and that's the one we chose: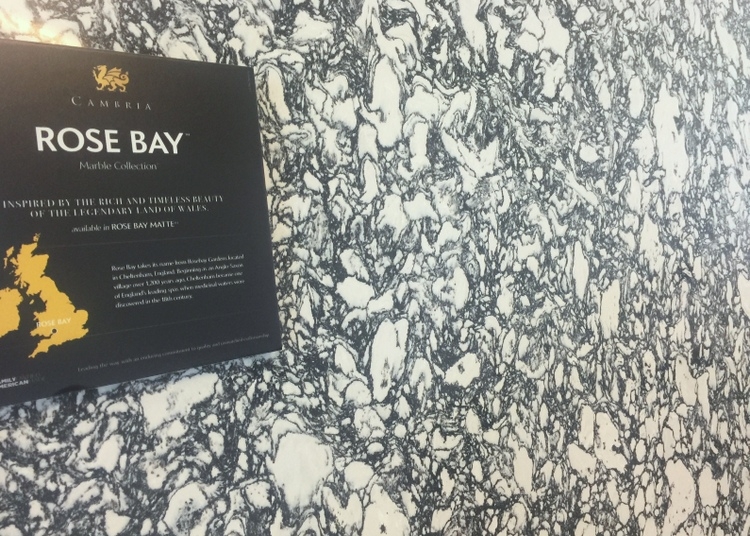 The great thing about a pattern like this – it doesn't show seams the way a lighter, more solid piece of quartz (or granite) can. I'll give you a prize if you can find the seam: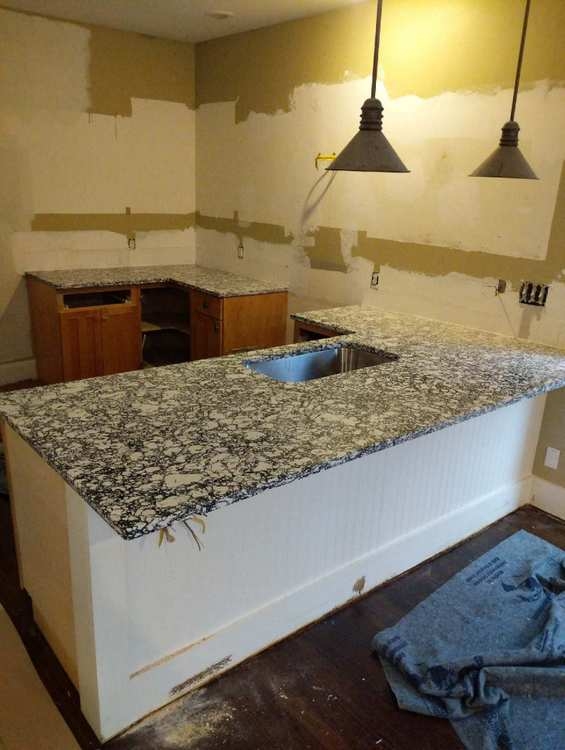 The quartz countertops took up almost half the budget, but it was worth it!
It's always a little shocking to see the ugly part of the process, especially when you haven't been on site for several weeks! Here's the lower cabinets being prepared for paint: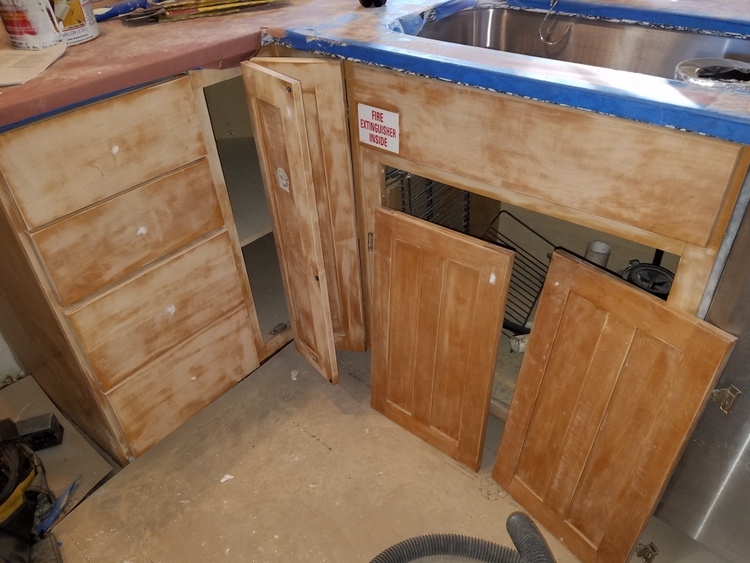 Here's the backsplash tile I ultimately chose. I went with the moss color, thinking it would look moss green (naturally).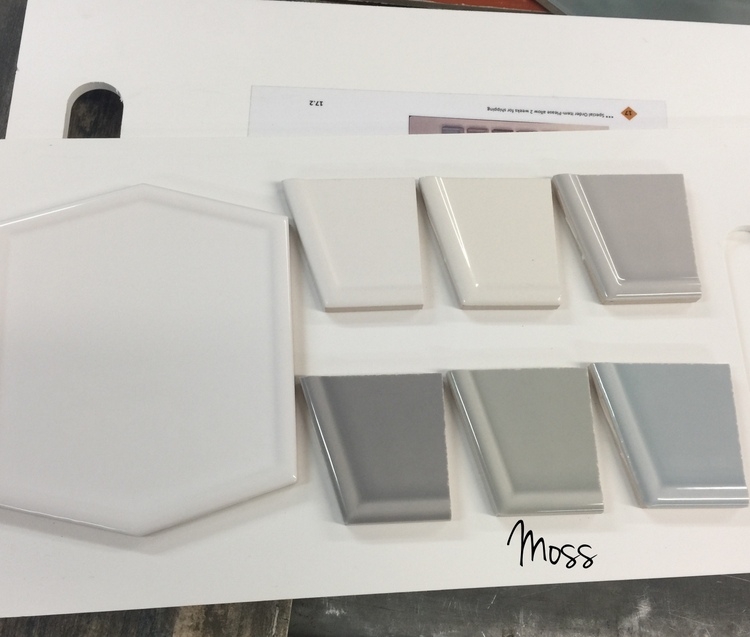 But it didn't. It actually looks more light gray in place. I double-checked the box to make sure they installed the right one. It's possible the batch was off in color, but it was too late to make the change once I actually saw it finished. I think it looks fine, but I really intended it to be a medium green . . .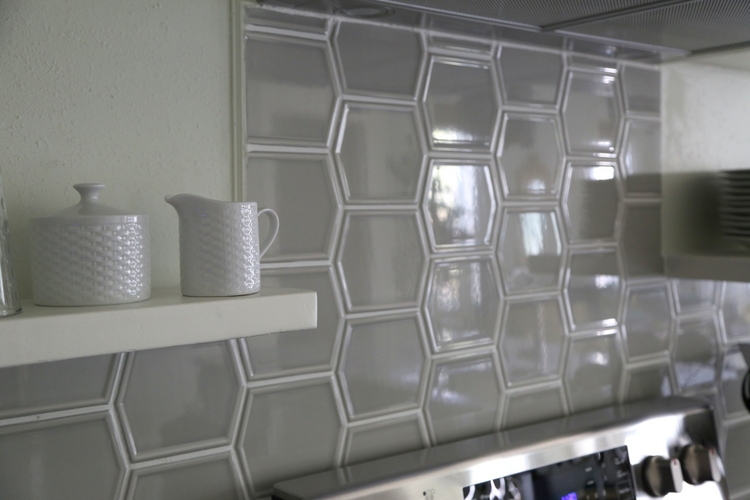 Although we were able to keep most of the appliances, I chose a new range hood since the cabinets were gone. Notice the baseboard? The painters went white like the trim there, even though I specified the dark green like the lower cabinets. Ugh. Painters always default to what they typically do, even when you specify otherwise. I had them fix it, of course.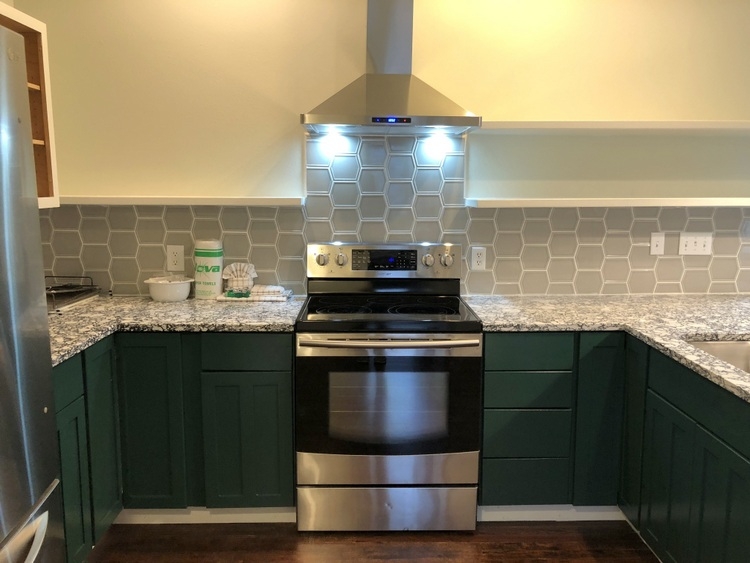 See how much better it looks without that white stripe?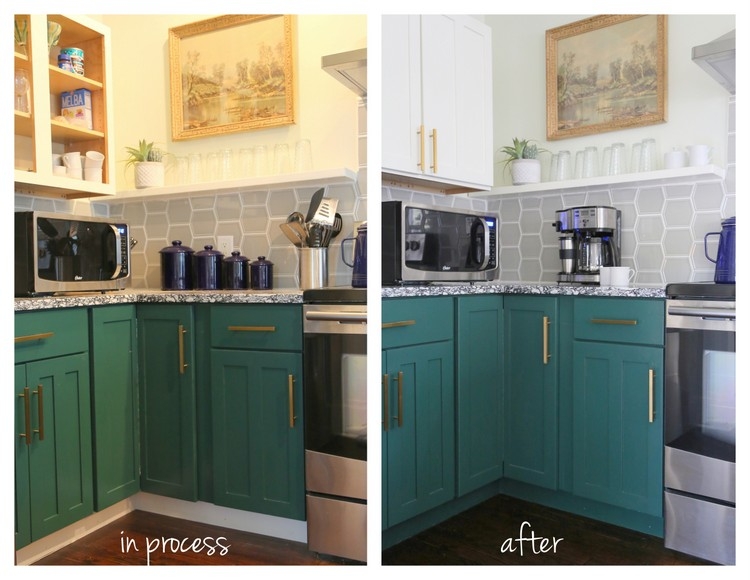 Ok, I won't make you wait any longer. Ready for some dramatic before/afters? Remember where we started: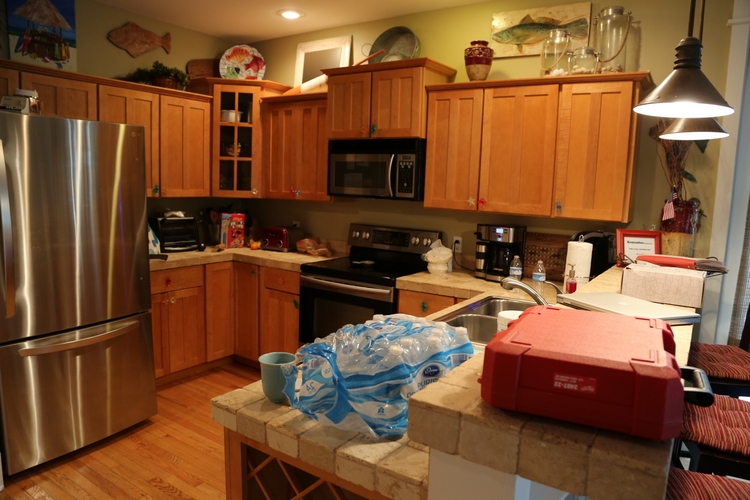 A dark and dreary kitchen is now light and happy: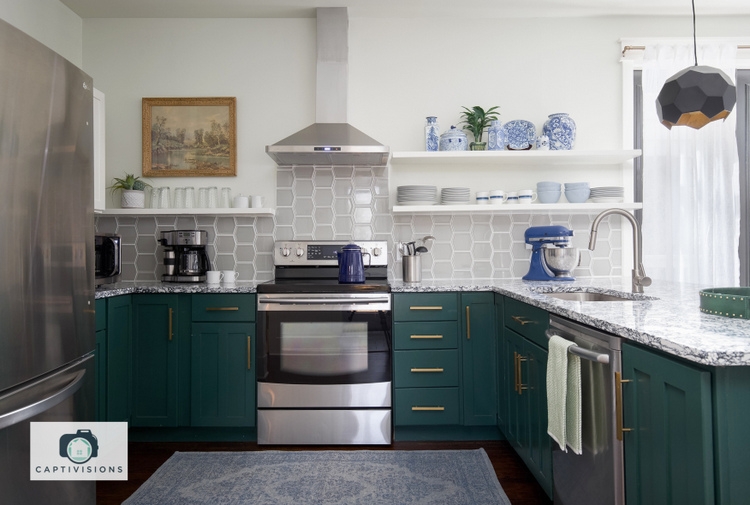 From heavy upper cabinets and dated tile countertop: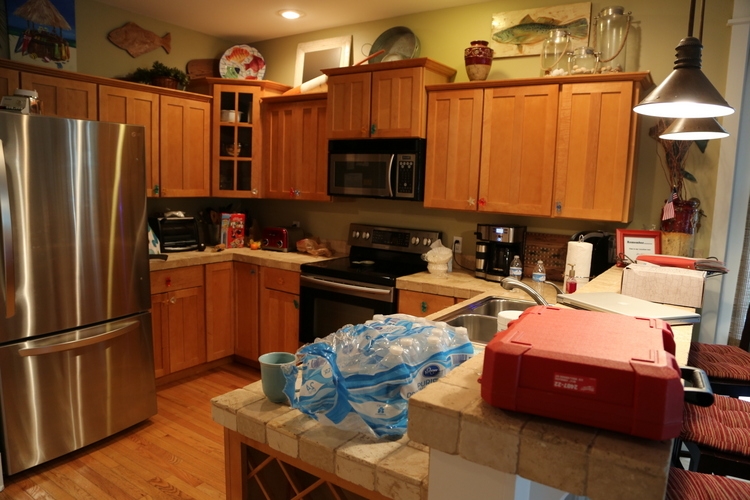 to open shelving and a wider quartz peninsula: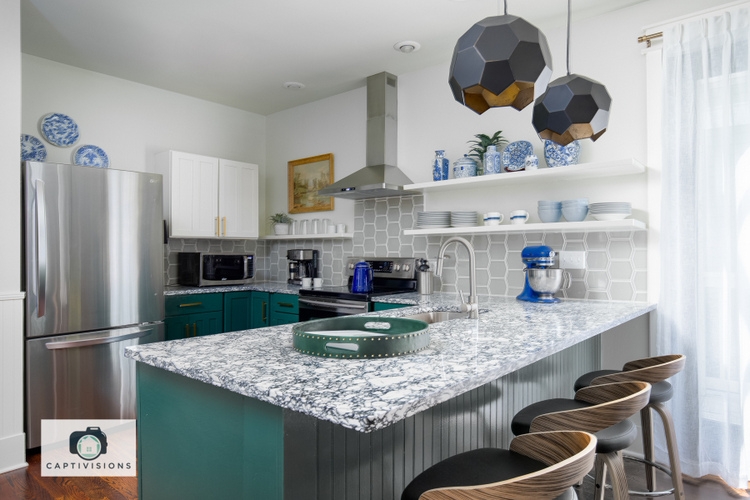 Bar height chairs and small triangular pendants: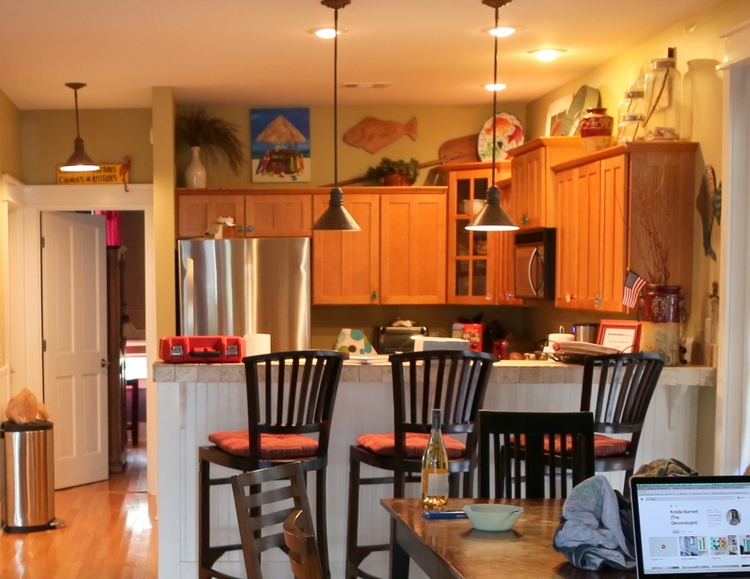 were traded in for counter height stools with character and larger geometric statement pendants: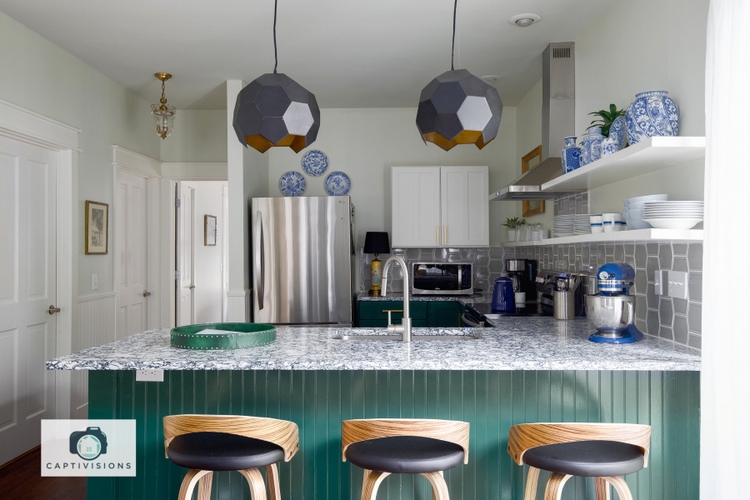 We didn't sacrifice as much storage as you might think. The open shelves provide space for both dishes and decor, while the reinstalled double cabinet stores less attractive pieces. There is a large food pantry to the left of the peninsula, with plenty of room for extra appliances, too.
These counter stools are some of my favorite finds for the space! You can find them here. They are gorgeous, comfy, and they swivel.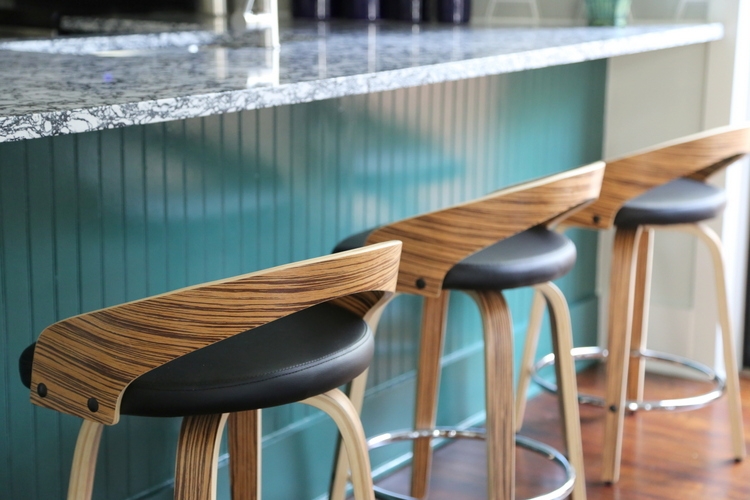 Oh, and the pendants! They remind me of cracked eggs – the insides are gold and give off a beautiful glow when turned on: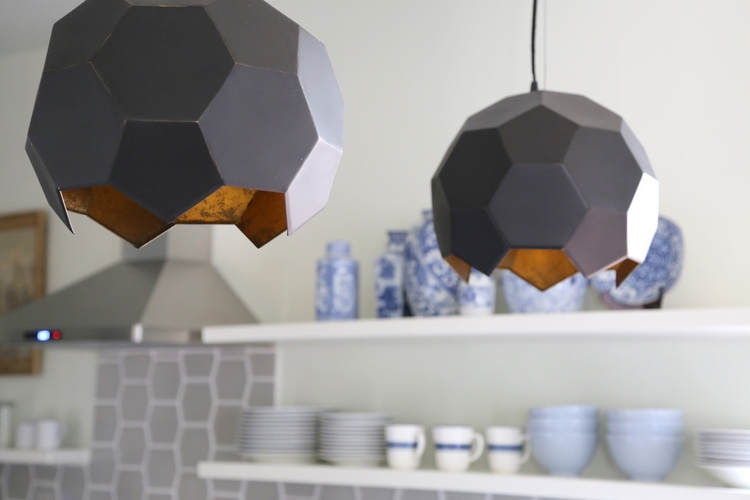 I'd provide the link, but I believe they are discontinued. I can't find them anywhere!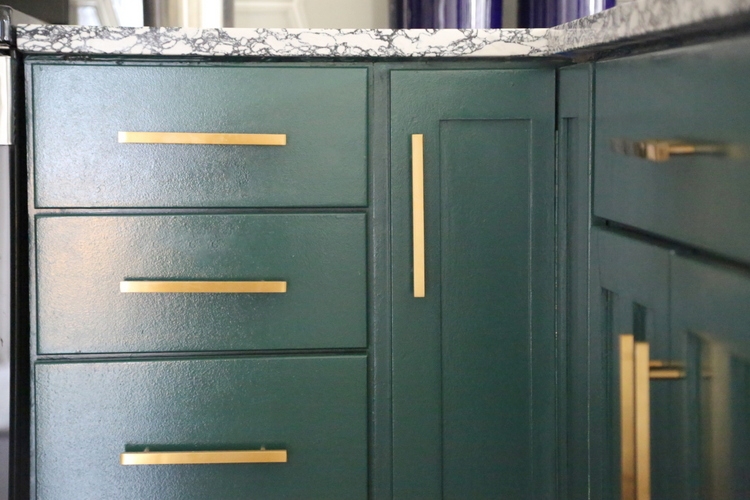 Benjamin Moore Garden Cucumber 644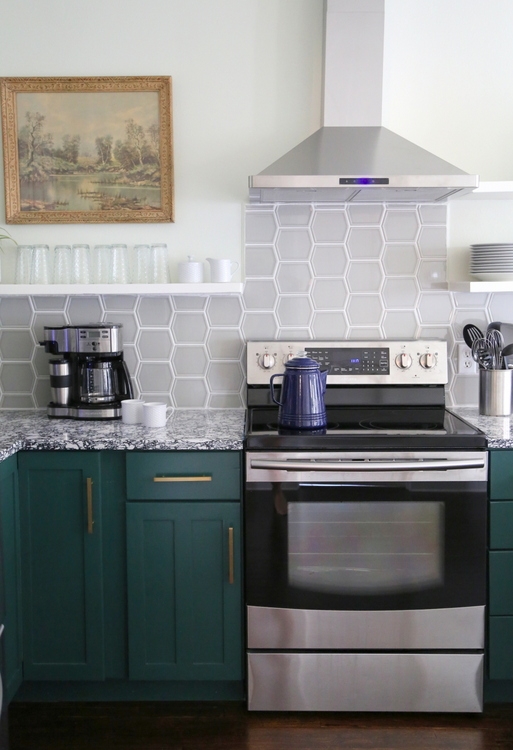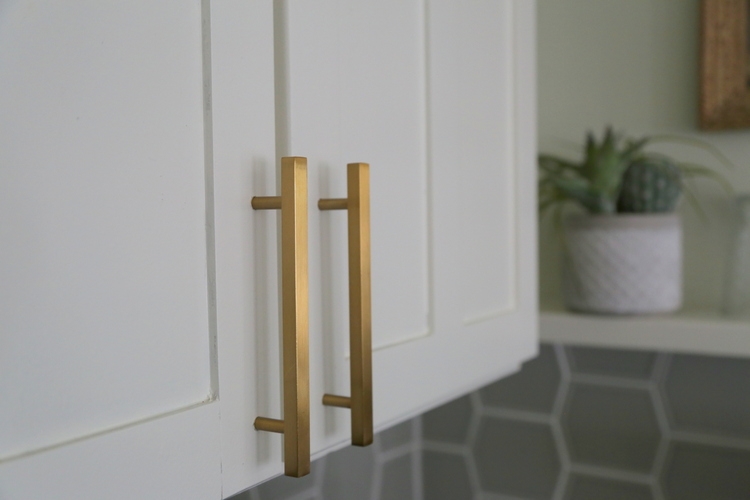 gold cabinet handles from here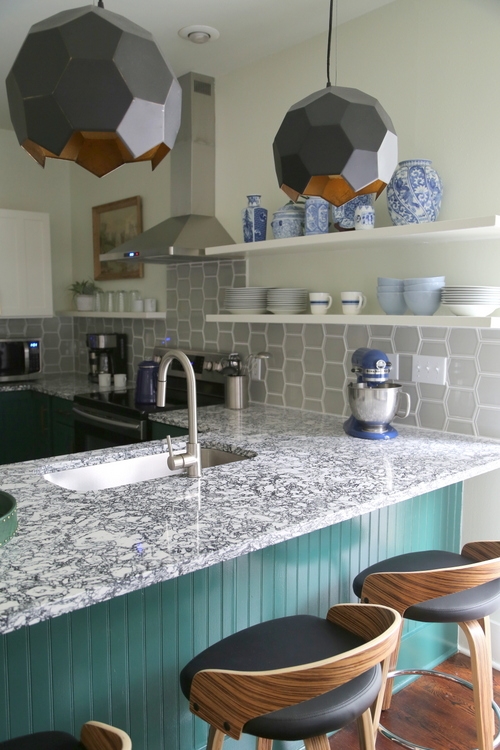 cobalt blue stand mixer here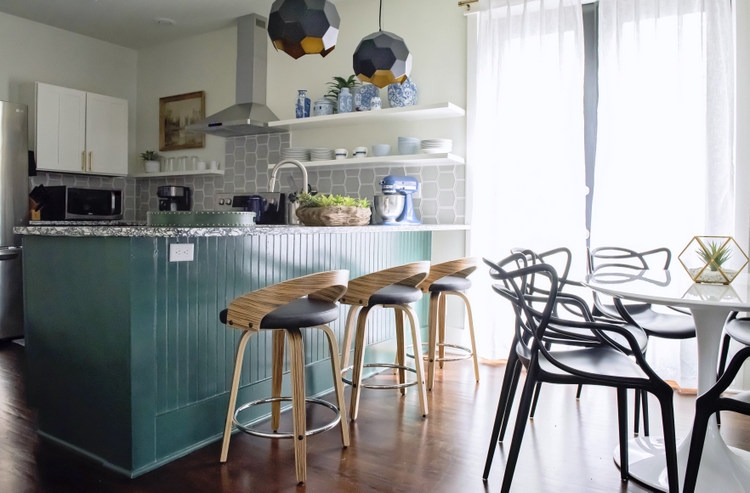 Melanie G Photography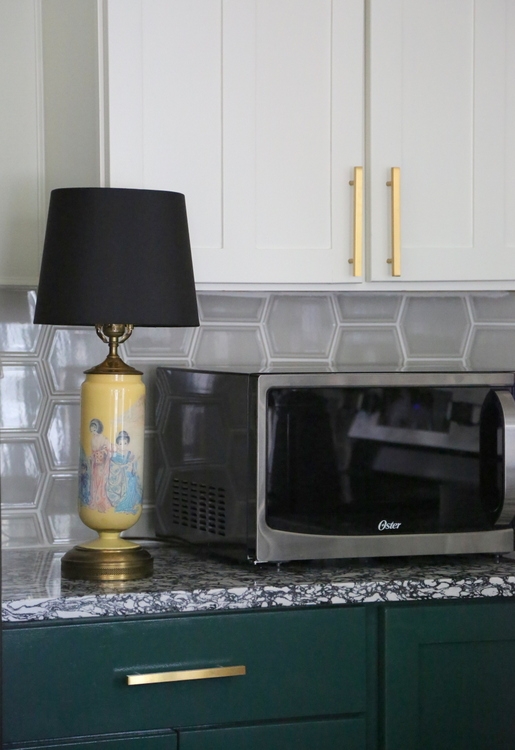 Yes, I put a vintage Asian lamp on a kitchen countertop. With its black shade, it's the perfect night light when a guest needs a midnight snack.
If you need a vacation (and who doesn't), maybe you can stay at this lovely beach house designed by yours truly! It's 200 steps to the beach and 20 steps to a beautiful community pool on beautiful 30A between Seaside and Rosemary Beach, Florida. You can find out more about 33 Palms here!!!