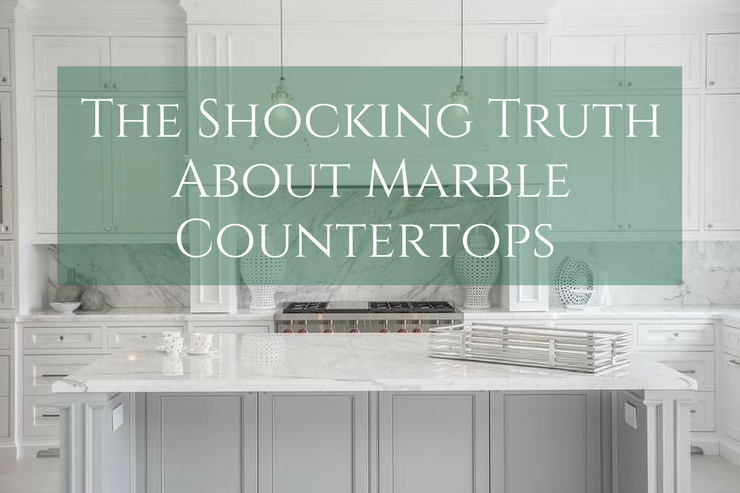 Marble is both timeless and totally on-trend, and many of you may be considering installing marble countertops in your kitchen. First of all, marble has some wonderful qualities. It is heat resistant, and you can definitely do an undermount sink with marble countertops. It's an absolutely gorgeous natural stone with every slab being a piece of art. Marble has a patina that evolves over time and will last a lifetime – but it may not be the best if you are OCD or a perfectionist. Maybe you've heard the scary talk about why you SHOULDN'T use it. Let me talk you through this, ok?
Last night I attended a learning session at Daltile here in Nashville all about marble – specifically marble countertops. And I've got some news you can use about marble. The burning question is: should you or shouldn't you do marble countertops in your kitchen?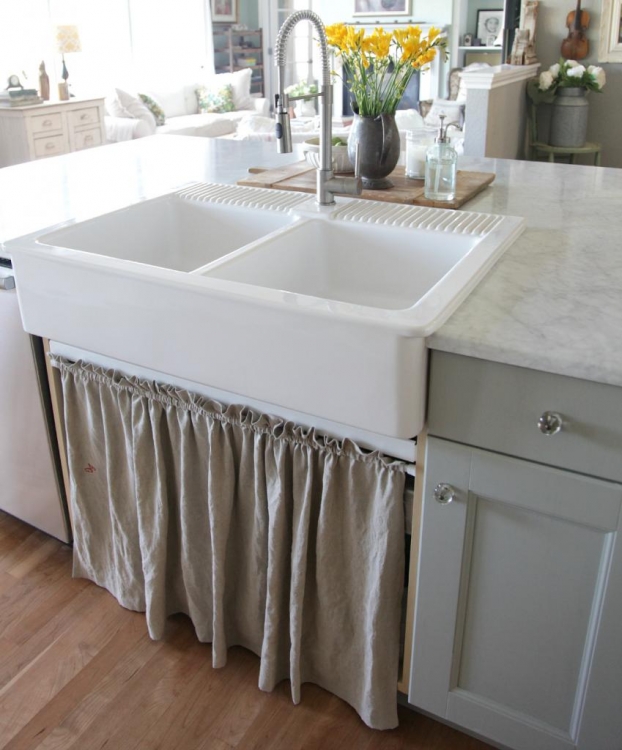 check out Jeanne Oliver's thoughts on her marble countertops here
Staining & Absorption
It's true: marble is more porous than most granite and quartz products. BUT, different marbles (and granites, for that matter) have different absorption rates, and that's something you should definitely look into. Absorption is the degree to which water will penetrate a stone, measured as a percentage of weight. The lower the absorbency, the lower the risk of stains. For example, Vermont's Danby White has smaller pores than many other marbles, with only a .06% absorption rate. That's lower than that of some of the more popular granites on the market. In fact, the one-and-only Martha Stewart loves Danby White and has it in three of her kitchens . . .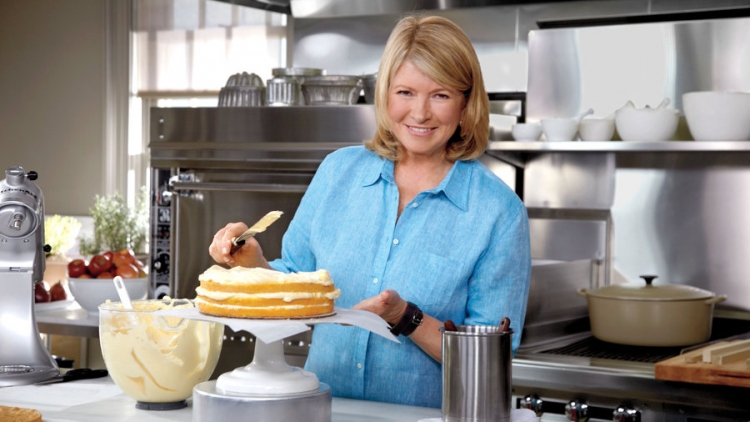 image source
Other marbles with low absorption rates include Bianco Carrera, Thaddos, and Statuary.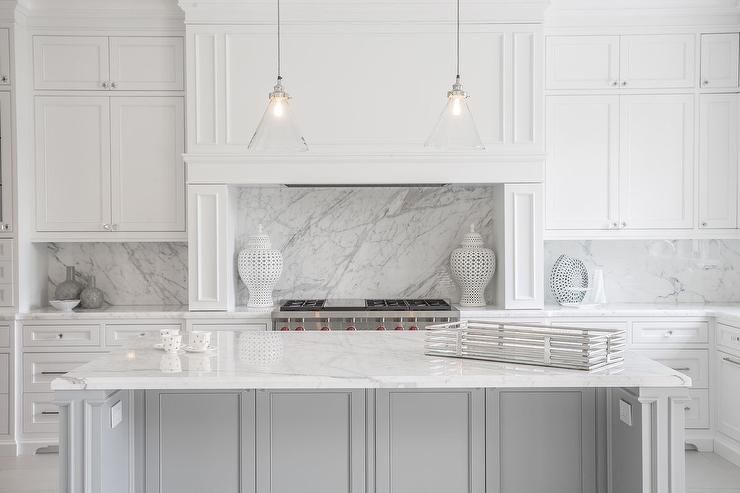 Statuary marble image source
If you choose a marble like that, spills that stain are not a big deal as long as you wipe them up fairly soon. It's important to clean marble countertops with warm, soapy water only. No harsh chemicals, as they may etch the surface. Make sure to use a pH neutral stone cleaner or you may etch the surface. But what if you do stain your marble countertops? There are a number of poultice solutions that can be applied to draw out most stains. In the worst case scenarios, professional refinishing companies can assist in removing difficult stains.
The Finish You Choose
Etching, or dulling of the surface, is caused over time by acidic materials (such as lemon juice, alcohol, or tomato sauce) on the marble countertops. If it is not wiped up right away, the acid reacts and eats away at the calcium carbonate in the stone, creating permanent markings that look like dull, slightly darker spots or rings on the marble. Like I mentioned earlier, harsh cleaners can also etch the surface. How light hits the marble determines how noticeable the etching is. In some light, the scarring will not be evident at all, while certain lighting will reveal the dulled areas.
Polished marble is shiny and is more resistant to staining. Honed marble is matte and less resistant to staining. However, honed marble reduces the problem of etching (mainly, because it's pre-etched). So it you want to reduce etching, choose HONED marble and be sure keep the surface properly sealed to reduce staining.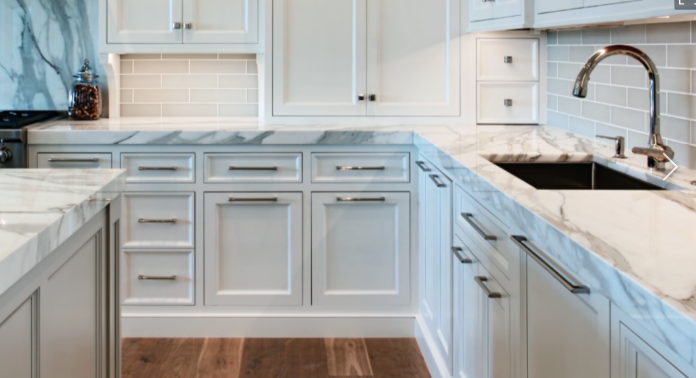 image source
Proper Sealing
Just because a marble countertop requires sealing, doesn't mean that's a huge maintenance issue. How often to seal? That depends on use and UV exposure, but typically 3-5 years. Click here for a sealer appropriate for marble.
I learned that the best way to test a countertop to see whether or not it's sealed (or if it needs resealing) is to set a glass of ice water on its surface and wait a bit.  If water from condensation beads up on the marble's surface when you pick up the glass from the counter, it's sealed. If you pick up the glass and see a dark ring on the marble countertop, it definitely needs resealing.
Rather than simply relying on "the experts," I decided to ask someone who actually knows what it's like to live with marble countertops in the kitchen. So I checked in with a former client who I worked with several years ago when she remodeled her home. She is one of the few clients I've had that chose marble for their kitchen! Here's what she had to say: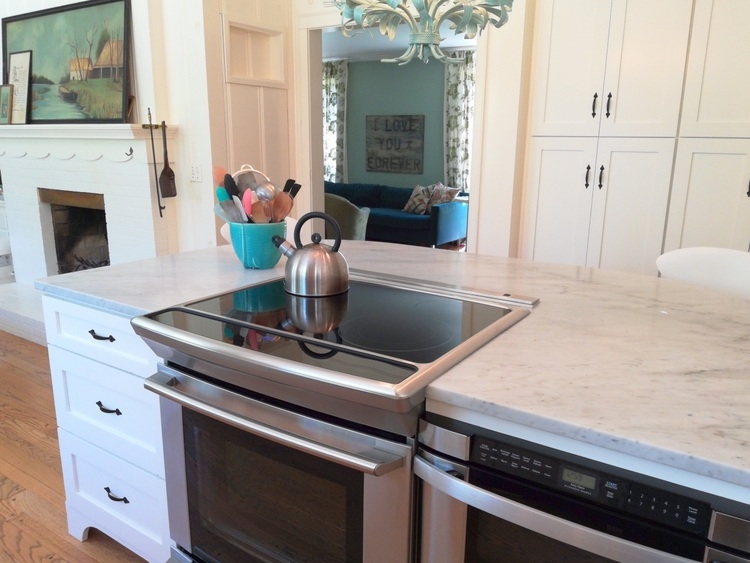 "I love my marble countertops for their timelessness.  I love to bake and so do my kids. I became enamored with old bakeries while traveling in Europe — they have beautiful old marble counters. Also, marble was considerably cheaper than granite when we were shopping for counters.
I had mine installed with the honed side up — very unusual as most people want the glossy side. Mine are etched and used in my very busy kitchen. I decided from the get-go I was not going to baby them."
 Etched or not, you gotta admit they are still gorgeous: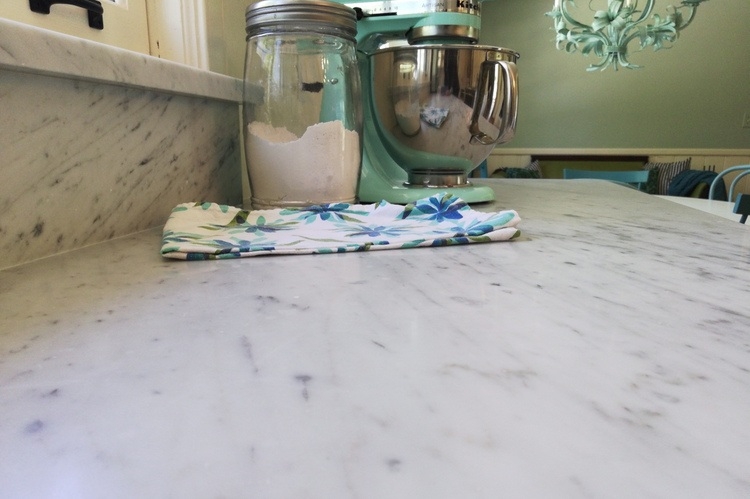 If you are considering marble countertops, definitely do your homework and be honest with yourself about whether or not you can live with its beautiful imperfections!
You are more likely to maintain its newly-installed look by finding a marble that has a low absorption rate, choosing the right finish, wiping up spills quickly, avoiding harsh chemicals, and keeping it properly sealed.
If you want a look similar to marble with less hassle, there are many attractive and more-forgiving 
quartz
 options.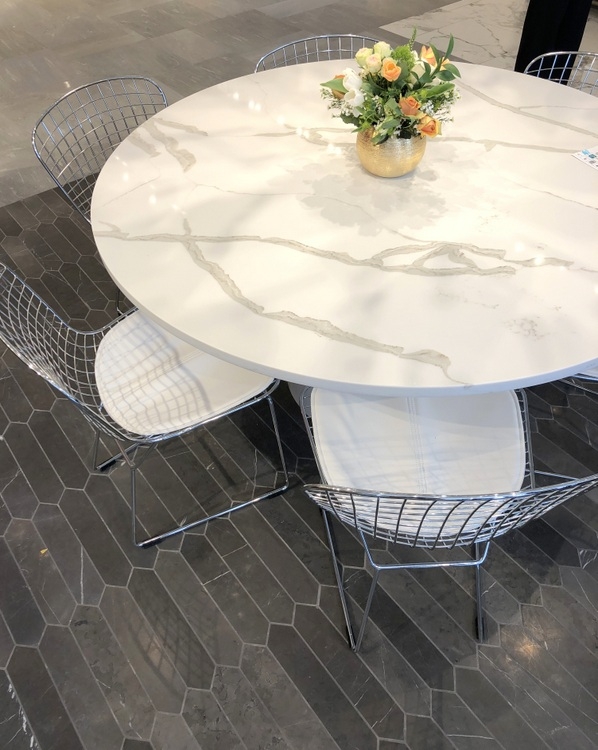 quartz tabletop in the beautiful Daltile showroom
Here I am in the Daltile showroom with a couple of my design besties, Amanda Carlson and Elizabeth Scruggs. Who says learning can't be fun?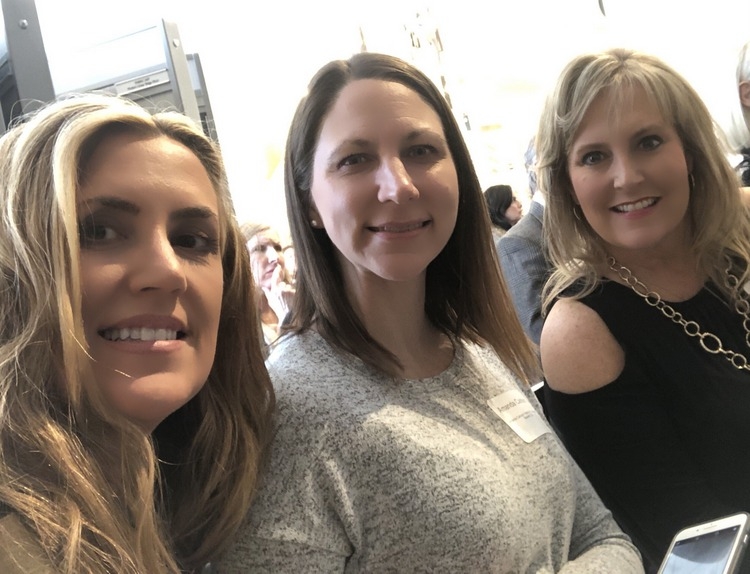 And speaking of learning, if you are considering taking our next professional home staging course in September, there are still spots left! I'd love to see you there.
If you have or have had marble countertops in your kitchen, please share your experience in the comments below!