Everyone wants to know the best countertop material for kitchens. Is quartz really better than granite and marble for countertops? It's now the best-selling countertop material, surpassing granite. Let me tell you WHY.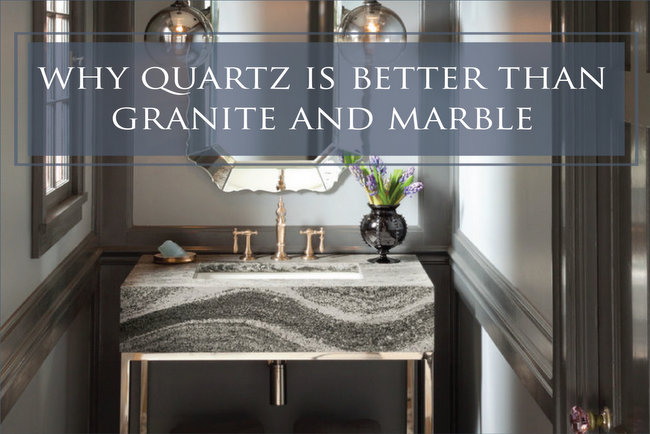 On a scale of 1 to 10 regarding hardness of material, diamond is a 10. Quartz is an 8, granite is a 3.5-5, and marble is a 3. That means quartz is nonporous, unlike granite and particularly marble. Granite requires frequent sealing, while quartz requires NONE. This puts quartz at a great advantage over both granite and marble in regards to staining.
Quartz is twice as hard as granite, three times as hard as marble. This makes it the best countertop material in a hard-working kitchen. It's not indestructible, however. It can chip at the edge like the other materials if the edge isn't slightly rounded and it gets struck too hard.
This morning, the new Cambria facility here in town hosted the Greater Nashville Chapter of RESA (the Real Estate Staging Association).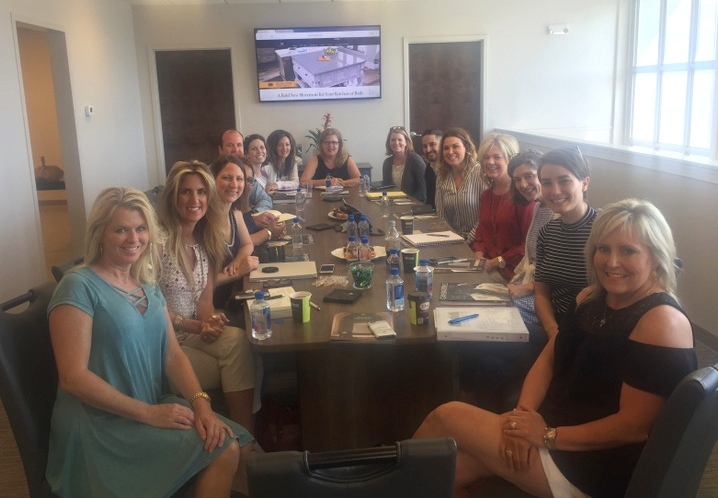 Greater Nashville RESA (Real Estate Staging Association) Chapter 
We were given a fabulous tour of the showroom and slab warehouse, as well as a lot of great information about quartz countertops and Cambria quartz, in particular. Cambria will definitely tell you that the best countertop material for kitchen applications is quartz.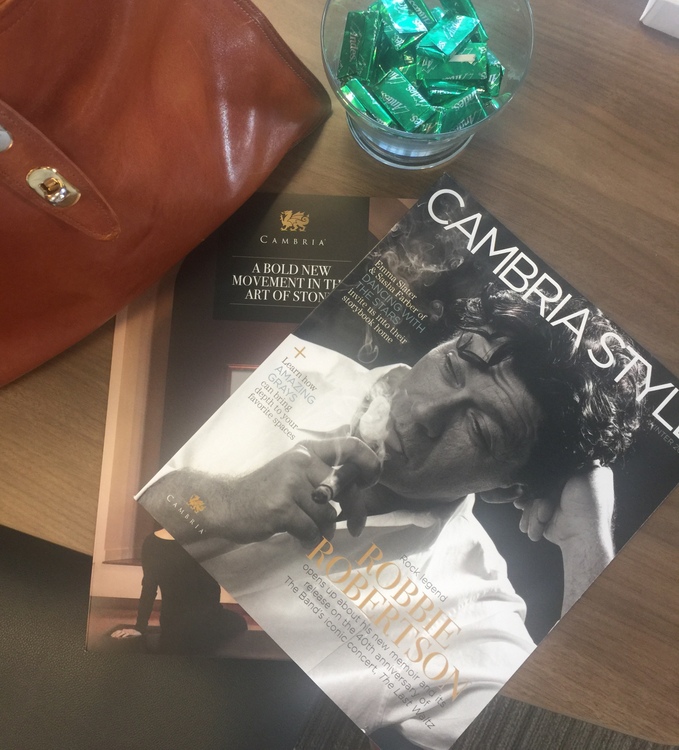 Cambria is the only family-owned, American-made producer of natural quartz surfaces. From Minnesota, the Davis family started out in the creamery business. When a local start-up quartz company closed their doors in the 1990s, the Davis family somehow figured that producing quartz surfaces wasn't that much different than producing butter (!), so they purchased the quartz processing equipment and the rest is history.
Cambria is now the biggest producer of quartz surfaces in the world. They recently unveiled eight new quartz designs, five of which are in their already popular marble collection: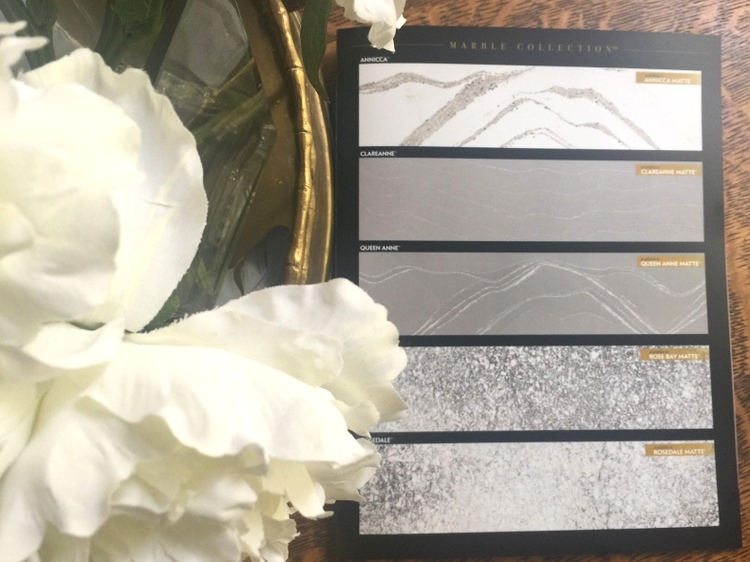 I'm going to show you some of my new favorites, as well as what quartz trends are on their way!
MY "OLD" FAVORITES CAMBRIA QUARTZ DESIGNS
Let's start with a couple of my "old" Cambria favorites. Here is Nashville, quartz that looks like marble is particularly popular. Here's a kitchen I did last year in Cambria Brittannica: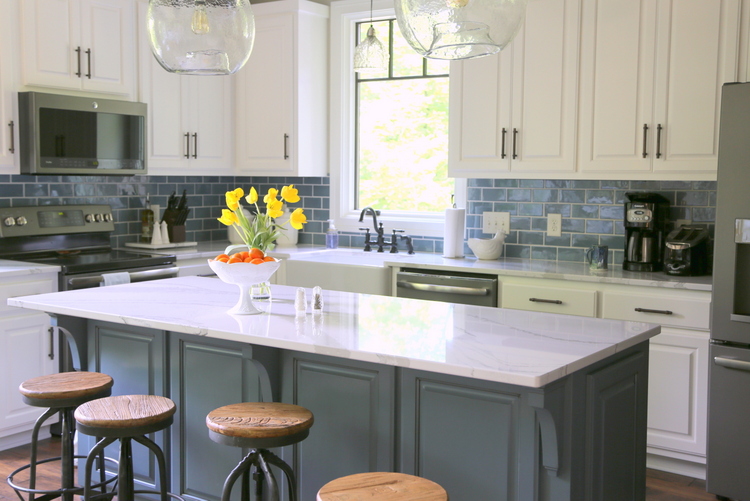 If you are choosing on your own and haven't seen a lot of specific countertops installed, you can misjudge what the counters will look like in place. Part of that is because you are either viewing them from too-small samples or else you are viewing them on the vertical (which is how slabs are stored in a warehouse) rather than on the horizontal.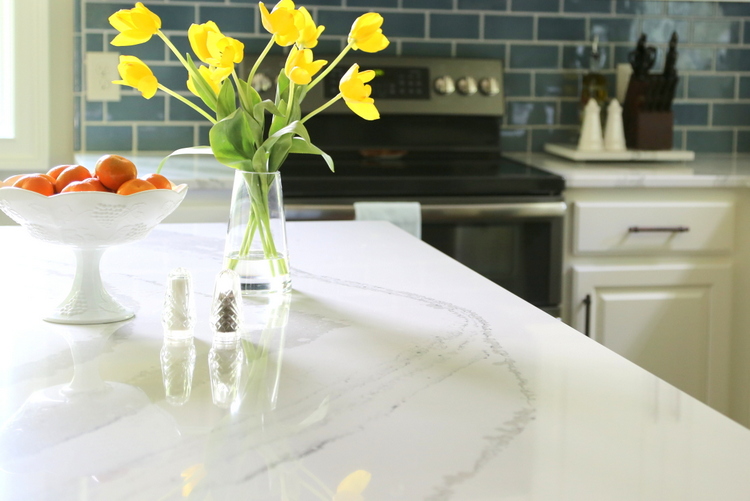 Cambria Brittannica quartz
Here's another of my quartz favorites in a kitchen where I chose colors, finishes, and lighting. It's Cambria Torquay (pronounced tor-key), but unfortunately it's difficult to see the veining in this photo: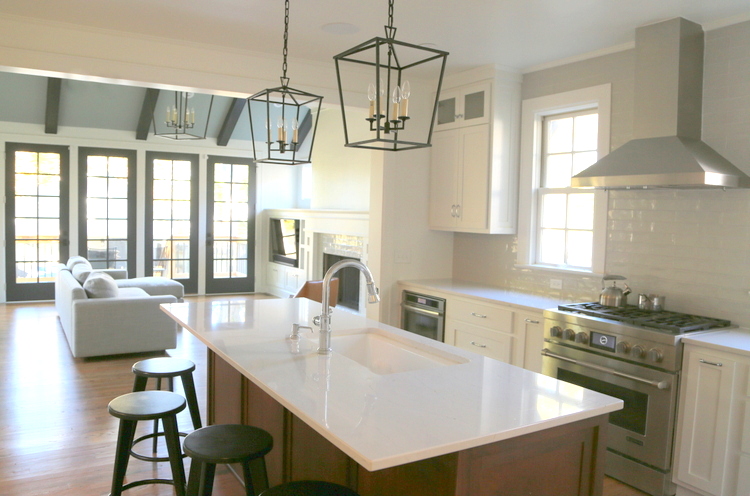 MY NEW FAVORITE CAMBRIA QUARTZ DESIGNS
Now for some of the new favorites I got to view today. First up is very marble-like design that is called Swanbridge: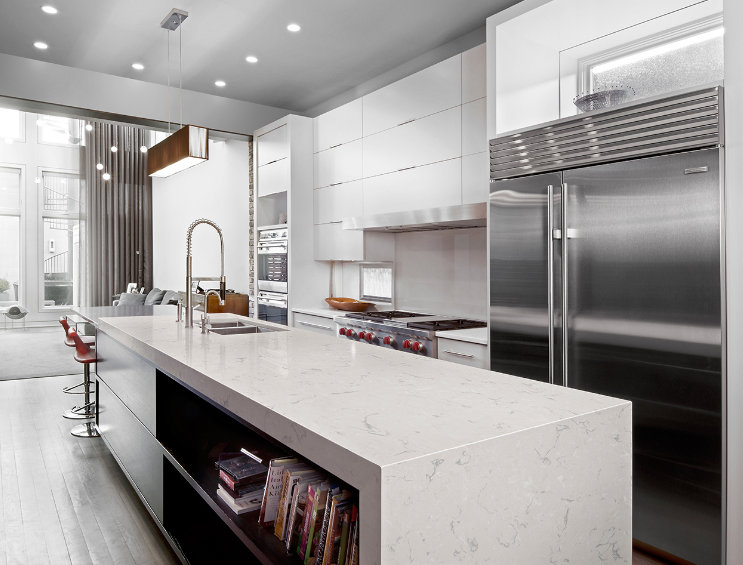 It has more visible veining than Torquay, but not as much as Ella or Brittannica. Another one I like is Carrick: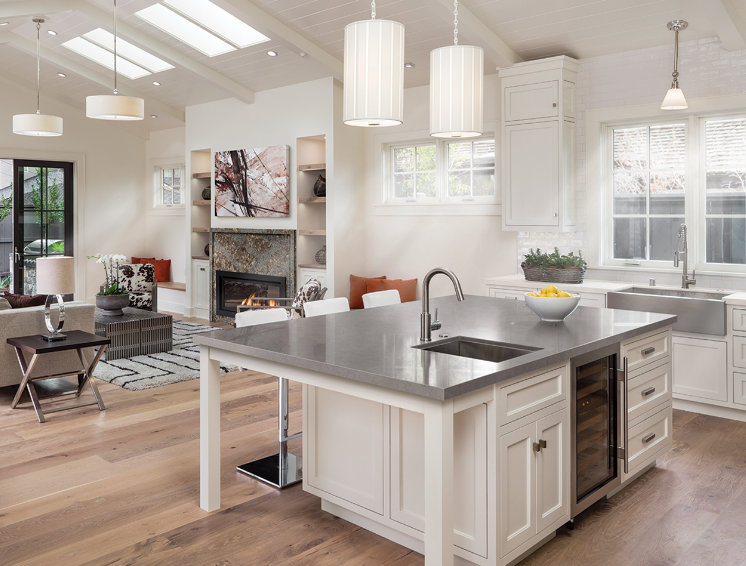 Cambria Carrick quartz
It looks fabulous with stainless steel. Carrick comes in either polished or matte. Light reflection from the sheen will make a polished finish appear a bit lighter than a matte (the same is true for paint).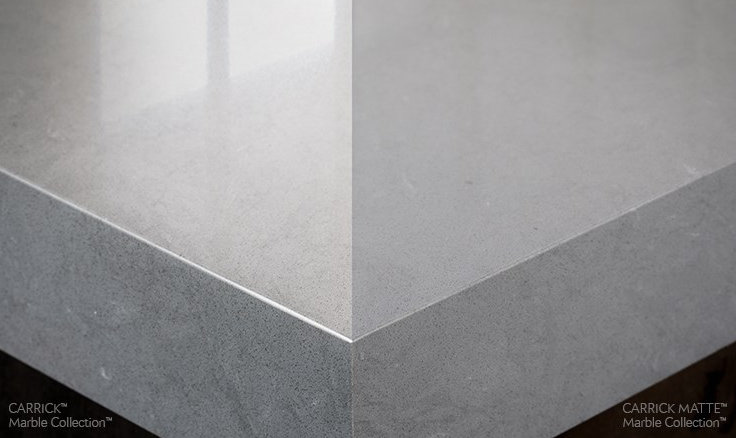 As matte finishes are gaining popularity, Cambria is now producing matte versions of many of their new and already popular quartz designs. I'm really drawn to the Annicca – it's a lot like Brittannica, but with a whiter base.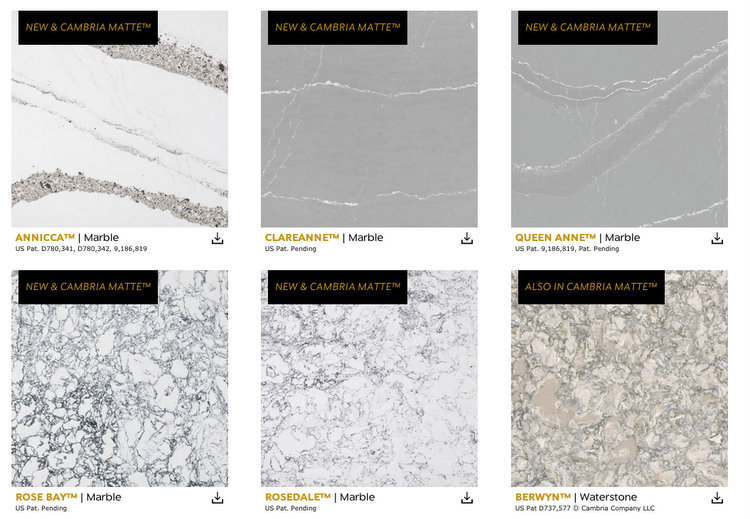 There are two new black and white quartzes that I really love in the Cambria Marble Collection: Rose Bay and Rosedale. Rose Bay is bolder and more uniform, like most quartz: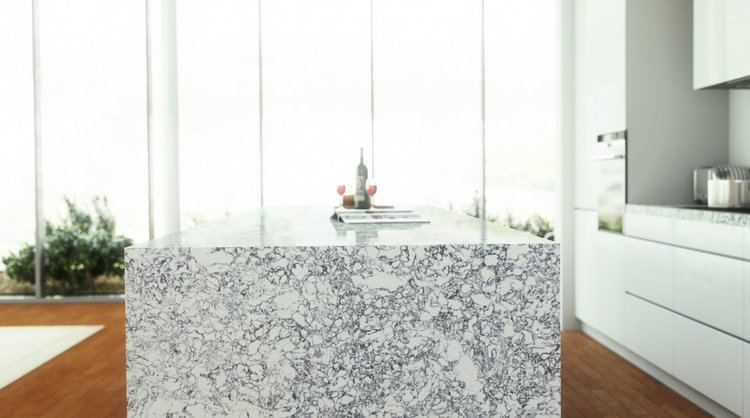 Rosedale has a patinaed, faded quality that many people prefer. It reminds me of faded acid-washed jeans (except gorgeous)!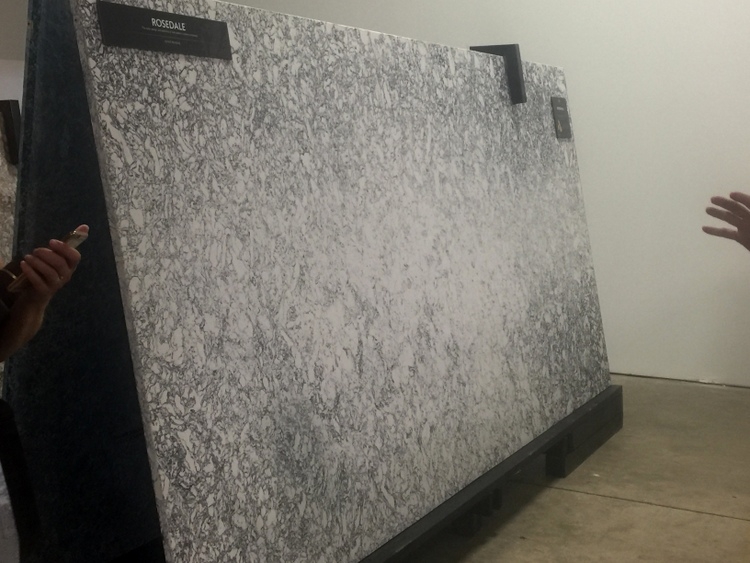 It's important to see a big slab of any countertop material, because there's no way you can tell the whole pattern from a small sample. Cambria has two new surfaces, Clareanne and Queen Anne that are actually the inverse design of two of their most popular designs: Ella and Brittannica, respectively. While Ella and Brittannica have an off-white base with gray streaks/veining, these have gray bases with off-white streaks/veining.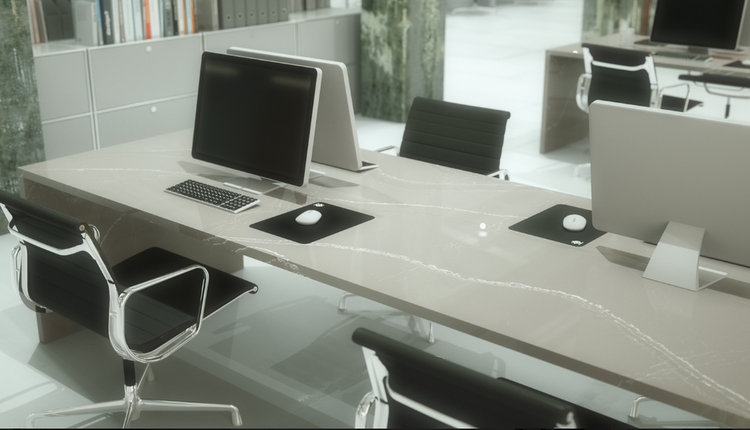 Cambria Clareanne quartz
COLOR TRENDS IN QUARTZ
We got the inside scoop from Hollie from Cambria about the quartz trends that are coming down the pike from Paris and New York! The first one is not a surprise to me – more and more clients are asking for navy cabinets, so it's no wonder that the next color trend in quartz is NAVY: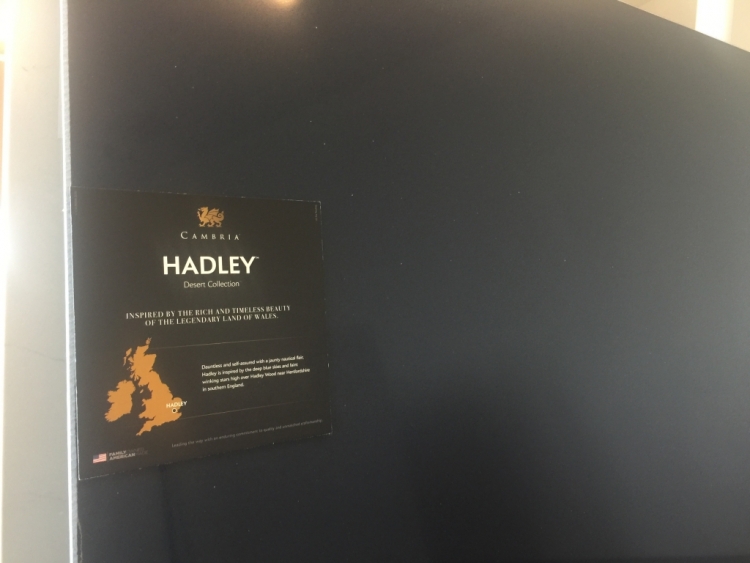 In the showroom, Hadley looks almost black but here's an image from Cambria's website: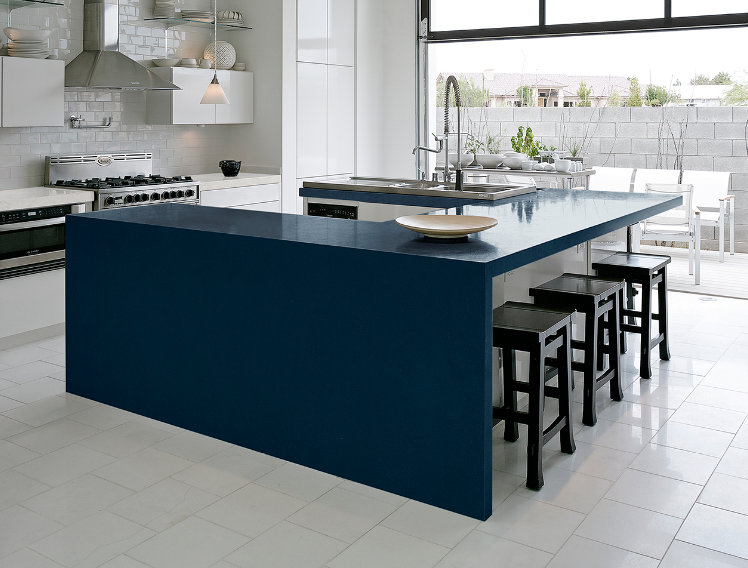 Cambria Hadley
I can see using Hadley countertops with white cabinetry and gold hardware and lighting, can't you?
Another oncoming color trend is olive green. You know how hot it's been in fashion the last couple of seasons – so now it's time for it to trickle on down to home decor. Expect to see this almost solid color quartz paired with a smaller dose of busier patterned quartz like this: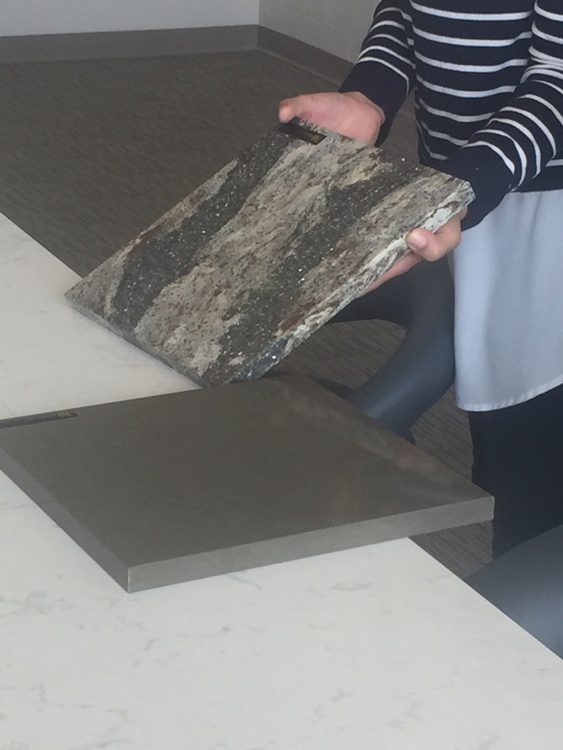 You'd definitely want to pair this off-white cabinetry and gold and/or copper metals to make it look like a modern choice.  Ok, there's one more color trend to share and it may surprise you.  It's cream. Yellow-based cream, to be exact. Hollie says designers are pairing it with white and black, which modernizes the cream.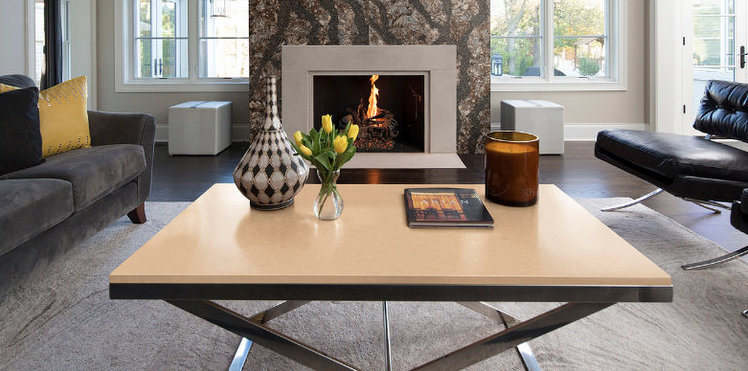 If you are about to choose something as expensive as kitchen countertops, do yourself a favor and find a good designer to help you make the RIGHT choice. And it's not just about the countertop choice, but about the other subsequent choices like backsplash, lighting, hardware, and paint colors that can make or break the overall design.
Is quartz better than granite and marble? Ultimately, only you can decide. I'm dying to know what you think of the new quartz trends!