Bathrooms and kitchens are the spaces in our homes that most show their age. Creating a classic bathroom design that will be both lasting and "modern" can be a challenge. Design trends are fickle beasts, and choosing the right finishes can leave you overwhelmed by all the possible options. This recent bathroom remodel in my client's hundred-year-old home is an example of how to accomplish a look that will stand the test of time, yet isn't cookie-cutter at all!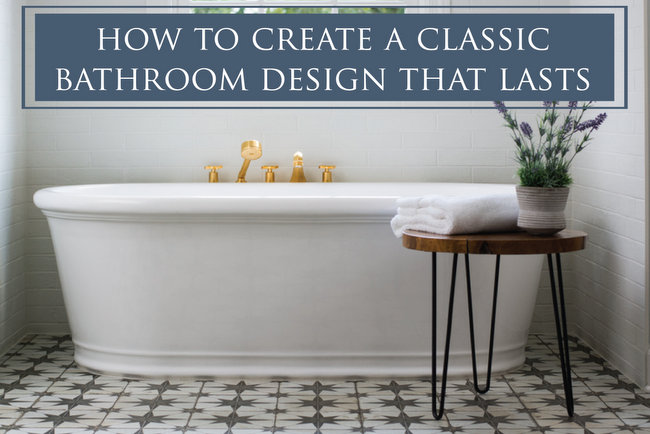 1. Start with function, follow with form.
There's a lot of important work that must be done in the bathroom, you know? Bathing, brushing, grooming, primping, and other unmentionable actions must be successfully accomplished in a relatively small space. Start with your needs, then consider your desires. A separate bath and shower aren't necessary, but can be quite a luxury if you've never had one!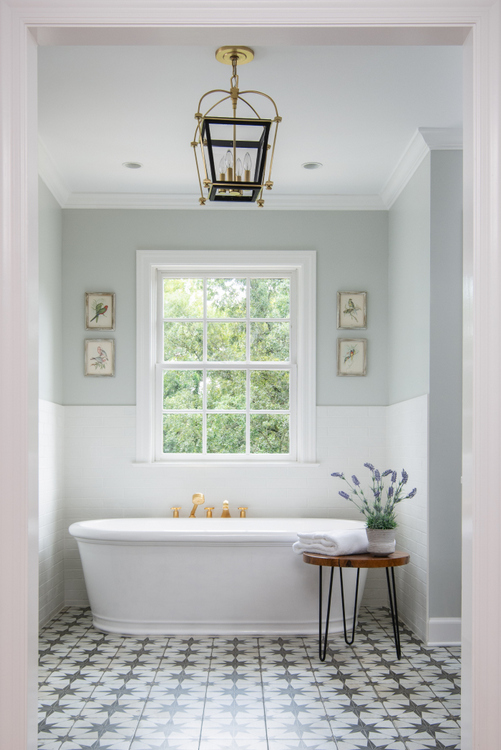 Do you need a place to sit down and apply makeup? Be sure to consider the counter height and space for a stool or chair beneath. The tall homeowners wanted higher countertops for brushing teeth and grooming hair, but we decided to drop down this make-up area to a comfortable height for seating (lighted make-up mirror not pictured).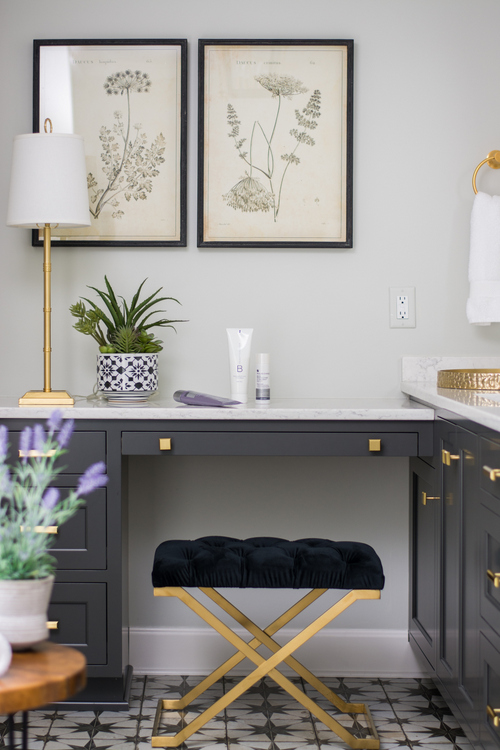 2. Find one design element that you LOVE, then build the room around it.
For this classic bathroom design, that element is the star-studded encaustic floor tile. It was chosen first, and everything else followed. It's the lead actor in this show, while all the other elements have supporting roles.

3. Insure a classic bathroom design by choosing elements that are not simply "popular," but are rooted in history.
Just because some of what you see in this bathroom is currently popular or trending, that's not the same as "trendy." Marble-like quartz countertops; brass and iron metal finishes; encaustic, hex, subway, and brick tile are all rooted in bathroom history. Although there is an ebb and flow in their popularity throughout the decades, these kind of elements give a bathroom historical gravitas. Sure, it's obviously a new bathroom. But there's a nod to the past, such as the Art Deco-inspired encaustic floor tile and plumbing fixtures.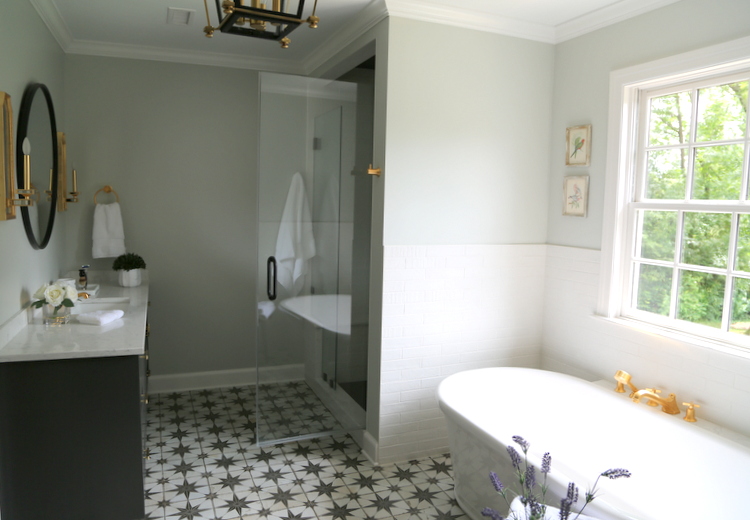 4. Pick finishes that visually tie in with one another to create a cohesive look.
It's so important for a classic bathroom design to pick elements that repeat similar shapes, colors, and motifs – but NOT EXACTLY. This isn't like Garanimals or Rooms to Go, where you should pick "matching" sets.

Rather than using the exact same metal finishes, I typically choose two for most bathroom and kitchen designs. With so much black in the design, we opted to pair it with brass/gold. I know some of you may have strong feelings about "not being ready for brass to come back," but it truly is back in vogue. Every other bathroom in this home sports satin nickel or chrome, so we wanted the master bathroom to be set apart and SPECIAL. We fell hard for this gold and iron lantern fixture from Visual Comfort: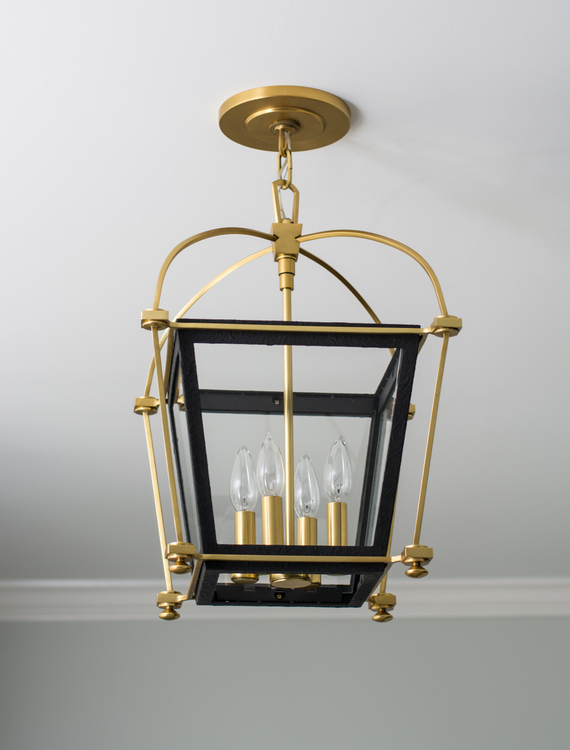 The sink, tub, and shower faucets followed suit:

While the sconces are also gold, we chose iron finishes for the round mirrors and shower door handle and hinges.

5. Choose what you love. Remember, it's YOUR bathroom!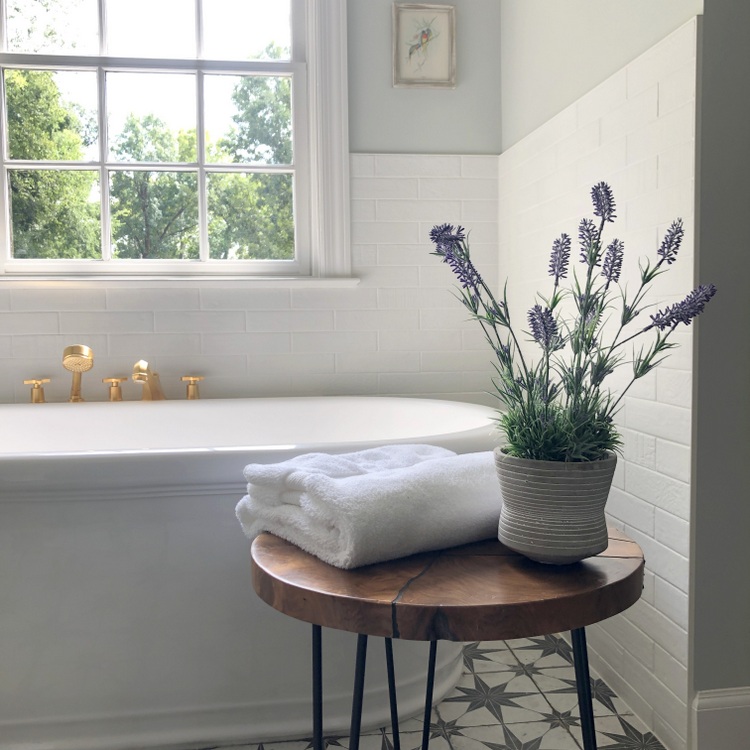 Who is it who's spending hours every day in your bathroom? It's YOU, not your neighbor or your friends – and certainly not your Facebook friends. You should choose what YOU love, rather than the latest trend in bathroom design.
Try bringing in some organic elements, like a potted plant, wooden stool, or favorite art to warm up your special space. Take a chance and juxtapose slick Art Deco shower fixtures with rough-textured painted brick like we did in this shower (just make sure it's ceramic "brick" tile). The decorating police are NOT going to raid your house, so quit fretting so much about whether other people will like it! Unless of course you are planning on selling in the near future . . .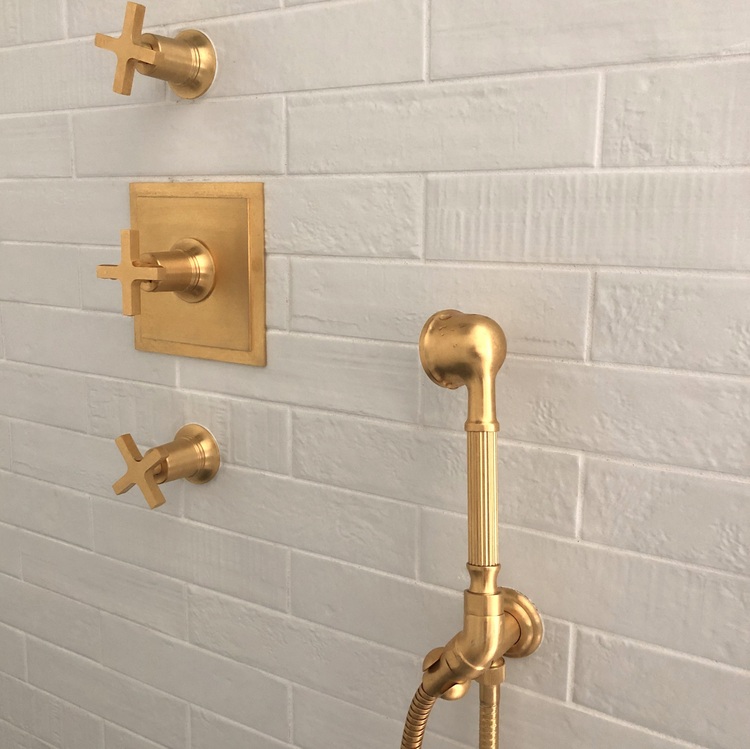 If loving these gold shower fixtures is wrong, I don't wanna be right . . .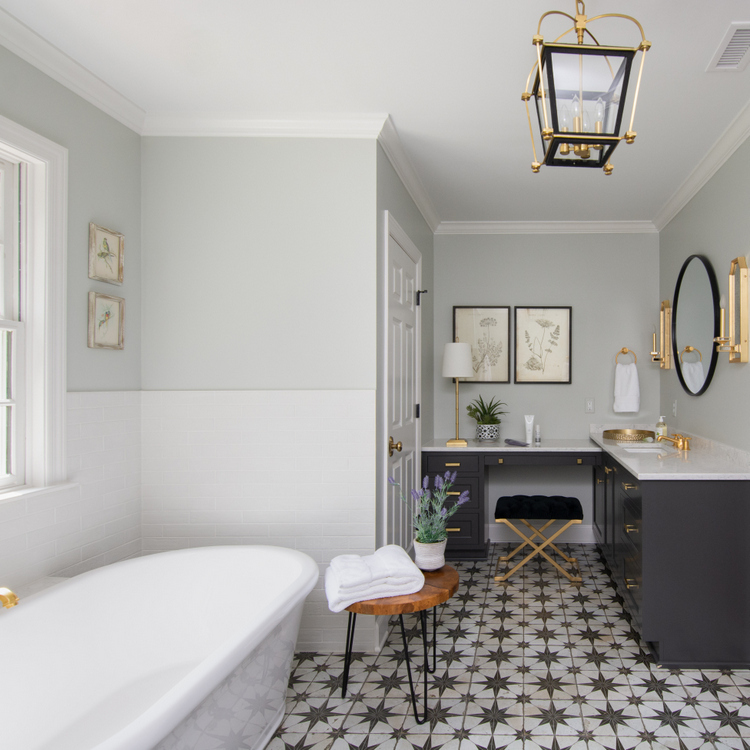 Really quickly, let me show you the "before" of this bathroom project: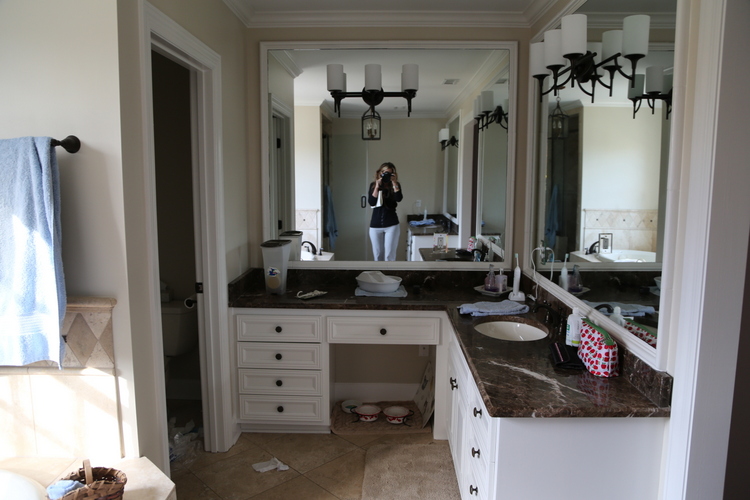 This is one of my favorite bathroom remodels from this year – I hope you like it, too! What's your favorite part?
Want to learn to become a Psychological Color Expert™? Start a new career, expand your design/staging business, or make the best choices for your own home with my intensive online training that will make you into a paint color pro! The best colors and color combinations (in both Benjamin Moore and Sherwin-Williams), exclusive color tools, and ongoing mentoring are included. Find out more here.