I devote a day a week on social media to a simple question: This or That? Rather than me always telling you what I think or might choose for a project, I want to know what YOU think.
And boy, do you tell me! This little design opinion poll is quite popular, and I thoroughly enjoy monitoring the responses we receive. Although some of the feedback is what I expect, other times it can be quite surprising. I think you may be interested in some of the recent results, as well:
Encaustic Floor Tiles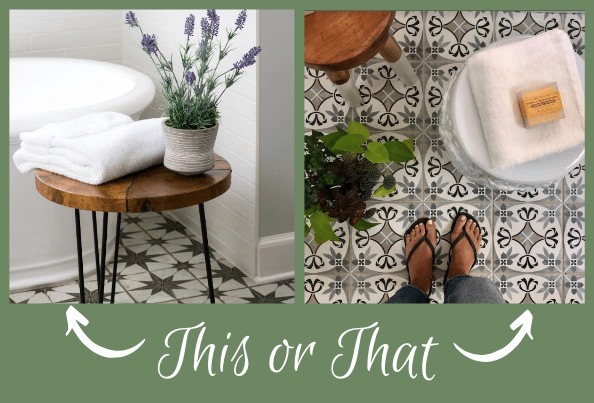 Encaustic floor tiles are a popular trend in bathrooms and laundry rooms these days. Both THIS and THAT are recent shots from two different client bathroom remodels.  Since I LOVE them both, I was anxious about which one would win out. Guess what? This one is a tie – 45% of responders preferred THIS, while 45% preferred THAT.  6% reported liking both, and 4% did not like either of them at all. Encaustic tile is a very popular (and beautiful) choice for a bathroom. Although it's trending right now, it's long-standing history makes it even more of a classic than subway tile. Oh, and I'll be revealing the entirety of these two bathroom projects soon, so stayed turned!
Mural Wallpaper or Repeating Pattern Wallpaper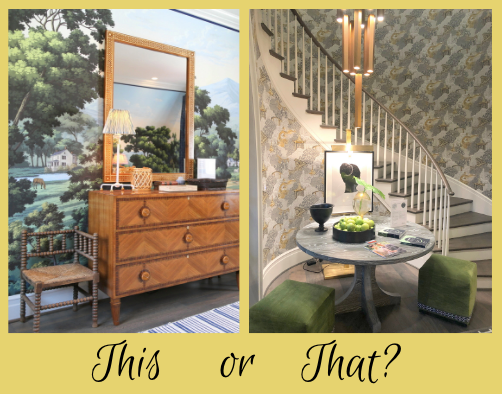 45% like THAT (the repeating pattern) best. 32% of people liked THIS (mural wallpaper) best. I photographed these designs by Amy Berry (THIS) and Vern Yip (THAT) at the House Beautiful Whole Home Concept House. Out of those who responded, 12% loved both, and 11% did not like either – just because they are wallpapers! A few people explained that they had a mural or wallpaper in their home growing up and have very negative feelings towards wallpaper for that reason. I find that many clients are resistant to wallpaper because of the long-term commitment and difficulty removing it. There are companies newer companies like Tempaper that sell removable/repositionable wallpaper exclusively for that very reason. It still takes a lot of labor to hang it, but I suppose it's less messy without all the paste. But if you love it and don't want it to come down in a couple of years, will it just fall off the wall eventually? I have no idea . . .
Horizontal Subway or Basketweave Subway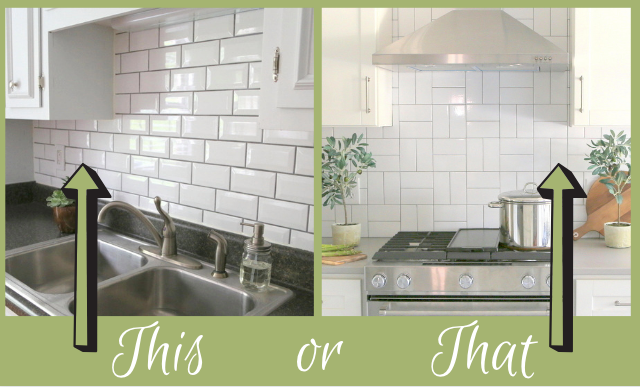 The photos above are from projects I did within the last year. THIS is a budget remodel of a kitchen in a rental property, while THAT is a complete kitchen remodel with a somewhat larger budget. The results of this opinion poll actually surprised me. Readers were very one sided about this subway tile! 92% of commenters preferred THIS, the standard brick lay tile, while only 6% preferred THAT, the basketweave subway tile. I wonder if the angle of the photos came into play here – the shot of THIS on an angle provided more dimension and light reflection on the tile. Or even the contrast of the grout? I'm not sure, but looks like most readers want to play it safe and stick to the standard layout of subway tile!
Green Front Door or Orange Front Door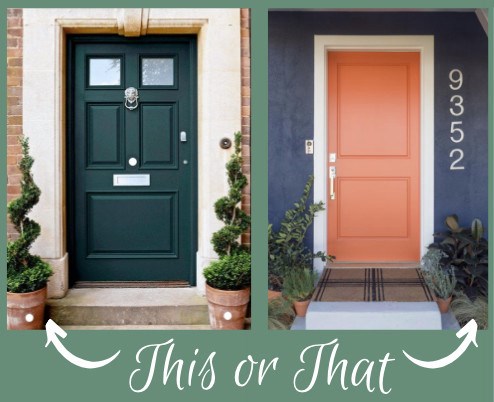 74% of voters like THIS – the classic dark green front door, while 13% like THAT – the more daring orange front door. 13% simply could not decide between the two and chose both! These responses suggest that most of my readers prefer a classic look to a contemporary one. But remember, the good news about a daring front door is that it is fairly easy to change it if you tire of it!
Did any of these surprise you? If you are not participating in my Sunday opinion polls, come follow me on Facebook and Instagram so you can weigh in with your opinion! I have a fun one coming up this weekend!