I recently attended Benjamin Moore's 2020 Color Forecast event in Nashville. Presented by my regional designer rep, Candice Carter, at the House Beautiful Whole Home Concept House, the lecture was about the history of paint color in residential settings. As a devoted lover of old homes (and great paint colors!), I was completely thrilled to be present at this event.
Candice explained that the general mood of the culture has great influence on color trends. She graciously allowed me to use some of her slides to share this interesting information with my readers!
1880-1910 The Paint Colors
These are the years of the second Industrial Revolution. House Beautiful magazine begins publication, and the Arts and Crafts movement pushes back against the Victorian era of decorating. Interior decorating becomes an actual profession, with early influencers including Edith Wharton and Elsie De Wolfe. William Morris' fabric and wallpaper designs feature organic patterns and nature themes, like the one below:
1910-1930 The Paint Colors
World War I, the Roaring 20s, and the stock market crash dominate this era. The proliferation of cars, movies, radio programs, and jazz music influence culture. Art Deco and Style Moderne emerge, with buildings being erected of glass, steel, and concrete. The Bauhaus movement in Germany influences American building and design, and heavy-hitter influencers include Frank Lloyd Wright and Walter Gropius.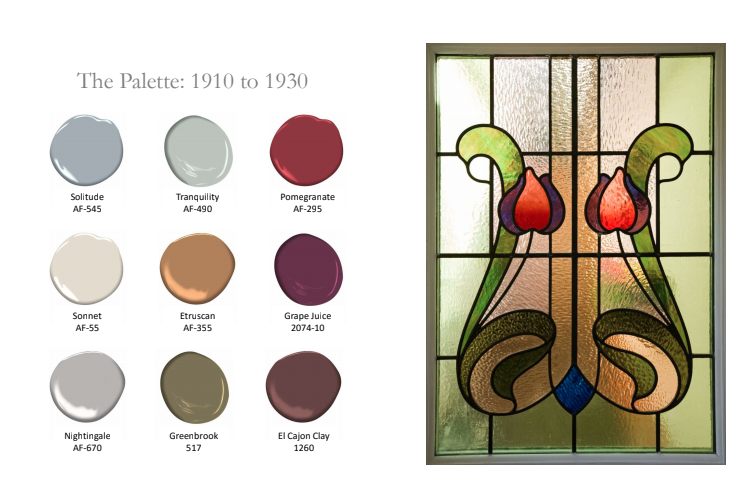 1930-1945 The Paint Colors
This era ushered in the New Deal and World War II. Women began entering the workforce, as the men were at war. Out of necessity, things were more streamlined and practical. Depression glass had an impact on the hues of interiors, where "safe" colors were being chosen. In contrast to these more reserved interiors, Dorothy Draper's bold colors and designs provided a hope that good times would come again . . .

1945-1960 The Paint Colors
This is the postwar era, when hope does return. Indoor/outdoor spaces gain emphasis in residential buildings, and material innovations are popping up like linoleum, stainless steel, plywood, and plastics. Design is more functional and attainable by the general public. Colors becomes brighter with Scandinavian influence, shapes are organic, and America is patriotic. Design influencers include Eero Saarinen and Charles & Ray Eames.
1960 to 1980 The Paint Colors
This is the era of the Vietnam War, the moon landing, the Civil Rights Movement, and big changes in music. Travel becomes a popular pastime, psychodelia is a thing, and decadent, lavish design prevails. I read an article recently calling the 70s "The Decade that Taste Forgot." Who can forget the shag carpet?? Bold abstract patterns become more prevalent, and materials like lucite, metal, wood, wicker, and rattan show up in home decor.  Design influencers include luxe designers like David Hicks.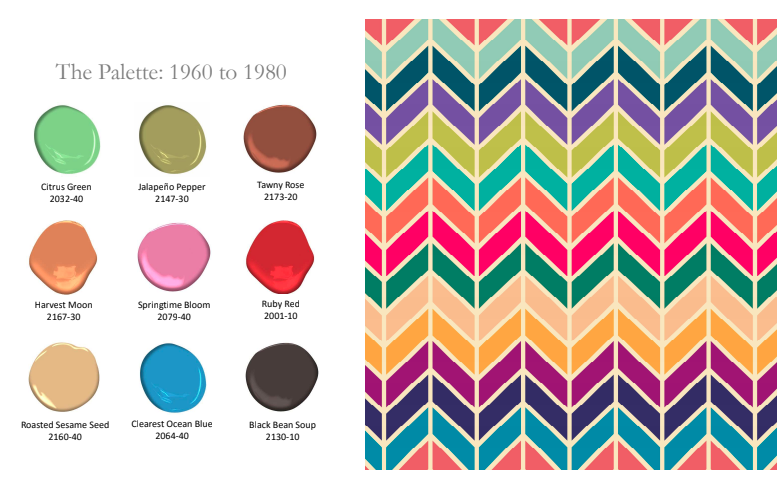 1980 to 2000 The Paint Colors
Reagan-Bush, the Persian Gulf War, and the Clintons dominate the news. This era is marked by materialism, mass construction, and McMansions. Popular fashion and interior design styles include preppy and country, and Ralph Lauren and Laura Ashley are the rage. MTV is born and Al Gore invents the internet (sorry, couldn't resist). Faux finishes gain popularity and nature-focused colors are big.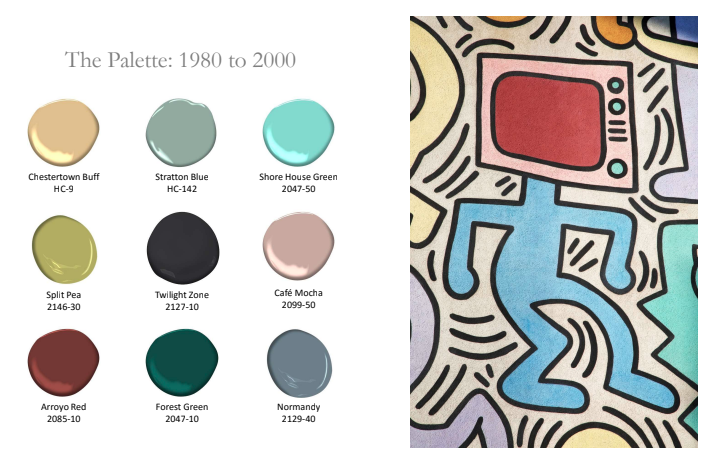 2000-2020 The Paint Colors
Ah, the New Millennium and Y2K! This era is all about technology, communication, and the environment. The recession, terrorism, and 9/11 impact our sense of security. Social media booms with influencers that impact design through blogs, pinterest, and instagram. We move from warmer palettes to cooler ones, with result in the rise of gray colors, tinted neutrals, and deeper hues.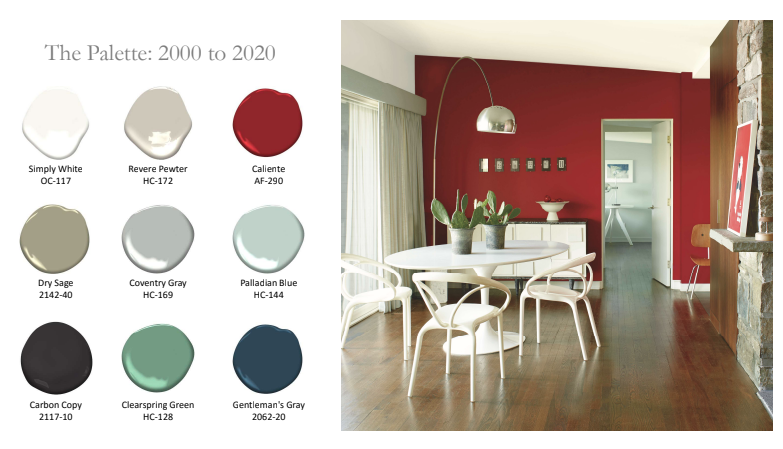 2020 and Beyond – Now What?
Benjamin Moore predicts that this new era will be marked by increased focus on imagination, community, authenticity, beauty, comfort, privacy, optimism, and self-expression. The color palette for 2020 contains fresh, light tints and dark, contrasting shades.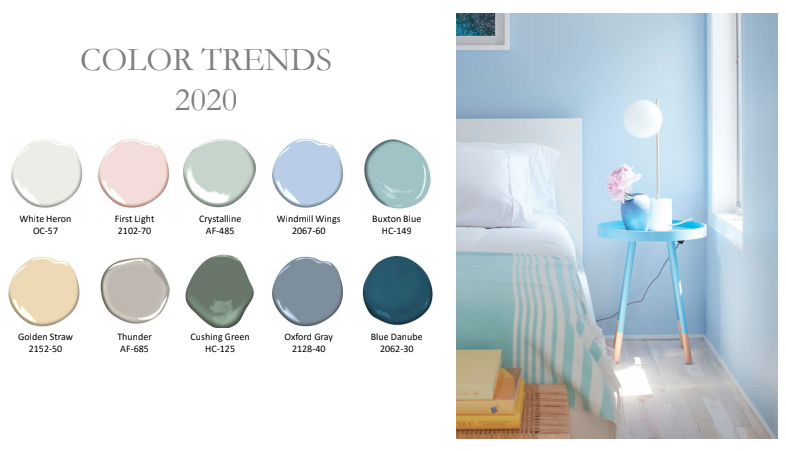 If social unrest is associated with muted colors, and optimism is associated with bright, upbeat colors, it looks as though Benjamin Moore predicts a more positive era to come. I hope you enjoyed this little trip through the history of paint color. Please share which era is YOUR favorite in the comments below!
If paint color fascinates you like it does me, there is SO MUCH TO LEARN about how to use it in your home and the homes of your clients. Let me rock your world with color in my new ONLINE color course – and be sure to check out all the 5-star reviews!!!