Since I am known for painting the ceiling a different color, I am often asked which ceiling to paint and what color to choose. Like many of the often-asked questions in life, the best answer depends on several factors. If you are considering painting the ceiling a different color, you need to choose a room in your home to create this special effect. Anywhere or everywhere is NOT the right answer!
Lately, I've had many readers ask about painting the ceiling a different color in a living room – yay or nay?
Let's think though this. Is it a large living room that gets everyday use? I don't typically choose painting a ceiling a different color in a large living space where homeowners spend most of their time. You will want to consider this carefully if your ceiling is not higher than 8 feet, but it can be done. If you want a different color on the ceiling in a large living area with average-height ceilings, I would suggest a color that is no darker than a tint or mid-tone and brings to mind the sky. This will bring the eye up naturally, like the sky does in nature. But it won't feel like a distraction in the space.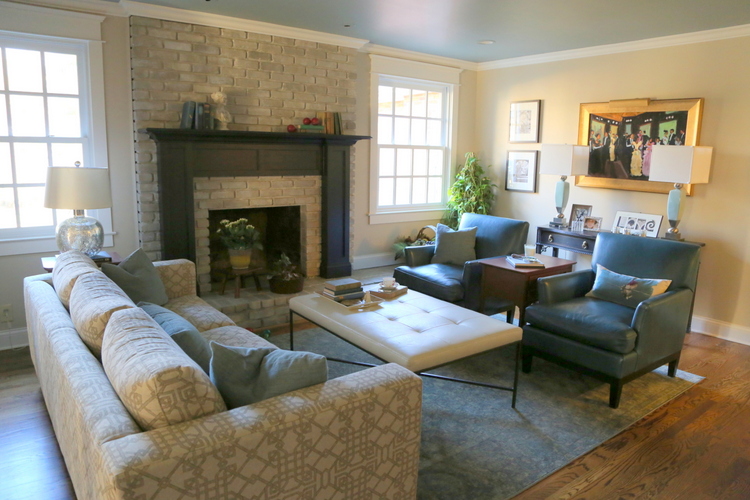 The Decorologist
This is from a living room redesign I worked on several years ago, but I don't believe I've ever shared this one with you before. The ceilings here are 8 feet high. Here's the same room before we changed the paint colors and replaced the furnishings: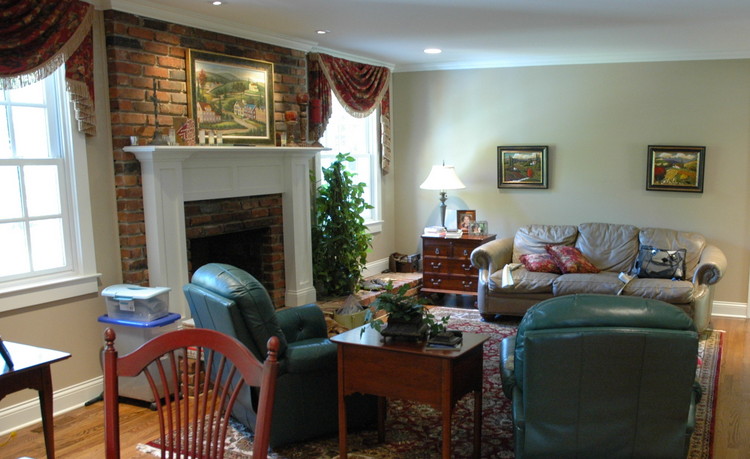 before
If definitely matters what color the living room walls are, as well. If the living room walls are a light and updated neutral color, painting the ceiling a different color is an option. However, if the walls are already dark or are a saturated color, painting the ceiling a different color can create a dated effect that would NOT result in the look you were hoping for. I'd like to show you a photo example of a dated looking color combination, but I don't want to hurt anyone's feelings . . .
If the walls and trim of your living room are white, there is good natural lighting, and the ceiling is at least 9 feet tall, you CAN definitely go dark on the ceiling: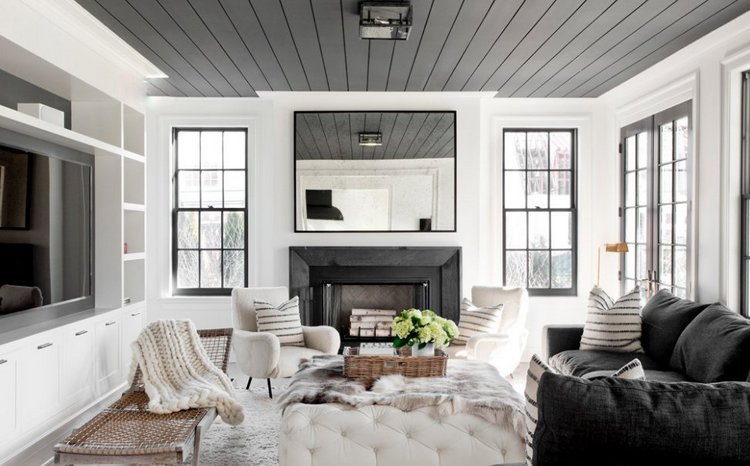 design by Tamara Magel
If your living room walls are a light neutral and your ceiling is high (above 10 feet) and flat, you can definitely paint it dark. Perhaps a black, almost black, or navy. If your ceiling is vaulted or slanted, I would NOT recommend painting it a different color than the walls or trim. That would only bring attention to the odd angles above.
You may be itching to try a fun, new color on the ceiling of your living room – maybe a color similar to Benjamin Moore's 2020 Color of the Year?
It's a bit of a risk, but not too scary if you keep the walls very light and airy.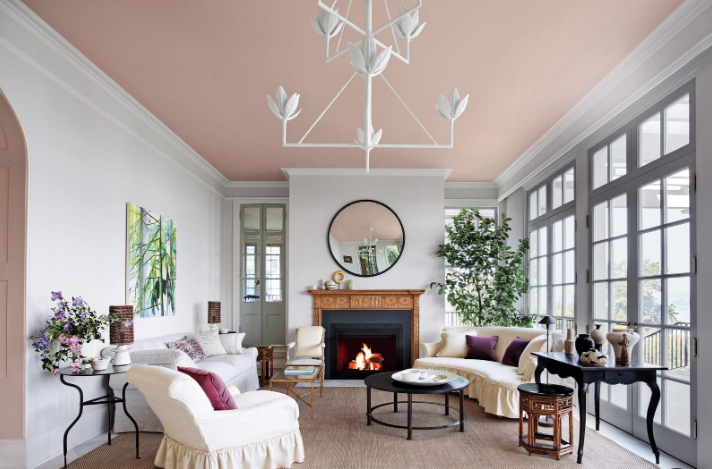 design by Jeffrey Bilhuber in AD
A sky-colored ceiling is a great choice in a white living room, regardless of ceiling height.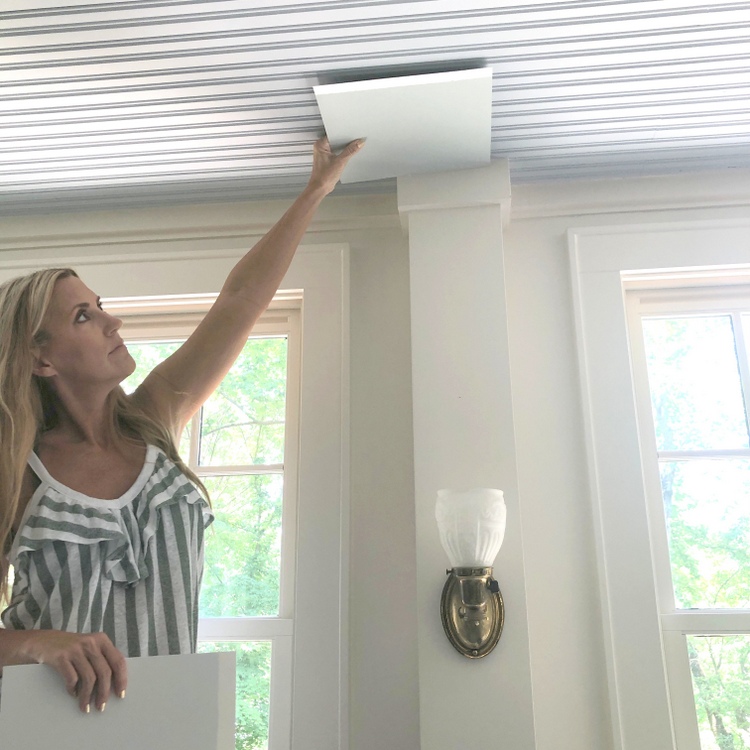 The most important thing to do when choosing new paint colors is to test them the RIGHT way.
I highly recommend painting out a SmallWall sample board (available at Sherwin-Williams retailers) and testing the new color in the room you are considering painting.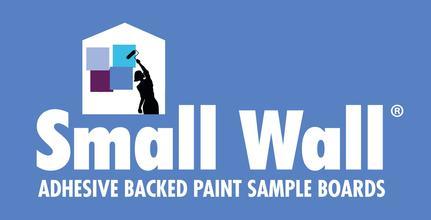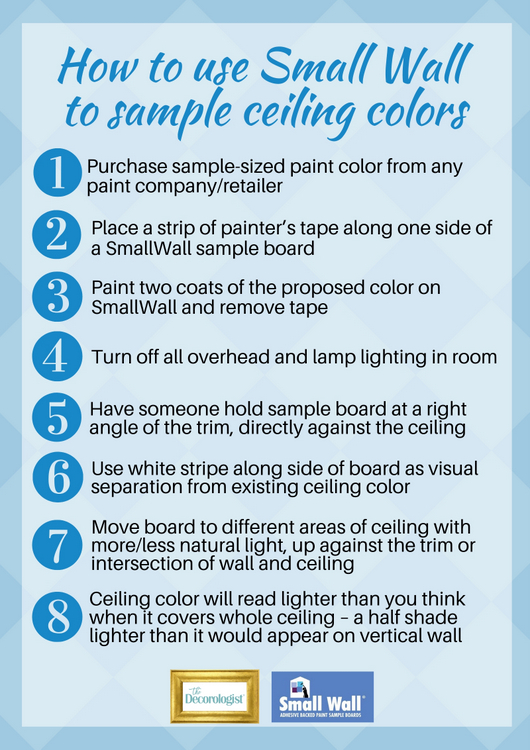 If you have a smaller living space where you spend limited amounts of time (perhaps a library or music room), you can do a high contrast, dark ceiling even with 8 foot ceilings.  There's nothing wrong with high drama in a space like that, but it could feel like "too much" in your larger main living room.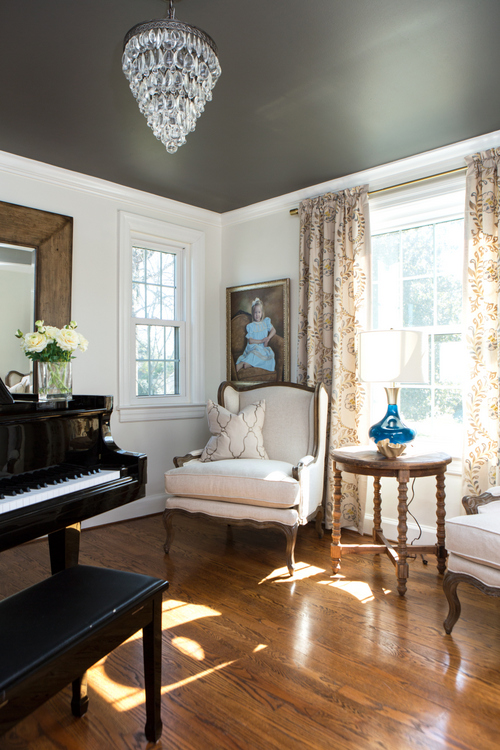 The Decorologist
You may be surprised to hear there is so much you can do (and so much you SHOULDN'T do) in regard to painting ceilings. In my Psychological Color Expert™ certification course, I actually have two entire modules on how to specific paint for ceilings! I teach you what to do with tray and coffered ceilings, ceilings with/without crown molding, textured/patterned ceilings, vaulted and angled ceilings, etc.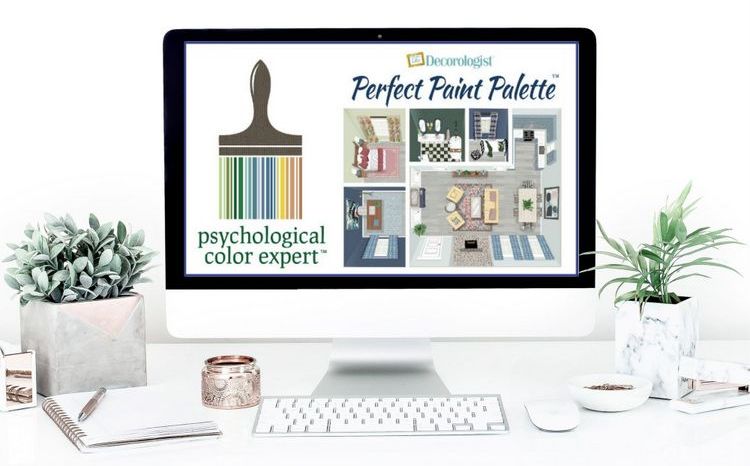 I give you specific colors in both Benjamin Moore and Sherwin-Williams for dining room and bedroom ceilings, and specific color combinations for walls and ceilings in the same room. You can find out more here.