I have to honestly say, I have never had the guts to recommend that a client paint thermofoil, laminate, or melamine kitchen cabinets.  This type of cabinetry is often found in lower-end kitchens – melamine and thermofoil are similar plastic materials that are applied over particleboard or MDF to inexpensively simulate the look of painted wood. Although I had heard it could be done with chalk paint, I really didn't know it was possible with latex paint.  Let me reword that:  possible, maybe, but advisable? Probably not.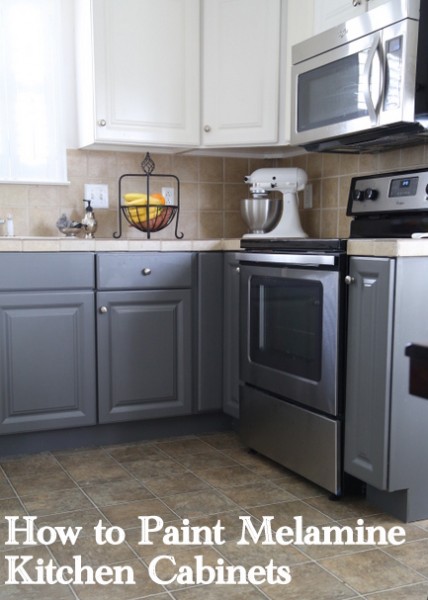 Allison really wanted to do something to update her kitchen, but didn't have the budget to change the vinyl flooring, the countertops, or the backsplash.  And she certainly didn't have the budget to replace the melamine kitchen cabinets!  When the painter she was using assured us that he had done it before and that it could be done successfully, Allison decided to go for it.  Here's a before photo of the kitchen: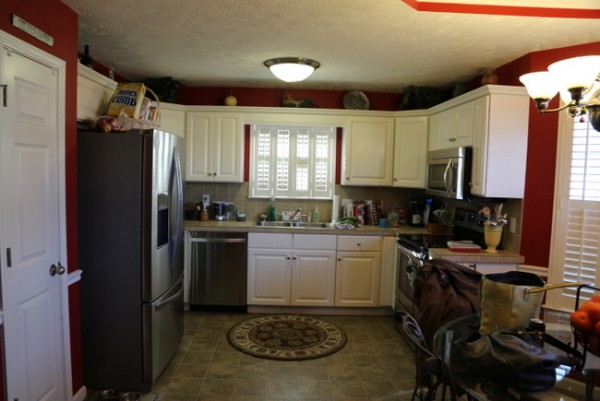 kitchen before
You'll notice that the red paint color in this space really only acted as an accent color, since so much of what you see is the white cabinetry and beige backsplash and flooring.  I think it's better to use a wall color that fades in and blends well with the adjoining space, which is why we pulled the gray blue from the living room into the kitchen.  We chose a dark gray color for the base cabinets. Although the countertop and backsplash are all beige and no gray, the cabinet color we selected picks up the dark gray in the vinyl flooring.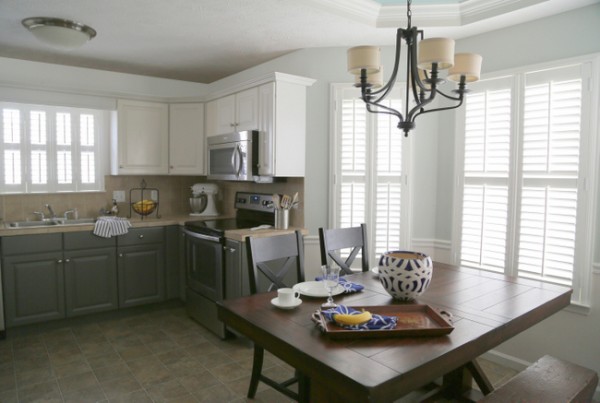 kitchen after
The effect of the new color scheme is more sophisticated and peaceful. Now let's talk about to how-tos.  You can actually remove the plastic coating (thermofoil) before painting, and some people recommend doing that before painting.  However, our painter told us that he attempted to do that in his own home, and that it was a disaster! Instead, here is the process he followed:
1) Lightly sand the surface of the cabinets, remove dust with dry cloth
2) Apply XIM Primer Sealer Bonder
3) Paint with Sherwin-Williams All-Surface Enamel Latex paint in a semi-gloss finish, 2-4 coats may be needed if using a dark color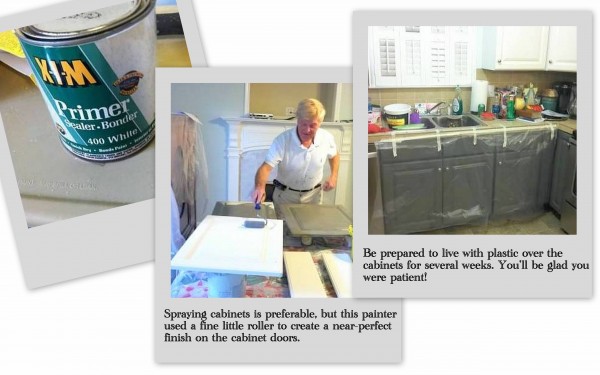 The painters draped Allison's dining table with a dropcloth and painted the cabinet doors with a fine little roller, using paint cans as pedestals.  They didn't paint the backs of the doors in order to save Allison some money –  it looks fine since the cabinet door interiors are white like the top cabinets.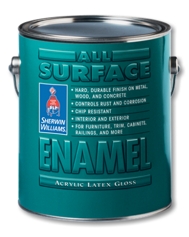 Allison wasn't able to go right back to using those cabinets the day after painting.  Latex paint may be dry to the touch in a day, but it requires up to 30 days to fully cure, so you've got to handle them very carefully for several weeks if you want them to retain the pristine finish over time.  The doors stayed off for several days before they were put back on the bases. Allison has an inside dog and two children, so she kept that plastic on for a full month!  She did open and close them, but keeping the plastic over them reminded everyone in the family to handle them with care. The result? Four months later and the melamine kitchen cabinets are still perfect.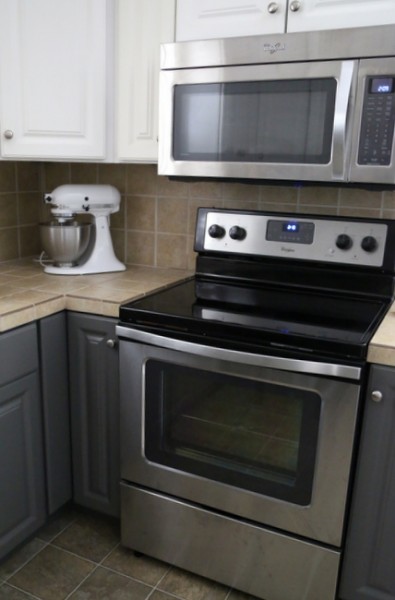 painted melamine base cabinets
Melamine kitchen cabinets: yet another thing to add to our every-growing list of things you never thought you could (or should) paint!  I've got a few more secrets from Allison's kitchen coming up later this week.  If you haven't seen the rest of Allison's home makeover, check out the post here, here, and here.
If paint color fascinates you like it does me, there is SO MUCH TO LEARN about how to use it in your home and the homes of your clients. Let me rock your world with color in my new ONLINE color course – and be sure to check out all the 5-star reviews!!!