There are times when you need a design professional in your home, but there are some situations where an online e-design consultation may be just what you need to work through an interior design project.  Yesterday I met with a former online e-design client who is now working with her father on building a few homes outside of Nashville.  For this home, they needed a high-end color palette and a consultation on everything from architectural features, countertops, wood stains, and light fixtures.  I met her at the site and spent several hours helping her plan the finishes of the home in progress.  You may remember the befores and afters of her previous home.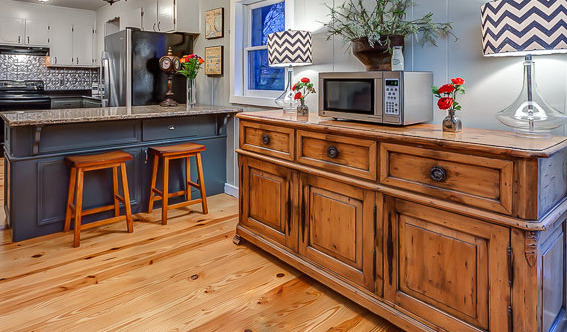 online paint color and  e-design consultation
Last week, I received some photos from another online e-design client.   We've worked on several rooms of her house over the last year or two.  She completed her kitchen makeover and wanted to show me how it turned out.  Here's the before of her fairly standard kitchen: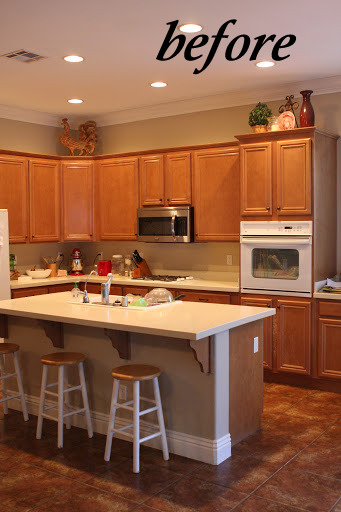 before online consultation
Below is the new and improved version of her kitchen, with Walker Zanger mosaic backsplash tile, fabulous glass pendants, wood laminate flooring, and a reworked island painted in Benjamin Moore Intrigue.  The counter is Caesarstone in London Grey.   The cabinets are not new – just another example of how painting the cabinets can freshen up a kitchen!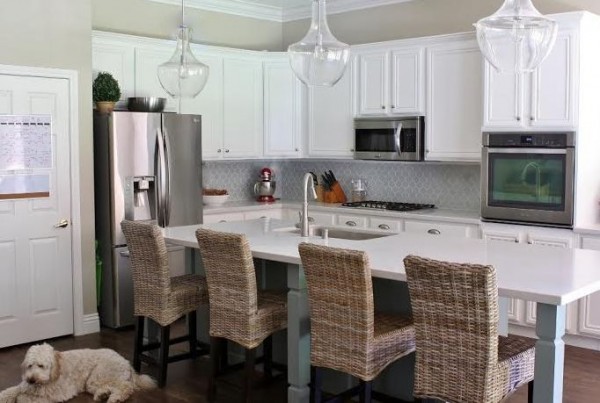 after
Her latest news is that her family might be moving to another state, and she may be calling on me to help with her next place. That's something that's possible if you are working with a design professional online. If you need help with paint colors and/or interior design, schedule your online e- design appointment with [email protected] before I'm booked up for the summer.  Stay tuned for my next post – more secrets and tips from Allison's kitchen!
Share this Post