I've been trapped inside this week because Nashville was pummeled with an ice storm and snow, so all I've seen lately is a whole lotta WHITE.  So let's share some beautiful paint colors that are featured in the Ballard Design catalog from Benjamin Moore paints! I love this feminine living room with its coral accents. The wall color is an off-white called Going to the Chapel, which is going to read more like what you see on the ceiling here than the wall. In this photo, the wall color reads darker than that – more like Nimbus 1465 or Silver Chain 1472 (I know this because I do this for a living).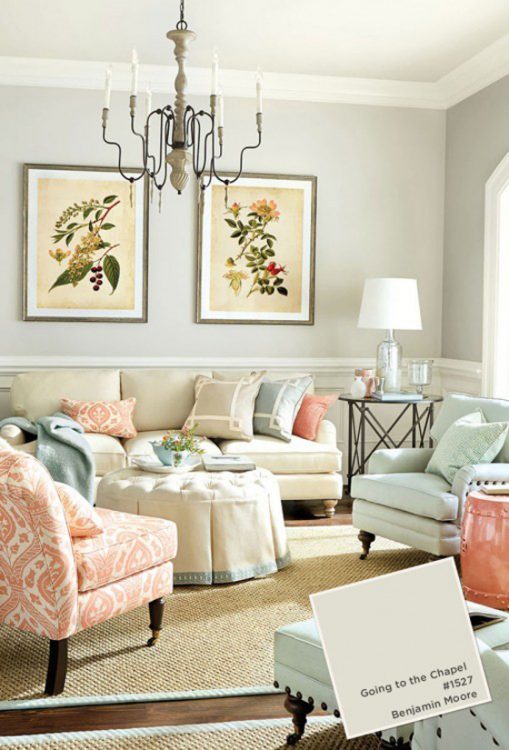 Benjamin Moore Going to the Chapel 1527
This is one of my favorite dark blues in the Benjamin Moore Collection.  It needs a lot of crisp white trim to really set it off, and the white bedding helps, too. Newburyport Blue is also a great pick-me-up choice to paint a wood dresser or other piece of dated furniture. I've had many clients think they want this color because they've seen it in magazines.  But when they actually see my SmallWall sample of it, they are scared of how dark it is.  Stillwater 1650 is a lighter alternative to this dark blue, and still reads strong without making you feel like you're drowning.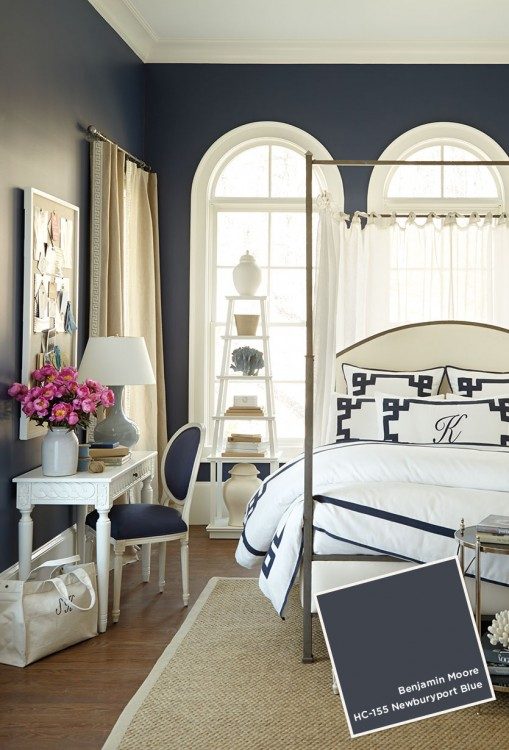 Benjamin Moore Newburyport Blue HC-155 
Oatmeal paired with spa blues and wood tones will give your room a sand-and-surf feel.  This room could as easily be found in a beachfront property as in a suburban neighborhood. In my experience, Oatmeal reads lighter and a bit more yellow than what you see in this photo.  If you wanted this look, I'd suggest trying Carrington Beige HC-93 instead.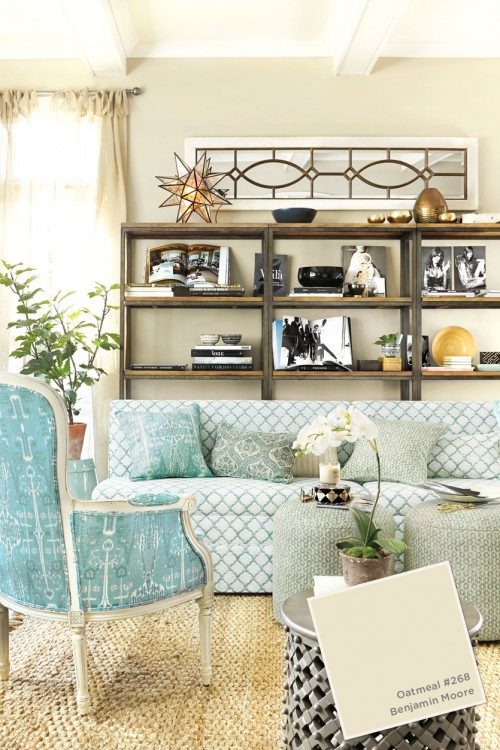 Benjamin Moore Oatmeal 268 
If you're looking for a warm gray paint color, Amherst Gray is a good one to consider.  It's a browned gray with a drop of green, so it doesn't go cold.  If that one is too dark for you, Chelsea Gray HC168 is a bit lighter.  I once had a client paint her yellow-gold bedroom and bath in this color. During the process of painting, she called me a couple of times, saying the color was brown.  It wasn't until the gold was completely gone and two coats of it were up that she finally saw that it was going to read gray!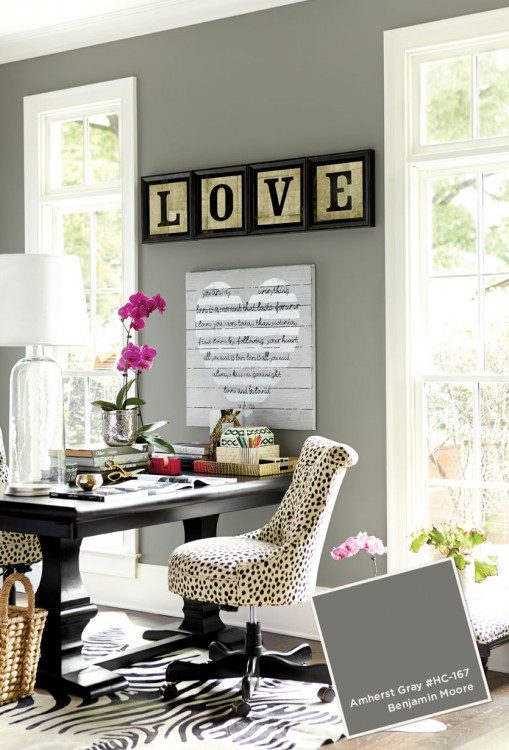 Benjamin Moore Amherst Gray HC-167
Here's another warm gray.  Notice how light wood and mirrors are used in this room to keep it from going to dark in here. I've never actually tried this one, but it looks like it has a bit of green in it.  But I can't be sure about the accuracy of the colors represented in photos, so don't hold me to that.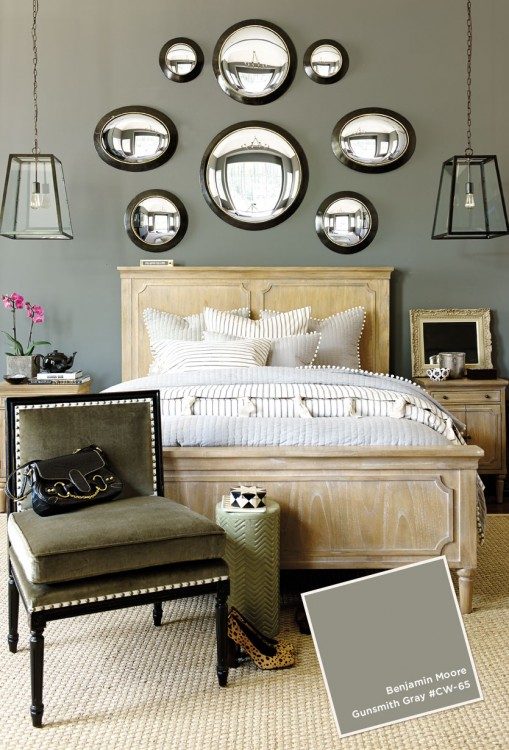 Gunsmith Gray CW-65 
And I'll leave you with a warm off-white on this snowy day in Nashville.  Snow on the Mountain looks perfectly lovely on these board and batten walls featured in Ballard Design's catalog.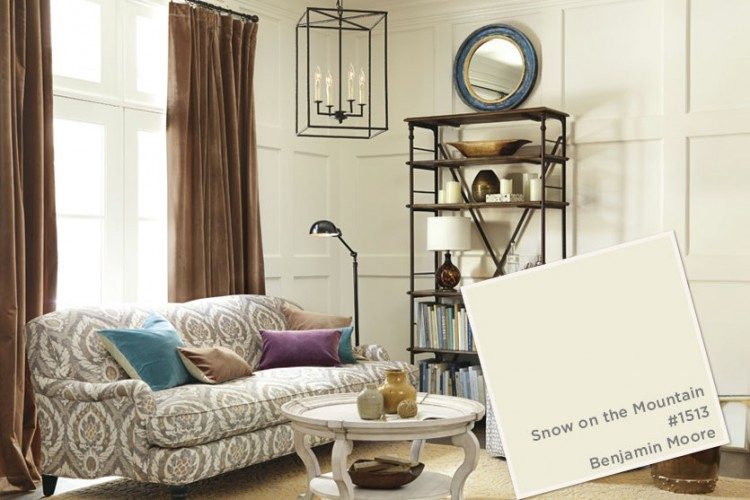 I hope you enjoyed this guided tour through Ballard Design catalog paint colors.  Be careful about trusting the accuracy of paint colors in magazines or Pinterest (you can follow me on Pinterest here).  Lots of professional lighting and manipulation of colors are needed to make rooms look magazine-worthy, but it can give you the wrong idea of how a specific paint color may actually work in your home. Use photos as inspiration, but make sure you test the colors before committing to them in your home. Have you used any of these colors? Which is your favorite?