Sometimes in Paint Color Consultations, I suggest a dark paint color for a ceiling in certain rooms.  Most people think that paint colors for ceilings should always be light, right?   Dark paint colors for ceilings used to be a hard sell, but luckily I've built up enough street cred that most believe me now when I say a dark painted ceiling won't come down on your head.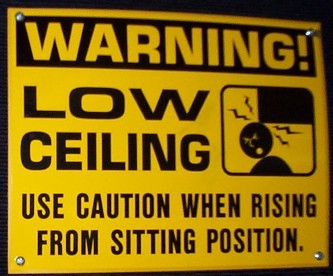 Because that's what most people are concerned with – that a dark paint color will make the ceiling appear lower.  In a relatively small room, when the walls are painted light or neutral, a dark painted ceiling actually recedes.  Think of it like a night sky that goes on and on.  Here's a recent before-and-after, if you still don't believe me: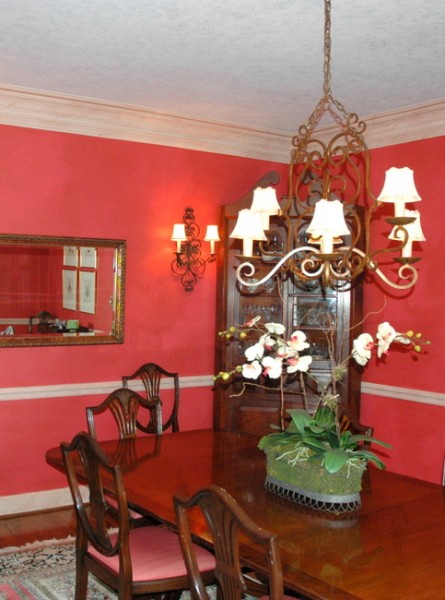 "Before" with Light Ceiling and Dark Walls
The walls were a bright, coral-pink and the ceiling was faux-painted with a light blue color.  If you look closely, the trim was faux-painted as well.  Anyway, watch what happens to the room when the new paint colors are in place: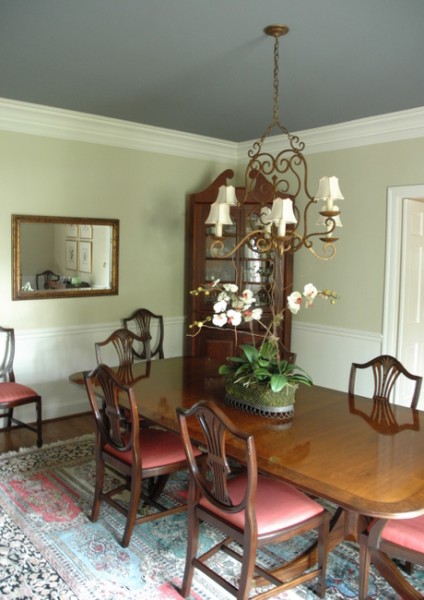 Paint Colors by The Decorologist
Do you think the ceiling looks lower with the dark paint color up above?  No, it actually appears to recede as it brings your eye up.  Here's another shot around the window – first, the "before":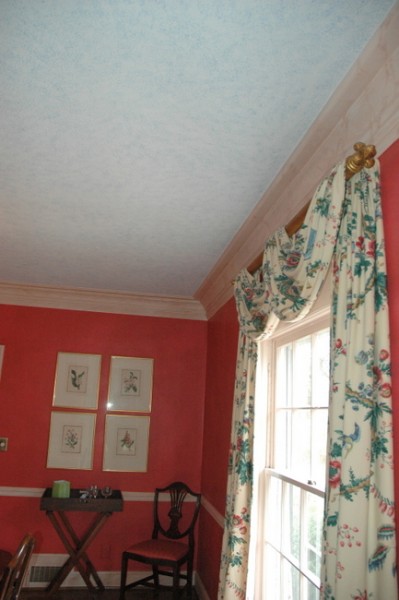 Before
In the "after" below, the ceiling looks a bit lighter over near the window, but it's actually a pretty dark paint color.  Notice that the draperies, rug, and wood furnishings did not change.  I chose paint colors for the walls and ceiling that would work with what my client already have and actually bringing it up to date without having to replace everything.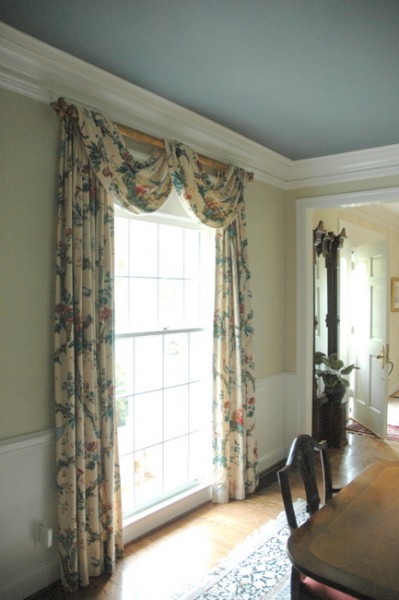 Dark Ceiling After
So don't be afraid of the dark!  Have you ever painted your ceiling dark?
If you want to learn more about choosing just the right paint colors for your home, you can buy my Color Workshop video right here.
Share this Post