It's been a busy week around here!  I worked with three new clients – one of them even had the welcome sign out for me on her front porch when I arrived: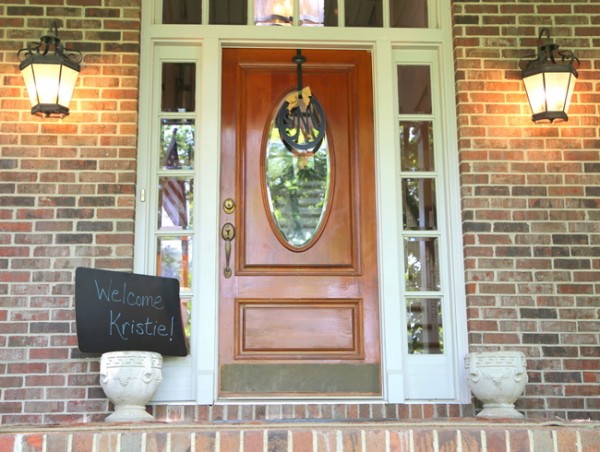 Now that's the way to start out your morning!
This lady worked in the entertainment business and spent many years traveling all over the world.  She said, "I've sung back-up for Wynonna, met the Emperor of Japan, and baked a pie for Harry Connick, Jr., but I'm more excited about meeting with you than any of that." You'll have to check out the little ditty she wrote for me at the end of the this post!  While I was there, we chose a new paint color scheme for the entire first floor of her home.  The new paint colors will make her furniture and upholstery sing (pun intended) – and we are even taking on the kitchen cabinets and a brick fireplace!
I also worked with a another client that I had consulted with on paint colors two years ago.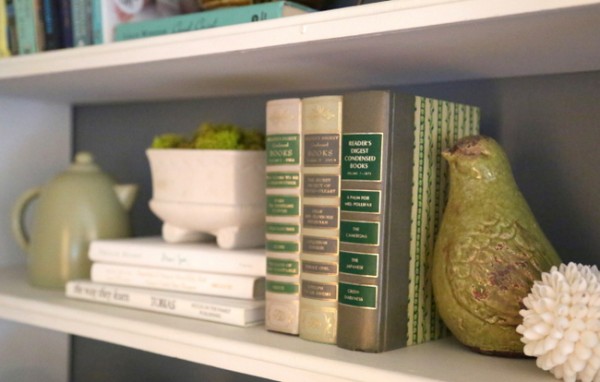 I hung art, arranged furniture, styled bookcases, and accessorized her living room, dining room, den, and entry.  Here's a bit of the fun and colorful living room after: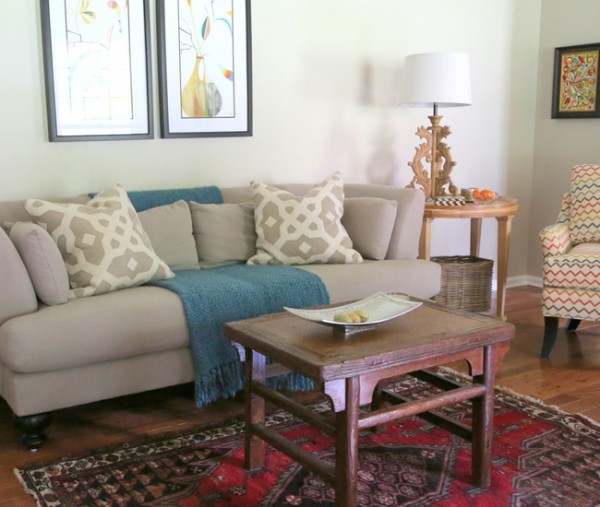 The great neutral paint color we chose is the perfect backdrop for the great upholstery and accessories in this space.  I love how it turned out.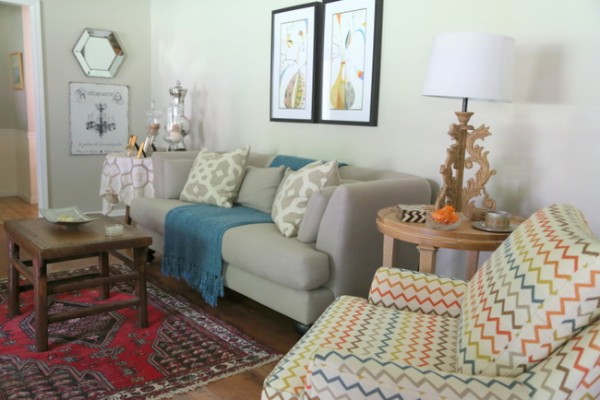 Mid-week, I consulted on a new build in Massachusetts.  My client needed some direction and advice on the fixed elements of her kitchen and bathrooms, as well as paint color for her trim and kitchen cabinets.  Later that day, I met another client and her husband to discuss their kitchen renovation.  We had a really productive afternoon, choosing all the main components for the new kitchen – cabinet color and door style, island color, quartz countertops, backsplash, new wood flooring, cabinet hardware, wall paint color, and trim paint color!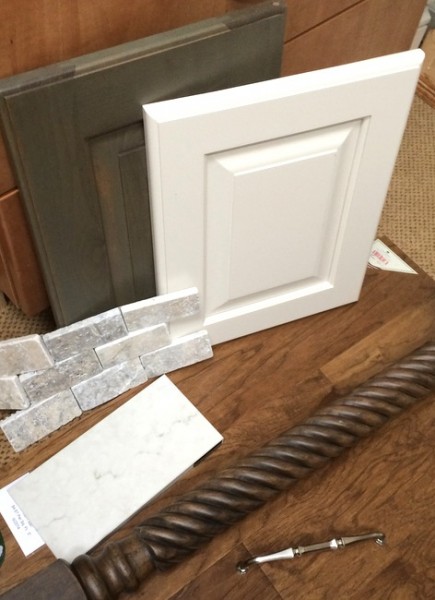 Yesterday, I met with a new client who wants to update her living room.  I drew up a new floorplan that will make the amazing architecture the focal point, while still making it possible for everyone to see the television from the seating.  We'll be shopping for new sofas, swivel chairs, and coffee table soon.  Then, I met a repeat client to deliver a piece of art I had framed for her and to rehang all the art in her large paneled den.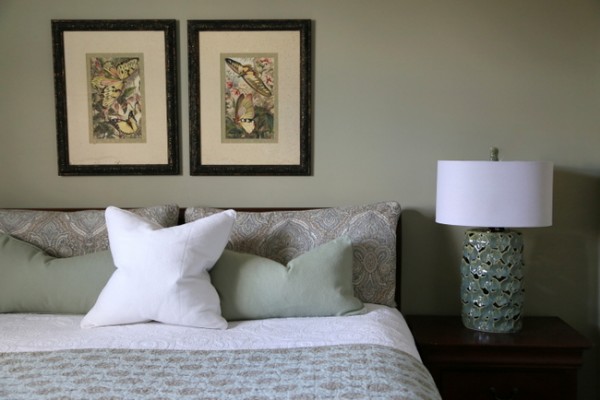 Finally, most of you know that we opened registration for my Psychological Staging course in September here in Nashville, where you can earn your Expert Psychological Stager certification and start a brand new chapter of your life – just like I did ten years ago. We still have some slots open, so sign up here if you want to finally pursue your dream of working in the field of home staging and design.  Now, you've got to hear the song that was sung for me this week:
 [jwplatform kvfOCZ10]
Totally made my week. What a fun and talented lady – I have the best clients!  Now I'm going to try to get a little R&R this weekend – hope you do, too!