Hi friends! I recently returned from High Point Furniture Market, where I was part of the 2017 High Point Design Bloggers Tour. Being chosen for this tour was kinda like having a backstage pass.  I got to scout out the hottest trends in interior design for the upcoming year, which I'm simply dying to share with you! And because COLOR speaks to me more than any other component of design, the 2018 color trends are what I want to share with you first.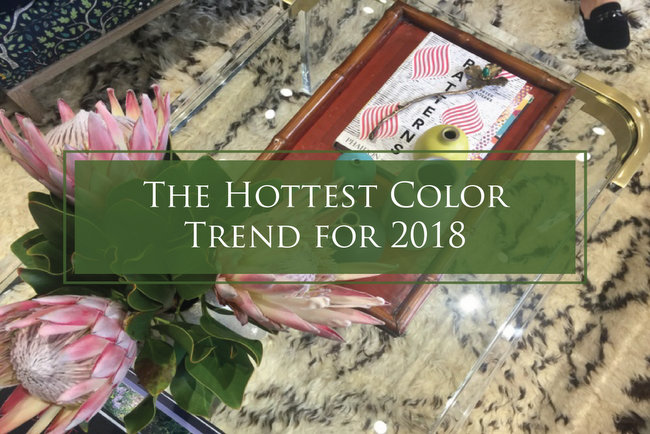 I'm going to be talking about the big color trends coming down the pike, as well as the lesser ones that will be having a hot minute this coming year. But guys, I have too much color info and too many photos to fit all of the color forecast into one post.
So, today I'm sharing the hottest color you didn't think you'd see in 2018.
I've heard so many people say something like this about this particular color over the last year:
"THIS COLOR won't last a hot minute."
"Don't buy anything THIS COLOR, because it'll be dated in a year."
"THIS COLOR is too trendy. It won't last long."
Well, I won't make you wait any longer. Of all the colors I saw at High Point, one emerged as the belle of the ball.  And it was BLUSH PINK.  It appears that this color may have a longer shelf life than many predicted when it began trending in 2016.  Check out the blush pink with white in the amazing Duralee showroom featuring a-mazing Crypton performance fabric: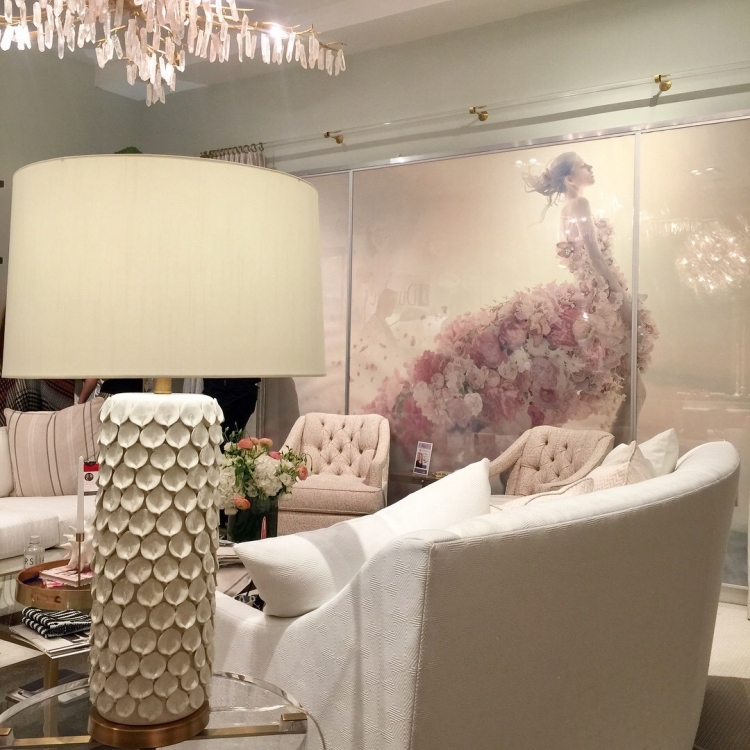 Duralee
Blush pink was mainly paired with whites and creams, as you see in this Highland House dining room: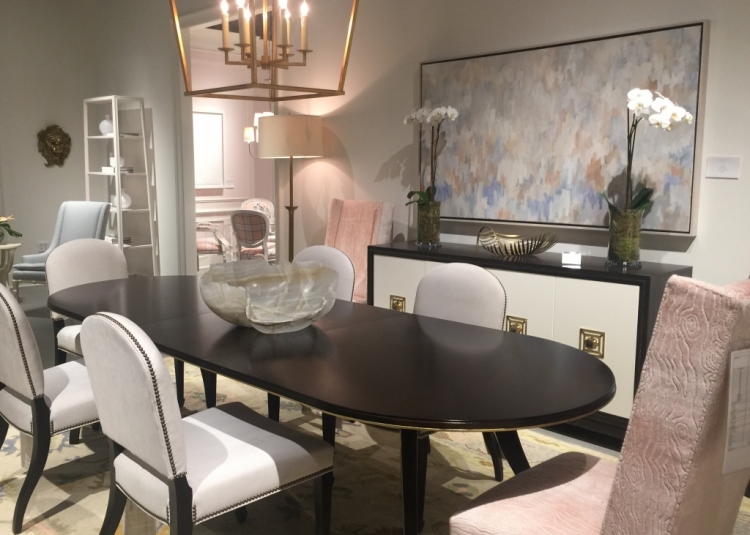 Highland House
Blush pink can work very nicely with yellows and gold – makes me think of lemonade. I really loved the colors in this beautiful rug: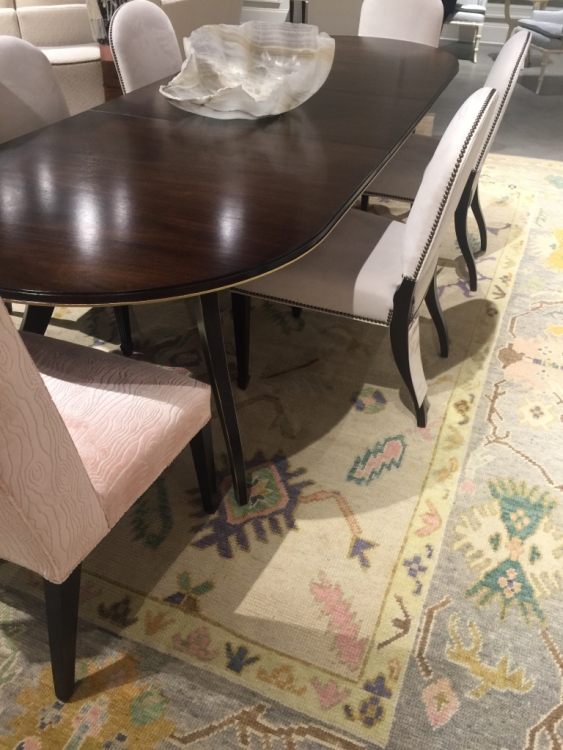 Highland House
The blush pink with light blues and yellows are reminiscent of the early 1990s, which I'm beginning to grow nostalgic for!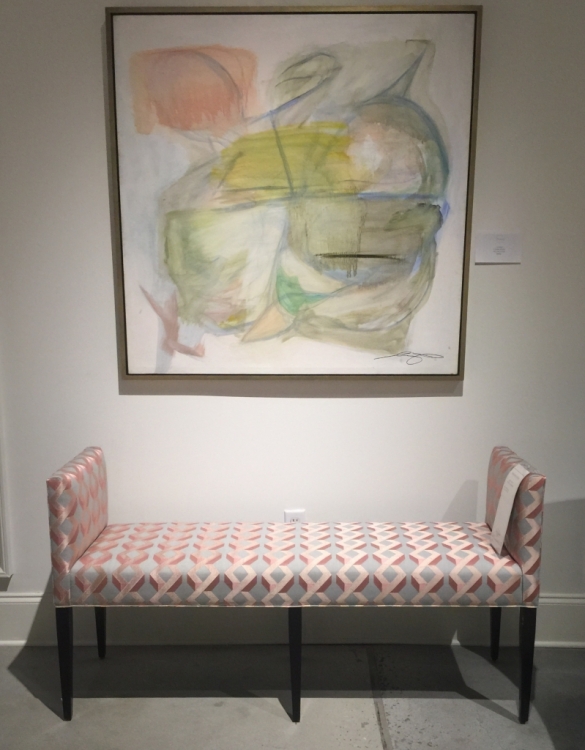 Highland House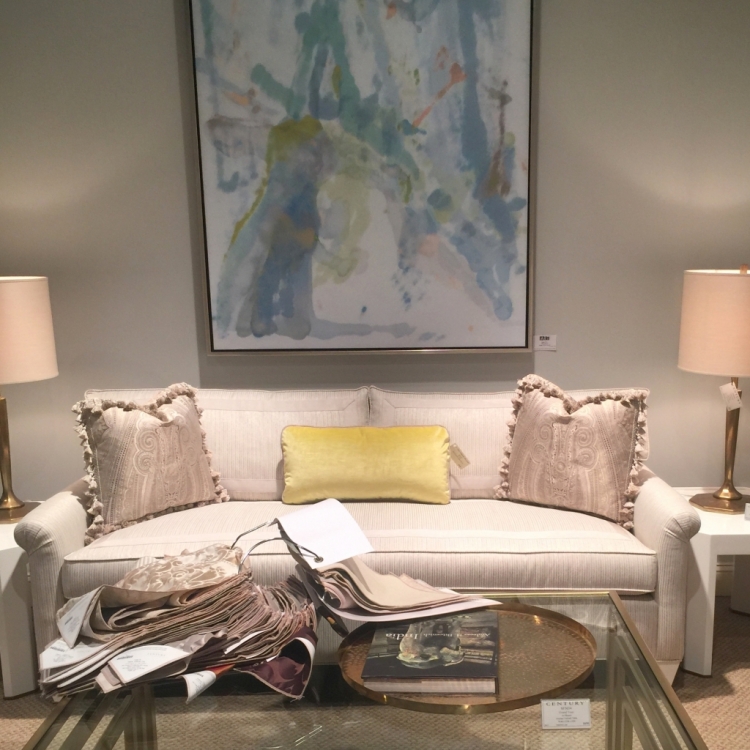 Century Furniture
Just to clarify:  this isn't a color prediction – it's a fact that we are going to be seeing this blush pink a lot more in furniture, fabrics, and accessories. The things you see at High Point Furniture Market are the new lines of product companies are launching in stores across the country, typically in about six months from now.
Pink sofas abounded, either with off-white or light blue pillows. This one is in Crypton performance fabric, which is extremely stain resistant: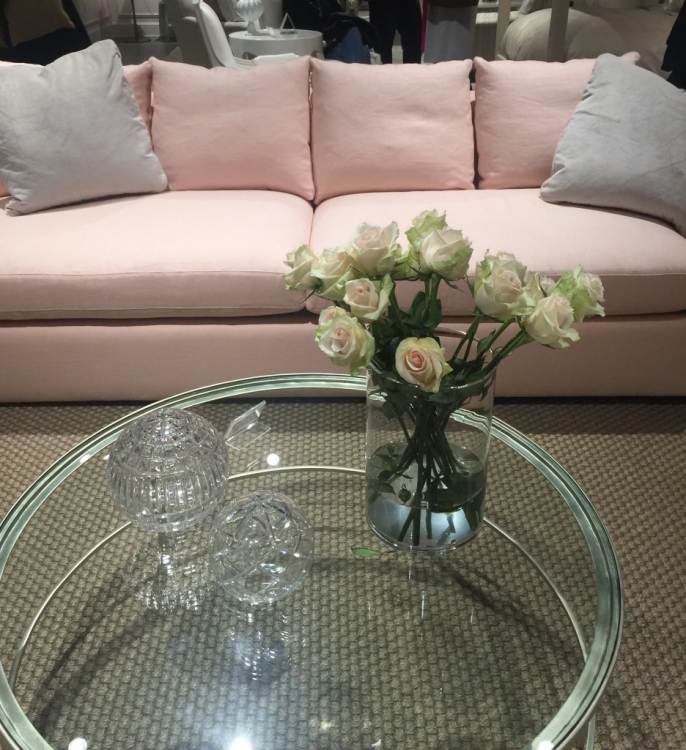 Highland House
I can't tell you how many blush pink lampshades I saw! Or maybe they used pink lightbulbs to cast that color within a cream lampshade? I should have checked . . .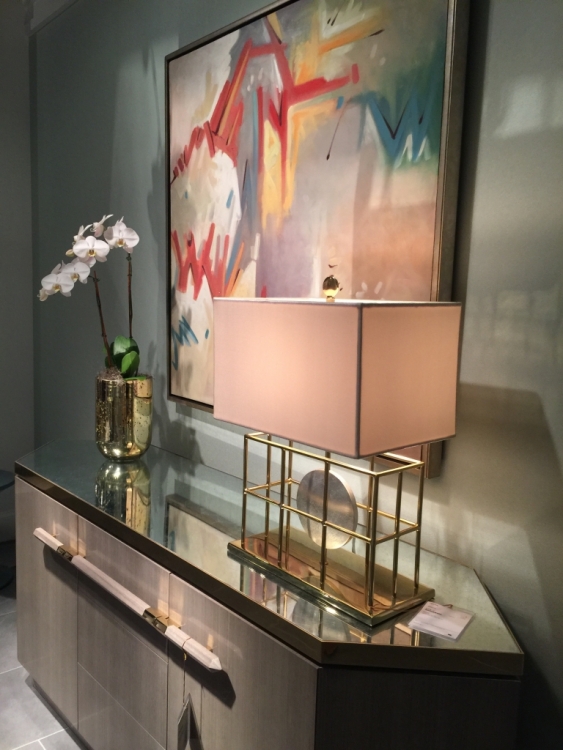 Theodore Alexander
I toured several vignettes in Highland House that were pink on pink, but that's certainly not the only way to use pink.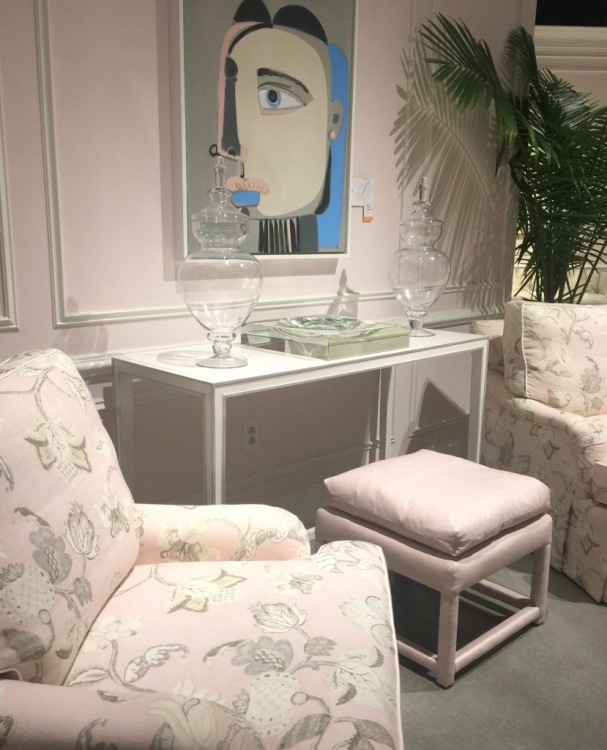 Highland House
Black can ground blush pink and give it a Parisian feel, keeping it from seeming too sweet.
Maggie Cruz Home
Blush pink was an unexpected choice for a backdrop in Century's Furniture for the Garden showroom featuring forest green and navy upholstery and rattan.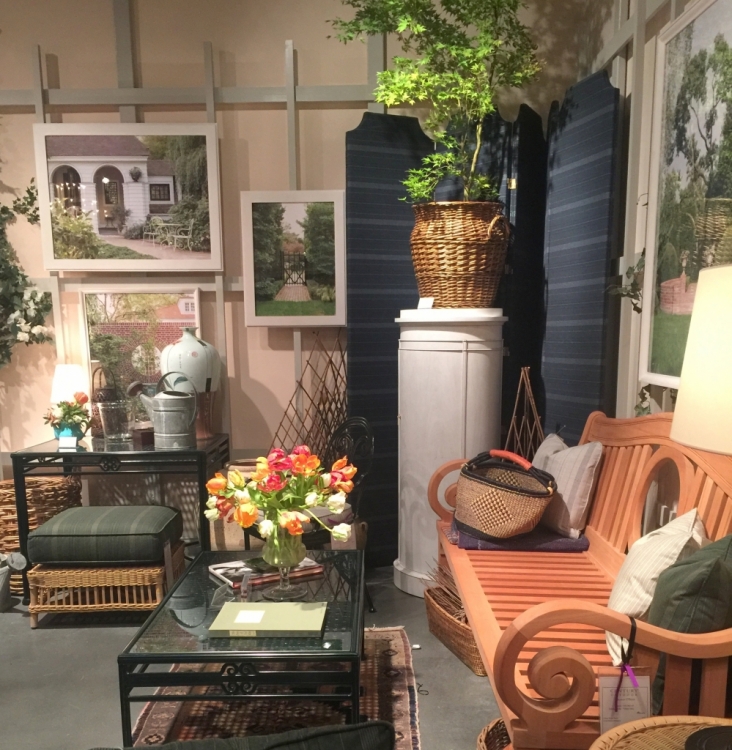 Century Furniture
Pink is a natural since large florals are trending right now. The black backdrop in this wallpaper lends a sophistication to this jungalow vibe: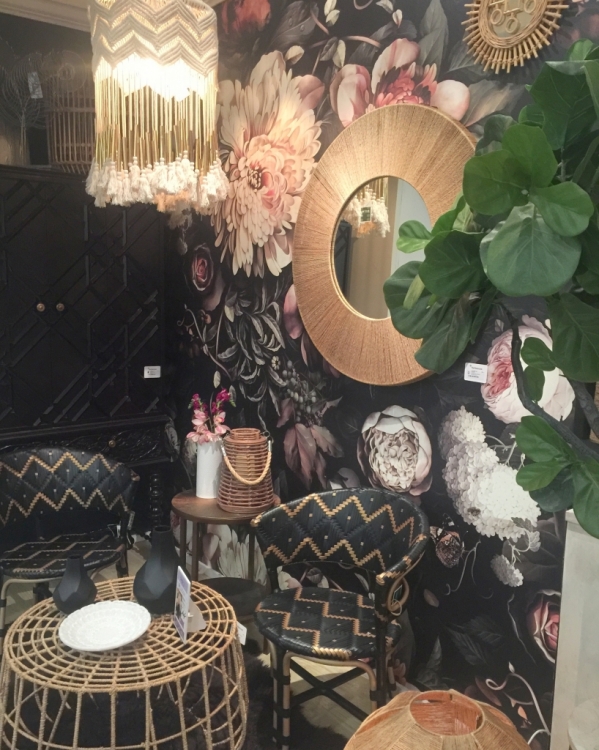 You can also just use touches of pink as an accent color for pillows. Much lower commitment than a pink sofa, no?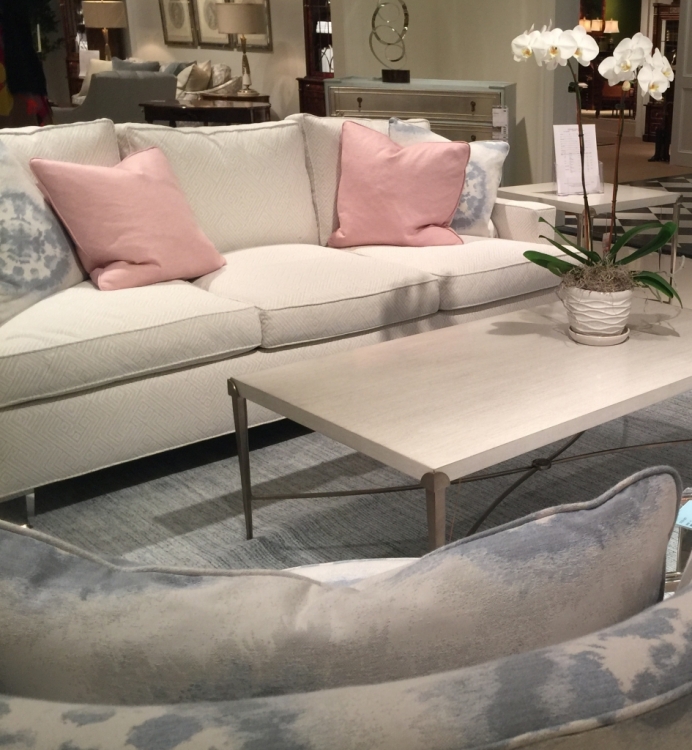 Theodore Alexander
High Point Furniture Market showed attendees that pink can be surprisingly versatile – it was a sweet foil to richer, bolder colors featured in the fun-tastic ModShop showroom: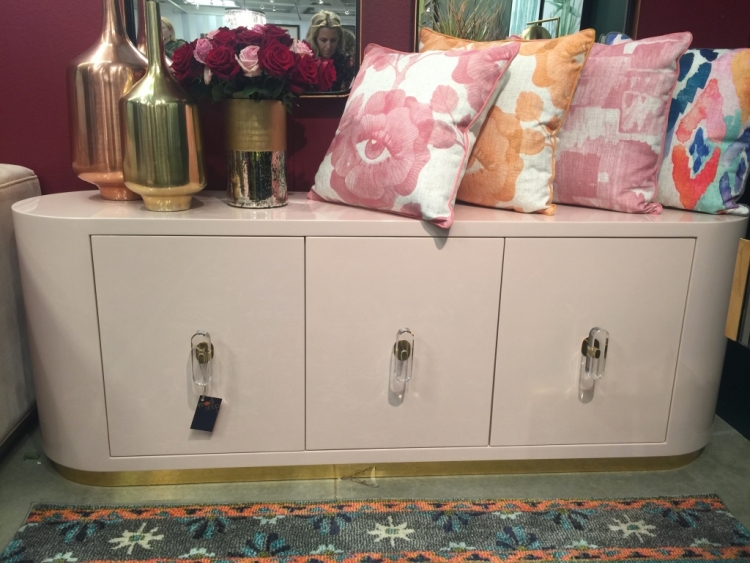 IMC High Point Market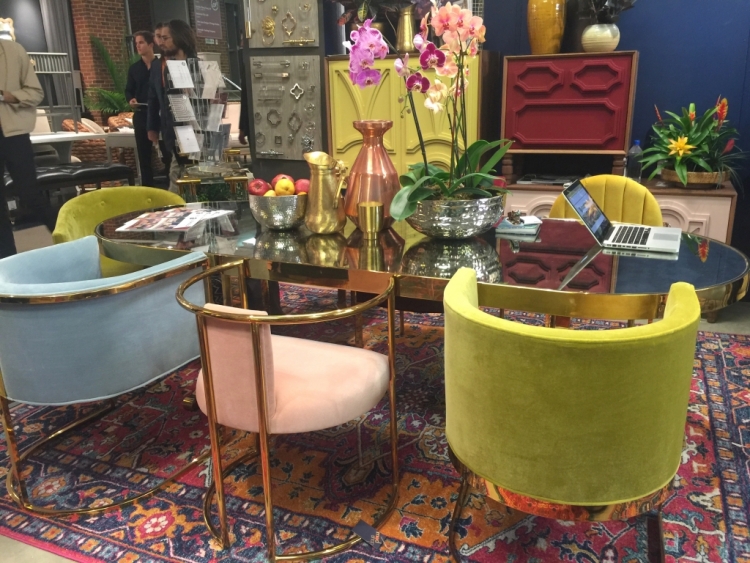 Modshop
Pink evokes strong feelings, I know – you either love it or hate it, right? Never fear, friends! If you hate pink or think it's too delicate or girly, there are lots of other color stories in our 2018 forecast! And I'll share those with you in an upcoming post.
I'd love to hear your reaction to the ongoing blush pink trend. Yay or nay?
This is a sponsored post. The specific topic, content, and opinions are completely my own. All photography by Kristie Barnett.