Matching colors for your home sounds like a simple visual exercise, but it can be harder than you may think. Today I'm sharing how I pulled together a color scheme for a current project, with tips that can help you with your own interior projects.
For my ongoing beach vacation property project in Seagrove Beach, FL, the main wall color was the most important color decision that needed to be made. I chose Benjamin Moore Silken Pine for what I refer to as the "anchor neutral" for the entire home. This color is for the open concept areas (living, dining, and kitchen), the hallways, connecting areas, and the main floor bedroom. This color sets the mood and feel of the entire house, and it must coordinate well with nearly every other color in the house since it can be viewed from rooms painted other colors.
Then, I decided on the main accent color for the home, which is a dark forest green. That will be the color for the kitchen base cabinets. I chose a clean-lined sofa in that color. So far, so good. I then began searching for a living room area rug that would include many of the colors of the interior scheme. This is what I landed on: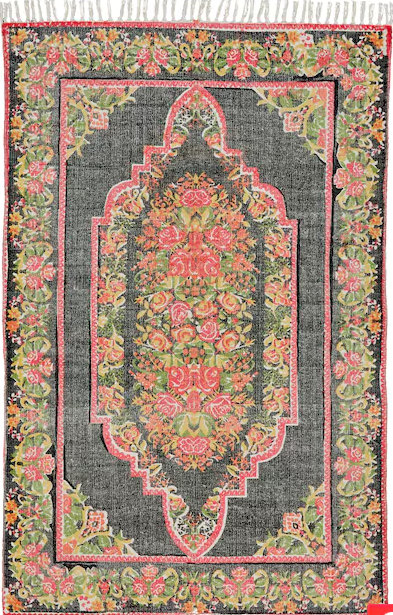 This rug had the bohemian feel I was looking for, but you can't ever be sure about the exact colors of rugs and fabrics that you purchase online. When the rug arrived, I compared it against my wall color and sofa color. And I was concerned: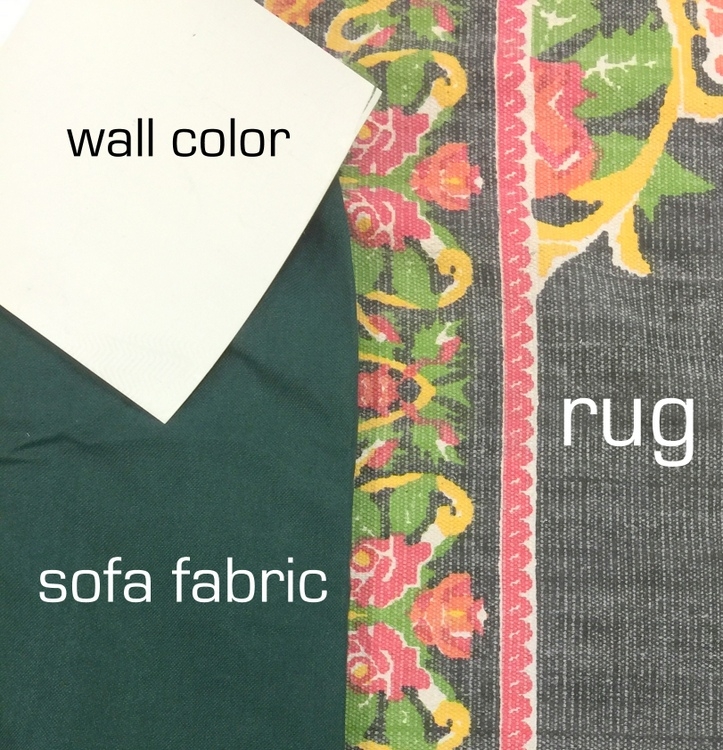 They don't exactly look like a match made in heaven, now do they? I was also trying to choose an outdoor fabric to recover some club chairs that would also be in the living room. When shopping for fabric, I couldn't drag the huge rug into the store. Instead, I found the closest colors in my Ben Moore fandeck, and took those with me. Now I'm looking at all these together: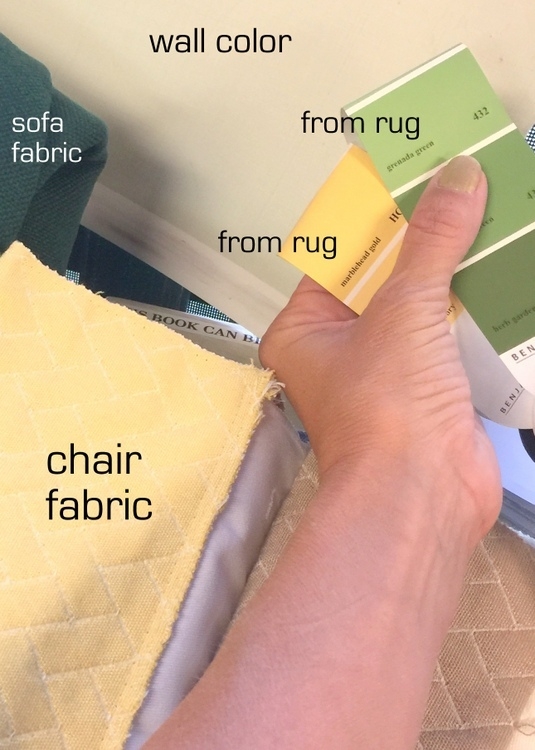 If you think I never question my design decisions, you are sorely mistaken. I'm pretty sure we all do! I stood there in the fabric store, knowing the painting was already in progress, the sofa and rug had already been delivered, and I'm thinking:
Do ANY OF THESE colors even work together at all?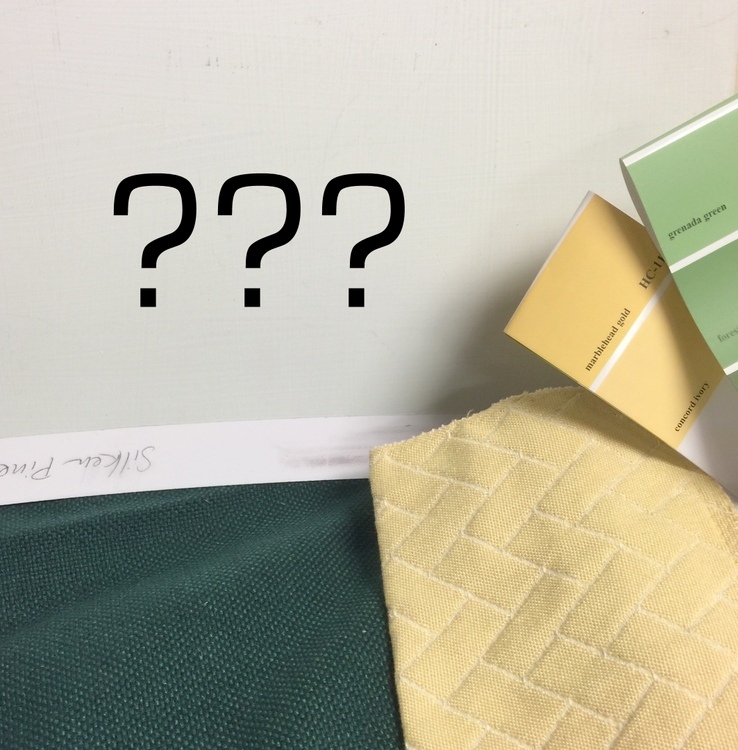 One thing I've learned in the last 14 years is that there's an art to matching colors and patterns. Lots of experience and experimentation is helpful. For me, the experience has taken place in hundreds of homes, while the experimentation has mainly taken place in my own home! I've learned that the backdrop can be a more muted color in order to let the more saturated colors in fabrics and decor can really take center stage. So a muted light green can be a neutral that will complement a darker, stronger green and even other saturated accent colors. But man-oh-man, the colors in that rug were scaring me.
So I ordered another rug, just in case. I was prepared to eat the cost on the rug that didn't work in order to insure a good finished product. Last week, I traveled to the beach property to begin the installation of the furnishings. Along with the sofa, chair, and rug, I brought down other decor that would be a part of the big picture when it all came together. And it ends up, I really preferred my first rug choice afterall!
You may notice that I use large paint sample boards when comparing all this – this is super important! SmallWall is the best product I've found to sample paint colors – I carry them around with me when shopping, of course!
For the most part, the other decor in the room should support the color scheme. It's really about repeating colors (even lighter and darker versions of the color) across the space, so that they look purposeful. Here's a corner of the nearly-finished sitting area labeled with the main room colors. It really boils down to variations of 3 colors: green, yellow, and black: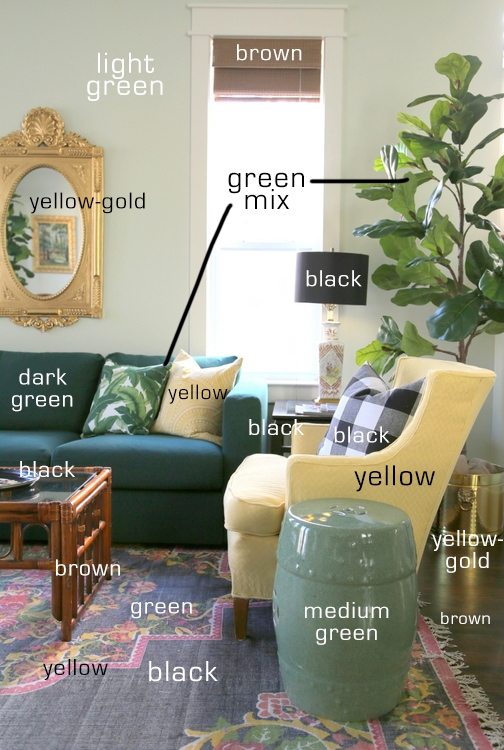 Of course, you see that brown is in there, too. But it's not just the hardwoods – it's also in the simple window treatments, the rattan coffee table, and even a bit in the asian lamp bases. The pink in the rug is the wildcard of this color scheme. When the room is complete, you'll see how I will use it sparingly in a couple of other places.
Keep in mind that this is a sneak-peek of the space, and it's still incomplete. I took these pictures after I set up the living room, but I am still tweaking and bringing down another small load of furnishings next week to finish up the project. I'm not sure I'm satisfied with the mirror here, so that may change. I had planned to paint the rattan, but now I'm thinking I like it natural here.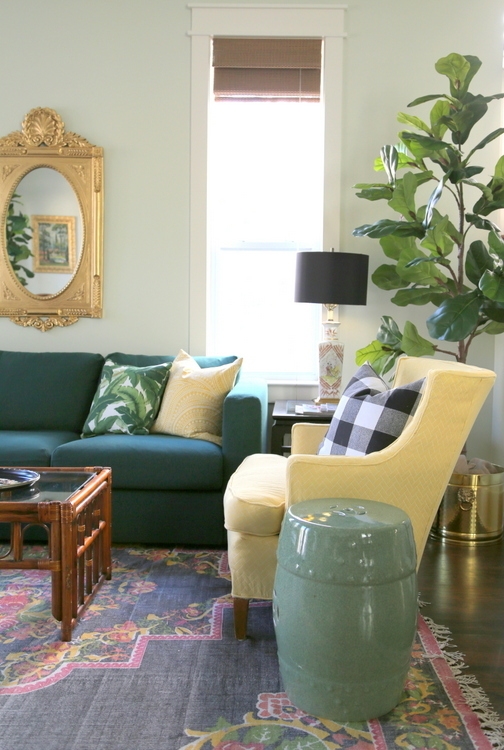 Notice there's even a gold lining inside the black lampshades – I love that!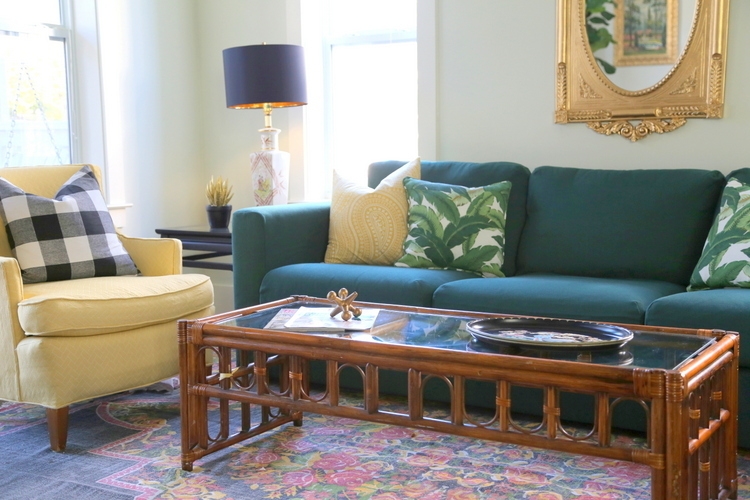 I'm not sure if this was helpful or not, I just wanted to try to explain why matching colors in your space it isn't always simple – especially when you can find exact color matches in fabrics and decor. Actually, combining lighter and darker versions of the same color can provide depth and interest to a design that can't be achieved by a perfectly-matched color palette. That's especially true if you are going for a more "collected over time" look, rather than a "straight out of the showroom" look. Another thing to keep in mind: although colors may not match exactly when you lay them right next to each other, from a distance they don't look as dissimilar. Like the stronger yellow in the rug? Because there are just small bits of yellow in the pattern, it looks quite similar to the larger expanse of softer yellow in the chair and pillow fabric. The funkier yellow-green of the rug is picked up in the varying greens of the sofa pillows and even the fiddle fig leaf plant in the corner.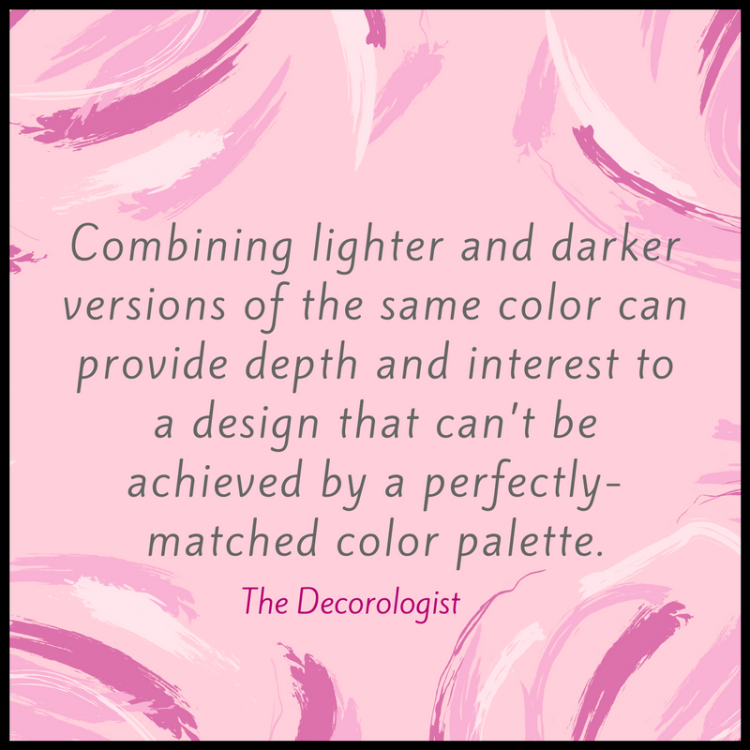 I just got word that the contractor is finishing up with all the final details of the remodel by mid-week. Cleaners will be in to get it sparkling for me to return and get the house completely ready to rent by spring break! Stay tuned for the big reveal, befores/afters, details of the high-low projects, and inspiration for your own projects!