When I attend any industry event, I am always particularly interested in the COLORS!!! I'm sure that's not surprising to you. At the 2018 Kitchen & Bath Industry Show (KBIS) I attended with Modenus' DesignHounds, I took note of the predominant color trends to share with you to help you make good decisions when renovating, building, or just updating your home.
Cabinet Colors
Everyone's been asking me about cabinet colors for 2018. What are the popular trends? This year it's primarily gray, black, and dark blue. The darker colors are big for lower cabinetry or for a statement island, while uppers are being installed more selectively or removed altogether and replaced with a few open shelves.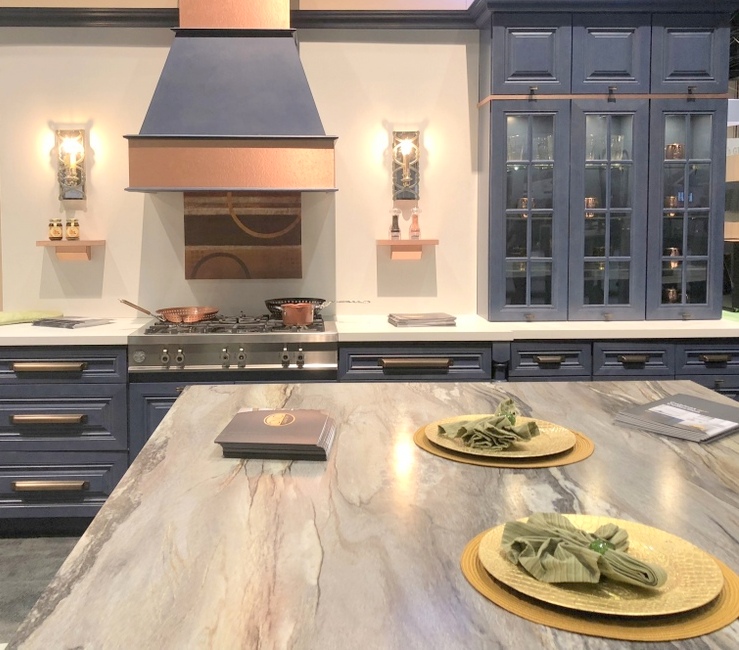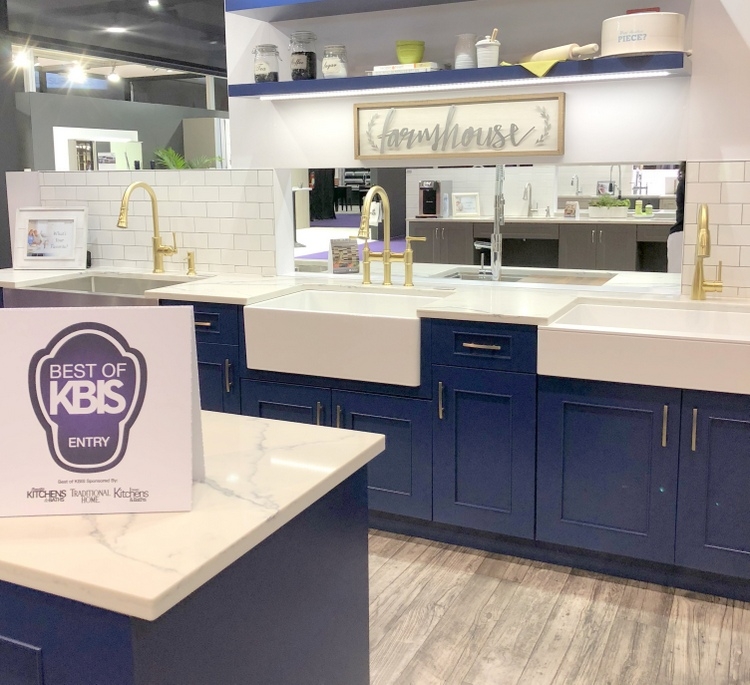 Elkay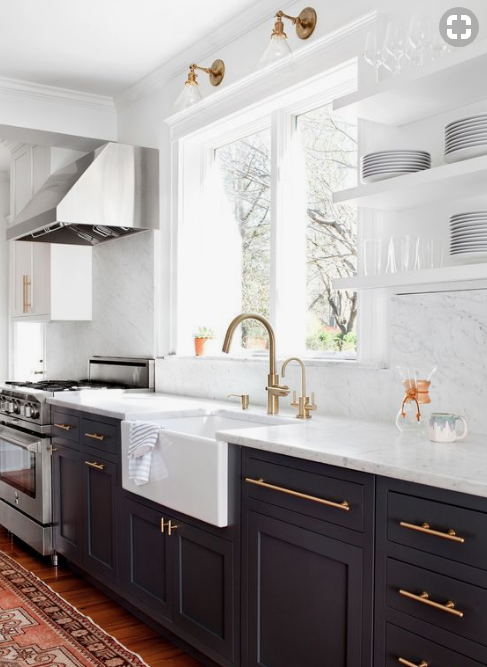 design by Elizabeth Lawson, photography by Jennifer Hughes 
White cabinetry is still popular, but most people are ready for some more color in the kitchen. There are other ways to get that color in your kitchen, as you will see in our next color trend!
Not all cabinets are painted, though. I'll talk more about wood-stained cabinets in a minute.
Forget Stainless Steel – Embrace Colorful Appliances
While there is still plenty of the stainless steel appliances in the market, you'll notice an uptick in popularity of black stainless steel options, like in this kitchen I helped a client design last year: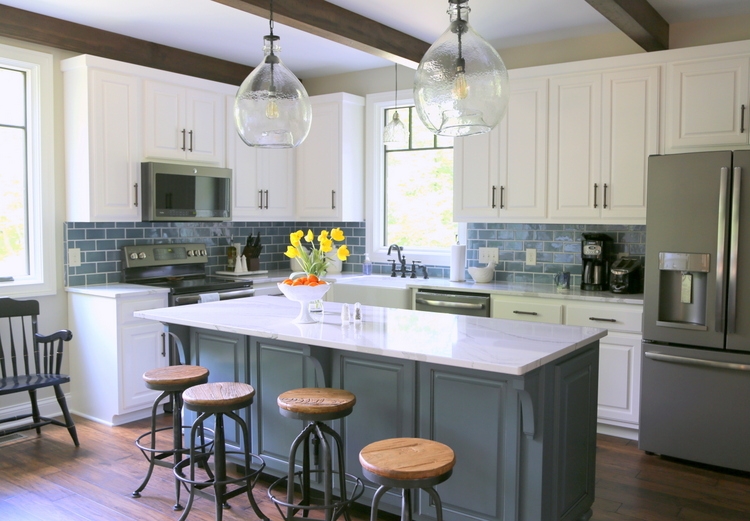 The Decorologist, Melanie G Photography
KBIS featured some bolder color options in appliances this year. I'm betting this was one of the most photographed appliances in the show!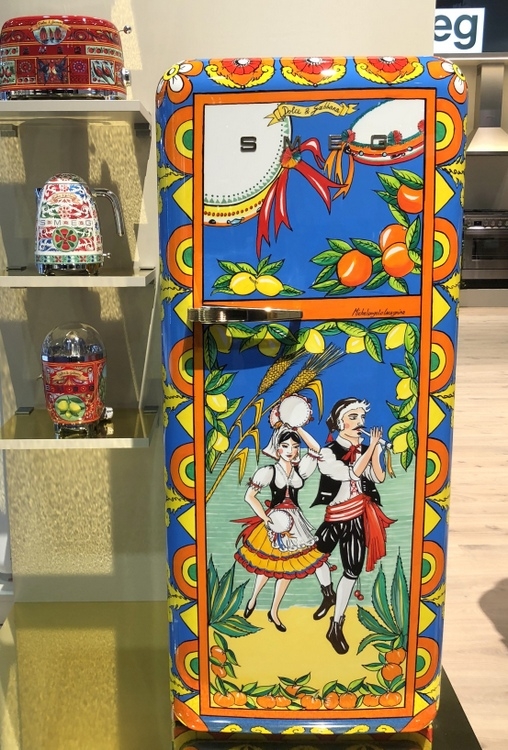 Smeg
BlueStar featured stoves in 5 colors: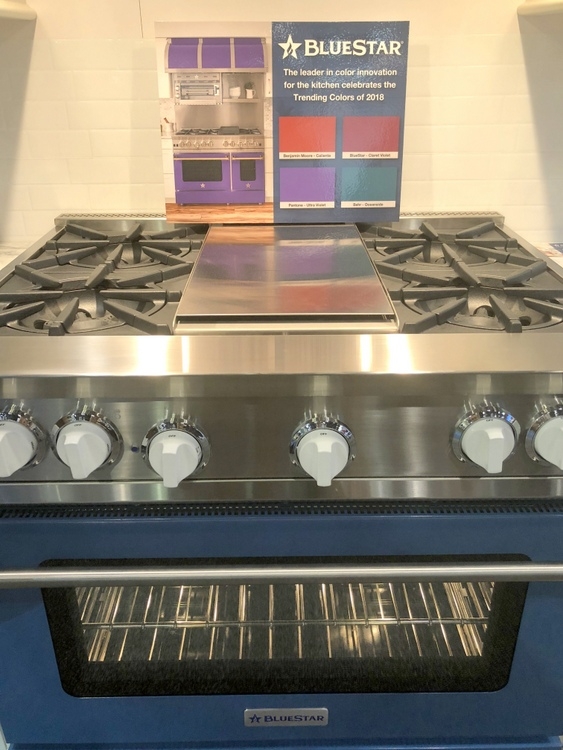 I showed these changeable sink fronts in a previous post, which is less of a long-term commitment to a bit of color.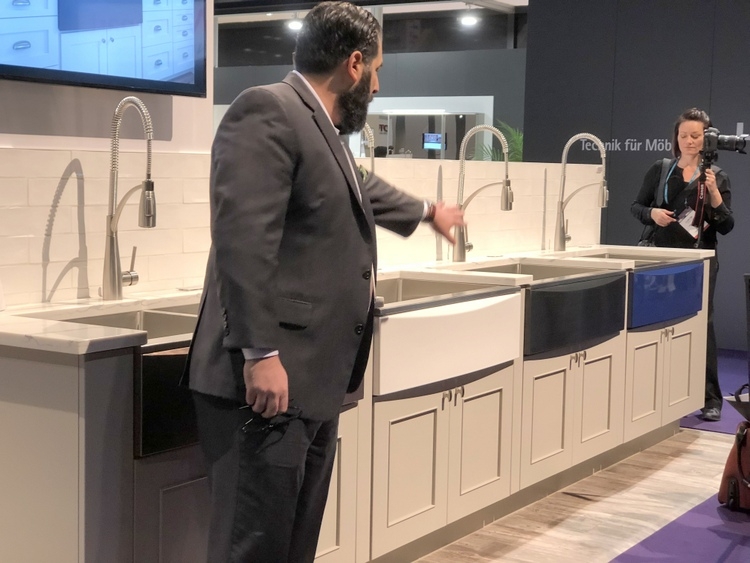 Elkay
Ok, so a bathtub isn't actually an appliance, but I had to include this fabulous dark green model complemented by Ann Sacks tile designed by celebrity designer Kelly Wearstler. Dark green is definitely a hot color for 2018.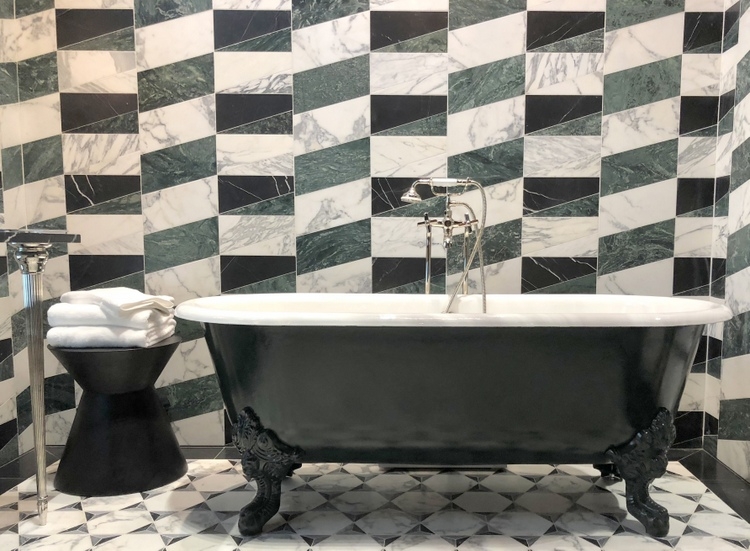 Metallic Color
What about the metals? The hottest metals are matte black, copper, and brushed gold. In one of the many "what's hot and what's out" articles that came out at the end of 2017, it was reported that copper is "out," and let me announce that IT IS NOT. Fake design news. It's hot, and it was all over KBIS this year.
If you haven't noticed, statement range hoods are all the rage in today's kitchens.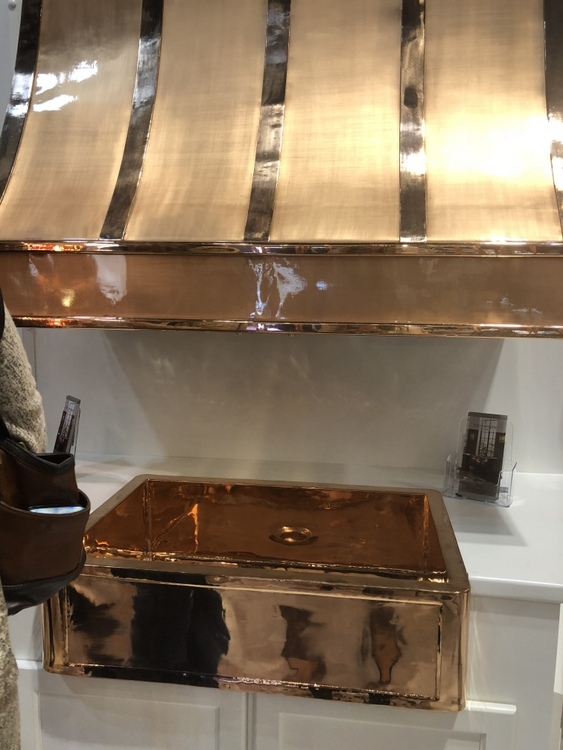 I adore this gold hammered sink from Thompson Traders: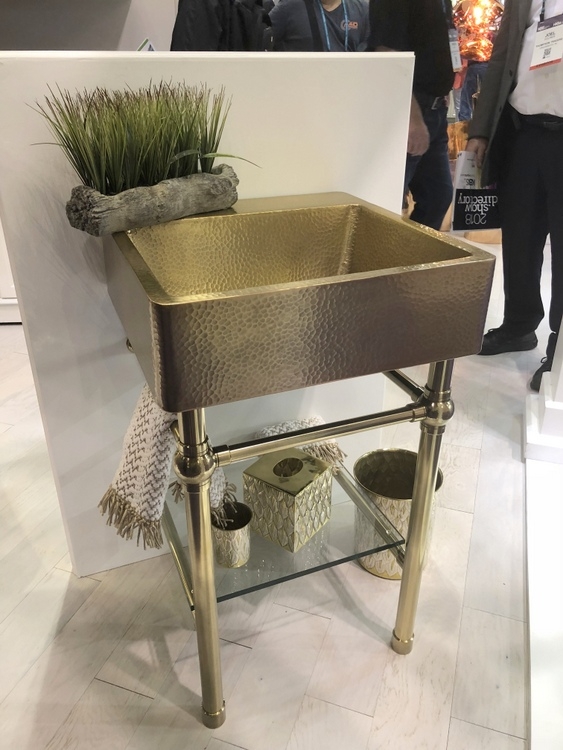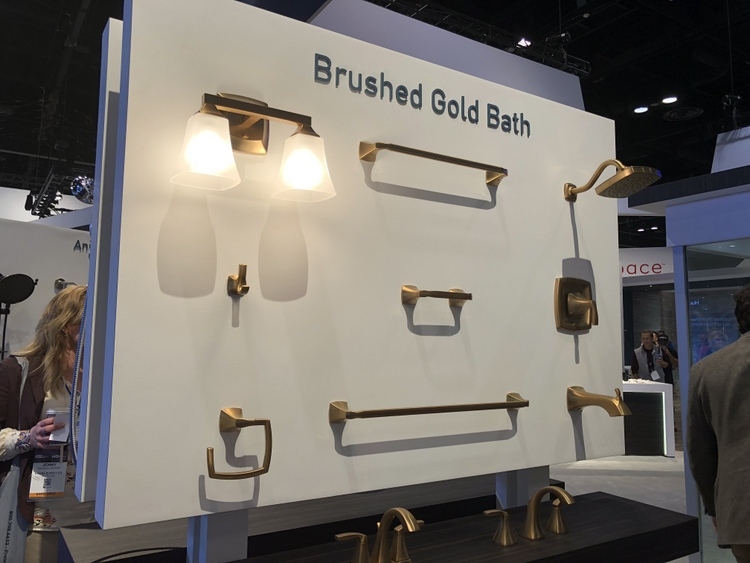 When your designer suggests you mix metals in the same room, please don't look at her like she's got two heads. She just may know what she's talking about . . .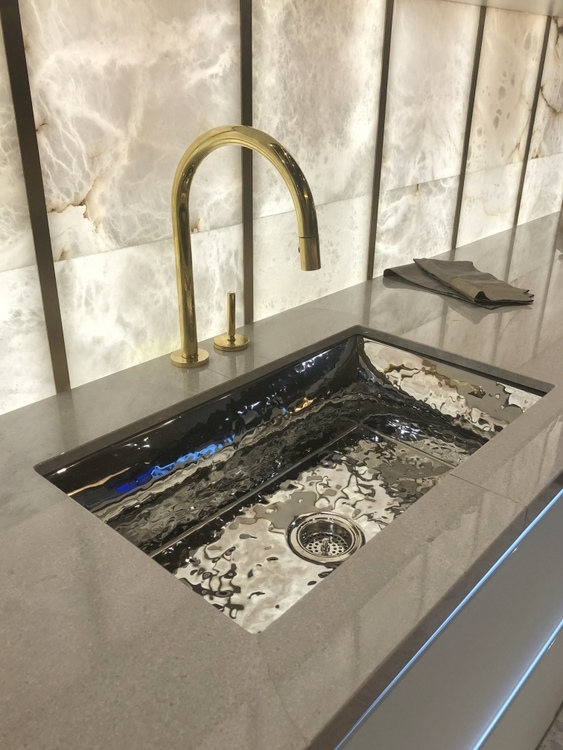 This is a brand new prototype introduced by American Standard – black faucets with handles in your choice of accent metallic. My favorite is the brushed gold!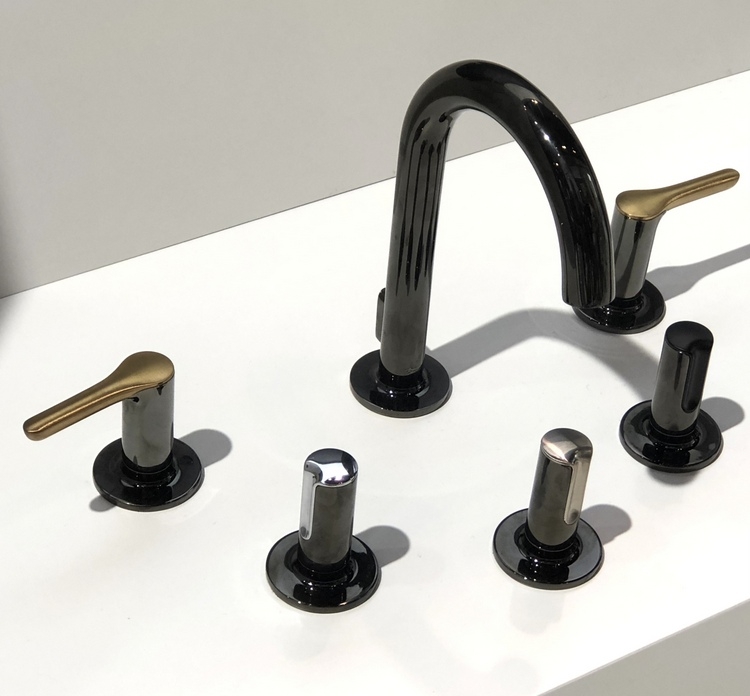 The Color of Wood
Yes, there were wood-stained kitchen cabinets at KBIS. The trending woods are in lighter stains, and are exotic or highly-grained varieties.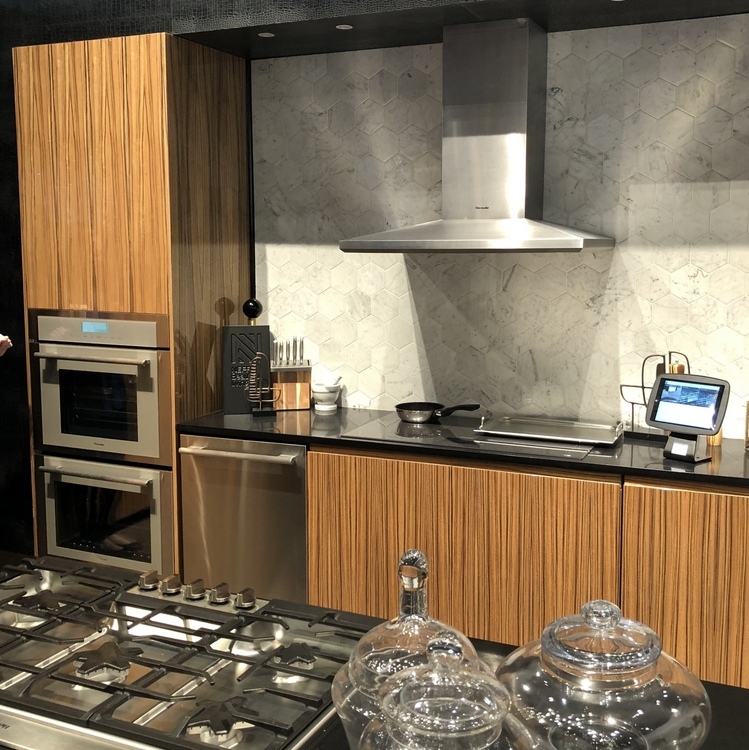 No cherry or oak at KBIS . . .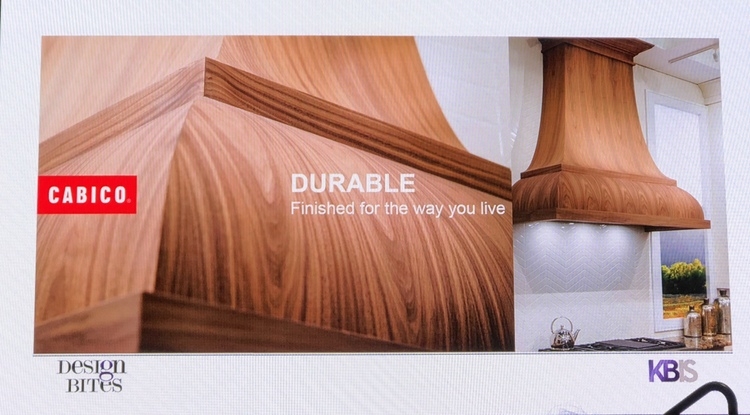 Cabico stove hood
I love it when the designer of a product is present to explain their vision and process. Daniel Germani partnered with Cosentino and Riva 1920 to design something really special: a bathroom vanity that closes up to conceal all the mess of life! While there's nothing messy about the open vanity cabinet below on the right, you can see how beautiful this looks opened or closed: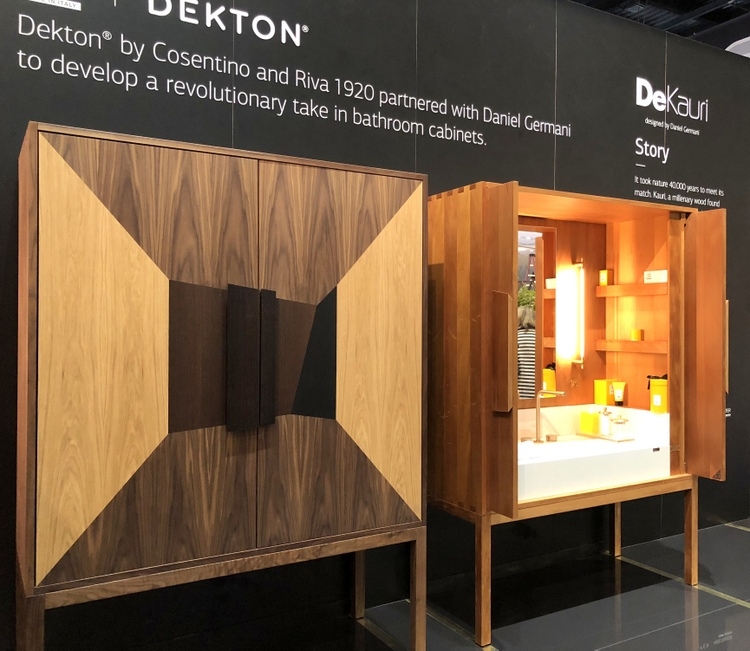 Dekton by Cosentino
Not only can you mix your metals – even wood can be mixed to beautiful effect!
What is your favorite color for 2018 kitchens and baths?
FYI, my trip to KBIS was paid for by sponsors of the KBIS Design Bloggers Tour, some of which are included in this post. However, all of the opinions expressed are my own!