It's time for me to share what I learned about the top 2018 kitchen and bath trends from the Kitchen & Bath Industry Show in Orlando! These were the dominant trend themes that I gleaned from my time with the Modenus Design Blogger Tour: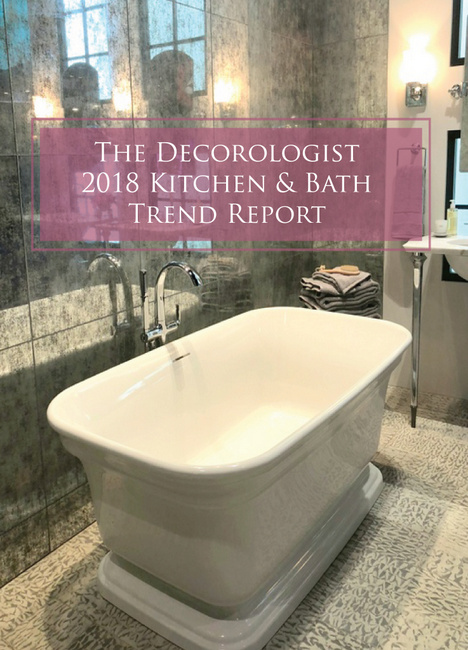 Standing Tubs Take Center Stage
The tub is BACK, and it's making a statement. These standing soaker tubs are sleek, modern, and totally sexy. This is no jetted jacuzzi or garden tub, this is more of a throw-back to the cast iron clawfoot tub, but without the feet. Here are some lovely porcelain models that fall under the Lixil brand (either American Standard or DXV).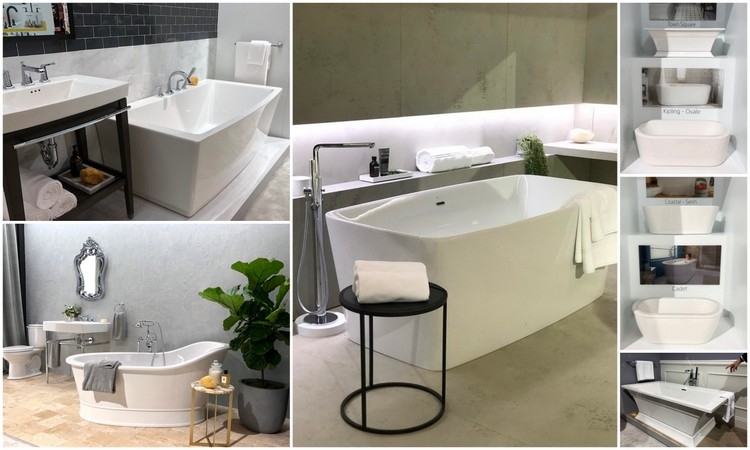 American Standard and DXV freestanding tubs
Countertops & Tile
Next up for 2018 kitchen and bath trends:  it's all about the quartz, no granite. Or very little granite, anyway.
It's true that quartz dominated KBIS this year, with many companies featuring their latest designs. I did not realize that Wilsonart, long known for their huge catalog of laminate products, actually makes quartz countertops now!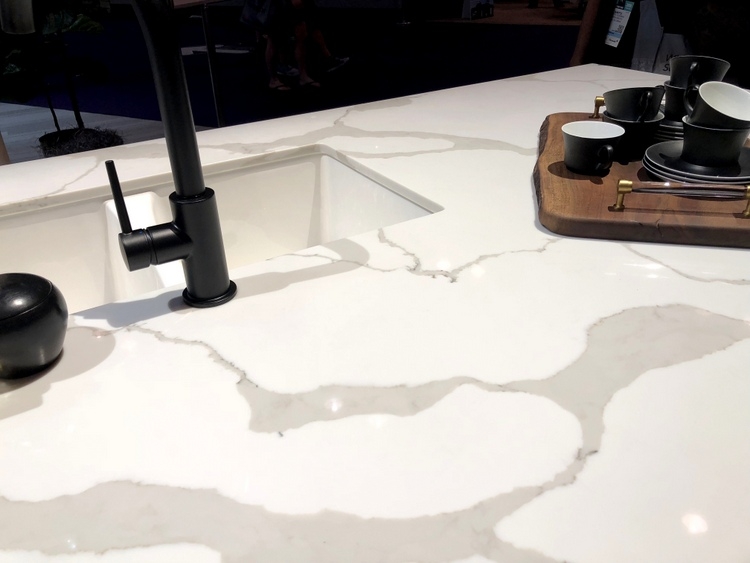 They've made a lot of strides in laminate seaming and texture, making it look more like quartz and other more expensive materials.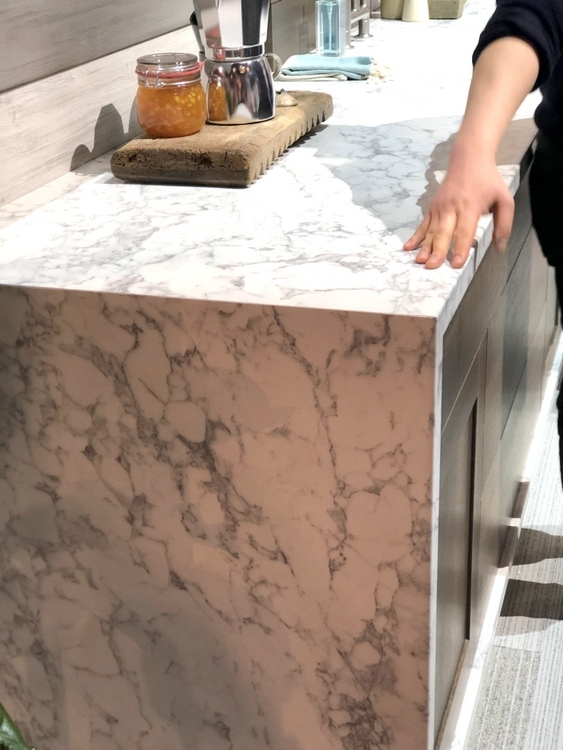 Yep, this waterfall countertop is actually laminate!
Wilsonart also featured a new smudge-proof technology for its laminate products. You can see the difference the Traceless™ technology makes in their Black Velvet laminate: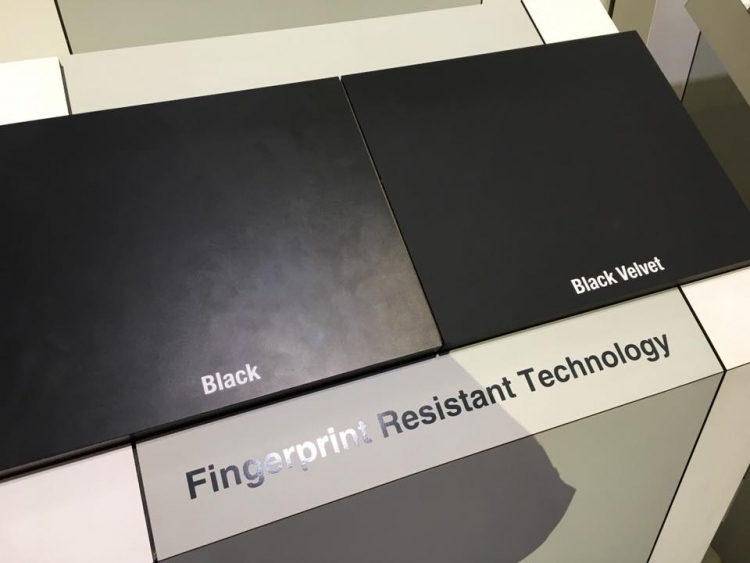 photo by my fellow Design Hound, Heather Jenkinson
Cosentino toured a group of us via the "Hard Hat Tour" early the first day of the show. I was so excited to do this behind-the-scenes guided tour especially for the press, but I didn't take into account the toll getting started at 4:00 a.m. (my time) after a long day of travel (the second leg of my flight was 4.5 hours delayed) would take on me! But I digress . . .
Silestone quartz is under the Consentino brand, and it was interesting to hear about the crazy success of this Cindy Crawford ad campaign they launched last year. Because, well, she's gorgeous . . .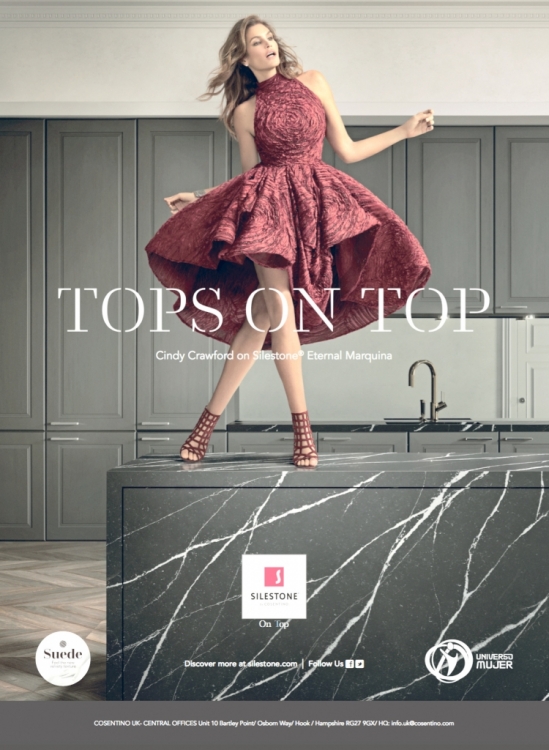 Cosentino featured many of their newer "suede" finishes, like this popular Eternal Marquina quartz material: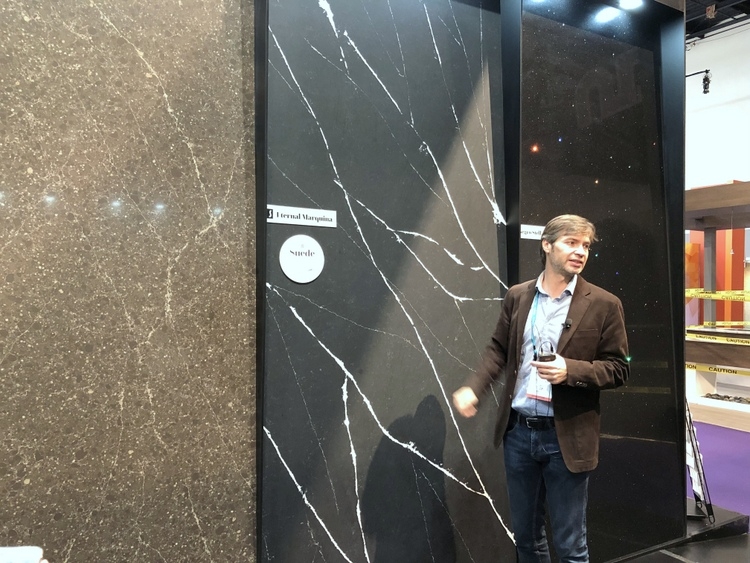 While white subway tile is a safe bet, KBIS vendors featured colorful and creative new tile options for floor and backsplashes. Porcelain encaustic tile was a big deal, as was textured and dimensional subway tile variations. Many of the tiles came in boxes of mixed patterns, as to create a unique look depending on how they are laid.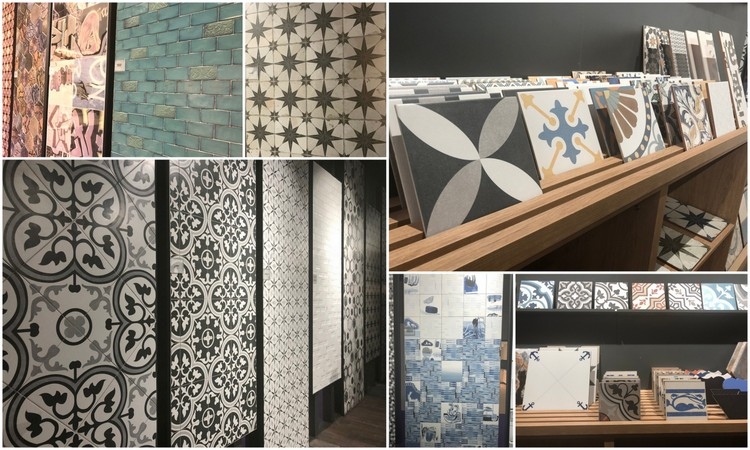 Somertile
Grout lines are getting tighter and blending in with the tile, so as to create the appearance of a solid sheet of material.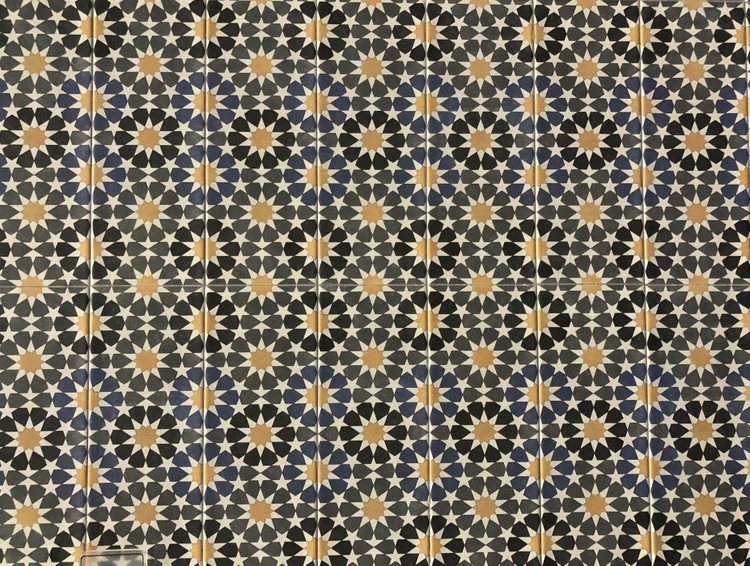 Somertile
 Meet The Jetsons – Trendy Technology
It's a brave, new world in 2018 kitchen and bath trends. Everything is moving towards hands-off, tech-happy, and voice-activated features. "Alexa, crush my ice! Alexa, soak my unmentionables!" Personally, I may be a bit too old to adjust to having to set my oven or open my refrigerator with my iphone. True story:  Mr. Man recently decided to put all the lamps in his mancave on an app on his iphone. The kids were having a band practice down there one night when he was out of town on business, and we literally had to call and get him to turn on the lights for us from Mexico!
Companies like Thermador and GE are leading the way in all kinds of technology that I don't understand, so I'll let others explain all that – but there were definitely some not-as-complicated innovations featured at KBIS that I could appreciate.
We may not have any cabinet or appliance door hardware in the near future, as the gentle push of your hand or a nudge of the knee makes it unnecessary.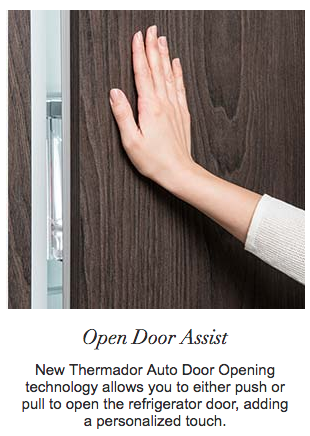 Thermador featured the fastest dishwasher available on the market, the Star Sapphire. It boasts a 20-minute cycle, 18-glass capacity, and your choice of colored lights in the interior. Interesting.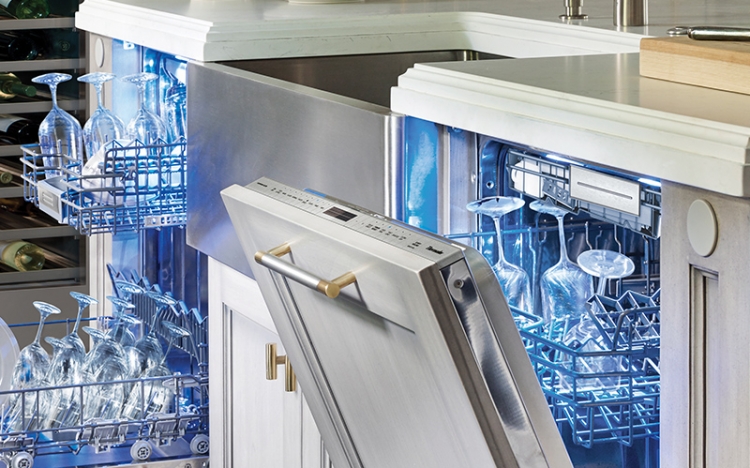 Thermador Star Sapphire
This new Beale MeasureFill pull-down kitchen faucet by American Standard is the first on the market to deliver an adjustable set volume of water on demand. This streamlines cooking and baking tasks, no measuring cups needed. Pretty cool, right?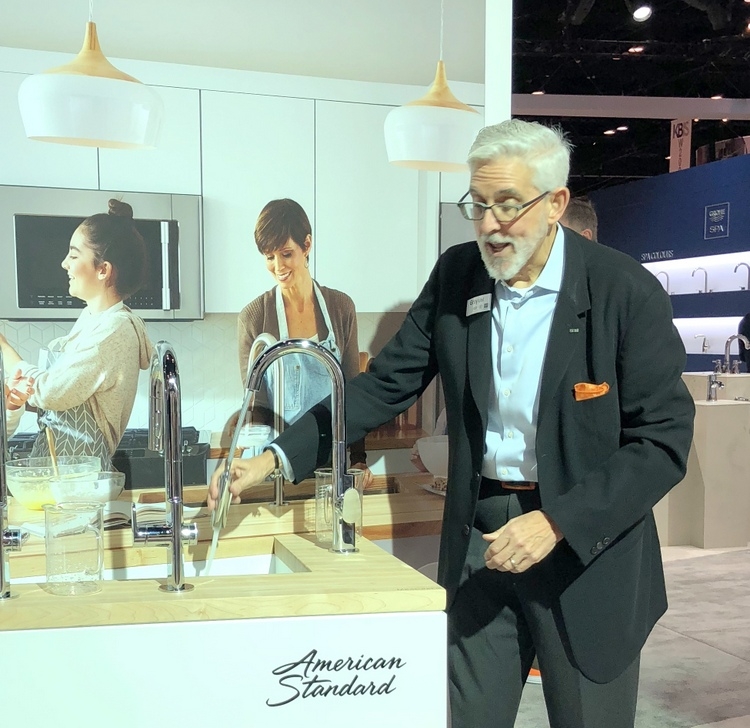 I also loved this reasonably-priced showerhead that can switch settings from rainshower to strong stream by either touching the edge or pushing a button you can install wherever you like. Men tend to prefer the rainshower effect, but women prefer a stronger, directed stream. You know why? Duh, it's about hairwashing – that rainshower may feel luxurious, but it's not getting all that shampoo out when your hair is as long as mine! You can easily switch out your existing showerhead with this one so you BOTH get what you prefer.
Storage Solutions
Kessebohmer Clever Storage really knows how to integrate form and function. Their cabinet and pantry storage was crazy impressive.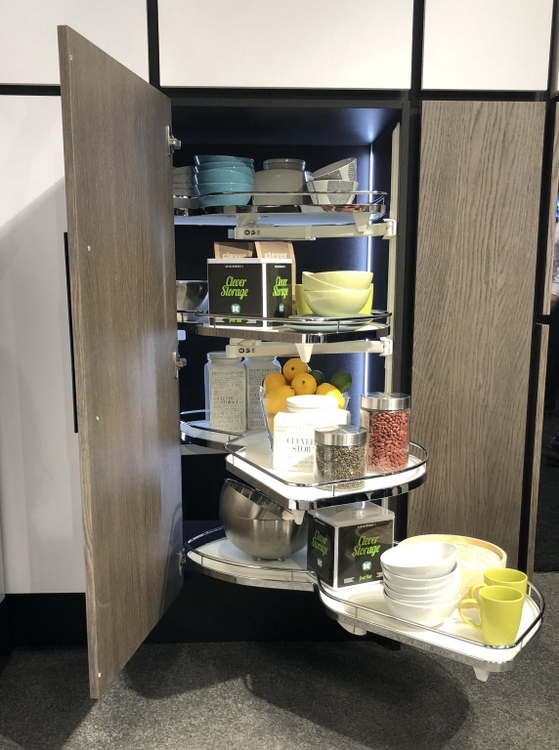 They are experts at making every inch count, coming up with solutions for every conceivable issue you may have in your kitchen. High cabinets that are difficult to reach? Forget the stool because Kessebohmer has the answer – the iMove is the intelligent pull-down system for wall cabinets so that every adult or child can reach all that they need with the utmost ease.

This is a new product that Kessebohmer featured at KBIS – it's a one stop pull-out for frequently used items in the kitchen. It's perfect for the elderly or those with mobility issues, who can access all they need in one spot to pull together a small meal.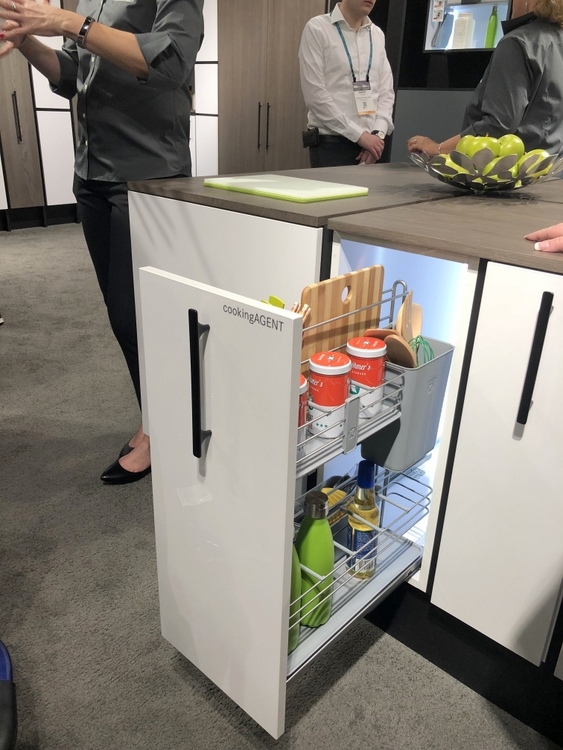 Focus on Wellness
2018 kitchen and bath trends are putting a huge focus on the concept of wellness. On our last day at KBIS, we were treated to lunch at Emeril's restaurant at Universal by Mr. Steam. Below is Martha Orellana, aka "Mrs. Steam," sharing why designers should specify steam baths for their clients.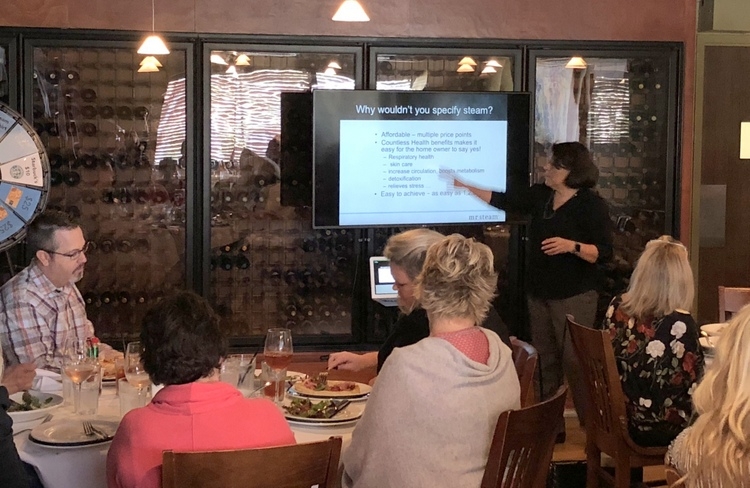 While I already knew some of the benefits of steam baths/showers, I had no idea there were so many! Check these out: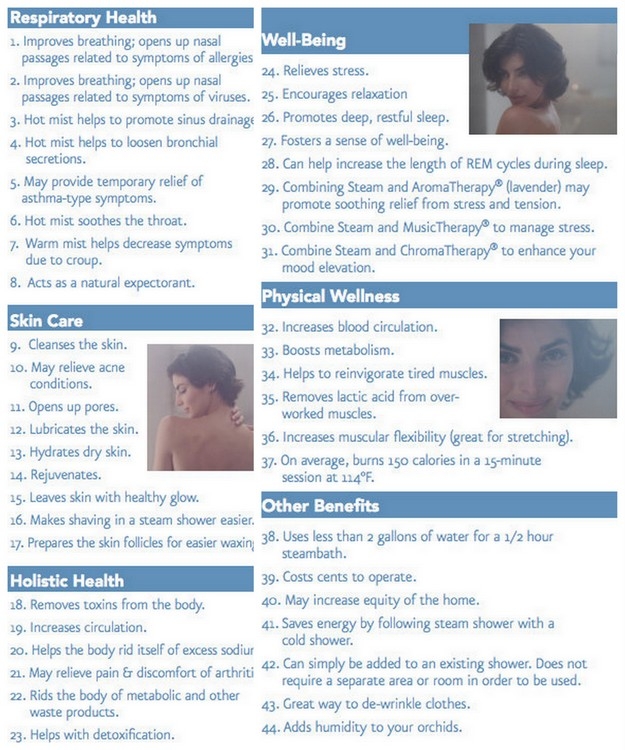 Another surprise was the cost, which was not as expensive as you might imagine!
I was pleased to see many companies at the Kitchen & Bath Industry Show featuring universal design, such as these vanities where you can roll a wheelchair up to: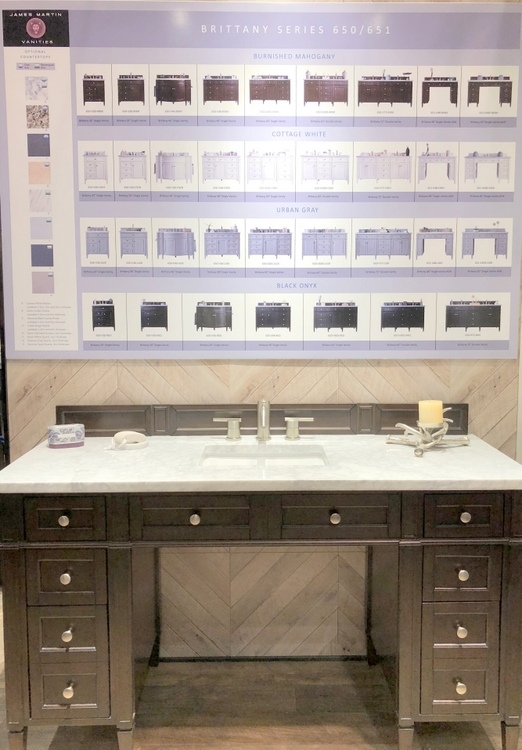 James Martin Signature Vanities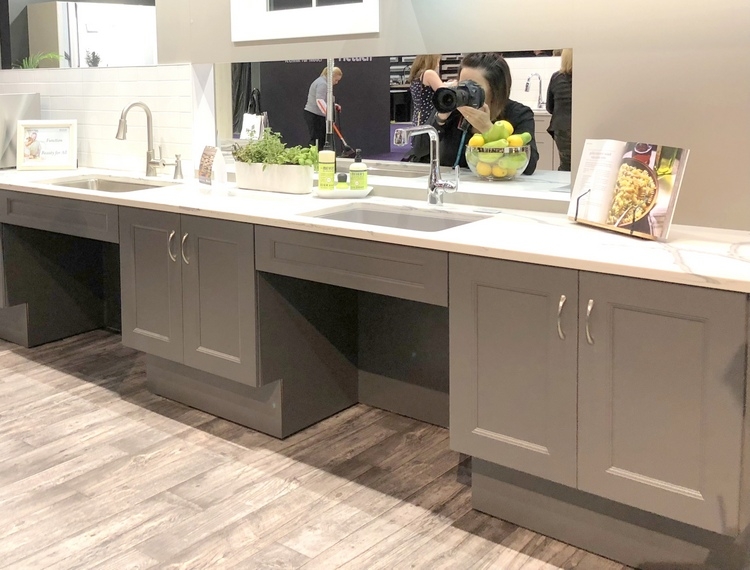 Elkay's ADA-compliant sinks 
Next Up: 2018 Color Trends for Kitchen & Bath!
Later this week, I'll share where I learned about the color trends coming out for kitchen and bath for 2018. Let me know what new trends I shared that you are up for – I definitely need a new dishwasher!
Thank you to the sponsors of the 2018 KBIS Blog Tour: Lixil, Mr. Steam, Wilsonart, Metrie, Thermador, and KBIS!