| | |
| --- | --- |
| Call me narrow-minded, but I wasn't sure what to think when I first started seeing the pairing of purple with blue. I used to think you had to stick to one shade in a range of colors: red, pink, or orange – but never two or three of those together! Well, that's all changed. Now, the most sophisticated rooms feature all shades of one color or the pairing of two colors that are side-by-side on the color wheel. And the more I see rooms in purples and blues together, the more I like it! | |
What's great is that you can totally update your blue and white transferware collection by pairing it with purple like they did in this dining room. You could do a similar look by simply painting your walls lavender or purple, then accenting with a blue and white plate collection.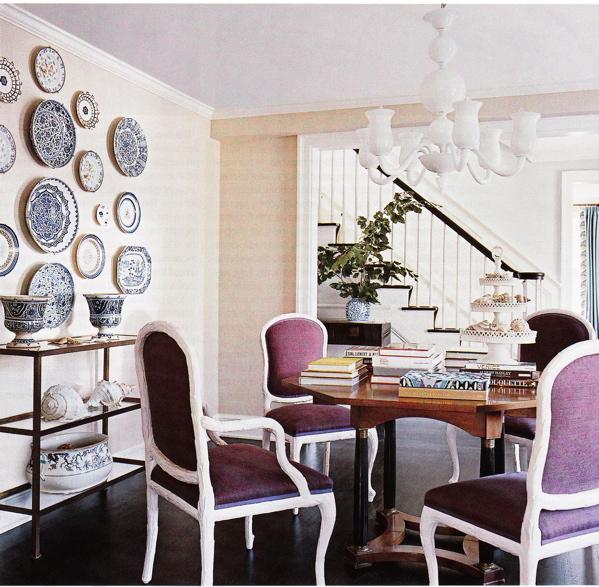 Or how about painting the walls vivid blue and accenting with lavender fabric? In this elegant room, the designer played around with at least three shades of blue: watery blue on the front chair, ocean blue walls, and dark blues flowers on the mantel. Lavender is the accent here.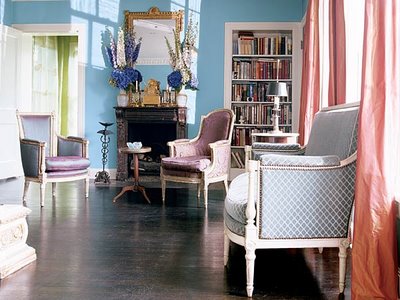 Here's a moody purpley den with dark blue accents. Much more sophisticated than you'd expect from that color palette! Maybe the secret of using purples and blues is the style of the pieces you use in the room. Think European, royal, glamorous.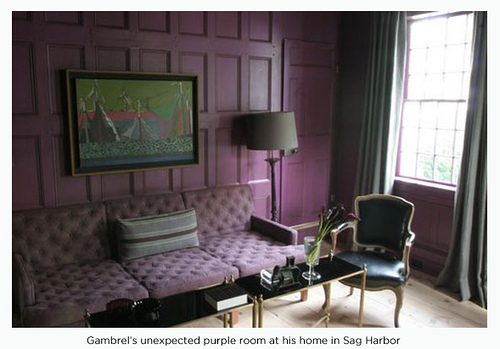 Or go a little more contemporary, modern. This bedroom is sophisticated and cozy with dusky blue walls and grape accents.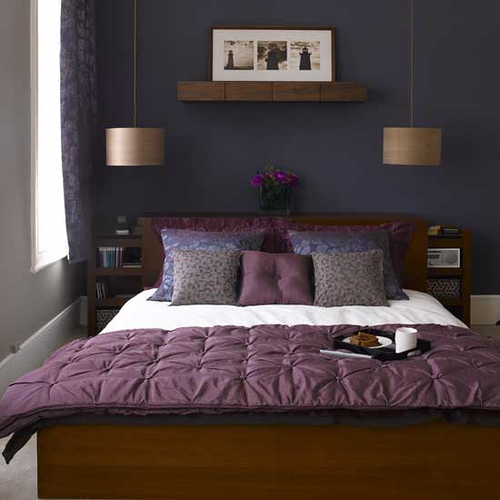 This is a very bold and very successful color palette. Blue on the walls, lime green, heavy use of black to accent, and a punch of purple. Not just one – the hutch is dark purple, while the draperies are more of a lavender.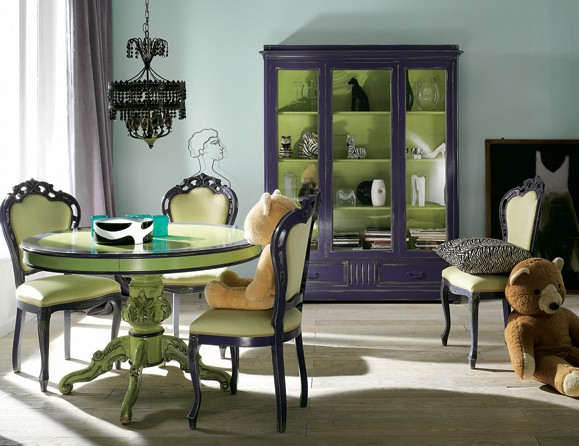 | | |
| --- | --- |
| | What an elegant living room. Marine blue draperies, light blue walls, lavender fabrics. Notice they used creamy white accents here. |
Maybe you want to go more subtle – lots of the same shade of blue and one punch of pinkish-lavender. That's what they did in this lovely dining room.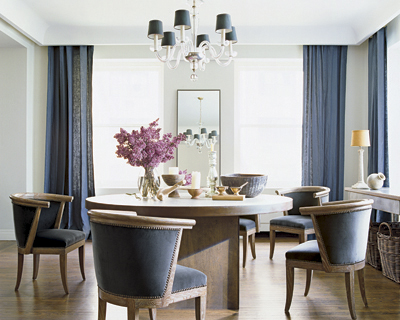 If you're looking at updating your color palette, consider adding a little lavender or purple to a blue room. Or adding a little blue to a lavender/ purple room. Your accent can be silver, black, cream, or even brown. What a warm and wonderful color update for the fall!