Since I recently discovered for myself how well chalk paint works on fabric upholstery, I've had several more projects churning in my head – this one in particular.  I have this old Victorian ladies' chair that I've had for 20+ years.  It looked a bit like this one: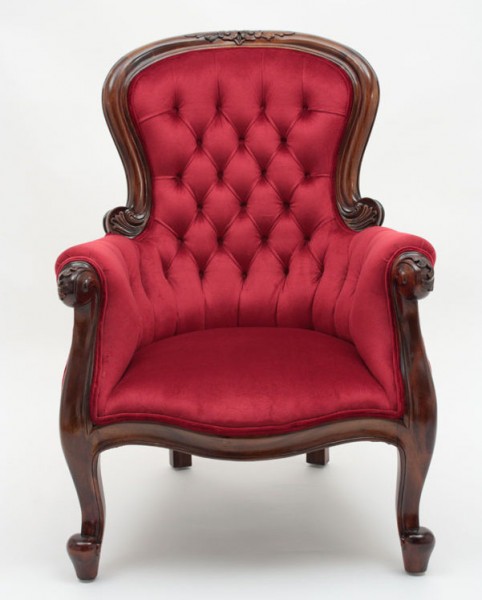 photo source 
Last year when I started going ga-ga for gold paint, I painted the wood portion of the chair to spruce it up – unfortunately, I don't have a photo of the true "before."  I figured I'd do something fun with the wood frame and reupholster the chair at some point, so this is how that turned out: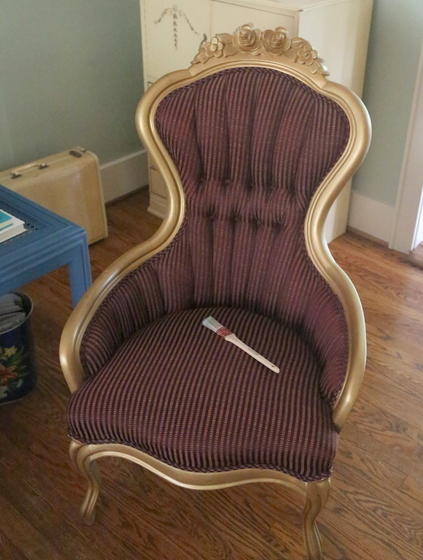 Ralph Lauren Gold Metallic Paint on wood trim
This chair belonged to my grandmother, and my mother had it reupholstered 25 years ago in this burgundy fabric. There is nothing that screams "Victorian" like the color burgundy.  And as much as I like the chair, I don't want it to look so, so Victorian!  I remember back in the 90's when I heard some friends describe my decorating style as Victorian (gasp!).   I really hated when they said that, but I did (and do) have lots of family pieces from that era.  So how do you take Victorian into the 21st century?  Get out the painter's tape and get to work!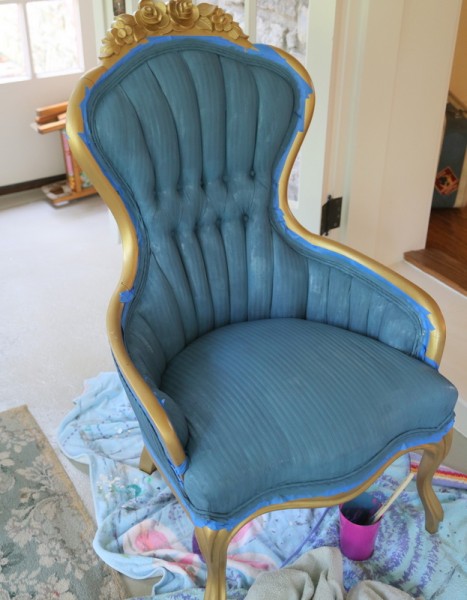 This is how it looked after two coats of Annie Sloan Chalk Paint in Aubusson Blue.  Not great – yet.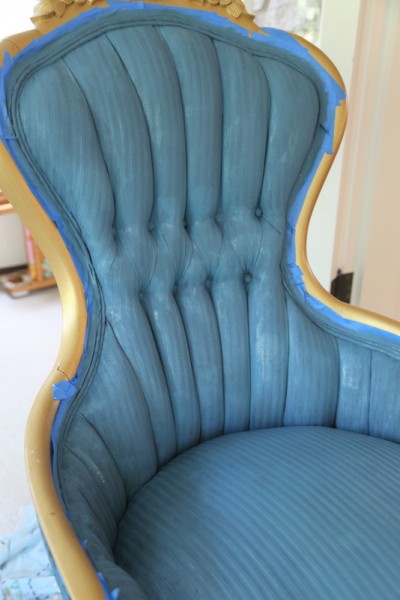 It actually looked pretty bad, but I had faith that if I kept at it, it would turn out the way that I hoped.  So are you ready to see the finished product?  She's soooo pretty and perfectly regal!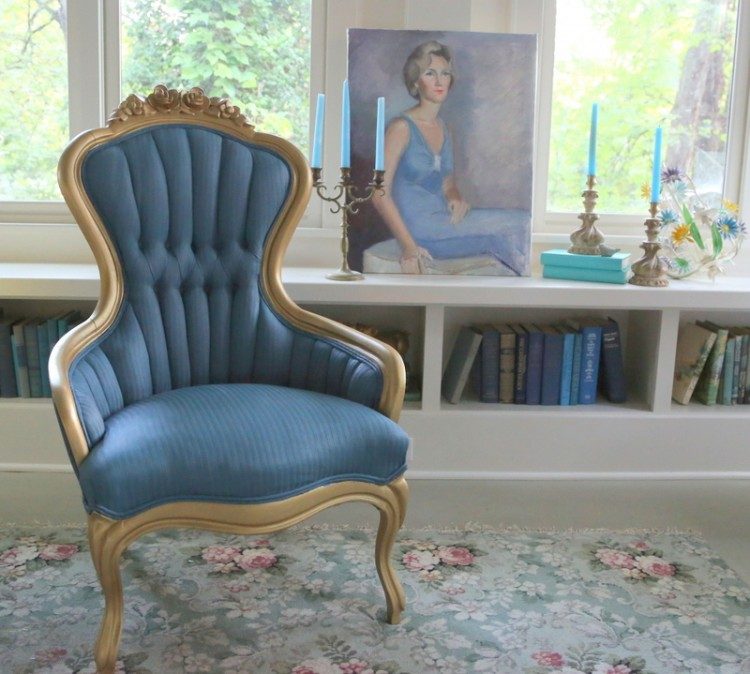 finished chair fabric painted with blue chalk paint 
So here's how I did it: I painted on the Aubusson Blue with a small paint brush, full-strength. After that dried, I applied a watered-down second coat.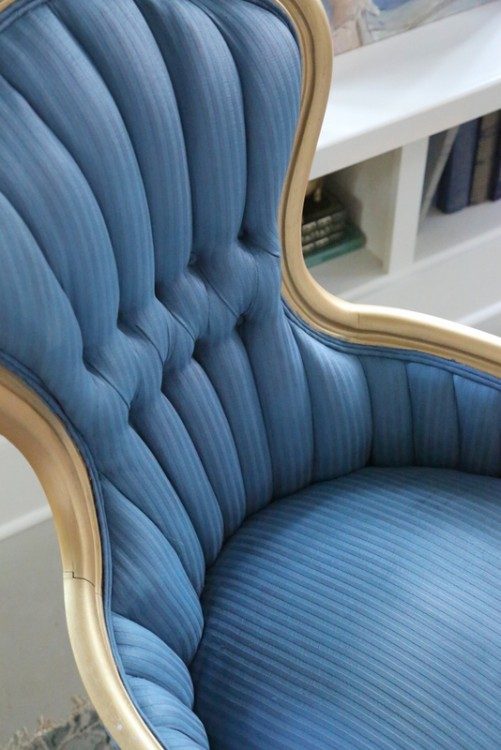 blue chalk paint on fabric
Then, I took the chair outside, lightly sanded it, then wiped off the dust with a dry cloth.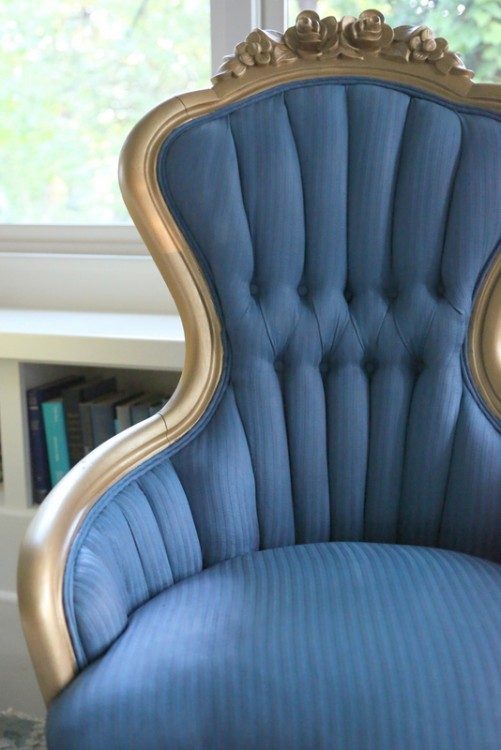 blue chalk paint on upholstery
One more coat of moderately watered-down paint.  After that dried completely, I finished with one more coat of just slightly watered-down paint.  After about a day, I came back and applied a coat of clear paste wax with a soft cloth, then buffed it off to a slight sheen.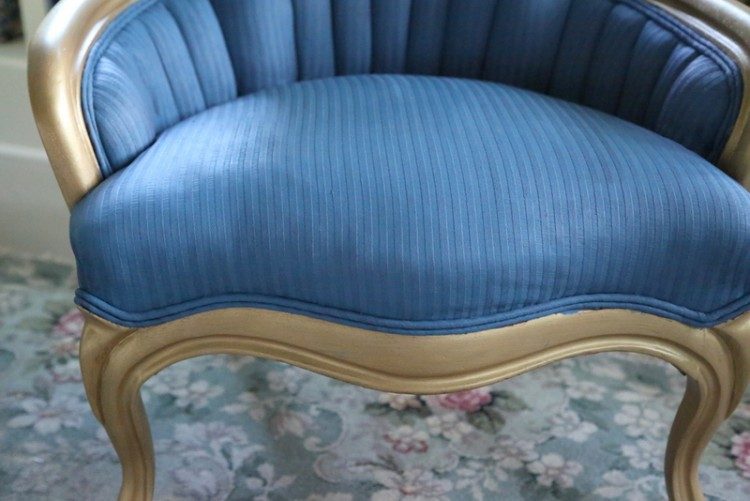 top with clear paste wax and buff off with cloth
The finished fabric is soft to the touch.  It looks a bit like leather or maybe even a seersucker suit because of the sheen.  Maybe it looks like seersucker because of the texture of the stripes.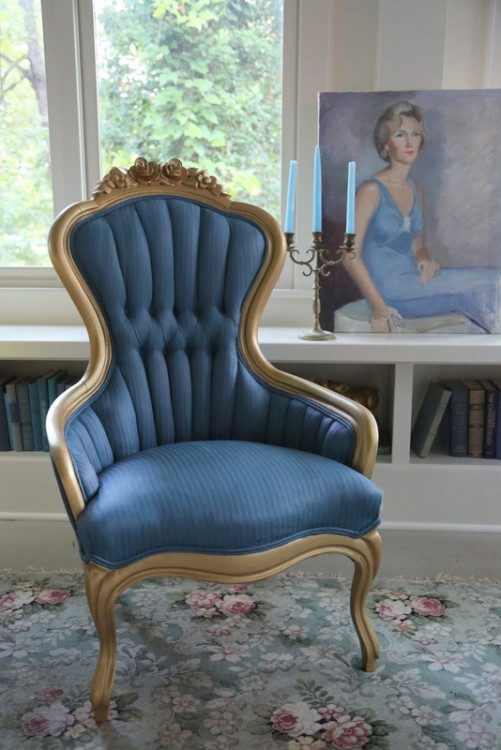 If the gold paint trim is not your taste, you could modernize such a chair with a bright contrasting color like yellow or orange.  I'm thrilled with my "new" chair, which cost me about $20 (half a quart of chalk paint).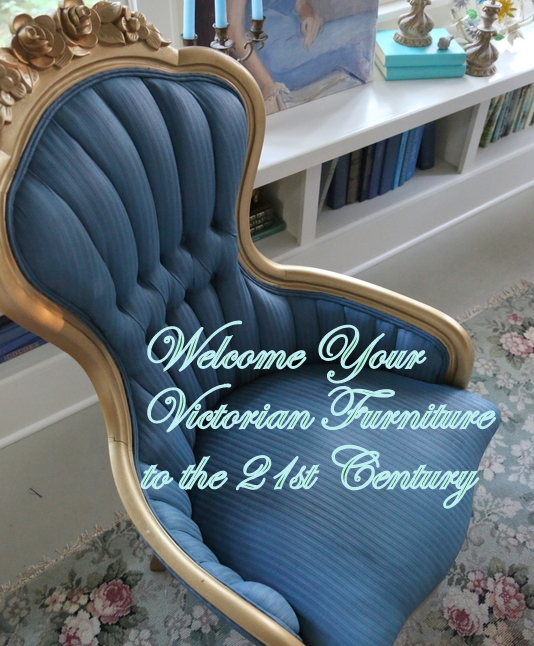 Are you brave enough to try this?  Please Pin this post or share it on Facebook if you know someone who might like it!