Pantone has announced the 2014 top spring fashion colors for women, so let's take a look and I'll tell you how I think this will affect interior decor: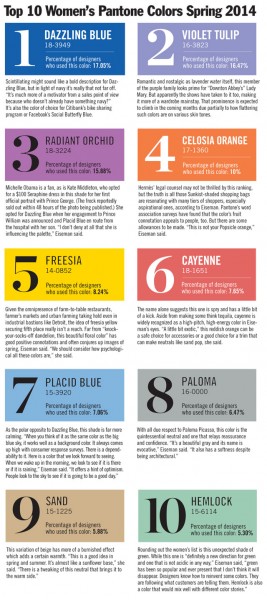 I know these are hard to read – check out more info here.
There's always a trickle-down effect from fashion to decor, so many of these colors will show up in decor fabrics and accessory colors in the coming year.  But it's likely you'll see more toned-down versions of them.  Dazzling Blue is a royal to cobalt blue, but it's a bit more "electric" than the ones I am currently using frequently as an alternative neutral to black or gray.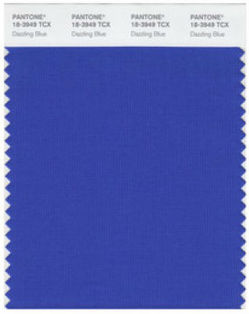 With two purples high on the list, we'll see both blue-lavenders and red-lavenders continue to show up in both fashion and interiors over the next couple of years.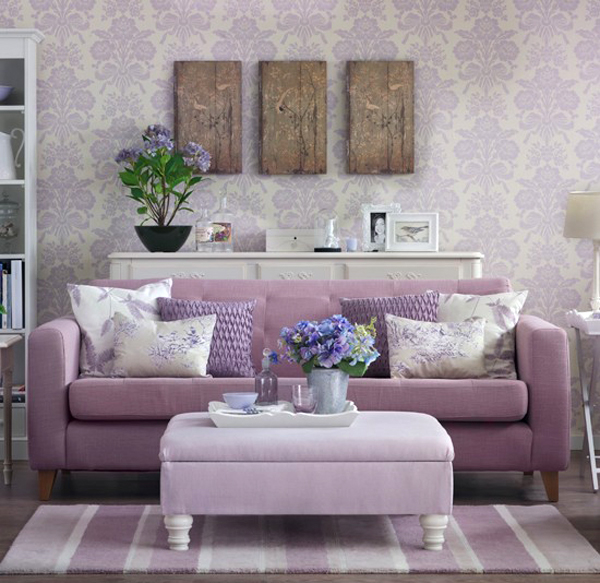 And Hemlock?  It's a stunner, and I'm happy to keep injecting blue-greens into the homes I work in.  I must say, I'm also glad to see Cayenne in the top 10, as I'm ready for a rosy alternative to orange.  But Freesia, Placid and Sand?  As a Paint Color Consultant, you won't likely see me specifying those colors for interiors anytime soon.  Just a bit too gold, a bit too colonial, and a bit too fleshy.
Which are your favorites?
If you want to choose perfectly perfect paint colors for your interior, get my Color Workshop Video today!