| | |
| --- | --- |
| Who doesn't love a good map?  They speak of history, travel, adventure.  Why not do a little decorating with maps?  I'm going to show you a few ways you can liven up your interior world with maps of the exterior world | |
| | |
| --- | --- |
| | Pick your points of interest or even a color scheme.  Then cluster a grouping of maps in a hallway or entry.  You'll seem so well-travelled. |
| | |
| --- | --- |
| Street maps work great in a tight cluster like the one on this wall.  The neutral colors work great in a masculine space and create an interesting focal point.  You can do this by taking a vintage-looking street map to Kinko's and having it blown up huge.  Then cut it to fit your predetermined frames. | |
| | |
| --- | --- |
| | Outfit an office space with this fabulously fun wallmap from Urban Outfitters for $140.  That's not very much money for a huge piece of art and a bold statement. |
Check out this traditional office with a map on the ceiling.   Didn't I tell you last week that wallpapered ceilings were all the rage!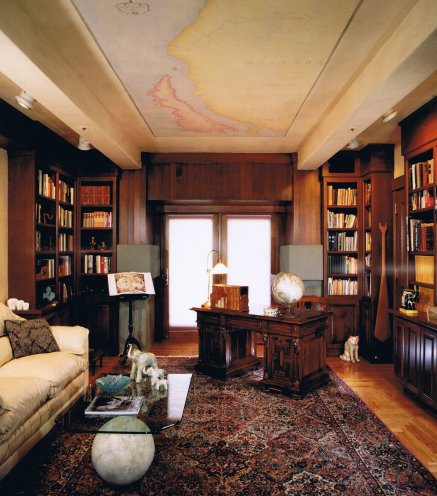 Maps are definitely the theme of this family room, from the huge wall mural to the framed maps on the adjoining wall.  The red works well as a foil for all the natural, neutral colors in this room.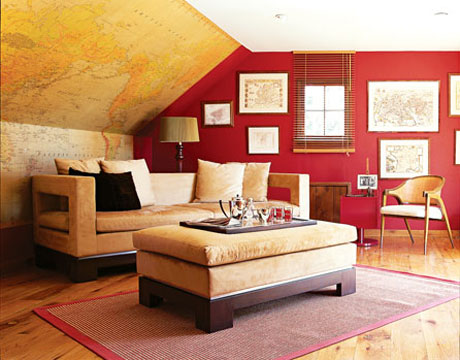 | | |
| --- | --- |
| Mudrooms can be really boring.  What a great place to incorporate maps as decor!  I like the way this space remains neutral but textured, a smart choice for a functional space. | |
| | |
| --- | --- |
| | Even a large laminated map enlivens this den.  Create contrast when choosing maps and/or wall color.  This way your artwork will "pop," so to speak. |
How's this for multi-tasking?  Plan your next vacation while in the john.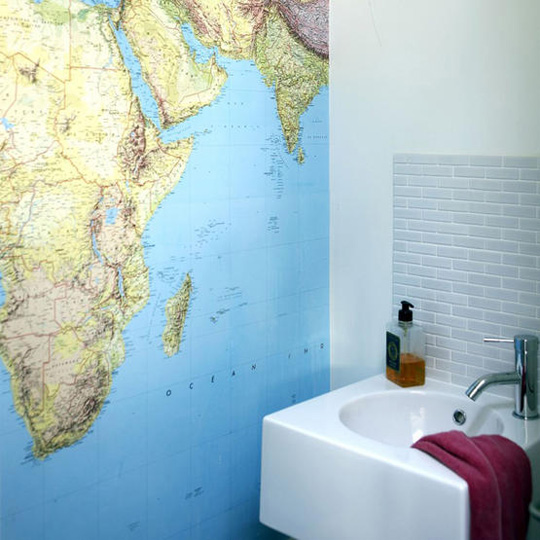 | | |
| --- | --- |
| What kid wouldn't love a room like this.  A wall mural of the earth by Kit Pollard MAKES this space.  Everything else is spare and simple.   I guarantee the little boys who live in this room will make an A in geography. | |
| | |
| --- | --- |
| | I think maps are a really sophisticated way to go with a child's room.  Fantasy and adventure, but not overfocused on one particular character.  Instead, your child is the character, the adventurer, the explorer. |
| | |
| --- | --- |
| | Another fabulous example of a map wall mural by Pottery Barn Kids.  Unfortunately, it is no longer available (bad, bad, Pottery Barn!).  Sorry to get your hopes up. |
| | |
| --- | --- |
| Fortunately, companies like Kidlandia make CUSTOM maps to delight any child (or parent).  Create your own fantasyland while incorporating your family members' names and kingdom of your choice.  You specify colors and size.  Maps come in both scroll form and as a wrapped canvas. | |
| | |
| --- | --- |
| | This map is AMAZING.  I love the script, the colors, and style.  There are other Narnia maps available, as well.  Rose Publishing sells a 19″ x 26″ laminated map for $14.99.   Click here to check out a free downloadable map.  You can have it blown up to any size you like. |
Or, you can just go ahead and wallpaper the whole room.   This room is too fun for words.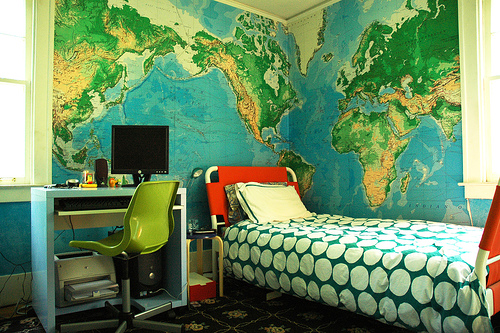 | | |
| --- | --- |
| Not convinced you want to go full throttle?  How about testing the waters with some interesting map pillows.   Even more special when the map is from a favorite vacation spot or your dream destination. | |
| | |
| --- | --- |
| | Ever tried your hand at decoupage?  It's the easiest art you'll ever do.  All you need is a little Modge Podge and a sponge brush (both available at Michaels).  White Elmer's glue works pretty darn well, too.  What a great way to personalize a desk chair in a child's room. |
Here's another decoupage map art project – even easier on a flat surface like drawer fronts.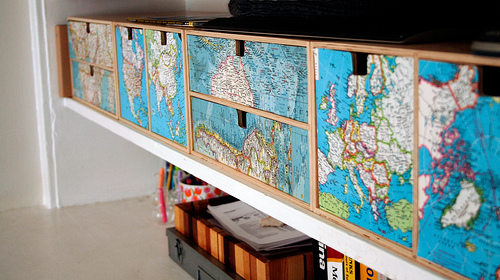 | | |
| --- | --- |
| Carolina's Cottage sells these map covered trays, but it's a lot cheaper (and more fun) to make your own.  This is an art project mom and kids can all enjoy. | |
.