As promised, I'm sharing the REST of the color trends from the most recent High Point Furniture Market. No, the entire market was not blush pink – and I know many of you are relieved. What I saw there points to the 2018 color trends will be seeing soon.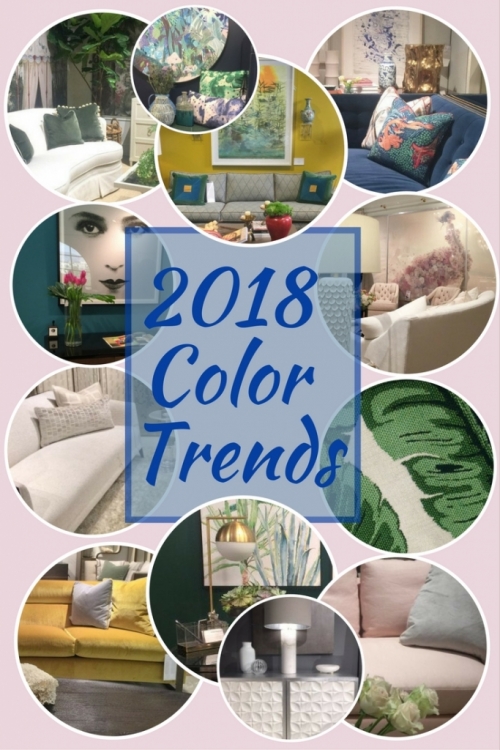 So, what other colors will be trending in upholstery, furniture, and decor accessories? Let's start with my personal favorite – the gorgeous greens.

The backdrop of this vignette in the ModShop showroom is very similar to Benjamin Moore Steamed Spinach, which I have used in a couple of projects – and in my own home.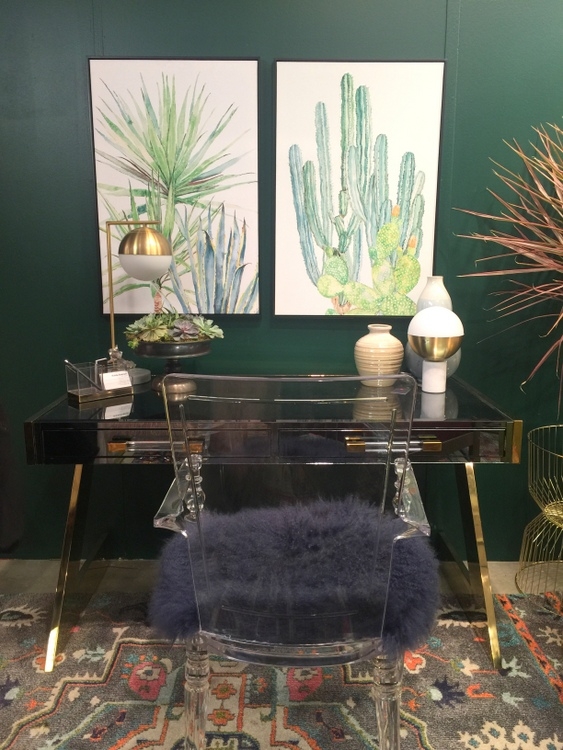 Modshop
Green and white cabana stripes are both preppy and refined. Love them with all the gold metallic and the blue-and-white ginger jars.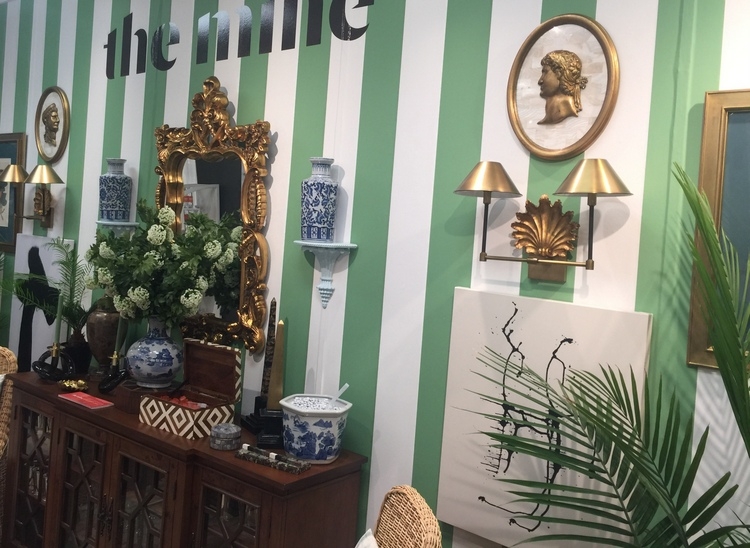 Blues and greens of all shades blend beautifully together, and continue to be a part of the 2018 color trends.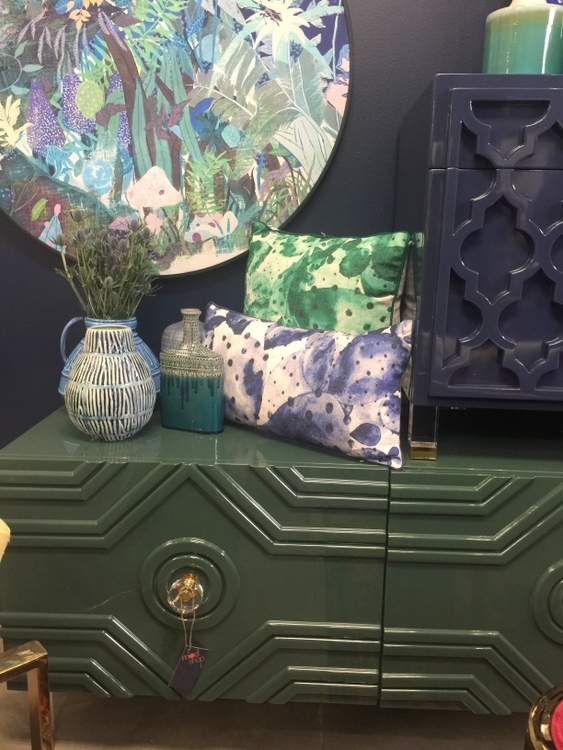 Modshop
This lush paradise full of green and white was in the Highland House showroom: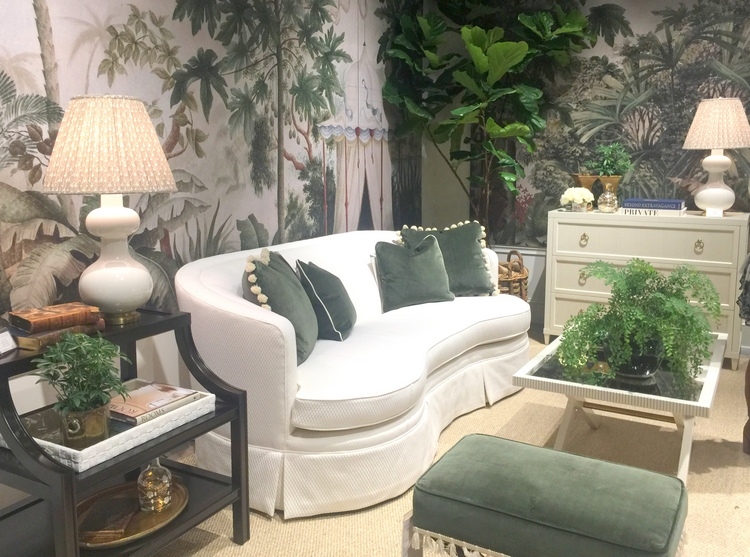 Crypton fabric at Highland House
The most popular greens at market were the dark emeralds, jades, and forest colors.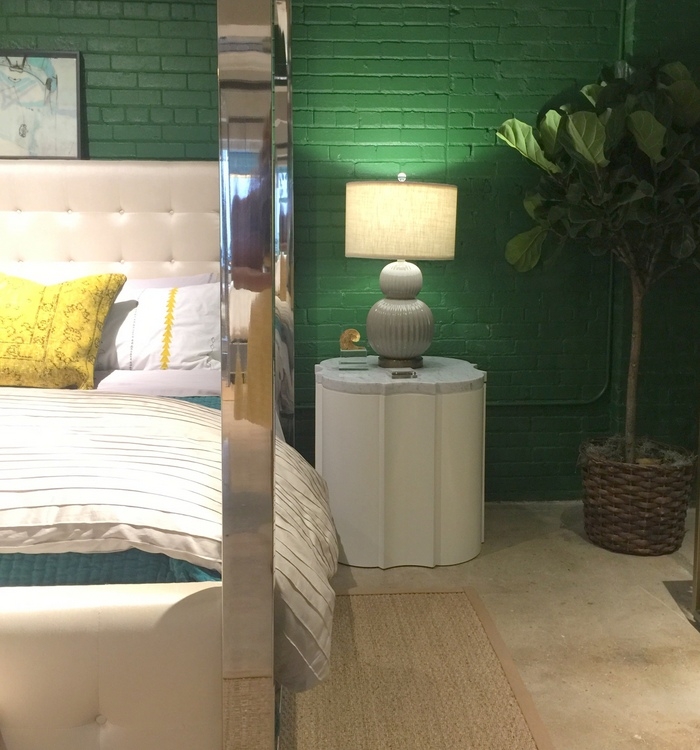 Universal Furniture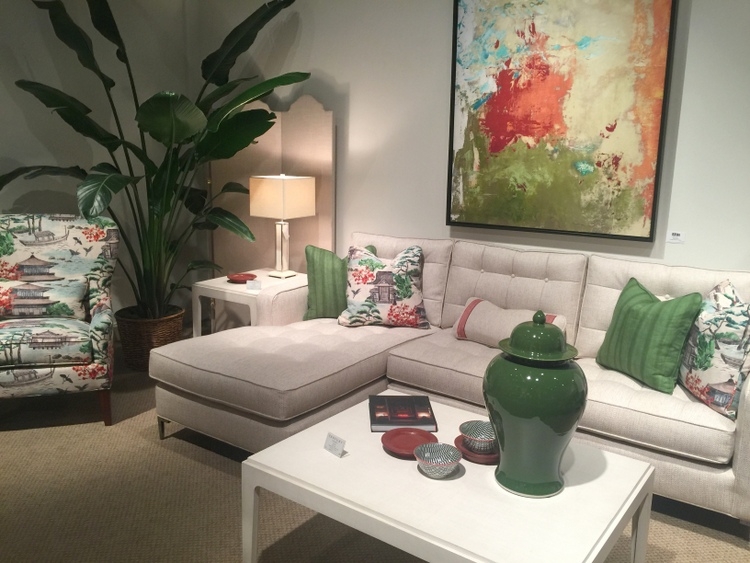 Century Furniture
This gorgeous banana leaf fabric from Sunbrella can be used indoor or outdoor, and look how perfectly it matches my ring!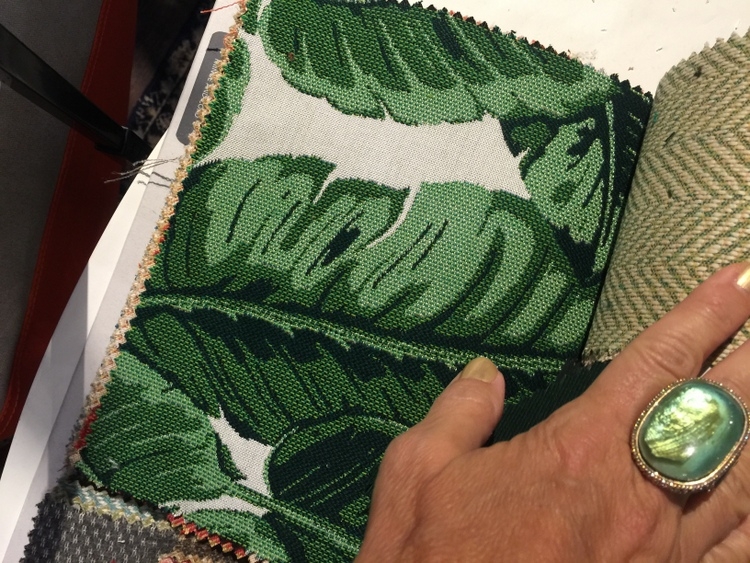 There were also splatters of jadite green throughout High Point Market, like this fabulous sofa from Younger Furniture: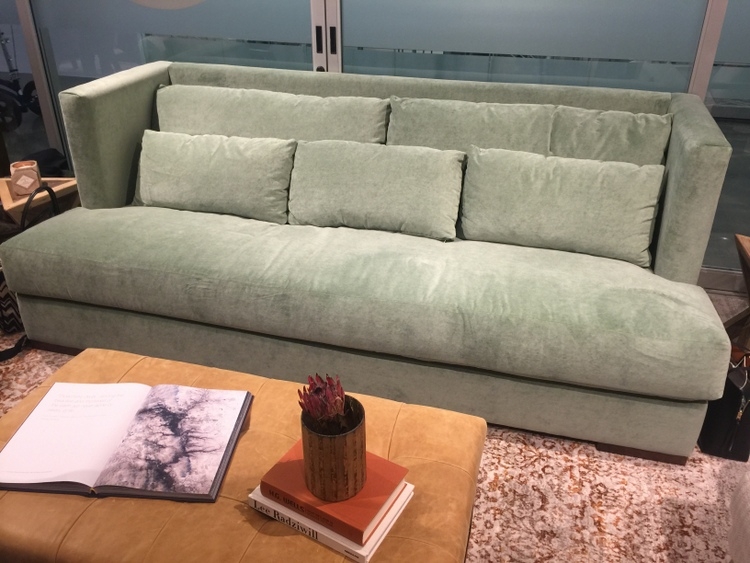 And in both upholstery and stone tabletops in Green Apple Home Style: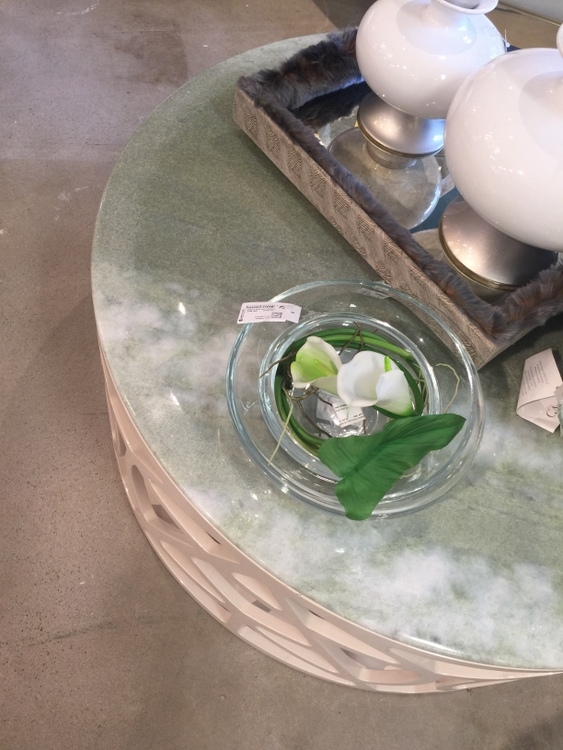 Green Apple Home Style

If you think it may be over for blues, you are mistaken. From light blue to aqua to navy, blues are practically neutrals since they work with most colors. They continue to be popular in paint, furnishings, and decor, making them central to the 2018 color trends.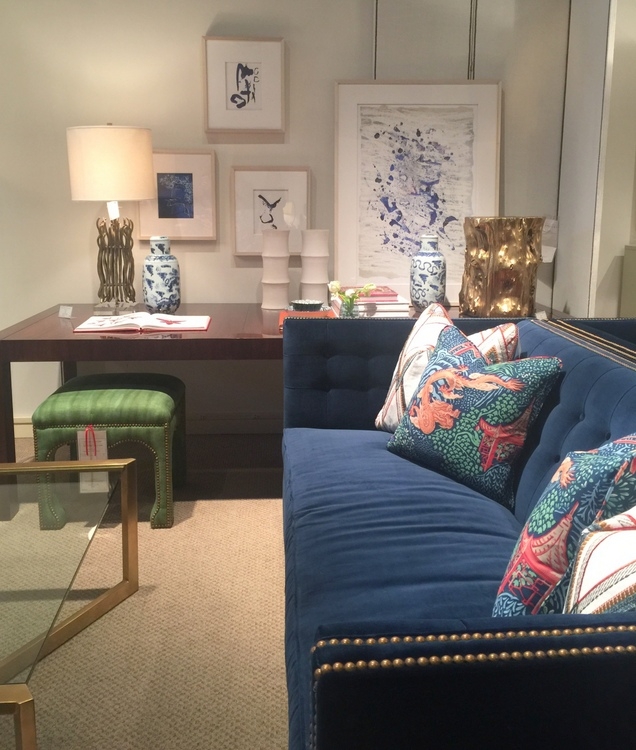 Century Furniture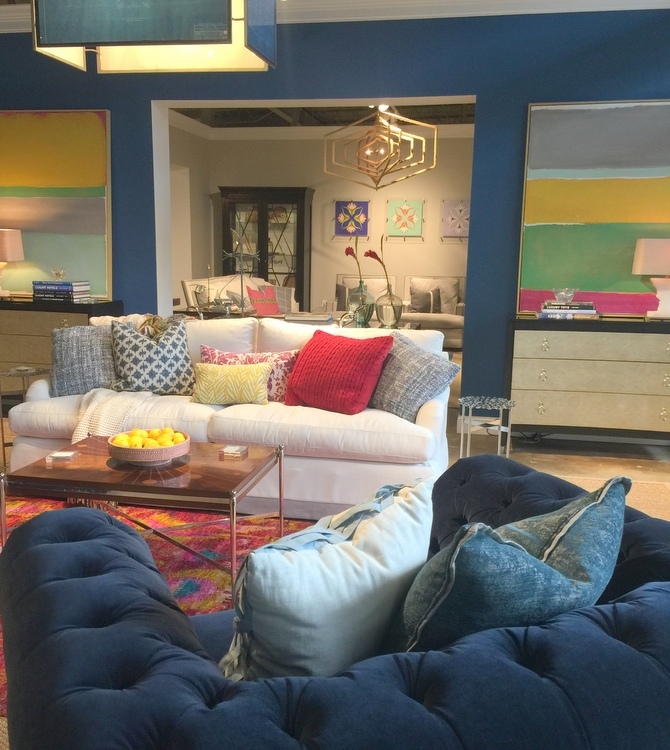 Century Furniture
Navy, royal, and teal were seen throughout High Point Market. The Sunbrella showroom featured saturated and varied blues, and I absolutely LOVED the striated pattern on this fabulous sofa that fellow High Point Blogger, Jana Phipps, and I snapped a photo on.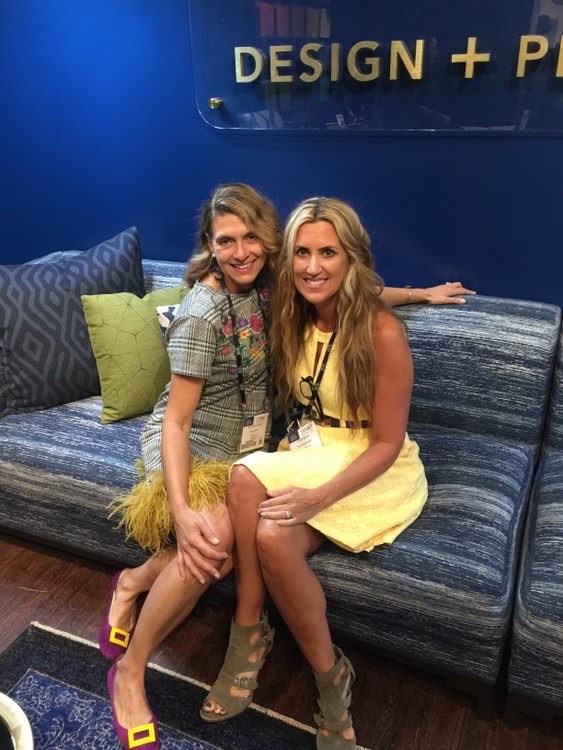 Trim Queen and The Decorologist in Sunbrella fabric showroom
Teal was an important color in Michael Berman's collection for Theodore Alexander . . .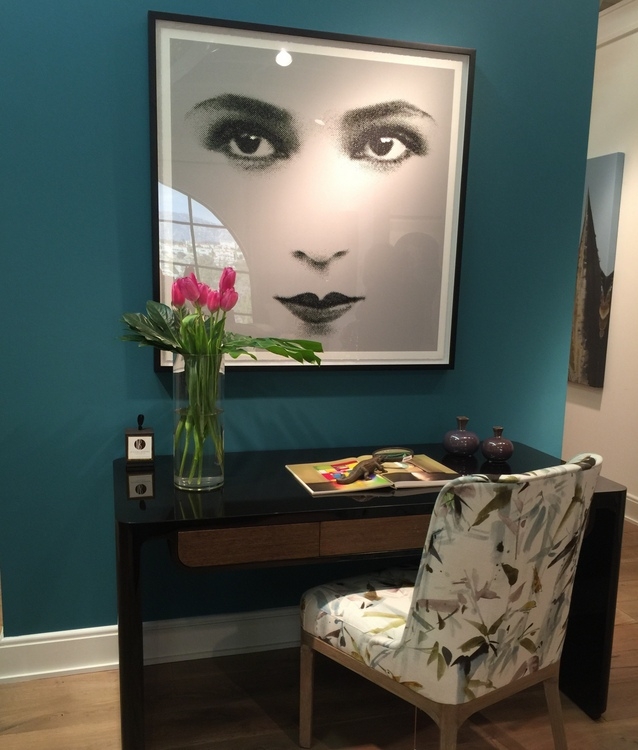 . . . and for the Bend Goods showroom, which features seating, table, and decor made completely from wire.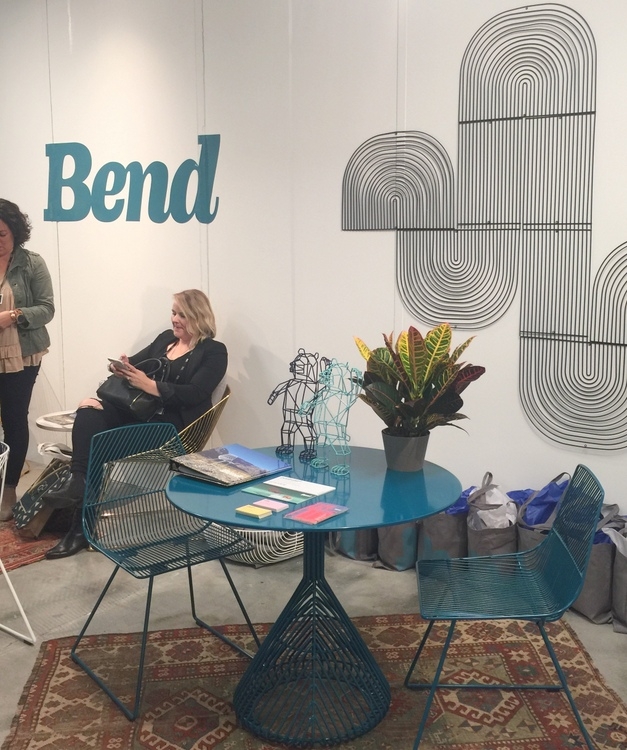 Bend wire furniture
It wasn't all dark – there were lighter blues throughout market, as well. I loved the marriage of navy and aqua in these shapely chairs!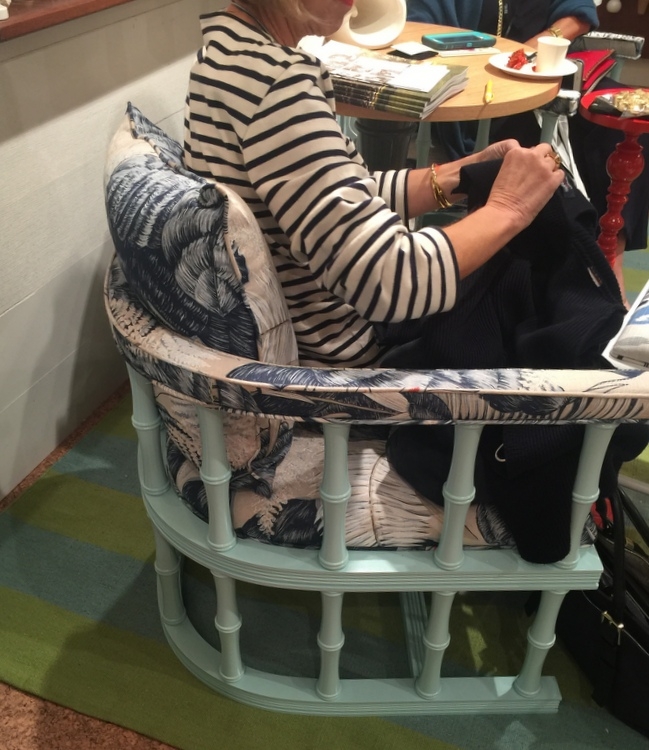 Dunes and Duchess
Because of technological advances in indoor/outdoor fabric, a blue upholstered bench like this one from Lloyd Flanders would be equally lovely on a porch or in an entry or mudroom.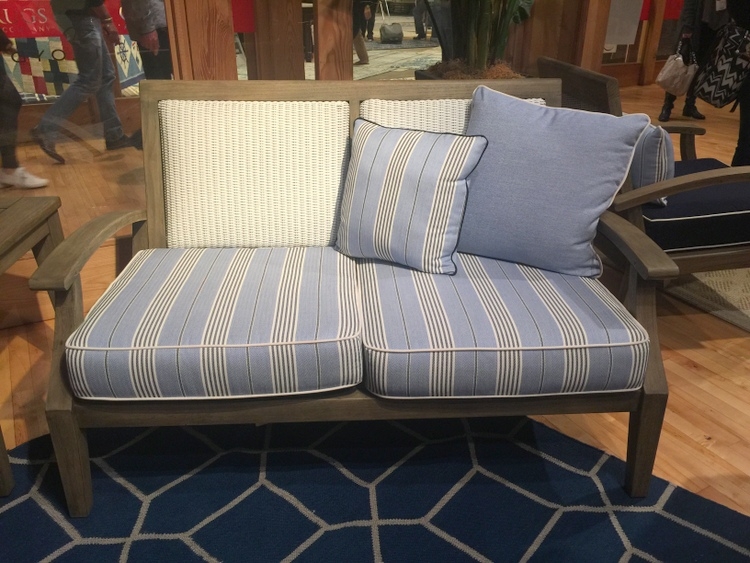 Even leather is going blue, like this lovely tufted sofa in the entry of the Theodore Alexander showroom.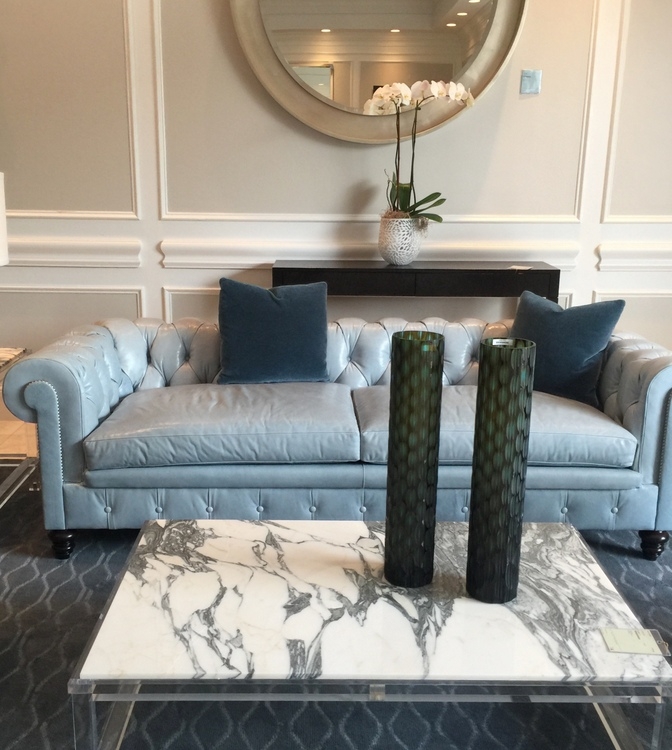 Theodore Alexander
For a lighter look, you can't go wrong with a lots of whites mixed in with variations of blues: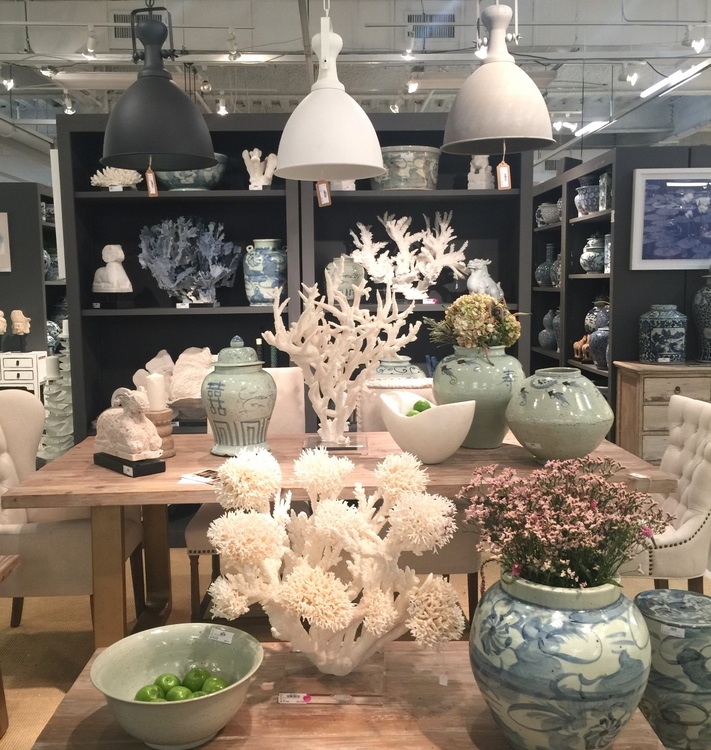 Speaking of white, there was a ton of white and off-white at High Point Furniture Market. I'd say that white/off-white is truly the dominant neutral right now. Yeah, gray is still here, but the contrast of white and black is really hot. Many showrooms featured room vignettes that featured dramatically black backdrops for whites and light grays. Black and white are at the root of 2018 color trends.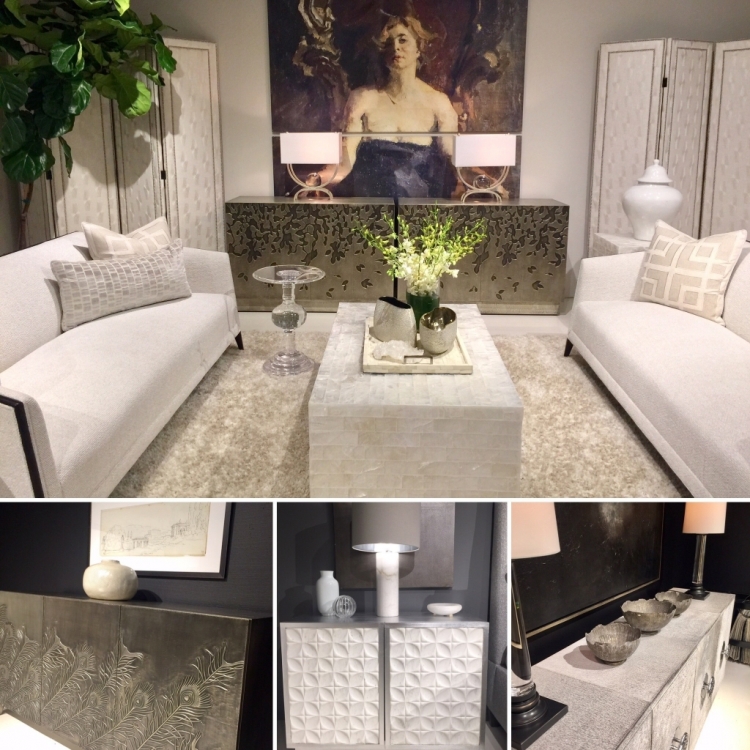 Bernhardt Furniture showroom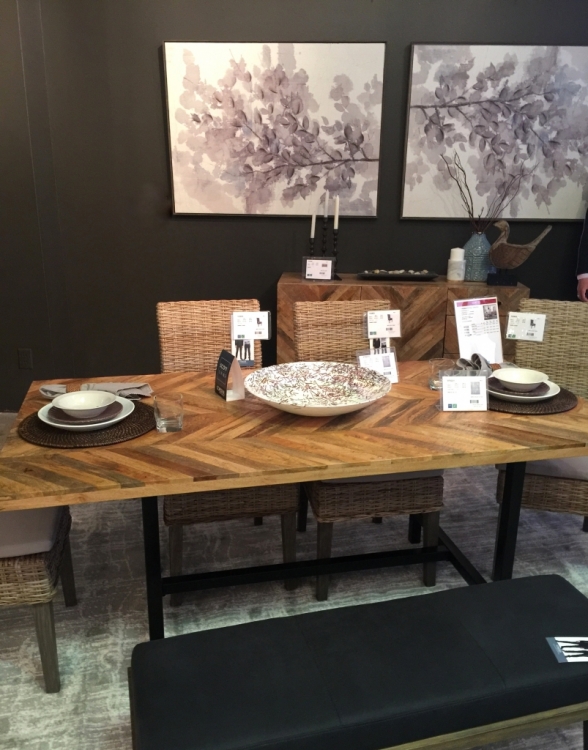 Scott Living Home
Now, shall we talk about the FUTURE for a moment? I'm going to let you in what I believe will be the next big trend color.
I saw bits of it here and there at High Point, typically in a supporting role. But I believe it will become more dominant over the next couple of years, as it pairs beautifully with many of the recent popular colors and would be easy to incorporate into existing color schemes so many of us have.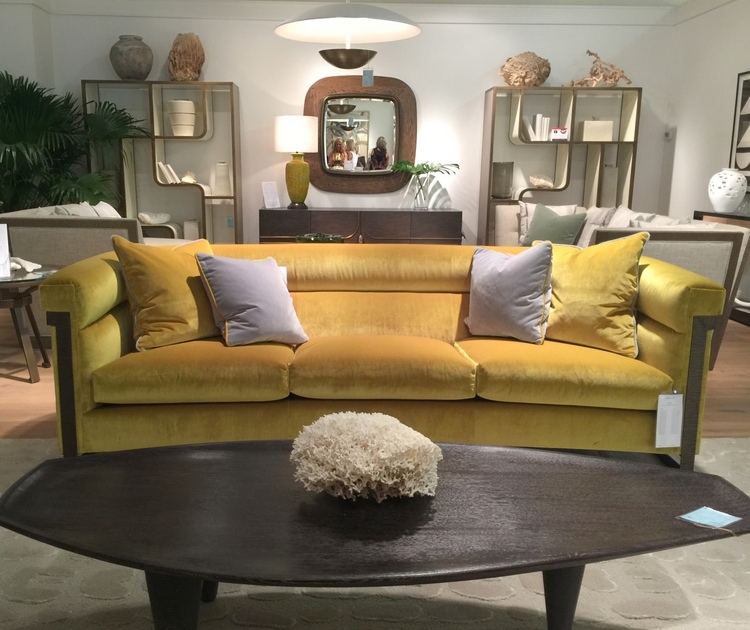 Michael Berman collection for Theodore Alexander
Yep. Watch for yellow gold as it emerges as a dominant trend color. It's gotta be done right, or else it looks dated – it's all about updated color combinations and placement.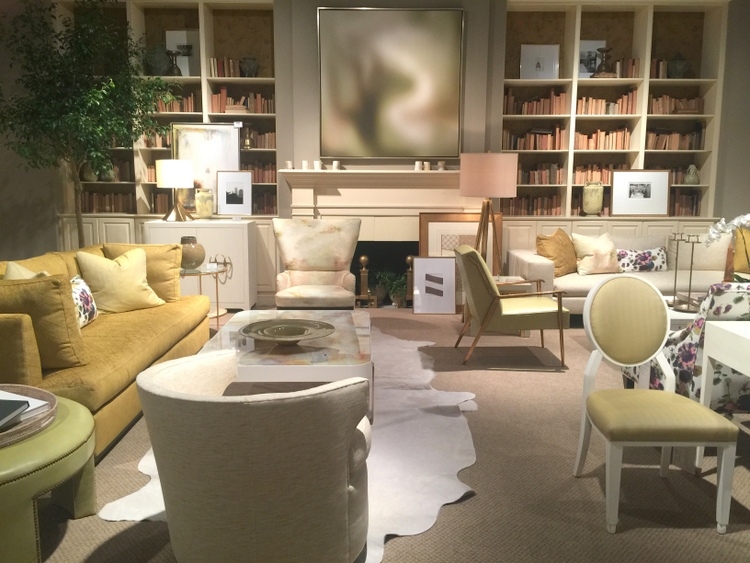 Century Furniture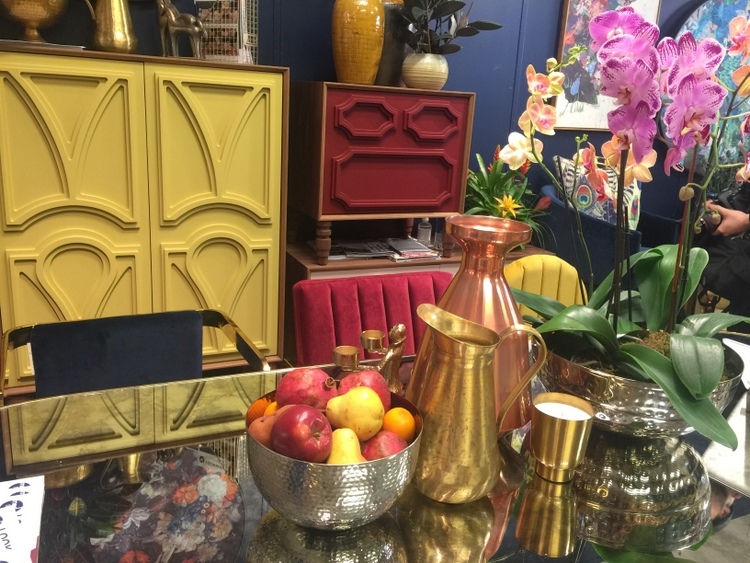 Modshop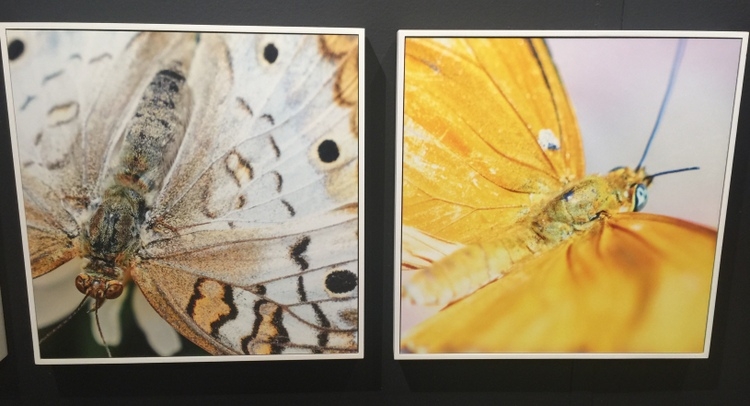 Phylum Design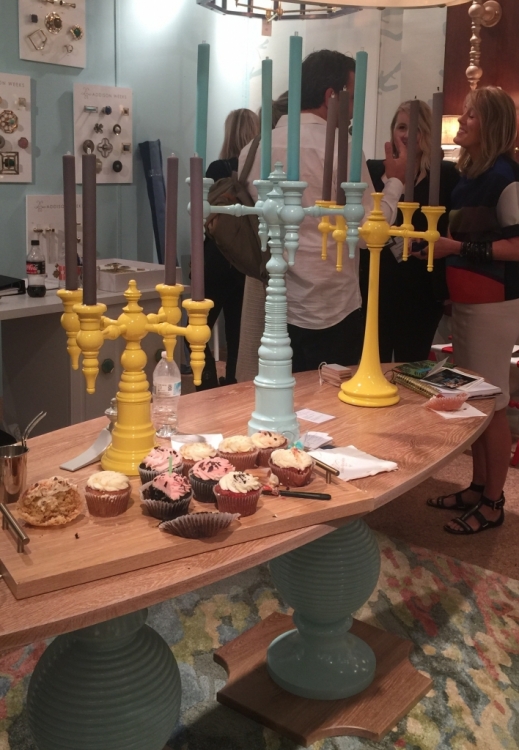 Dunes and Duchess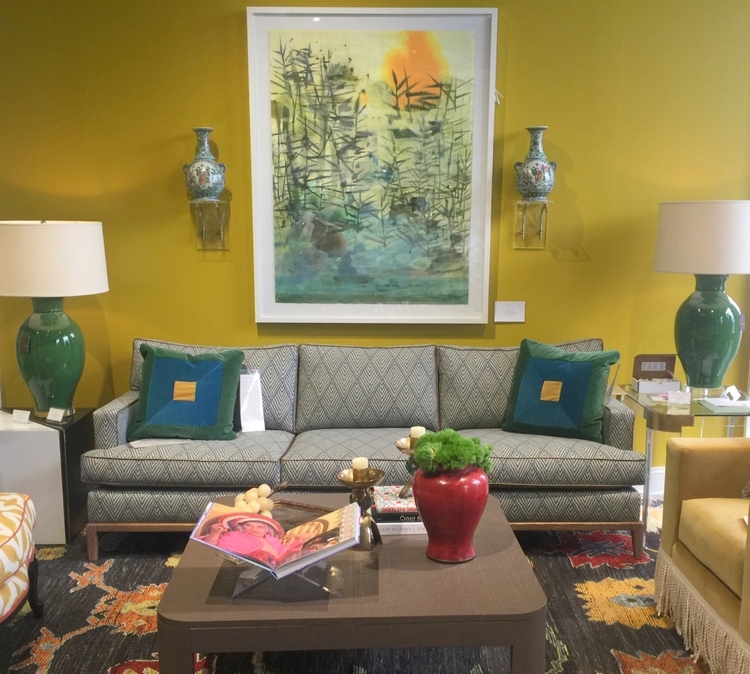 Highland House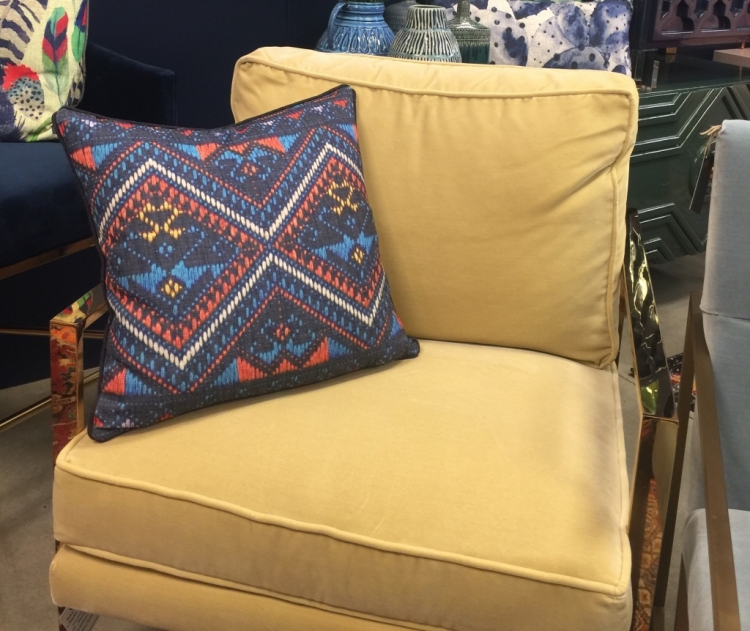 Modshop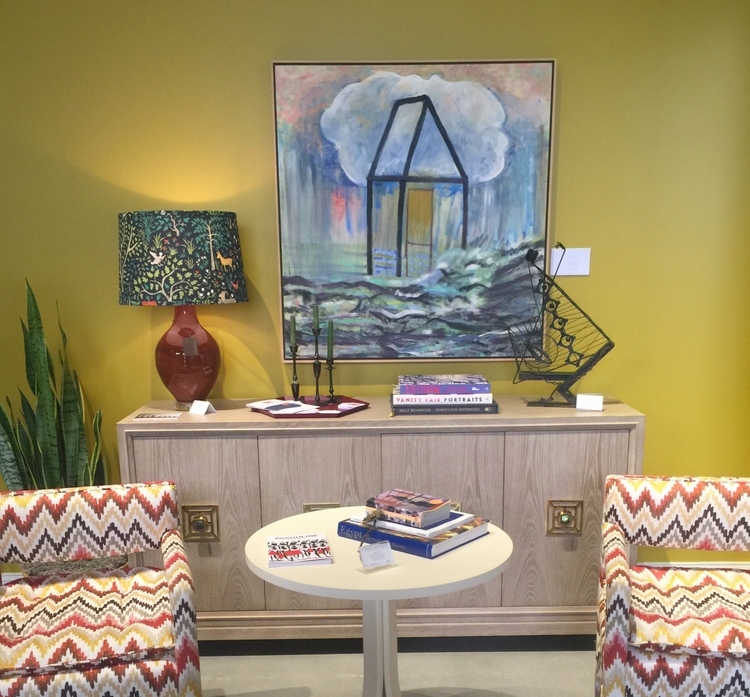 Highland House
I told you it wasn't all blush pink! Now that you've seen some of the 2018 color trends 2018, what do you think? Which colors or combinations are your favorites?
This is a sponsored post. The specific topic, content, and opinions are completely my own. All photography by Kristie Barnett.