I went on a little vacation last week with Mr. Man and the kids! We picked the most important things we each wanted to do while there, and mine was to visit architect Frank Lloyd Wright's home and studio and tour the surrounding architectural mecca of Oak Park. YAYYYYYY!!!! The historic paint colors of Oak Park were a-mazing.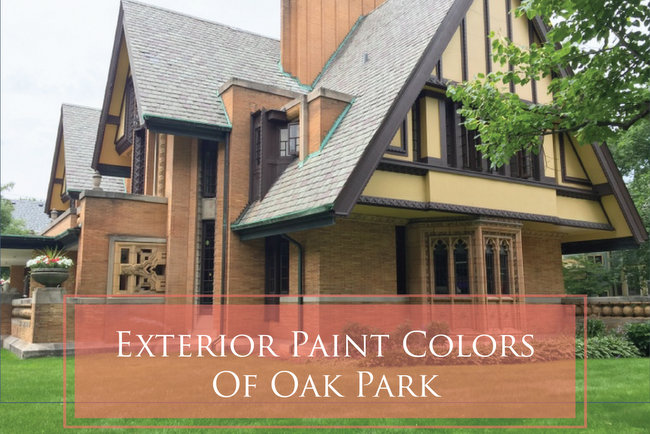 Because I choose exterior paint colors for a living, I am always examining houses while I'm driving to look for good exterior paint color palettes to copy. But guess what? I take very few photos of house exteriors because I seldom find ones that blow me away (in a good way). It's a whole lot easier to find a "what-not-to-do" than it is to find a "what-to-do" when it comes to exterior paint colors!  However, while I was strolling around Oak Park homes, I could not. stop. taking. pictures. So many beautiful, well-done examples of historic paint colors and palettes that I thought I'd share them with you. You will want to PIN these color combinations!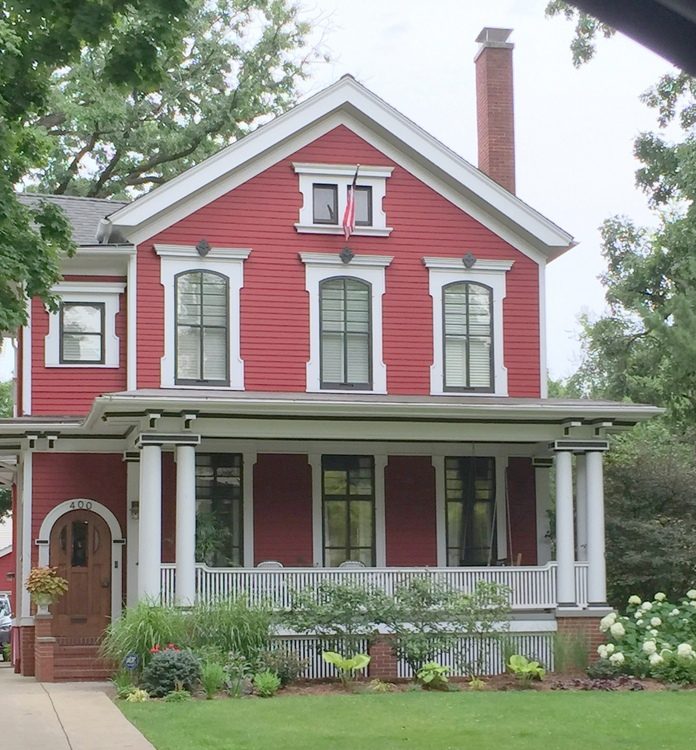 Benjamin Moore:  trim – White Dove, windows and details – Black Satin, body – Currant Red
Just so you know, I carried a Benjamin Moore fandeck with me as I toured Oak Park homes so that I could color-match as I went! So the colors that I report will be from my expertise as a paint color consultant, and not actual knowledge of the original paint color. Let's start with this stunner: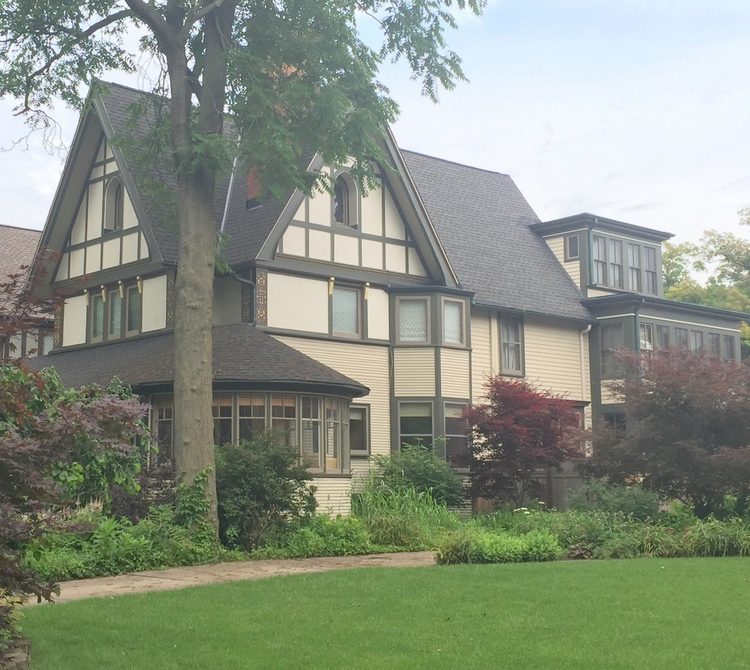 Benjamin Moore:  body – Carrington Beige, trim – Trailing Vines
Here's a lovely example of more subtle contrasts in the historic paint colors: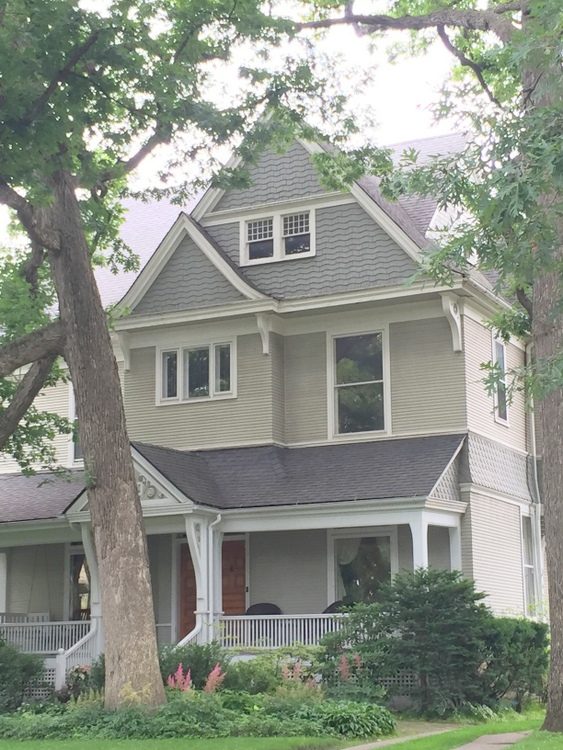 Sherwin-Williams:  accent on shakes – Rare Gray, body – Rice Grain, trim – Dover White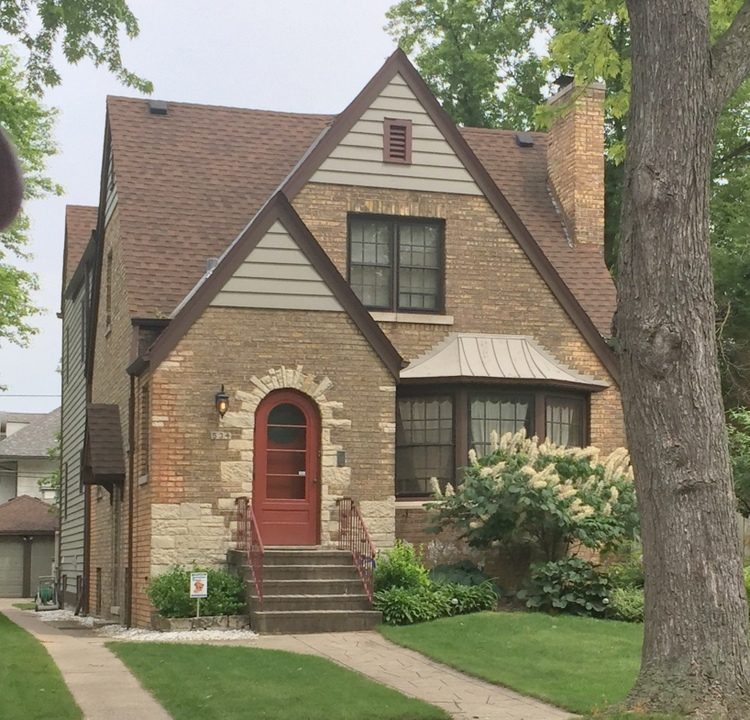 Benjamin Moore:  body – Annapolis Gray, trim – Bittersweet Chocolate, door/railings – Country Redwood
The architectural variety among Oak Park homes makes for such an eclectic neighborhood. What a dream it would be to live here!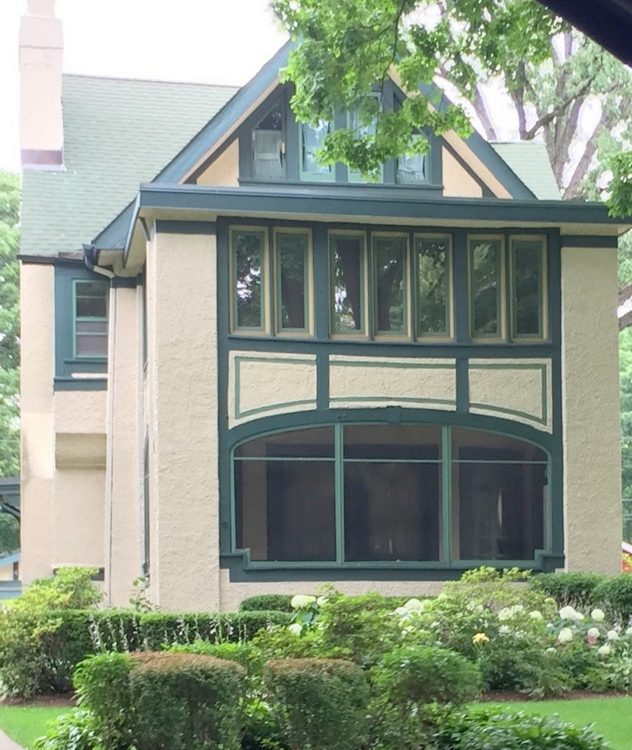 Benjamin Moore:  body – Crown Point Sand, trim – Lafayette Green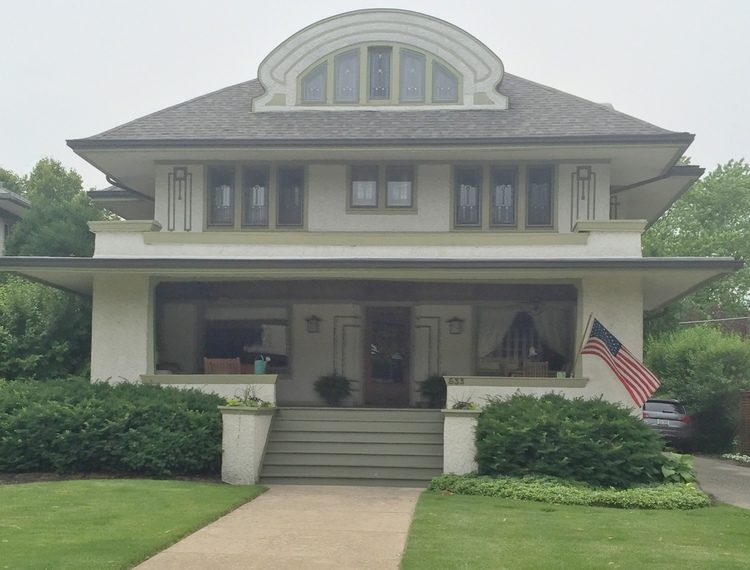 Benjamin Moore:  body – White Dove, trim – Louisburg Green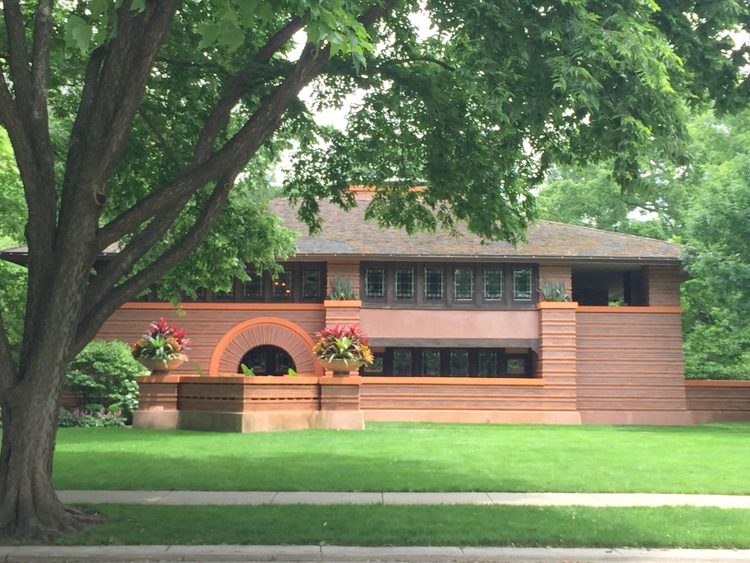 Benjamin Moore:  window trim – Branchport Brown, accent trim – Amber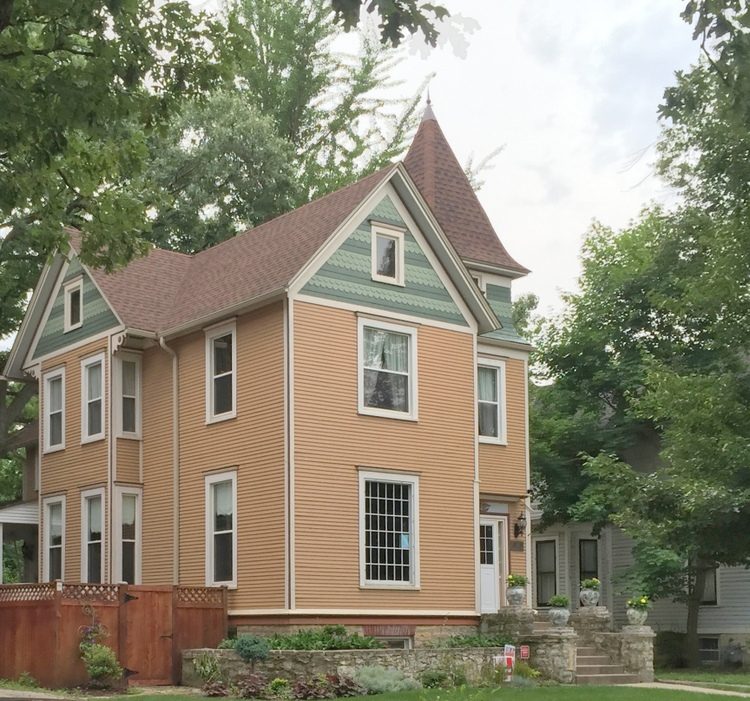 Sherwin-Williams:  body – Portrait Tone, trim – Alabaster, accents – Gallery Green, Majolica Green
This one was being remodeled, and I think the roofing and paint choices are fantastic.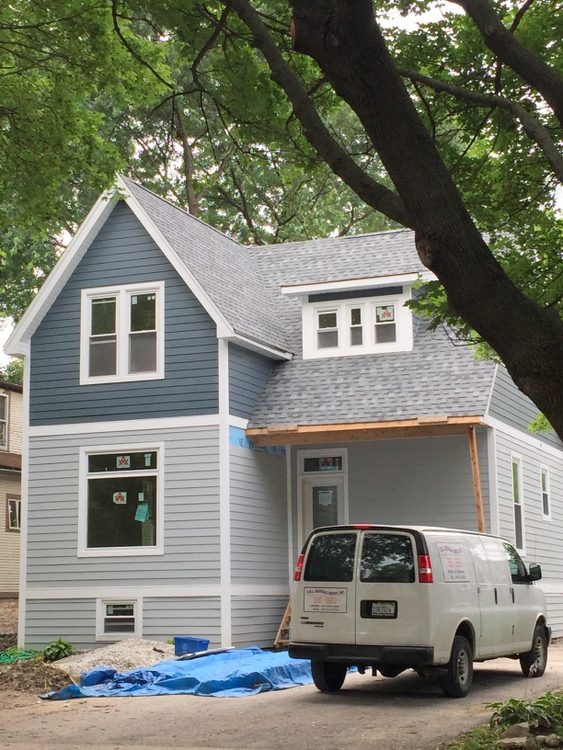 Benjamin Moore:  body – Boothbay Gray, trim – Chantilly Lace, accent – Philipsburg Blue
The red windows really make this historic paint colors palette special: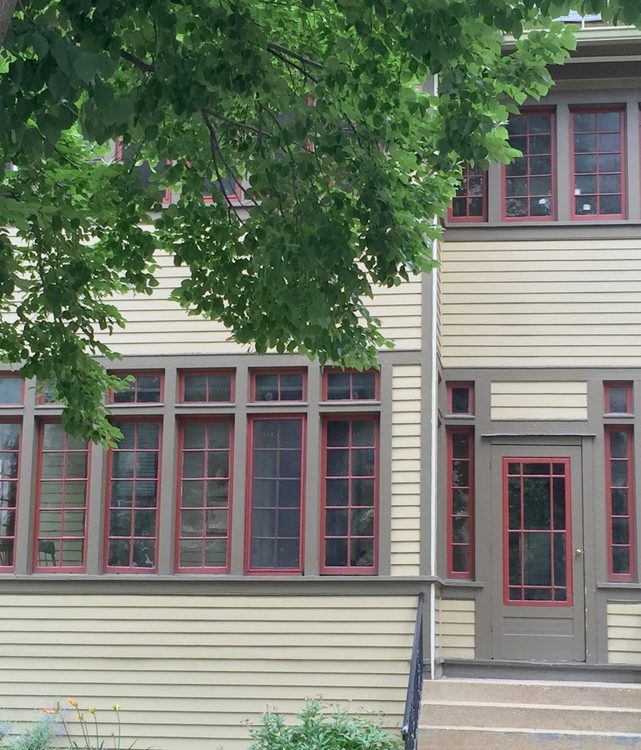 Benjamin Moore:  body – Danville Tan, trim – Fairview Taupe, windows – Cottage Red 
This red brick facade could have been paired with a plain tan trim, like most would expect. Instead, the dark brown trim takes things up a notch and looks totally appropriate. And do you love that green roof as much as I do???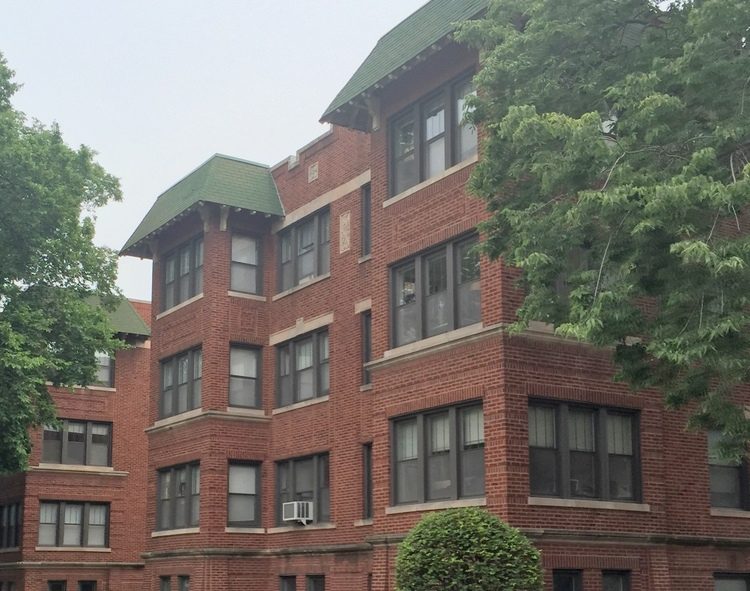 Benjamin Moore:  trim – Dragon's Breath
This brick building has beautiful green "eyeliner" that trims the windows: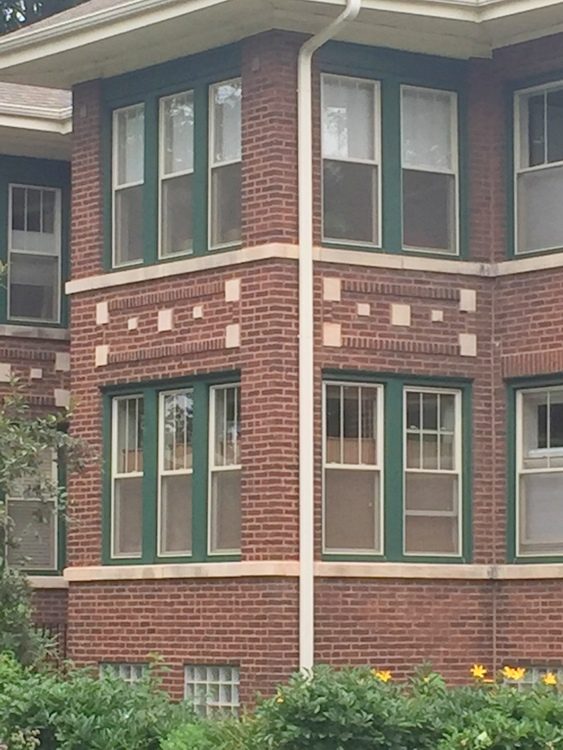 Benjamin Moore:  window trim – Lafayette Green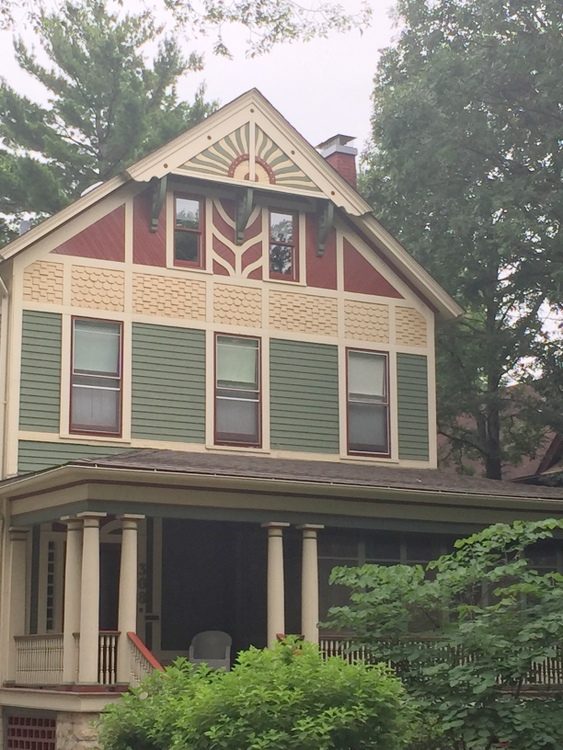 Benjamin Moore:  body – Peale Green, trim – Grant Beige, accent/windows – Country Redwood, accent – Adams Gold
All the examples I have shown you of Oak Park homes are really well done, but that is not often the case. If you drive around your neighborhood or town, you may find more bummers than stunners.  And then there are those who take the risk and fail miserably, like this unfortunate color combo: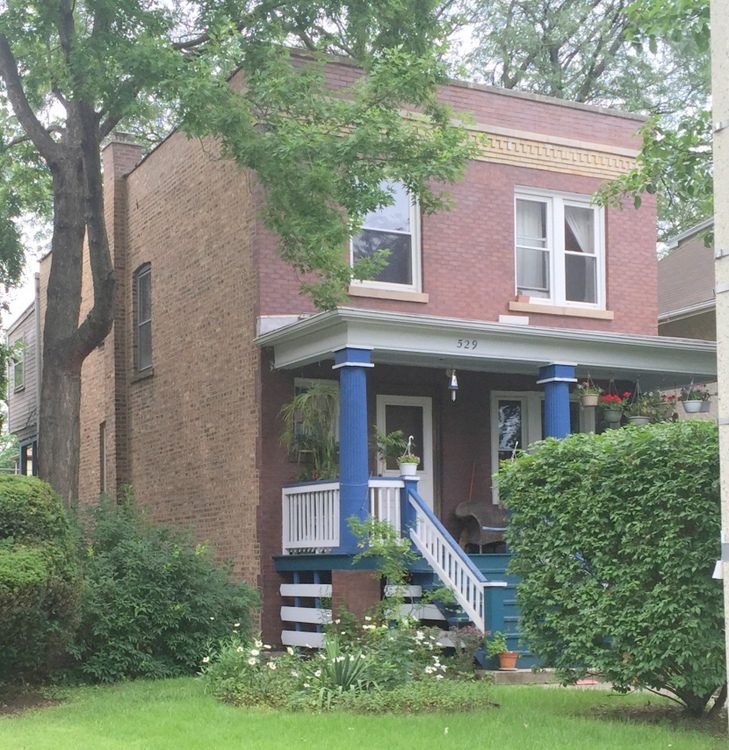 what the heck??
I hope this gave you some exterior inspiration for your new or historic home!