When working with my clients, pretty early on I ask the question: are you a red kinda girl, an orange/coral kinda girl, or a pink kinda girl? Many women have a strong attraction to one of those three, to the exclusion of the others.  If you are not really gifted with color and design, it is pretty difficult to mix two of these three with good effect! Most of us just pick a lane. If you are a red kinda girl, you tend to stick with red for accents throughout your home. The same is true if your choice is orange or pink.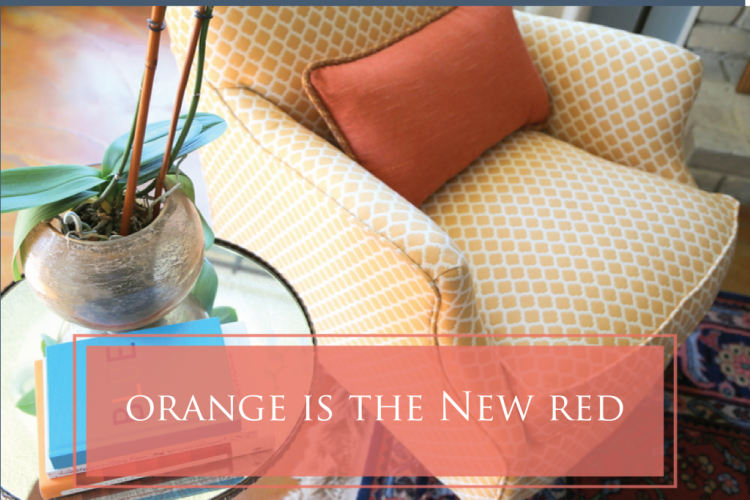 This client's bedroom didn't seem right for her. At all. She had already made some big design changes in other parts of her home, and it seemed obvious to me she was changing lanes from red and heading towards orange/coral. The first thing that needed to change in this room was this brick fireplace and the very heavy dark cherry surround and mantel. It's a walk-out basement, and these elements were doing nothing to lighten up the room.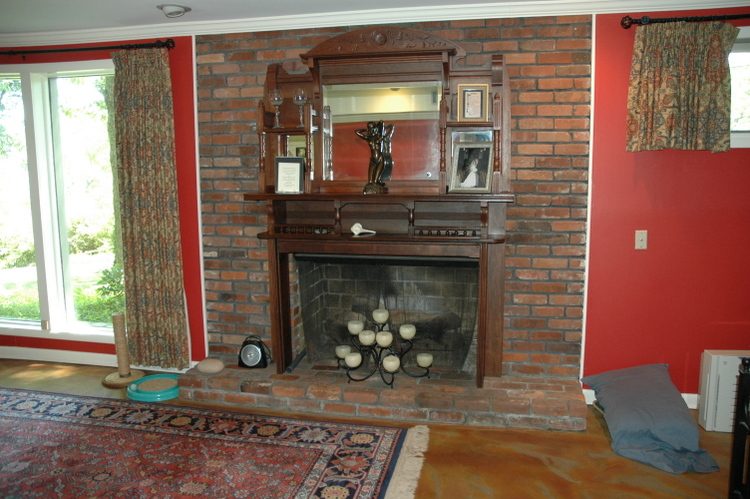 fireplace before
Red is not often a good wall color to pair with a red brick fireplace, and you can see how much more vivid the red wall color was compared to the brick and to the orange-stained concrete floor.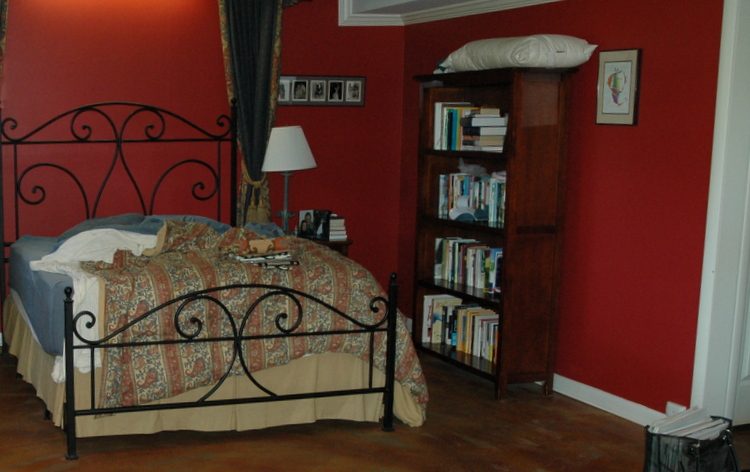 red bedroom before
Believe it or not, I knew that even with that difficult flooring material, this room could look amazing with the right changes. Some of the choices I helped her make included wall color, reworking the fireplace, specifying new chairs, arranging furniture, and hanging art. We decided on a medium blue as a backdrop for the orange and for the new bedding she chose. The shift from red to orange helped integrate the flooring into the color scheme. Wanna see the fireplace transformation first? It's pretty dramatic – it even made it into my book! Here's the before: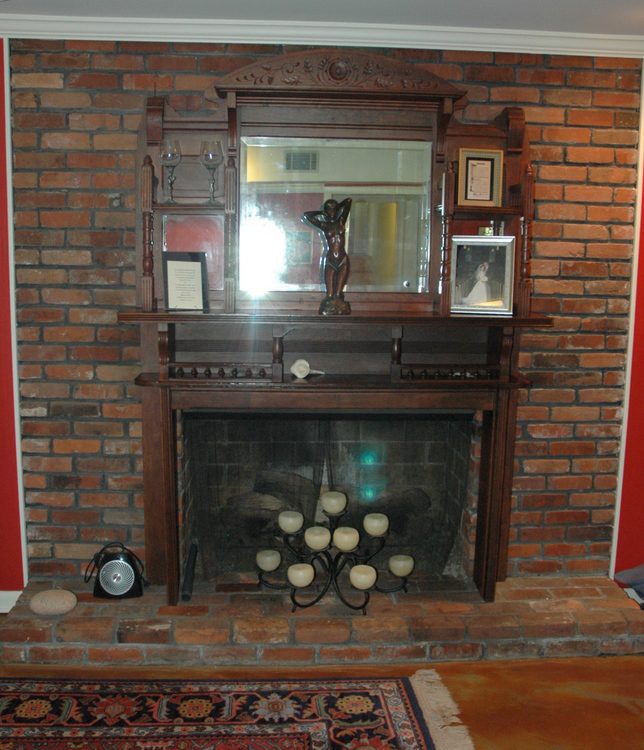 before – dark and dreary
and here's the much-improved after: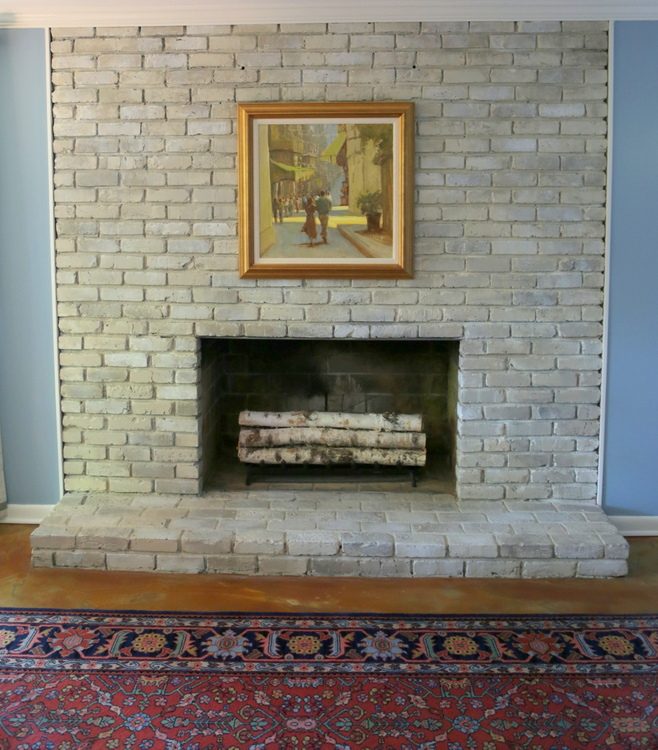 fresh and light faux-finished fireplace by artist Heather Thompson
We loved the lines of these chairs from Ballard Designs so much that we had them custom-covered in this beautiful golden fabric that works well with the new color scheme. Did you know you can do that? Ballard will cover their upholstered furniture in your own fabric, if you like!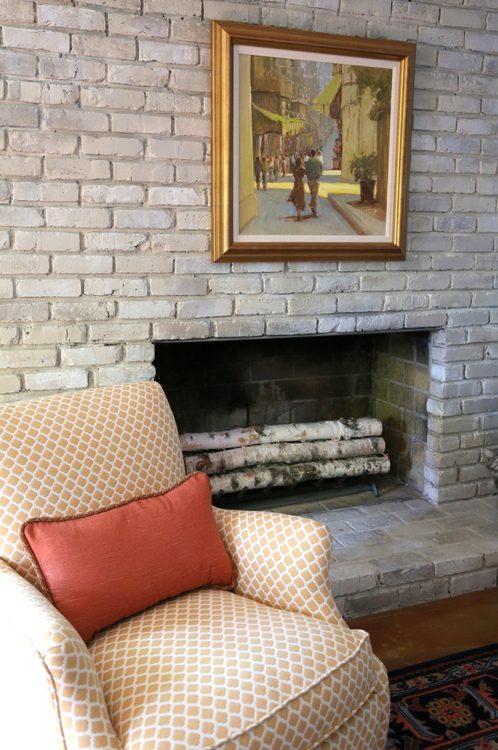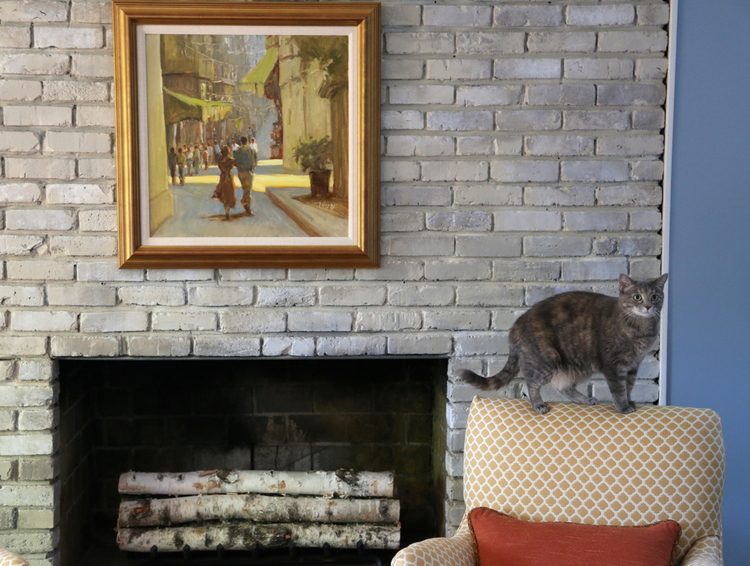 This Asian-inspired dresser is from a local store that carries unique vintage pieces, and the blue in the background really sets it off.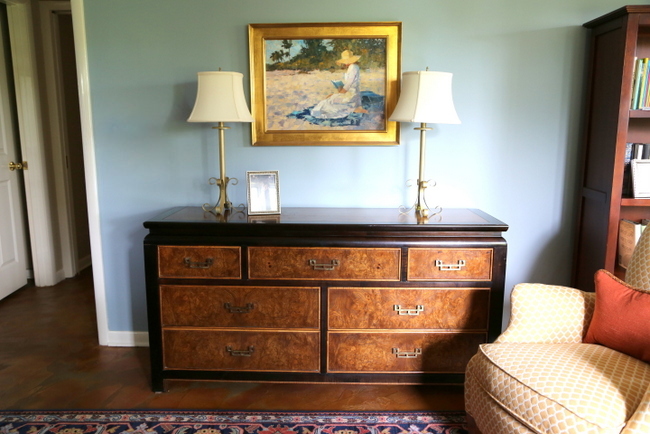 This sunburst light fixture is absolutely perfect for the new space, and hubby won't bump his head while passing beneath it.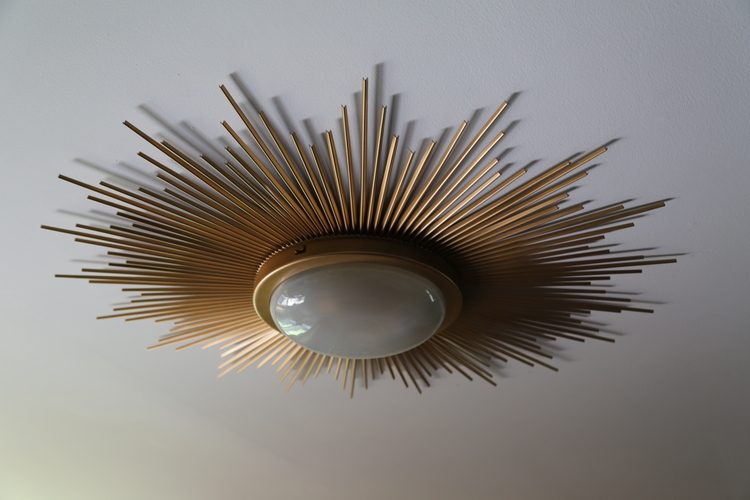 In regard to the artwork for the room, my client sent me photos and dimensions of the pieces she was considering and I gave her the thumbs up or the thumbs down. Here's the before of this side of the room: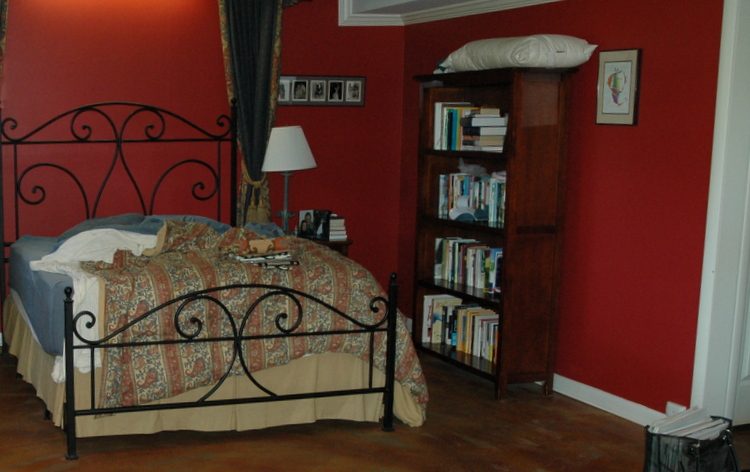 before
My client had purchased new bedding, side dressers, and a pair of fabulous lamps, but I helped her find the mirrors that hang behind the lamps and make final decisions about the art choices. She invited me back to hang the art and style the room. These orange panels really finished off the space, and are a beautiful sight to behold when she wakes up in the morning: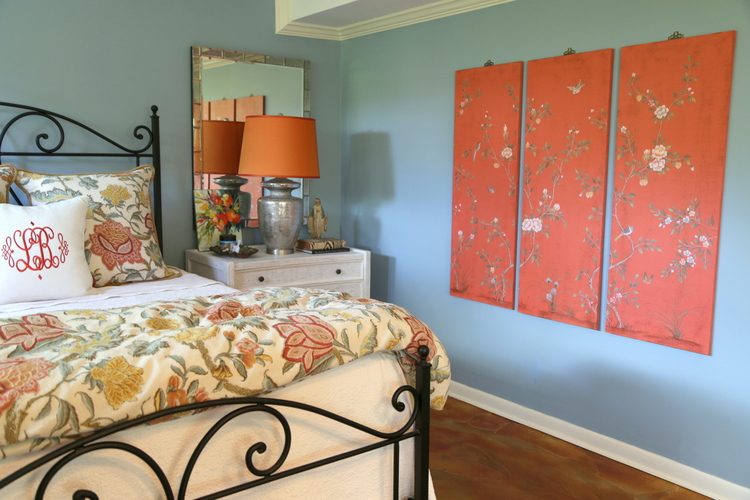 Even the orange-stained concrete floors look as though they were part of the scheme from the beginning!
Would you change from red to orange accents – or are you a red girl all the way?