I've finished up several master bedroom designs lately here in Nashville, and I'm excited to share this one with you today.  Excited because it's stinkin' beautiful, and excited because it illustrates six components of a beautiful bedroom design.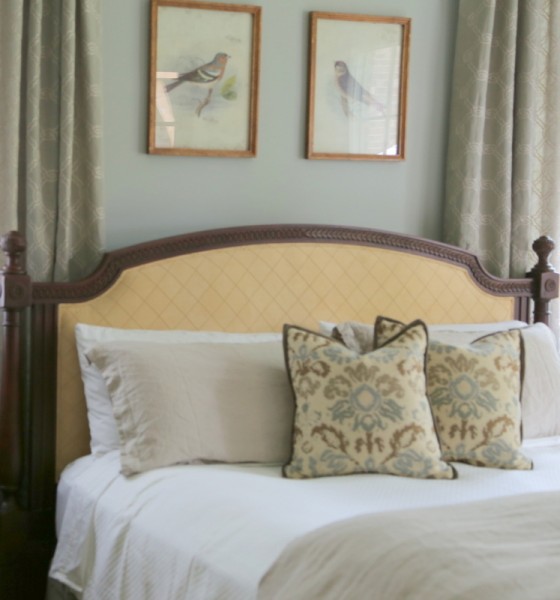 The Decorologist – Nashville Interior Design
First of all, it's important to note that no significant furnishings were purchased for this bedroom design. Several things were pulled from other rooms of the house – your own home is a great place to shop!  This is where we began: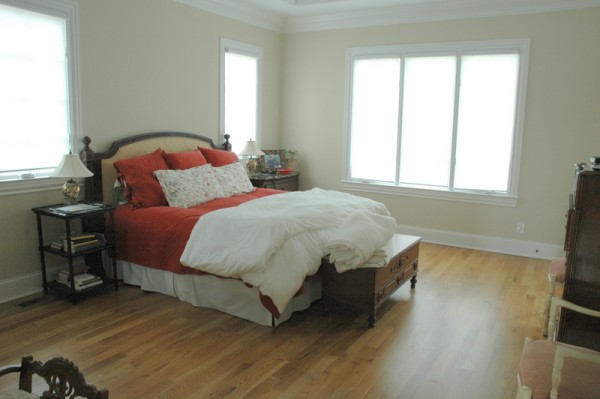 before
Below is the after of the completed room. I'm totally in love with it, and I'm pretty sure my client is, too!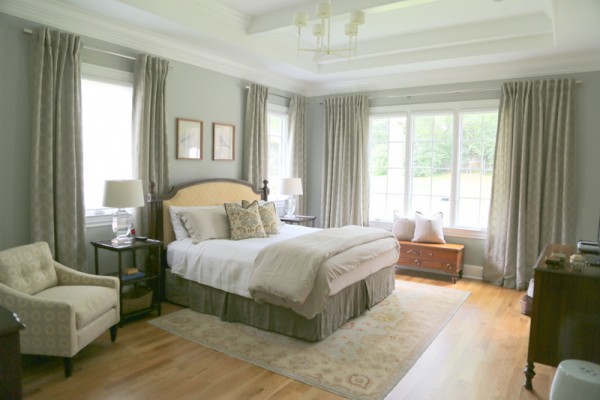 bedroom after
1.  The Right Paint Colors
The first thing we had to do in this space was to choose the right paint color for the room. Unless you start with amazing bedding, window treatments, or rug – which we did not – starting with the right paint color for you will insure that you LOVE your space (and not just because it "matches" your rug).
2. Symmetrical Furniture Placement
Every room needs a sense of balance – arranging your furniture and art in such a way that it compliments the architecture, rather than competes with it, can make your space feel "just right."
3. Beautiful Bedding
Beautiful bedding does not have to be custom!  Why not mix a few different sets of bedding to create a custom look?
4. Great Window Treatments
Again, you don't have to go custom – but you have to know where to shop for ready-mades that look custom.  I knew where to go, and that 's why these window treatments look so fabulous!
5.  Cozy Place to Sit and Read
By moving a comfortable chair from another room into her bedroom, now there's a reason to hang out in the room during the day.
6.  Spectacular Lighting
I can't take credit for the hanging light fixture because it was already here – but is it fabulous, or what?  Sooo much better than a ceiling fan!
Ok, here are a few more before-and-afters: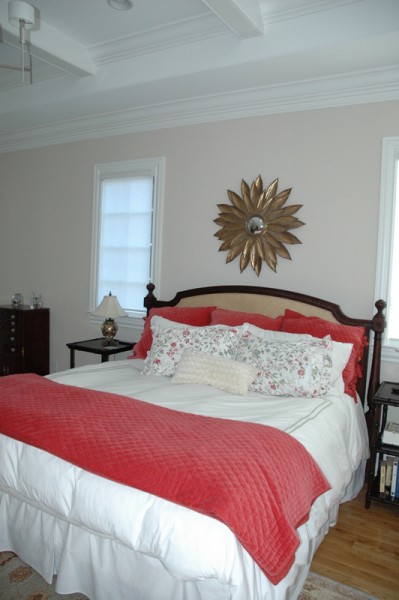 before 
We moved a rug from another room in my client's home.  The curtain rods are West Elm.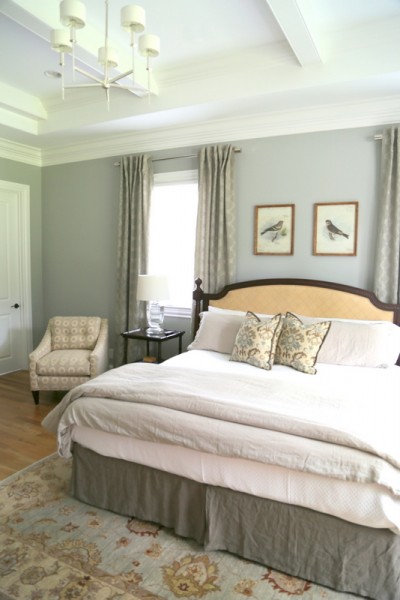 after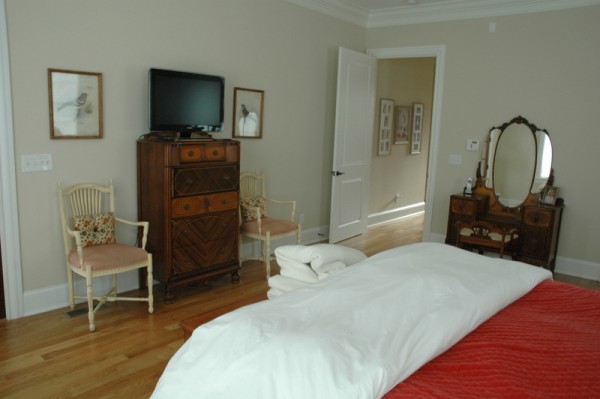 before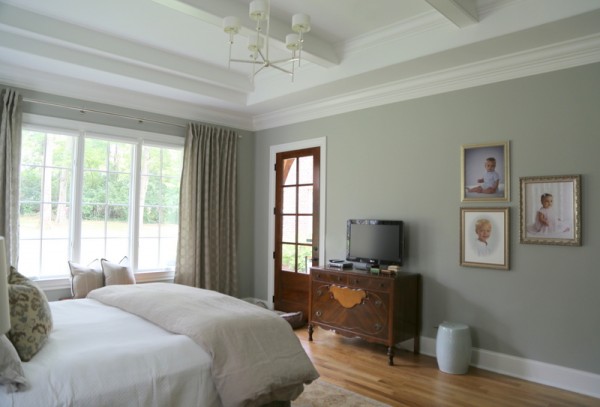 after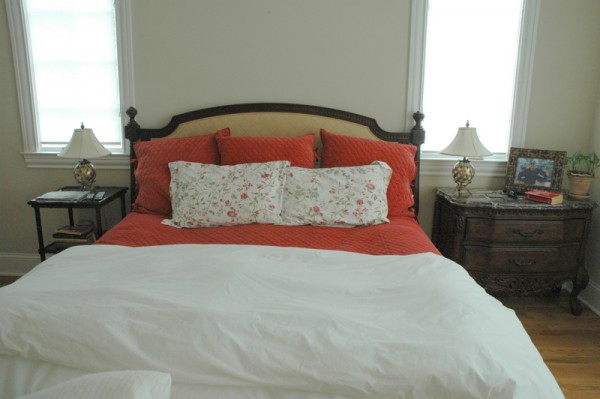 before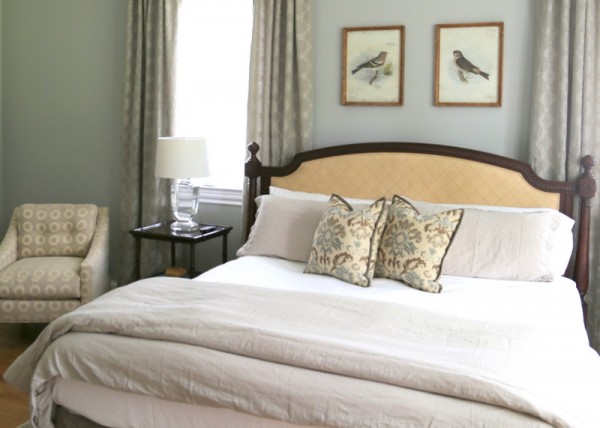 The lamps are new – we found the perfect pair from HomeGoods!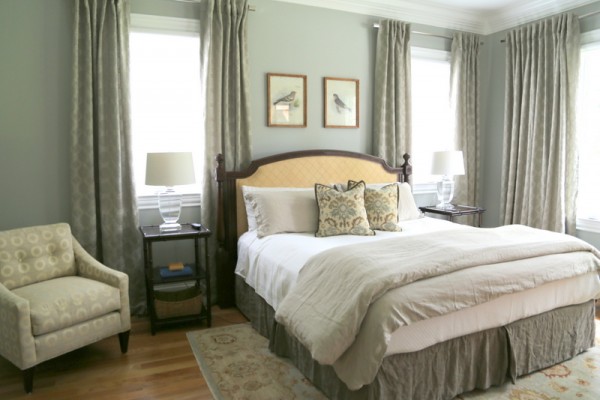 after 
What's your favorite component in this bedroom makeover?  
Ok, so here's something new:  because I am inundated with requests for specific paint colors by blog readers, we have decided to offer my readers access to paint colors I specify for before-and-afters featured on the blog for a small fee of $25.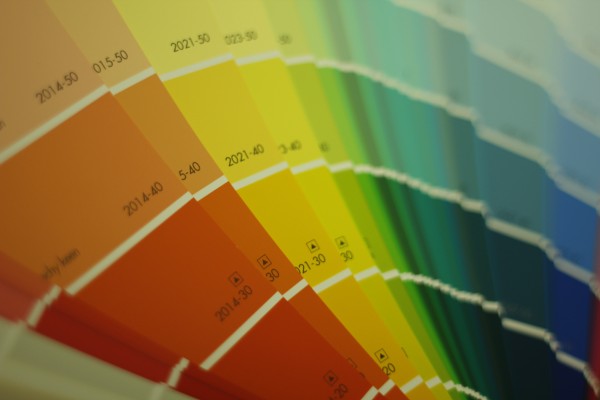 For that price, you can purchase the paint color name, brand, and finish you see featured in a given blogpost, along with the complimenting trim color.  Just contact my assistant ([email protected]) and let her know what paint colors you are wanting to know and she'll take care of you!
Remember the holiday preview event at the Southern Living Idea House I attended a couple of weeks ago?  The Tennessean picked up my story, and it was featured in the Style section of the Saturday paper – here's the online version of the article (the print version featured multiple photographs that I took that night).  Please "like" it or "share" if you check it out.