I've had a home office for years, but I never got around to repainting it since it was the girls' nursery. Not that it looked babyish, but the walls were off-white and uninspiring for a creative space where I spend a lot of time. There have been three renditions of my office, which you may have seen over the years, but none of them worked in the long run. I am not comfortable or inspired editing photos, blogging, writing articles, researching online, or doing online consultations for hours on end from behind a desk in an upright chair. And I also pile lots of things on my desk and then it's hard to have space to work anyway.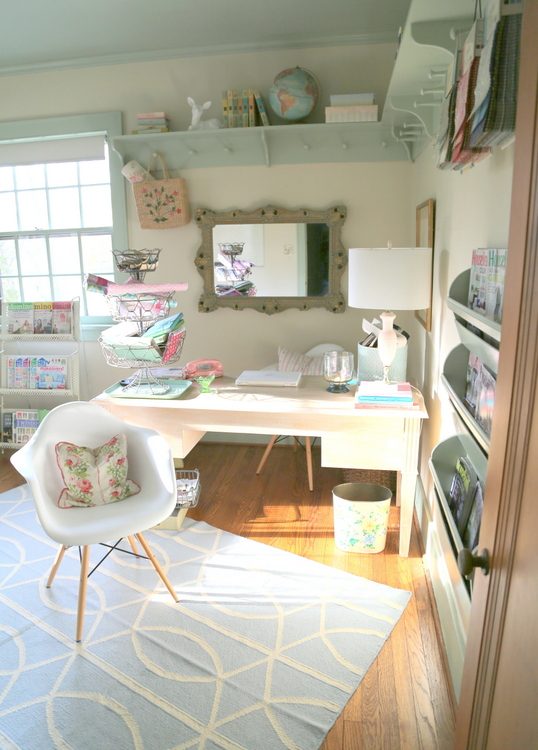 my office in April 2014
So what always happens is: I get my home office pretty and organized, but then I end up working in other rooms of the house – either on a couch with my feet up on a coffee table, or (I'm embarrassed to say it out loud!) sitting up in my bed with a pile of pillows behind me. And I feel guilty! I should be sitting at a desk, right?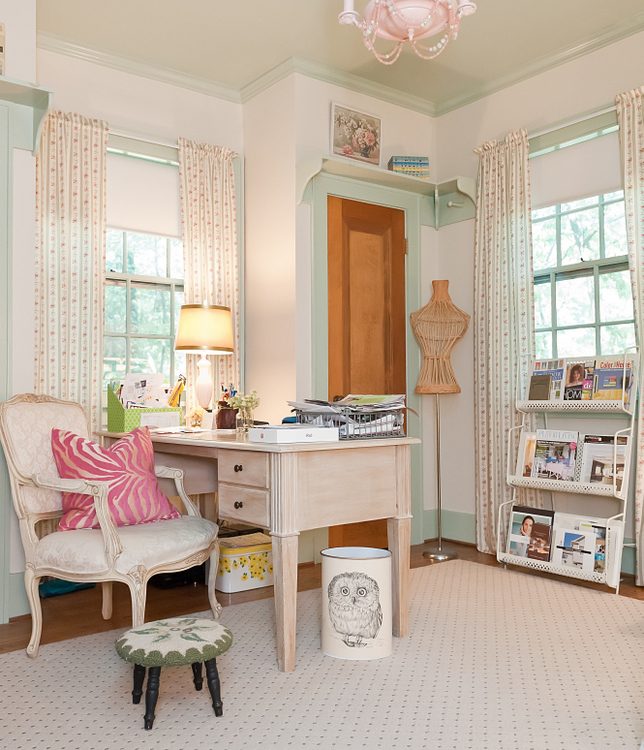 my office in Aug 2012, photo by Melanie G Photography
I finally realized that I had been trying to force the typical home office set-up on myself,  but I still need my own separate space that DOES work for me. So here's my solution (and it's NOT a stand-up desk, I would hate that worse than regular chair sitting). A chaise lounge, where I can sit with my legs up and my computer on my lap, with several tabletops nearby to easily access things I am working on.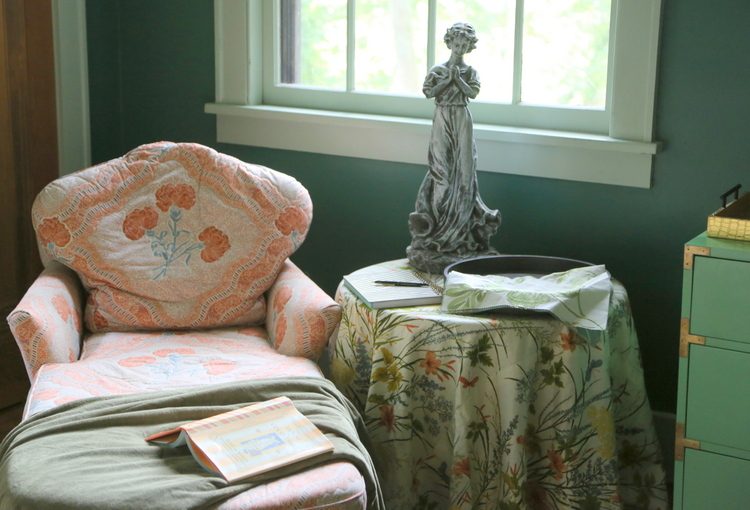 The word salon first appeared in France in 1664 (from the Italian word salone, itself from sala, the large reception hall of Italian mansions). Before the end of the 17th century, these gatherings were frequently held in the bedroom (treated as a more private form of drawing room): a lady, reclining on her bed, would receive close friends who would sit on chairs or stools drawn around. Hmmm . . .
A couple of weeks ago, I started following a really cute chaise lounge on Everything But the House (EBTH) that had exactly the color I was looking for. It did have some staining and wear, but my heart wanted it! I scored the chaise for . . . wait for it . . .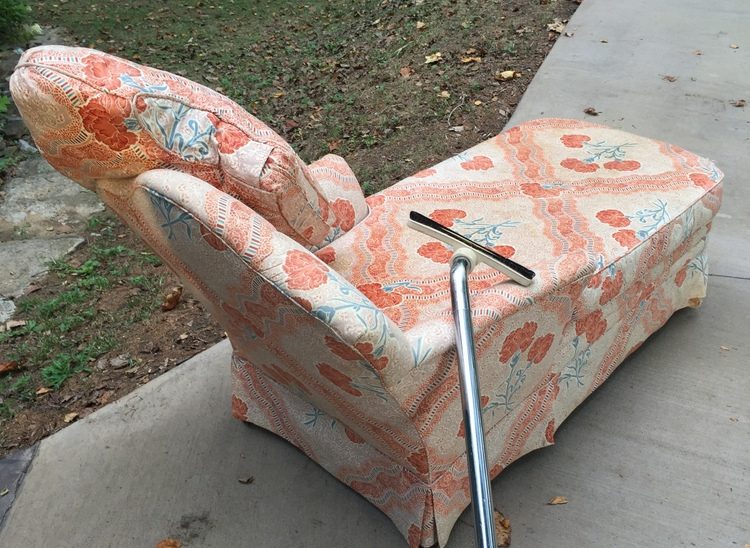 $33!!! Yep, you heard me right.
Now, I know what you are thinking. It looks a little dingy. Well, you are right, but I thought it might be worth the risk if I could clean it up. Remember my secret for cleaning secondhand upholstery? It worked like a dream on this piece, and now the staining is completely gone.
Ok, so here's the office pretty much emptied out before painting. Bye-bye light and sweet: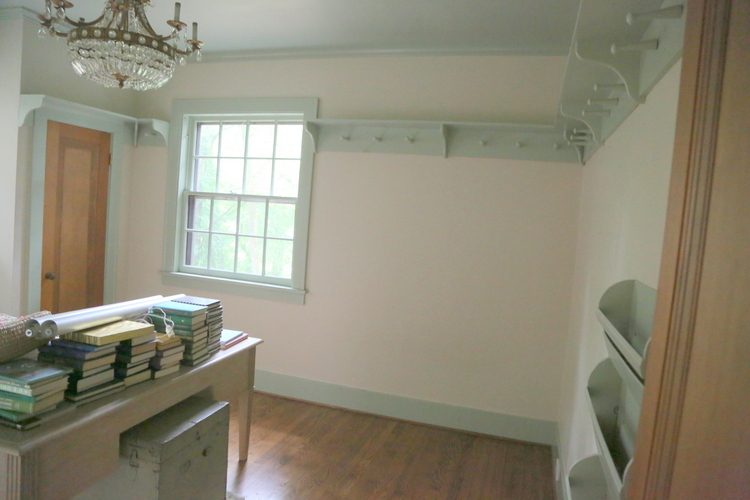 I've been wanting to paint it the same color as the upstairs bathroom we renovated in the winter, Benjamin Moore Steamed Spinach 643. I wanted it to be rich, cozy, and soothing. Like a private drawing room or European ladies' salon. And here she is!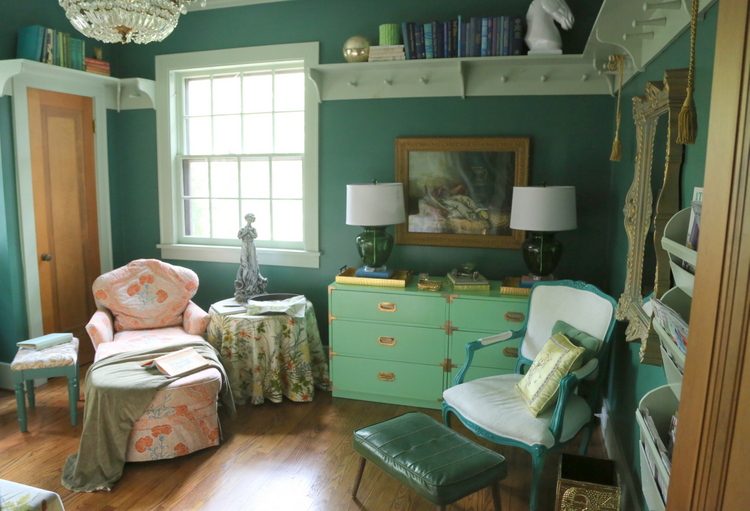 So there's my new chaise, with a nice round table to one side and a little bench on the other (I painted the legs of it the same color as the walls). The gorgeous mint green chest is actually a pair of campaign dressers that I bought at the Country Living Fair earlier this year. I bought them from Cari Cusksey, of HGTV's Cash & Cari. They are vintage pieces painted out Hint of Mint in her signature Chroma-Color Paint. They provide great storage for paint fan decks, fabric samples, and all the tools of my trade.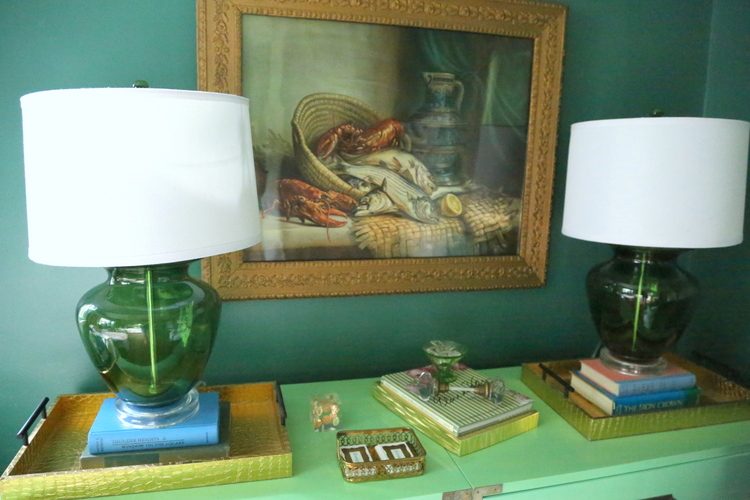 I found the art above the chests at an estate sale down the road at a 1940s home where I used to stop and let my kids see the cows that grazed in the side yard. I think it's gorgeously strange. This book is a biography of legendary actress-turned-decorator, Elsie deWolfe by Nina Campbell.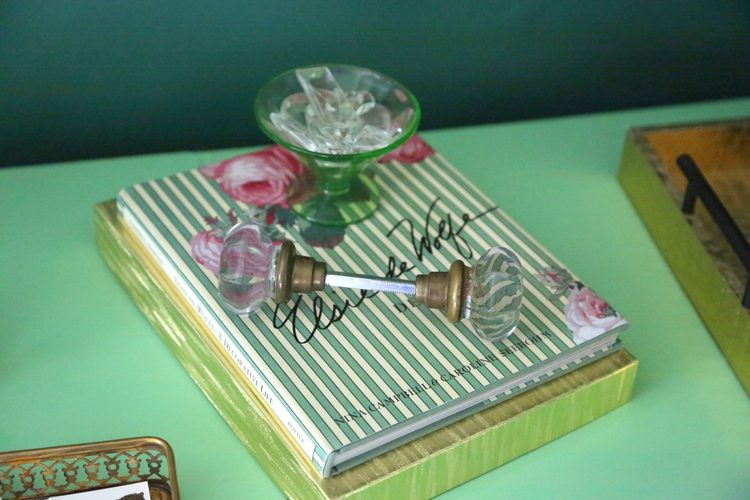 I topped my desk with a tablecloth that I found last month at another estate sale and hung a trio of art that I love. I decided not to fight the inevitable and just piled it with the stuff I need easy access to. I'm sure the pegs and shelves above will get filled in with things soon enough.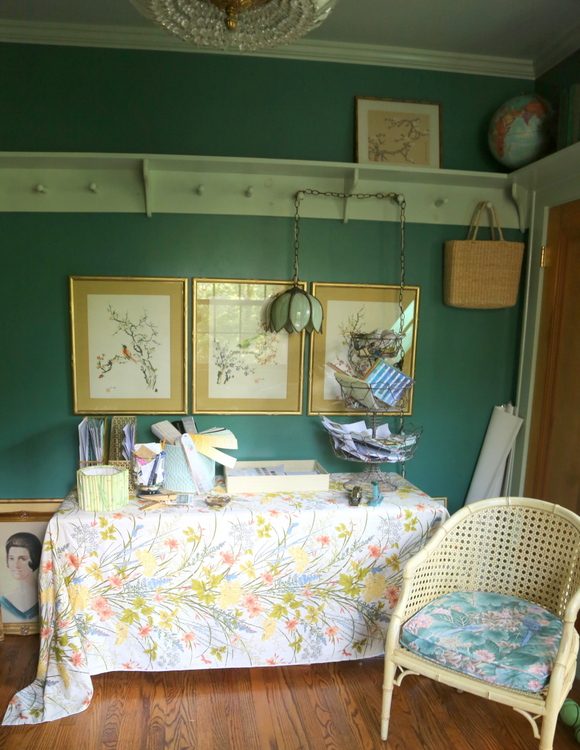 Pushed against the wall, it's like a console now – plus I can shove other less-pretty necessities underneath so that everything isn't so chaotic-looking.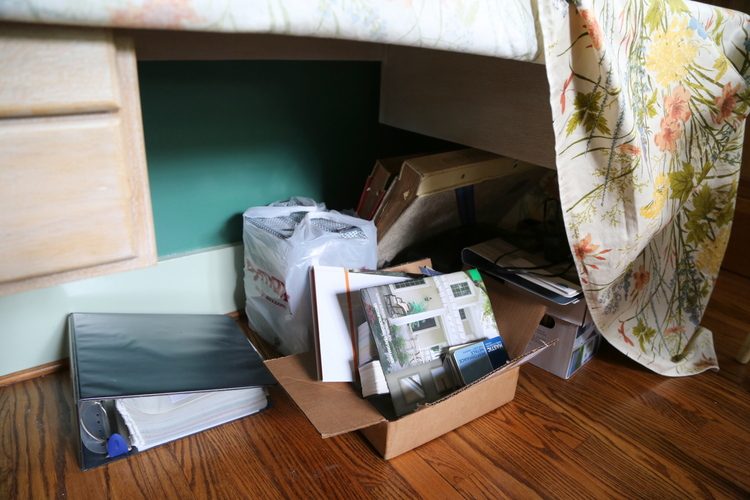 I added a couple of chairs so that Allison and I can work through scheduling and other things. And I can receive Mr. Man and the children as I recline on my chaise lounge . . .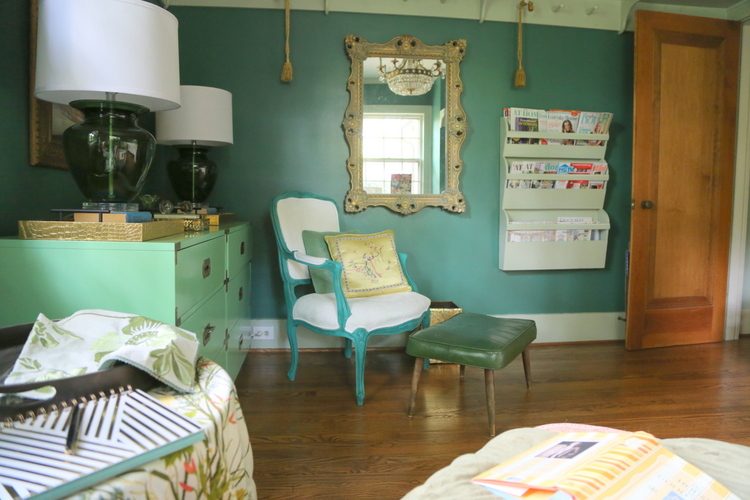 There's lots of gold and brass in here, and I think it is a perfect complement to the rich wall color. I obviously need a photo for that pretty photo frame! The green trunk beneath used to live in the attic of the house where I grew up, and is where my sisters and I stored our out-of-season clothes.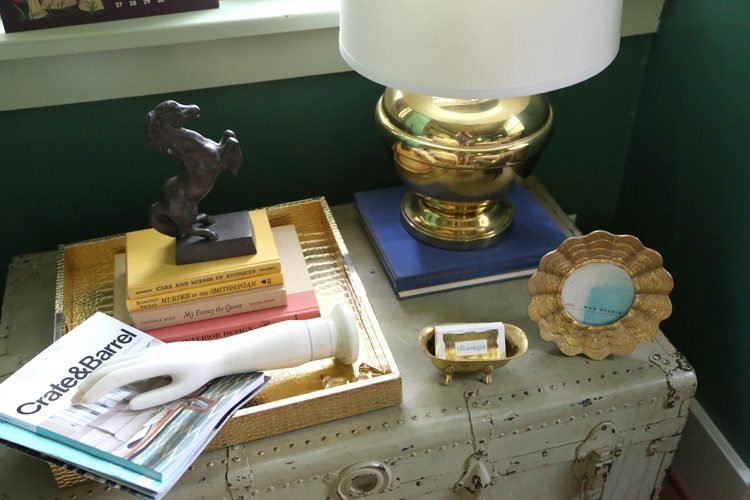 Over the years it has served as a coffee table, side table, and storage, and I've never had the heart to repaint it. The faded green works perfectly here, so I'm glad I didn't.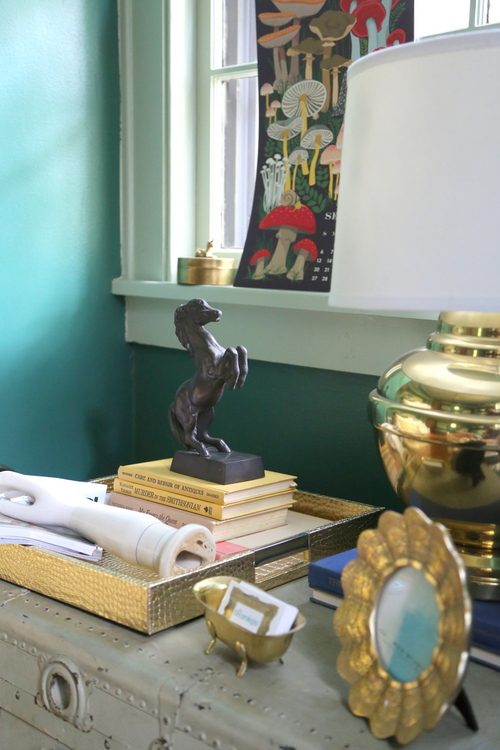 Notice my business card holder? It's a brass soap dish I found from an estate sale (no surprise).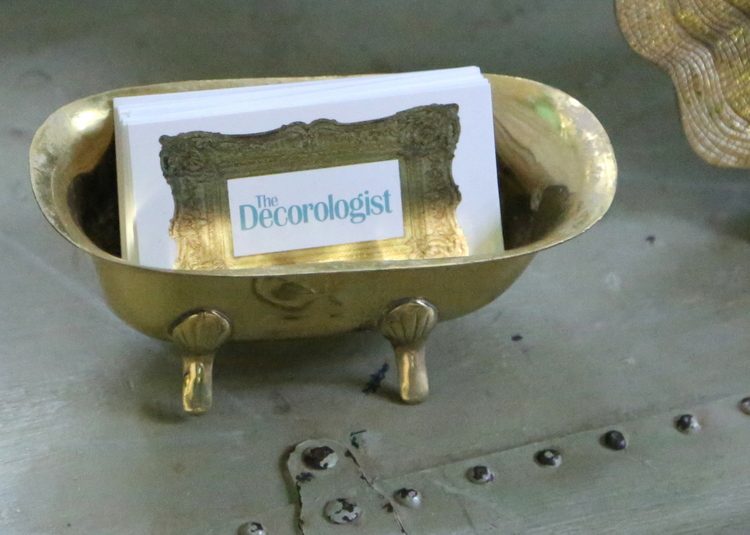 No more desk, just a relaxing (but supportive) place to write and research on a lovely chaise from EBTH. The green lamps are from HomeGoods, as are the gold trays beneath them. They used to be in my living room.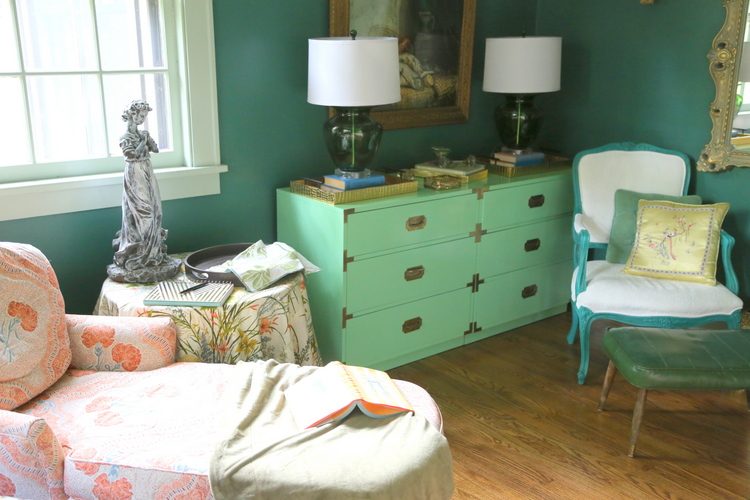 I think I'm going to do curtains in this fabric – what do you think?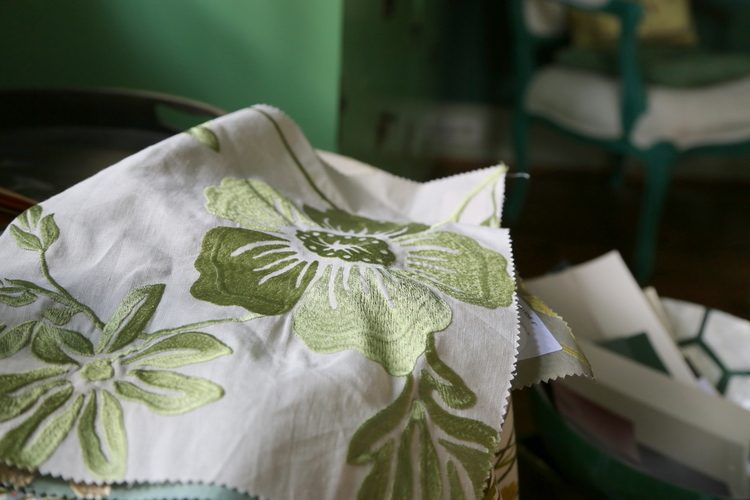 As proof of the success of my new office/salon, I've been working productively all afternoon on this blogpost. It's getting dark outside, but the room positively glows in the lamp light. So this is how I office now – I think it suits me perfectly!
Thank you to EBTH for helping me find the perfect and most important piece for my new home office design and for sponsoring this before-and-after reveal!