Yahoo!!! A ten-page story with photos of MY HOME is currently on newsstands across the country!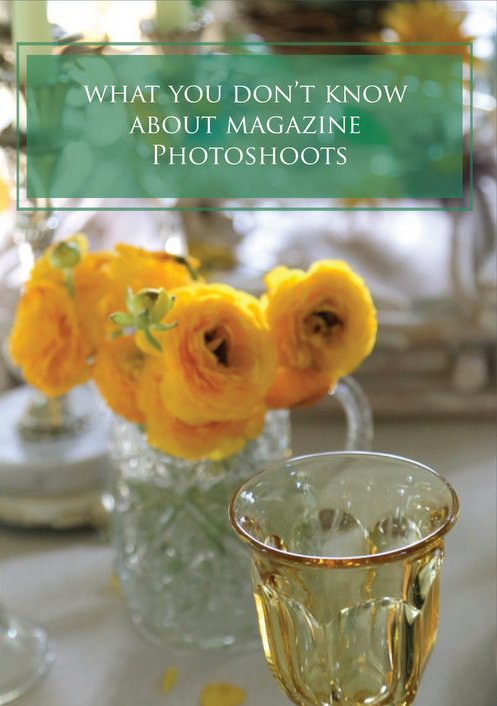 My work is actually in two shelter magazines right now – Southern Living and Decorating Shortcuts. The same thing happened earlier this year, as well!  I thought good things came in threes? Anyway, this is the first time it involved both my own home and an outside photographer.
A pair of freelance photographers contacted me in the beginning of 2014 after seeing shots of my house online. After I gave consent, they pitched the photos I had taken to a publisher with whom they often work. Then they contacted me again, about six weeks later, and said they had approval to schedule a photoshoot. Because of rainy weather and overcast skies, the one day shoot ended up stretching out over three days. I pretty much had to farm out my husband and kids for the entire time so they wouldn't mess up anything.  They ended up not even photographing the upstairs – if I had known I would have banished the family to there. The publisher who hired the photographers puts out several shelter magazines, so the photographers were unable to tell me which magazine the spread would even show up in.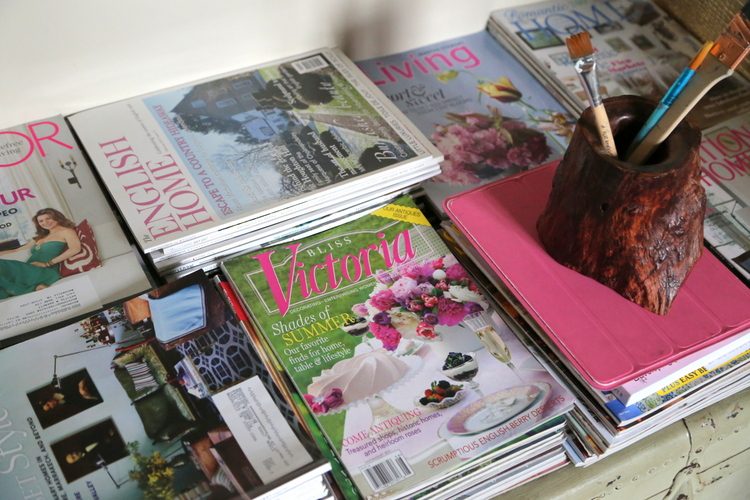 The photoshoot of my home took place in March of 2014. Yep, that long ago. It took well over a year before I got an email from the story writer to schedule a phone interview with me (a few months ago), and I still had no idea when the magazine would actually run.
And, no one contacted me when it did. They don't send you a copy or anything. You gotta figure this out on your own.
This is something I learned from having work featured in Romantic Homes, Everyday Home, and Nashville Lifestyles – At Home. You only know it's in print when you leaf through the magazine at the grocery store yourself, or like in the case of Romantic Homes, somebody leaves you a Facebook comment about seeing the article mentioning you in a magazine!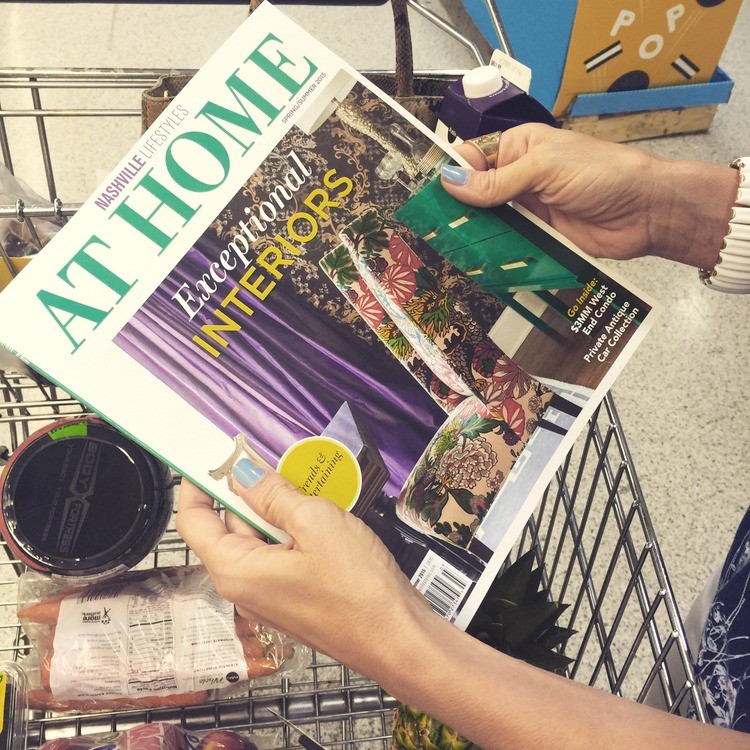 that day I saw the interview on me in the aisle at Publix
So, I was actually going to pick up the Southern Living I had a project in – again, the only way I would have known about that is because someone else involved in the project completed three years ago mentioned that it might be included in an article featuring the community around it. Wearing the camo shorts and Batman t-shirt I had been wearing for the last two days (don't ask), I ran into my local Walgreens to pick up Southern Living, when I saw that the latest Decorating Shortcuts magazine was out. I rifled through it quickly, and IT WAS THE ONE I had been waiting for! A ten-page article and photos of my home.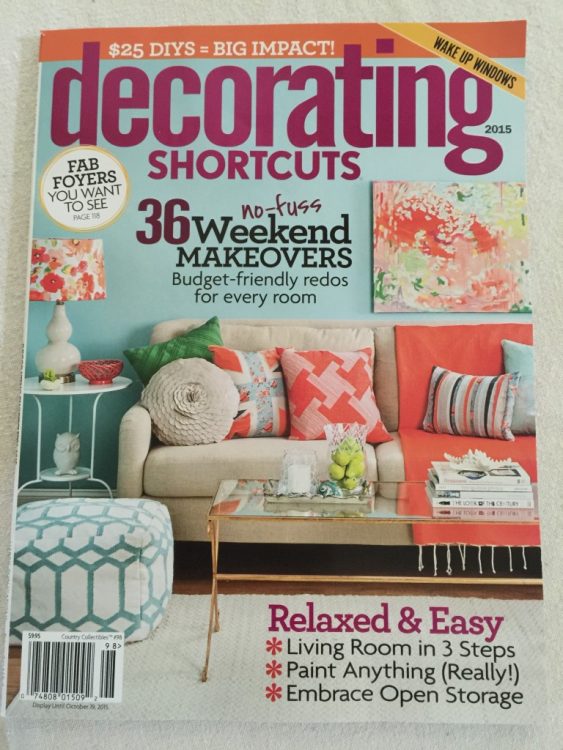 I grabbed a stack of each of the magazines, did a little "whoop-whoop!" and took them to the checkout. The teenage boy at the register asked me why I was getting so many of the same magazines, so of course I had to show him all the photos of my house inside. He said, "How did that even happen?" I didn't even know how to answer that . . .
So many things surprised me about the reality of a magazine photoshoot. I had this great idea in my head that I would do a blogpost about the shoot – the process, the photographers, the styling – but it took about 30 seconds for the photographers to shut that down. They were definitively opposed to having their photos taken, or for photos to be taken on their process. You can imagine how that burst my bubble . . .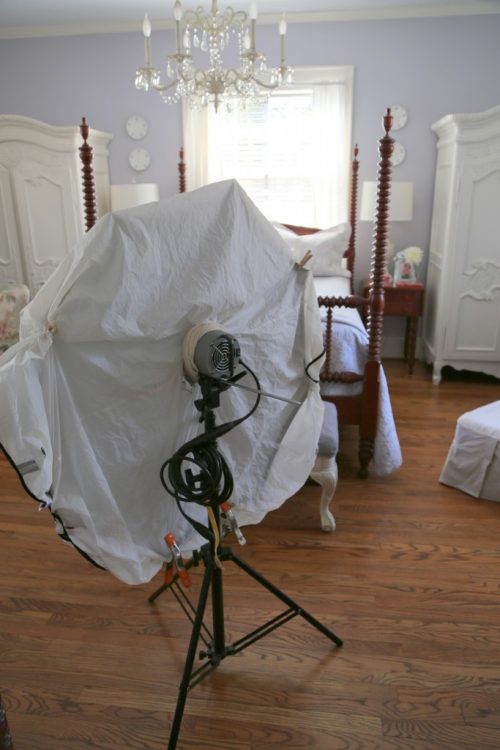 the only photo I was allowed to take while the photographers were onsite
I had in my mind that they would do as I do – take a million shots from different angles of each room and then figure out later which ones they would use in the magazine. Ohhhh, no. That is NOT how it works.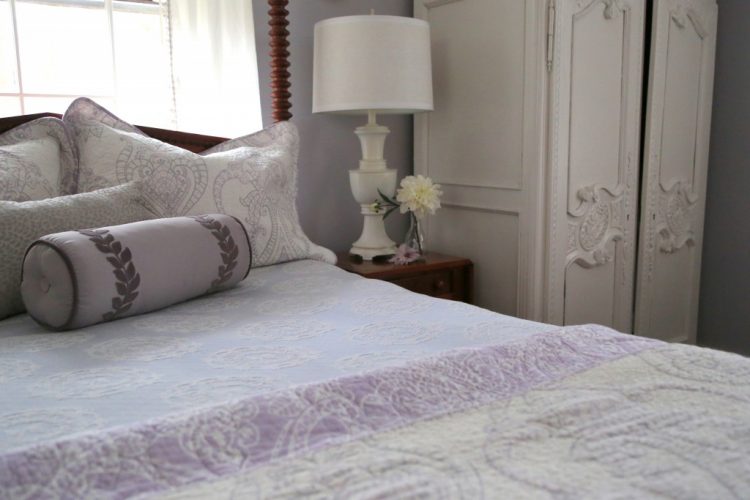 When they came to the house, they had already determined exactly which shots in which rooms they would be taken, all based on the preview shots I sent them. So instead of taking fifty shots in my living room, they were interested in three, and instead of fifty shots in my dining room, they had one specific shot they were looking for.
For this shot of my dining room, they set up their lighting and a computer on a small table. They took a series of photos, all from the one angle they had already determined (with the publisher), then looked at them on their computer, reworked the lighting, took more shots, adjusted on the computer again, and on like that. All from one spot, and it took well over an hour to get the one photo they were looking for.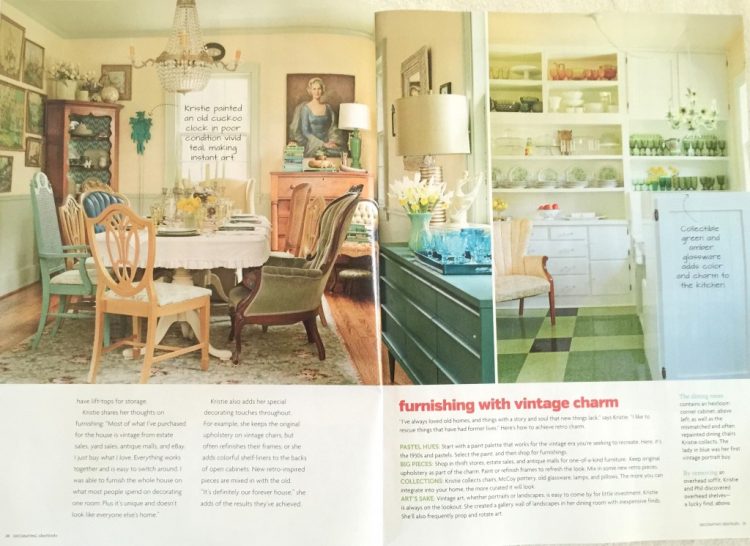 Decorating Shortcuts magazine, photography by Gridley + Graves
The kitchen took them longer, because they did quite a bit of photostyling. They used mostly my own things, but brought in flowers which were featured in every single shot. You'll notice at least one floral or plant in pretty much every interior photo you ever see in a design magazine, and they are typically put there by the photographer or photostylist.
I actually worked two days on pairing down all the chaotic color in my kitchen shelving, and they ended up adding some of that back in (in ways that I wouldn't have). This was how it was when they arrived: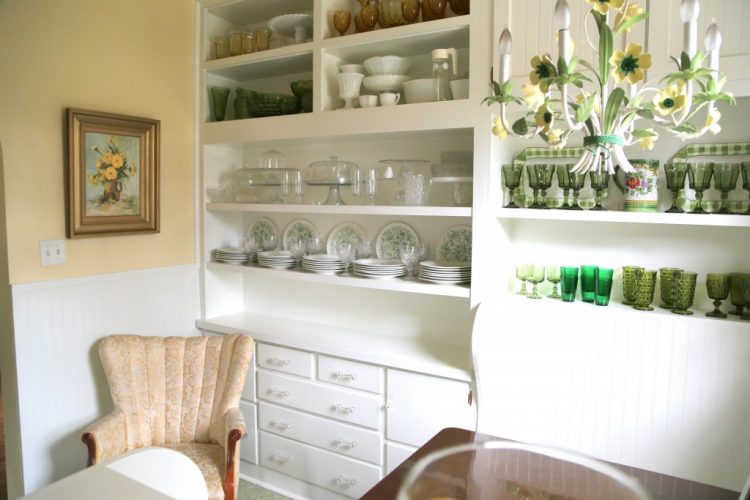 They purposely took shots with dead space – where captions and print could be added later. For my blog, I typically take whole room shots or else I crop them tight to eliminate deadspace. I took lots of photos the day before the shoot began – then after looking at the results, I tweaked even more where I saw things lacking. This is how I had the pillows first on my sunroom sofa: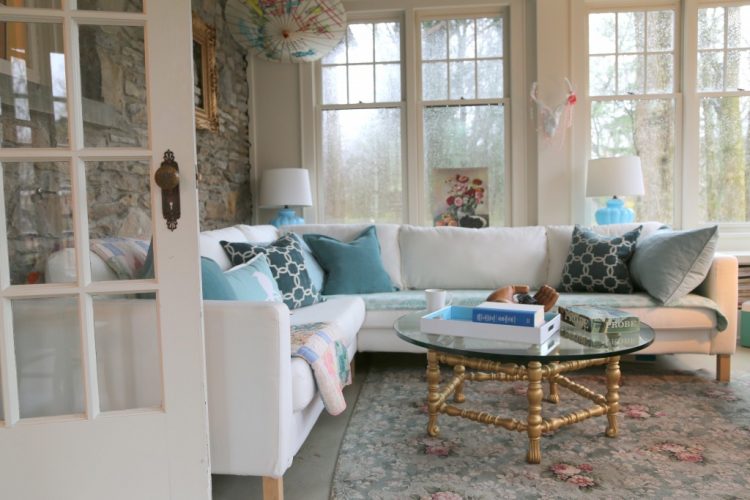 I didn't like how it looked so I changed things up a bit and took more shots. Here's a wide shot I took of my sunroom prior to their arrival: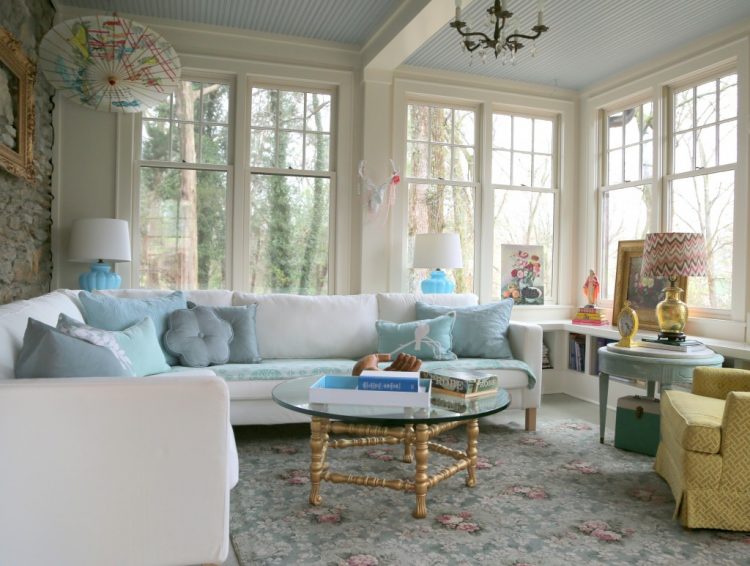 And this is how the final magazine shot came out. It's tighter in and more interesting than the shots I took. See how they stuck in red coke cans in two places? I guess that was to repeat some of the pink/red in the florals.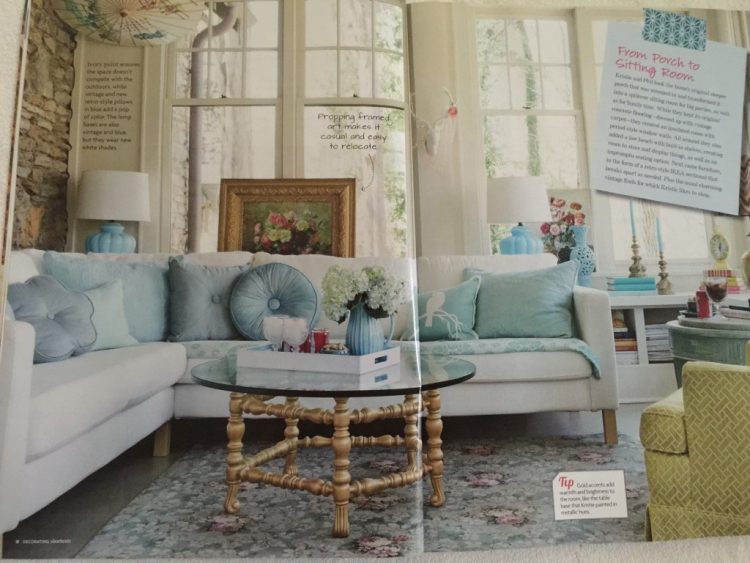 photography by Gridley + Graves
Magazine photographers already have a plan and they are thinking ahead – thinking of things like where to put the title of the article or specific copy on the photo. Things that never would occur to me if I were submitting a photo to a magazine.
The main difference between my photography and theirs is the LIGHTING they brought in. I don't use a flash at all, so the natural lighting has to be ideal when I am photographing a room. My living room is the most difficult space in my house to take photos – it doesn't have windows or natural light itself, but instead gets light from the entry picture window and beyond it from the glass-filled sunroom. It's often dark, or else light is streaming in from the front or back – which makes good photography difficult for a blogger with limited photography skills like me! This is the shot that I took of the living room the day before the shoot: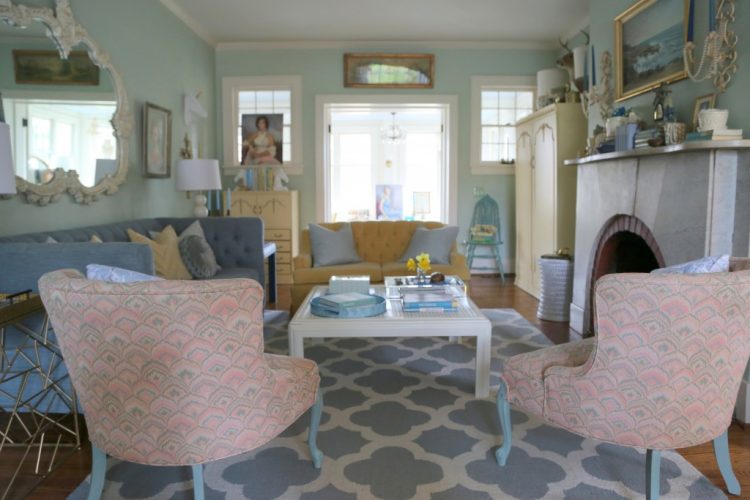 It's difficult for an amateur like me to get clear focus on the objects in the front AND back of the photo, but in the magazine everything is as crisp as can be. And you should remember that this is my picture of the picture in the spread, which is much prettier in the magazine than in my picture of the magazine: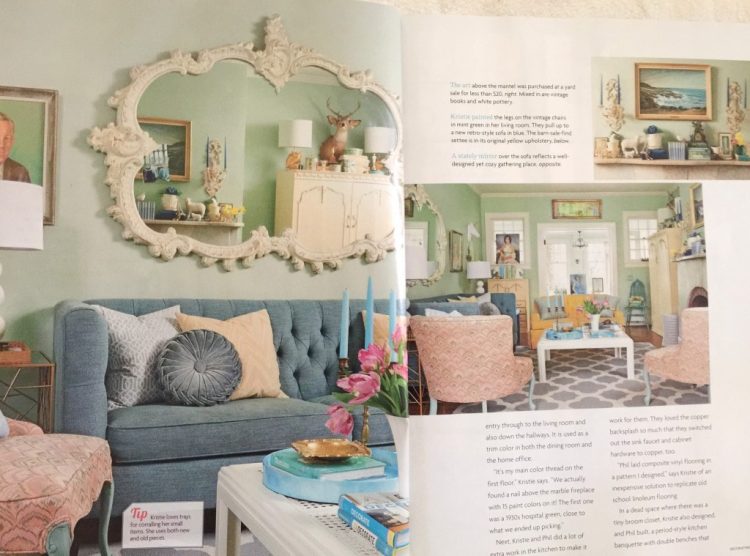 Decorating Shortcuts magazine
And here's one more thing:  you have no control over the given slant of the story they want to tell. The photographers made it clear that they would NOT be photographing me, because the story wasn't going to be about me – it was going to be about the house. In the interview with the writer, the focus was definitely on me and my husband restoring an old house and what work we did ourselves. Although my name and the fact that I'm a blogger and decorator was mentioned, my business name was not included nor was the name of my website. This wasn't about my business, or even about me. It was about the house.
I really think the whole thing turned out beautiful – the photography, the layout, and the story. I hope you'll try to pick up a copy if you see it in your grocery or drugstore (or at least leaf through the pages)!