While working on a renovation of her master bedroom and decorating several of the other rooms of her home, my client began talking about updating her messy home office.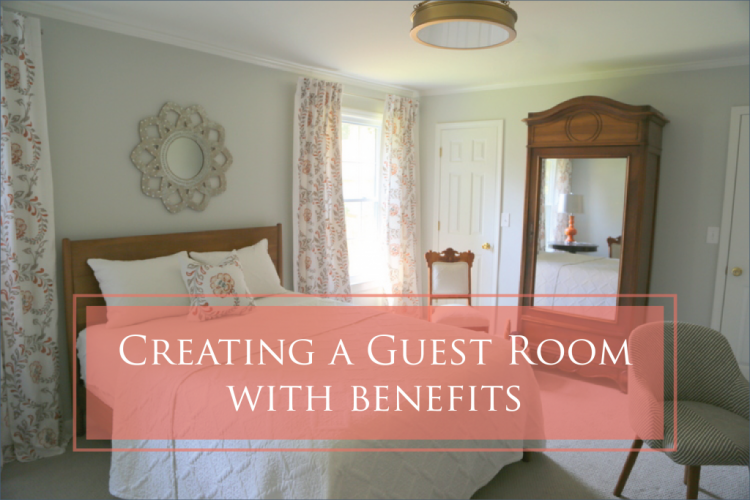 She even hired professional organizers to get the messy stuff in order. It turns out, they were able to consolidate all the necessary office supplies and paperwork into the room's two closets, leaving little need for more than a desk for my client's laptop. That's when she decided she'd rather have a nice guest room with a smaller scale desk that she would enjoy working in and using it as a flex space for hosting guests.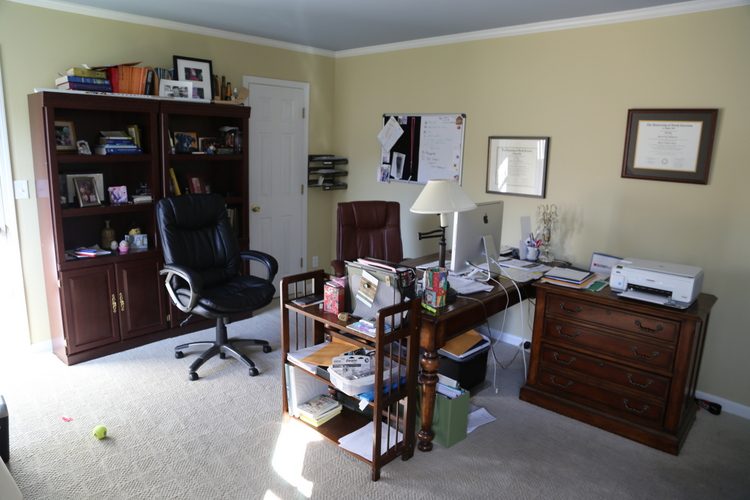 before
She got rid of her existing office furniture, and we basically started from scratch!  We decided on fabrics and wall color for the room first. I suggested this gorgeous quilted coverlet in white and these lovely patterned curtains to brighten up the room.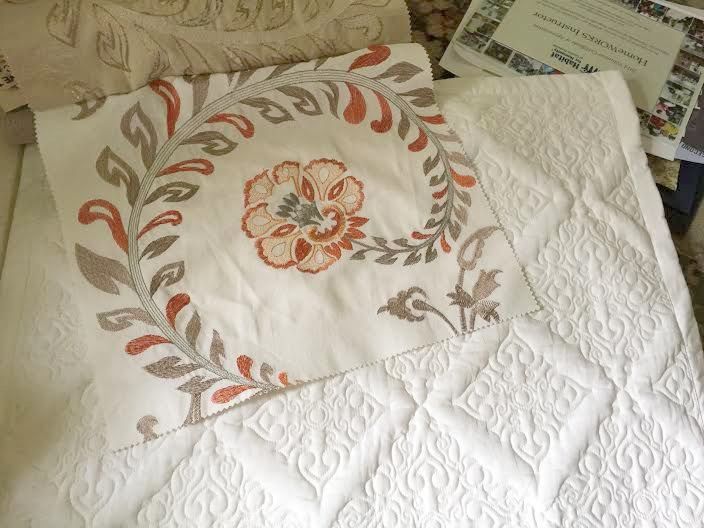 We didn't want to do a matching bedroom suite (heaven forbid!), but I did want the bed and desk to relate. So we found a bed and desk in a mid-century style with a similar wood finish.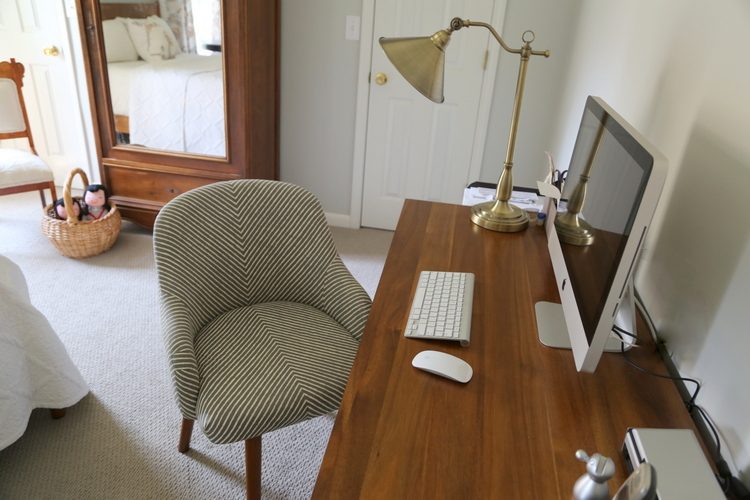 chair from West Elm, desk lamp from HomeGoods
We were able to move in the large armoire from the hallway where it only served to hold a pile of shoes and extra towels and simply overwhelmed the space. Happily, the tall family piece is perfect for between the closets – and the large mirror bounces light around the room and makes the space appear larger.
With all the medium-toned wood in the room, I thought a soft black round side table would be ideal. The beautiful sunburst from HomeGoods repeats the roundness of the side table and adds a bit of sparkle, picking up on the silvery thread in the curtains and accent pillow. When we couldn't find the right lamp we were hoping for, we ordered one in a custom color from Lamps Plus Color+Plus collection. They offer custom colors and styles of bases, as well as lampshades so that you can get the exact lamp you want!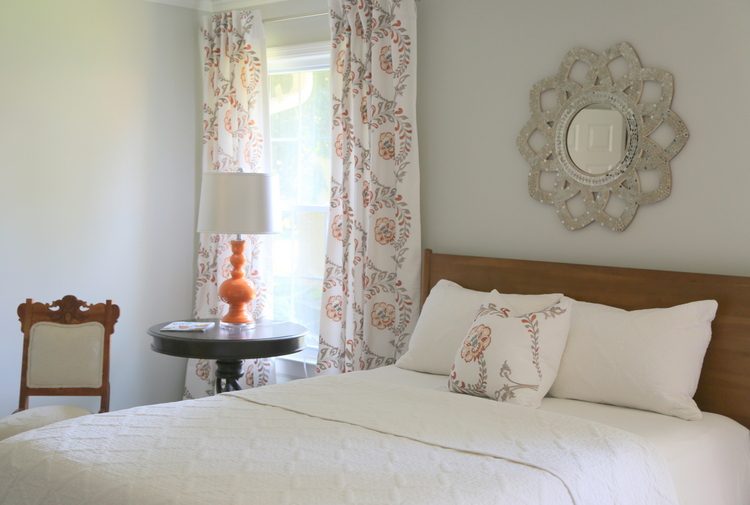 The two Eastlake chairs (more family pieces) look right at home in the room, too. We were even able to integrate a favorite piece of art created by my client's daughter by framing it unexpectedly in a slightly rustic frame.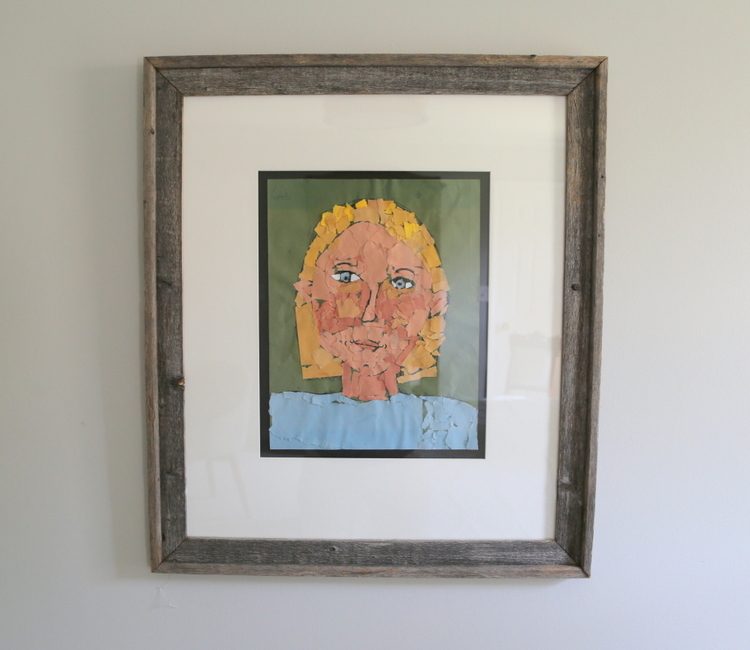 I love it when a bed sits perfectly centered between two windows, don't you? Perfectly perfect: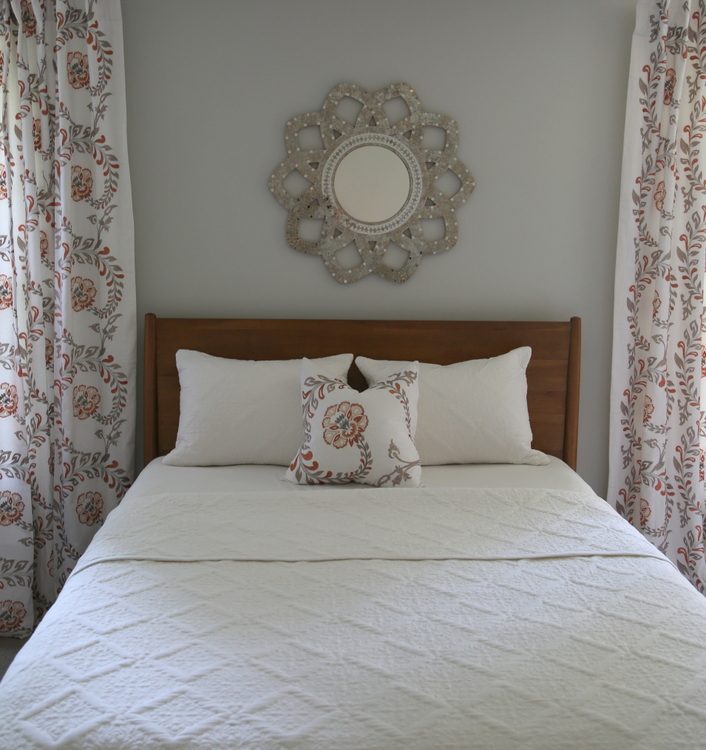 Let's take a look at a few before and afters: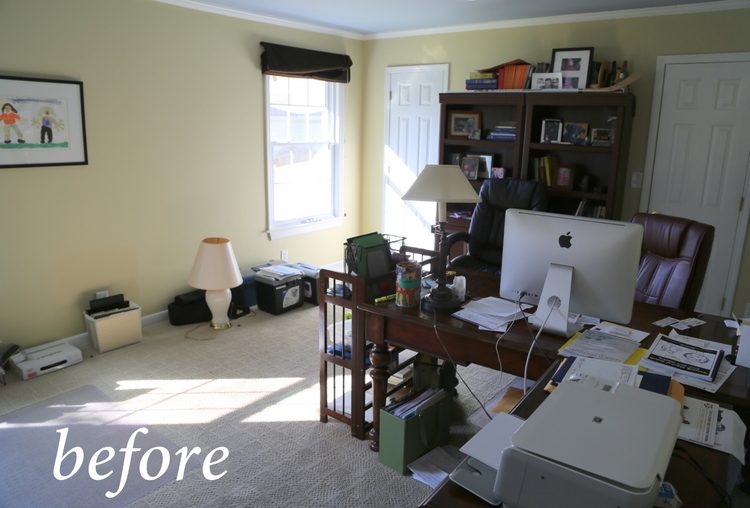 I tried to carefully balance the warm tones (the gold hardware, light fixture, the orange woodtones) with the cool tones (the light gray paint color and desk chair, the whites in the fabric and lampshade, the silver of the mirror, drapery poles, and thread in the curtains). Even her dog fits right in to the scheme!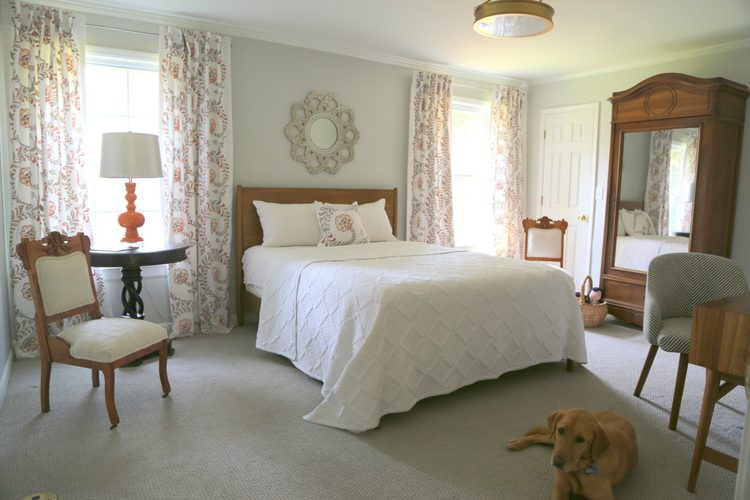 after
The formerly frustrating office: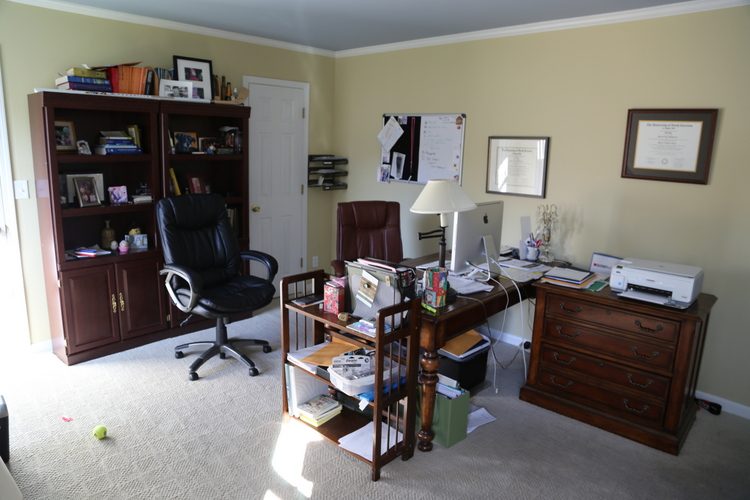 before
Is now an oasis of calm for my client to pay bills and check emails, and for pampering her out-of-town guests.  Her daughter was recently home from college, and even she wanted to sleep in the new guest room instead of in her own room!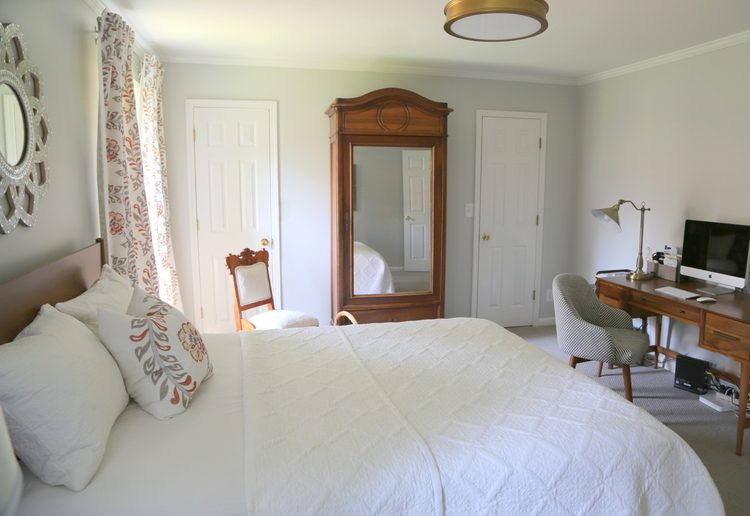 after
It's hard to believe it's the same room, right? And wait until you see her master bedroom . . .