My online home staging client, Jessica, was overwhelmed with getting her home ready to go on the market.  The dark wood paneling sucked out any light and made the space feel smaller than it was.  Her husband had resisted lightening up the house for several years, but when it came time to think about selling the house, they both knew they had to do something drastic to get top dollar so that they could build their dream home.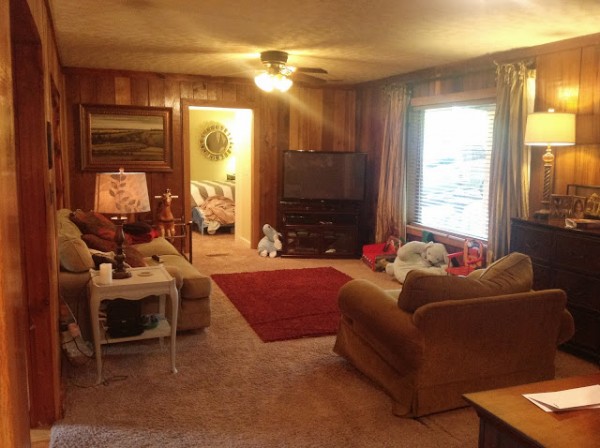 paneled living room before
Although wood paneling can be cozy, it can also be dark and dreary. And that can be a real turn-off for buyers looking for a happy space to settle in.  In this house, the wood paneling ran though the living room, entry, dining room, and kitchen.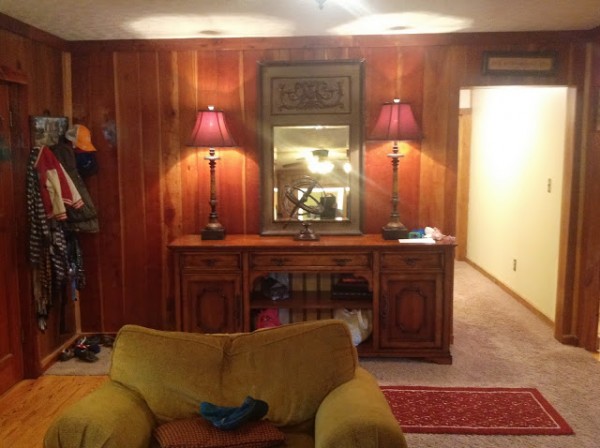 dark paneled entry before 
After an online staging and paint color consultation, I created a furniture floorplan and Inspiration Board for the living room  Jessica took it from there and got to work.  I was so happy when she sent me some "after" photographs of the house – I was BLOWN AWAY at the difference, and I feel certain you will be, too!  Are you ready for this? Here is the entry after a major paint transformation and a few minor decor changes: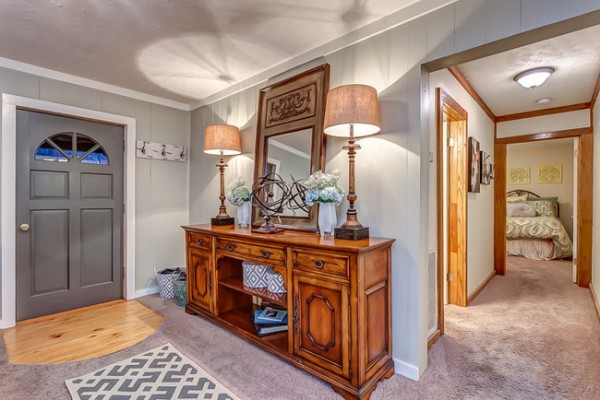 painted paneling after
Can you believe how different the entry console and the mirror above it looks?  The light backdrop of the painted paneling make the wood come to life.  And the dark gray door is a fresh contrast against the white trim and new wall color.  Let's take a look at the change in the entire living room: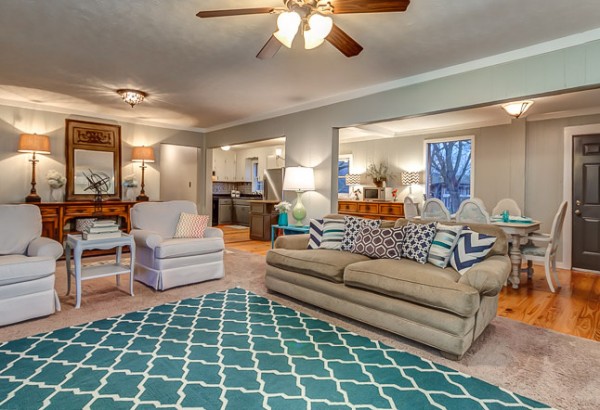 living room after
Jessica will take the new chairs, rug, lamps, and pillows with her on to her dream home when this house sells – in the meantime, she'll get to enjoy her transformed space.  You may have noticed how the living room is open to the dining room.  Here's a before of that space: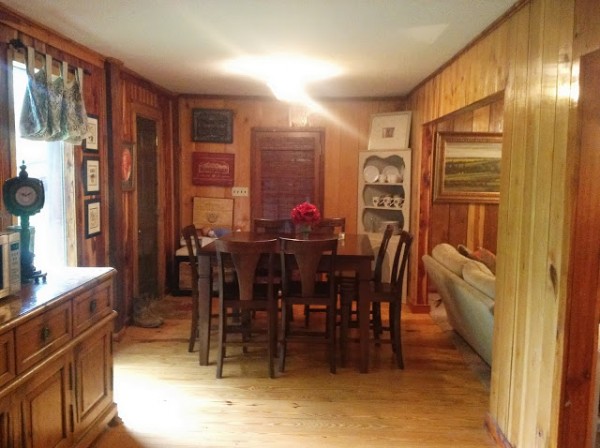 wood paneling in dining room before
New colors, a fun pair of lamps, and a darling painted vintage dining room set will help buyers envision themselves sharing family meals together in this delightful home.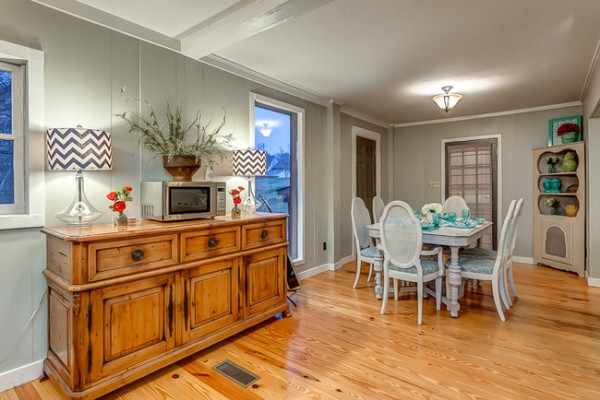 dining room after
Everything is fresher, brighter, and man, does it look BIGGER.  Wait until you check out the kitchen.  Jessica wasn't sure how to paint out this room in particular.  The bottom cabinets were already painted an almost black, but since it needed a fresh coat of paint we chose a different dark color to work with the new color palette.  Here's the before: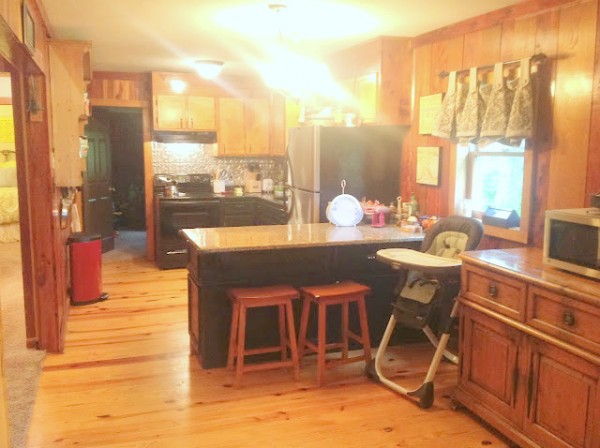 wood paneled kitchen before
I needed to choose color that worked with several fixed elements in this kitchen, including two different granite countertops and a tin backsplash.  By painting the soffit above the upper cabinets the same as the cabinets (rather than the wall), the cabinetry is visually elongated and the ceiling looks higher.  And here's how it turned out: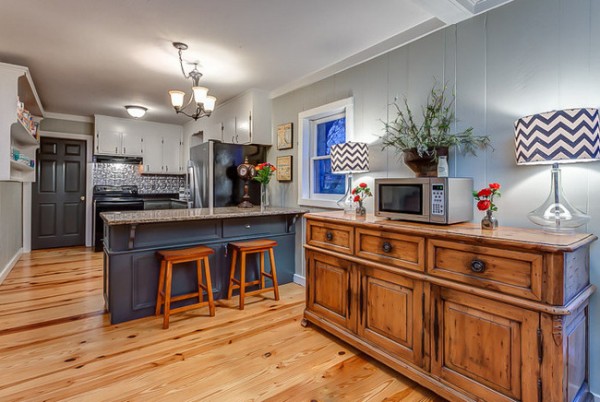 Again, notice how the wood sideboard looks transformed surrounded by these new colors. And the floor looks fabulous, too.  I feel pretty sure that some young family is going to walk into this listing and fall in love with its still-cozy charm.  Never doubt the power of just the right paint color and placement.  It can be one of the most powerful tools in staging a home to sell, as you can see!
This custom paint color palette (four colors total) is available for $75.  If you are interested, simply contact my assistant at [email protected] and she'll take care of you.
Want to know how to choose the BEST neutrals, colors, and color combinations? Wish there was a no-fail system that creates cohesive and beautiful color schemes for any home with any finishes?
Now there is! I've been doing this for years, and now I'll teach you how (including all the specific colors in BOTH Benjamin Moore and Sherwin-Williams paints). You can find out more 

HERE

.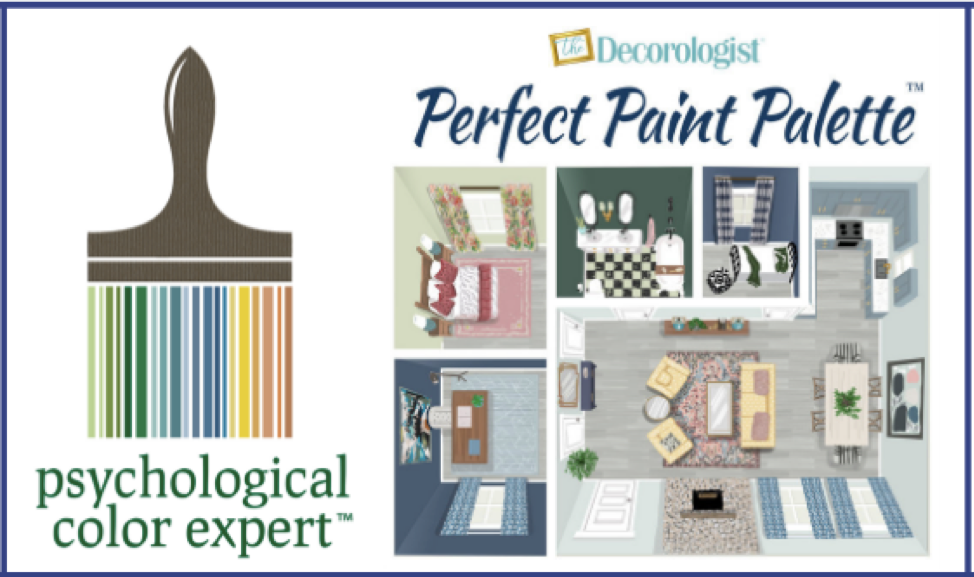 Share this Post