My article on 2014 Paint Color Trends just hit the newsstand in Everyday Home magazine, woohoo! When the editor asked me to write the article back in the fall, I decided to share not only my predictions, but also those of some other color experts whose work I admire.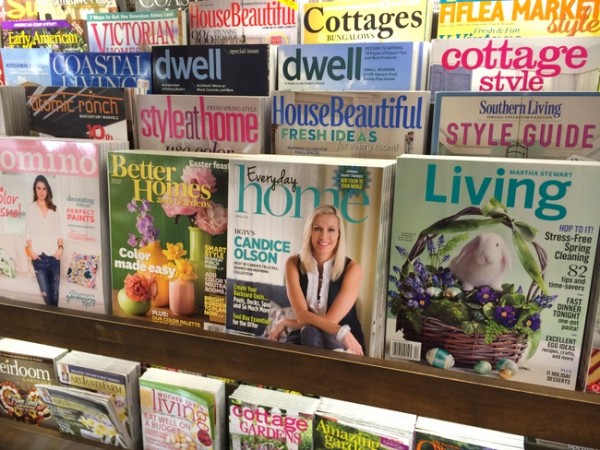 While a couple of those experts made the editorial cut in the magazine, I wanted to share with my blog readers the insight they had to offer!  My daughter snapped this photo of me in Barnes & Noble: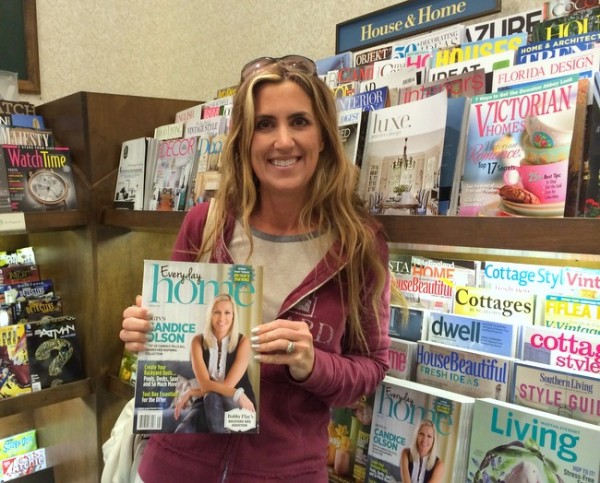 hanging out with Candice Olson at Barnes & Noble bookstore
I hope you will pick up a copy so you can read the entire article, but today I'll give you excerpts of it, plus the information from my interviews with color experts that didn't make the editorial cut.  And I'll tell you how you can get your FREE copy of the magazine at the end of this post.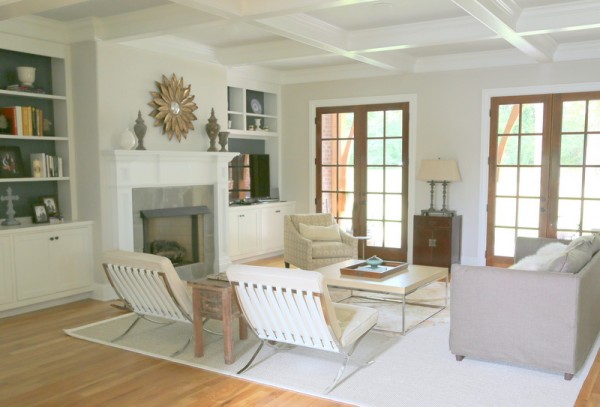 Sherwin-Williams Agreeable Gray SW7029,  Benjamin Moore Knoxville Gray HC-160,  Kristie Barnett, The Decorologist
It's easy to look back at certain decades and identify the trending paint colors of that time period, right? If your walls are currently taupe, pinky-beige, or gold, you probably painted last in the late 1990s or early 2000s.  Most of us just can't repaint every two or three years, so we need to choose colors that will seem fresh and appealing for 7-10 years.  As a Residential Color Consultant, my goal is to help my clients choose what is on-trend (7-10 year lifespan) vs. trendy (2-3 year lifespan). Trendy is fine in a children's room or even a guest room or powder room, but not in the main living space where your family spends much of their time.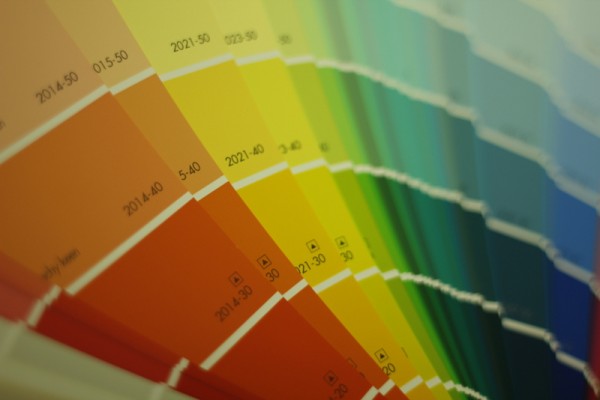 The Decorologist
2014 paint color trends reflect slight shifts rather than seismic changes. What you'll notice is a move away from neutrals and a move towards more real color and interesting color combinations within and across color families. West coast Color Expert, Kelly Berg, says, "Grays have been so popular for about five years now. I don't think they are going anywhere quite yet, and we'll probably continue to see them as a main "neutral" in many homes. However, I think we may start to see more buttery yellows sneaking in, as a break-away to a color that many people simply find too gloomy. I like to think that these yellows will stream in like the sun after a long, cold storm. Not that I dislike grays – I just think it's time to find a little more balance and optimism."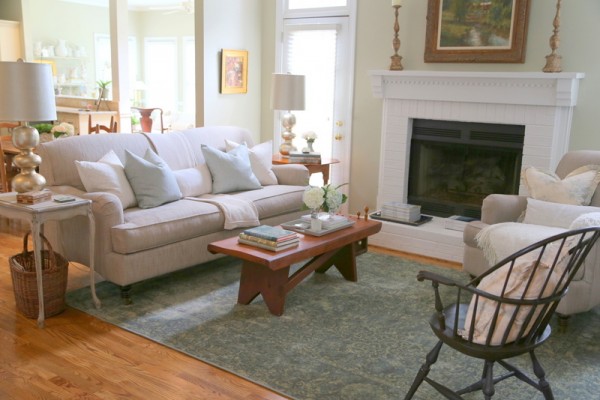 gray-green by Kristie Barnett, The Decorologist, Melanie G Photography

As I have seen in my own paint color consultant business over the last two years, people are craving a bit more from their neutrals.  They don't want the wall paint in their open-concept, vaulted-ceiling homes to "scream" a given color – but they want more color than many so-called neutrals give them. That's where super-neutrals come in.  Super-neutrals are colors that act as a neutral, even if they read more of a color than traditional neutrals.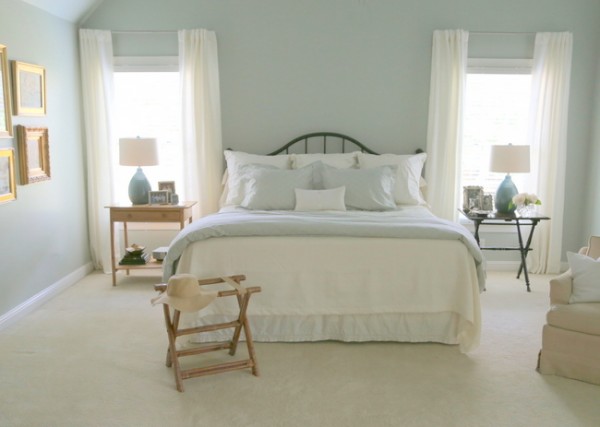 gray-blue by Kristie Barnett, The Decorologist, Melanie G Photography 
In 2014, the trending super-neutrals have green, yellow, blue, or purple undertones.  Gray-blues with a few drops of green are more complex and immensely liveable – much more so than the one-note powder blues of former decades.  Gray-greens are more current than yesteryear's browner greens, and are a great backdrop for darker greens and all shades of blue in a space.  These grayed-down hues can be paired with pops of color across the spectrum.  Barely-purple grays like Sherwin-Williams Destiny SW6274 pair beautifully with light and dark blues, even turquoise.  
Even though gray remains the neutral of the decade, indications are that people want to surround themselves with more hopeful and uplifting colors. Benjamin Moore announced in the fall what they consider the "new" neutral palette which marks a shift to pastels. Benjamin Moore's Creative Director, Ellen O'Neill, states "We've begun to see a shift away from gray to tints of blues, greens, lavenders, and pinks. . . shifts to pastels without looking too 'candy' or 'Easter egg'."  With a bit of gray, chalky pastels are more liveable than you might think.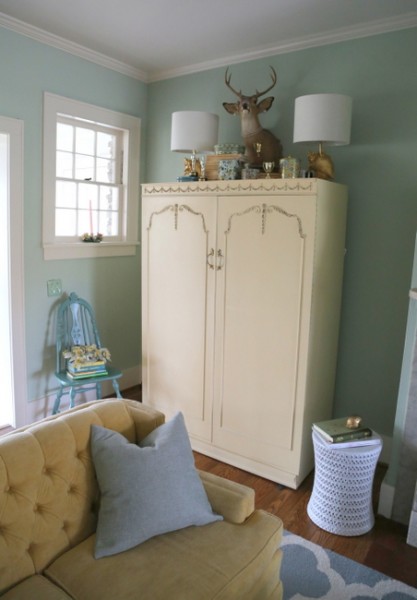 Benjamin Moore Prescott Green HC-140 by Kristie Barnett, The Decorologist 
Lavenders are on-trend choices for bedrooms and family rooms, and are gaining popularity in more public spaces, like living and dining rooms.  Lavenders on the both the red side and the blue side look soothing and modern when used with light to medium blues.  Abby Manchesky of Abby M Interiors says "Shades of plum, lilac and burgundy have made a huge appearance for 2014.  They are both rich and fresh – a winning combination.  I see them coming alive not only in paint and fabrics, but also in rugs."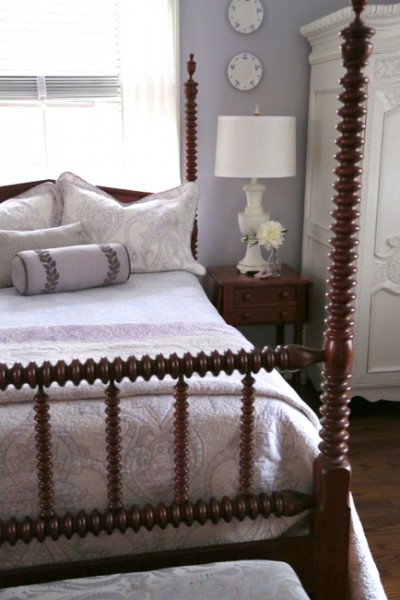 Benjamin Moore Violet Mist 1437 by Kristie Barnett, The Decorologist 
There is also indication that even more saturated, pumped-up pastels are emerging as the brave new trend in 2014.  These colors harken back to the hues popular in 1950's Palm Springs and Dorothy Draper's interiors.   These colors are happy and hopeful, and also pair well with the trending jewel tones we are seeing.  Kelly Berg says, "I think, in general, we'll be seeing more saturated hues as well as deeper hues. Some of my clients have recently been asking me "Can we go brighter? Can we go darker?" It's been catching me off guard, but I'm thrilled! After the past few years of playing it safe, there seems to be a movement towards bigger color. Color that really says something."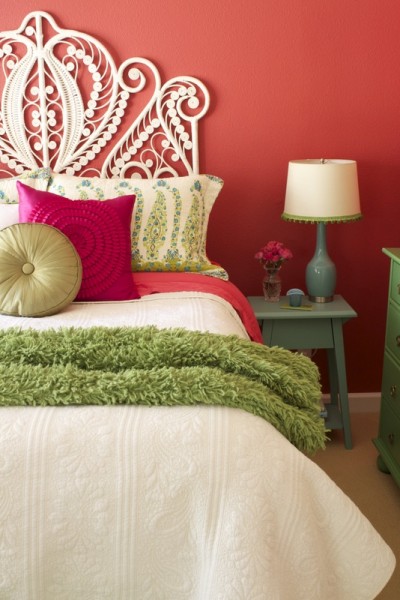 Benjamin Moore CSP-1190 by Kelly Berg of Story and Space 
Speaking of jewel tones: sapphire, amethyst, and emerald are huge for 2014.   Emerald is one of my current favorites, as shown in Kelly Berg's home office: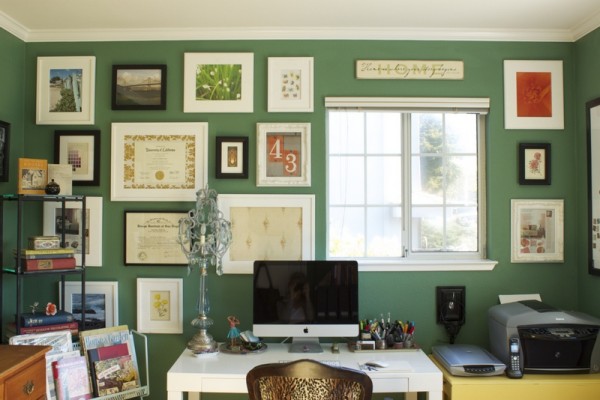 Pratt & Lambert New Glarus by Kelly Berg of Story and Space
When I asked HGTV's David Bromstad, original Design Star and star of Color Splash, about his take on the continuing popularity of blues, he noted that there hasn't been a slowdown of soft blues since the 1990s, and the color has become a classic in his book. "Blue is a gender-neutral color that relates to both men and women.  And it can go from soothing to sexy in two shakes of a lamb's bum," he quipped.  And yes, that's a direct quote.
In my own color design work, I'm seeing navy as an alternative to black and charcoal gray. Dark blues can be great options for upholstery color, and are more lively than the typical go-to neutrals.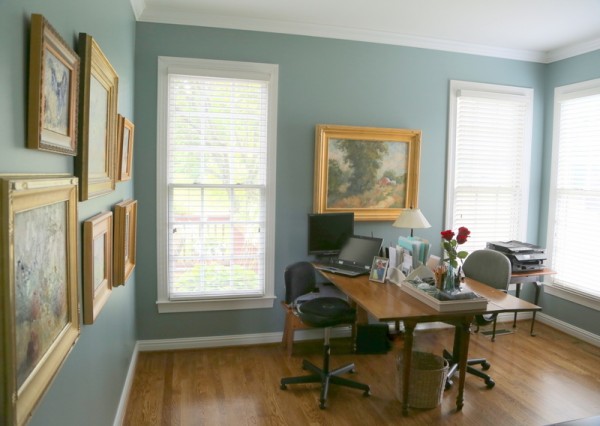 Benjamin Moore Atmospheric AF-500 by Kristie Barnett, The Decorologist
Trending accent colors that pair with neutrals or super-neutrals include bright yellows, oranges, and pinks. Adding pops of these colors makes a room painted in gray come alive.  Farrow and Ball recently introduced Yellowcake, a classic bright yellow named to reflect the revival of the "homemade" and a color similar to one popularly used in 1960s kitchens.  Bromstad asserts, "Don't count out the fabulous acid green, either.  People love it in small doses and I'm seeing it everywhere.  And it looks amazing with metallic gold."
One of the most important trends in 2014 is actually in paint color placement.  Real colors (rather than white) painted on the ceilings or in the backs of bookcases have replaced the over-done "accent wall." Contrasting colors above and below the chair rail in dining rooms are replaced with trim color extending to the entire area below the chair rail.  Both kitchen and bathroom cabinetry painted out in colors that range from black to jewel tones (sapphire, emerald, teals) to grayed heather blues and tempered greens are replacing wood and even faux-painted glazing as the latest in on-trend looks. Bolder homeowners may even choose bright colors for the interiors of their cabinets or vivid countertops rather than the been-there-done-that neutrals.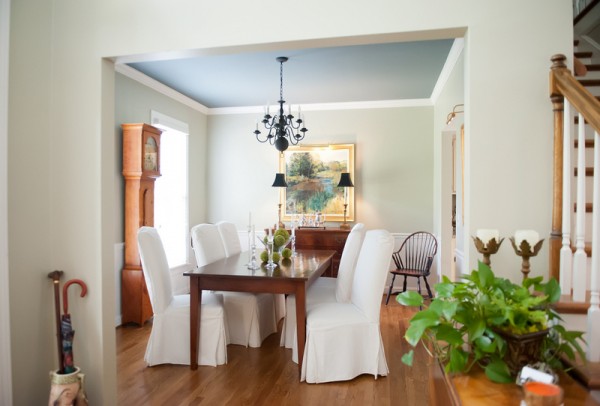 Kristie Barnett, The Decorologist, Melanie G Photography
Trim painted out colors other than white is also trending.  Green on the trim and ceiling takes on a completely different look than the same color on the walls.  Painting out walls, bookcases, and trim all the same color is gaining popularity – but in different finishes/sheens. This is a great look for dens and libraries.  Eggshell on walls and high gloss on cabinets and trim make the color appear slightly different on the different surfaces, rather than simply blending into each other – which is what it would look like if it were all painted out in the same finish.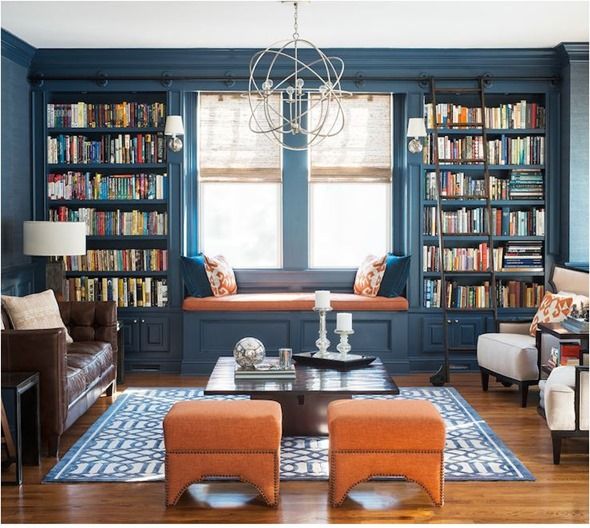 David Bromstad says that wallpaper is becoming the hot, new accent wall.  New technology means that more intricate designs are possible and that wallpaper and murals are now removeable and moveable, which dispels the phobia that has haunted anyone who has attempted to remove decades-old wallpaper.  Bromstad's own artwork is now available through muralsyourway.com as moveable wall murals in any size.
Heidi Nyline of Warline Painting Ltd. says, "When painting cabinets dark we are moving towards more charcoals, blacks and grays and away from chocolate browns. The challenge with browns is that it looks like you tried to make it look like wood with paint. There is just not getting around that so most often its better to to not even try."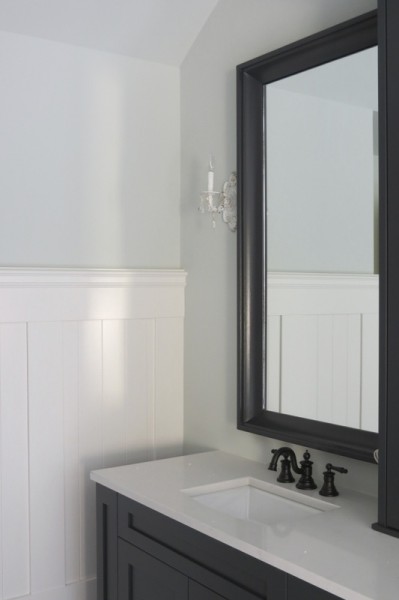 Benjamin Moore Black Jack 2133-20, Gray Owl OC-52 by Warline Painting, Ltd.
Gold and silver are both trending metallics in 2014, especially when mixed. Both look beautiful against the backdrop of cooler neutrals.  Mercury glass and polished nickel looks more on-trend than brushed nickel or chrome.  Rich, brassy golds look amazing with the trending cooler color palettes and are completely pushing out oil-rubbed bronze as the finish of choice for fashion-forward homeowners. There are great metallic spray paints on the market in big-box stores that can transform any dated metallic to one of these on-trend finishes.  Just be sure to use a metal primer first to insure the paint adheres well.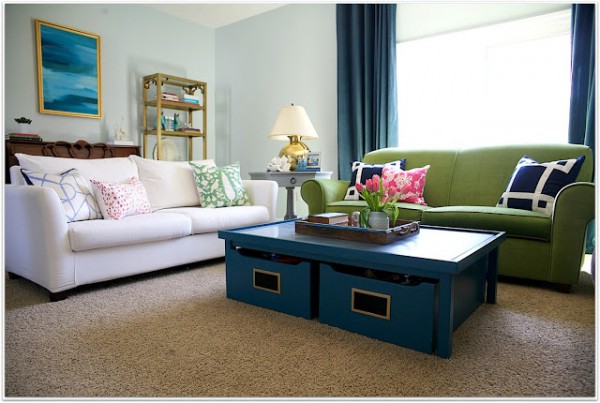 Walls are Salt Glaze by Martha Stewart.  Coffee table is custom mix of Benjamin Moore Calypso Blue and Bermuda Turquoise by Abby Manchesky of Abby M Interiors 
And don't forget – paint isn't just for the walls and trim.  Painted furniture continues to be the rage and can add a bit of interest amid a sea of brown wood furnishings.  I always advise my clients to choose a color a bit darker than they think they should when painting furniture or accessories like picture frames and bookends.  It always reads a shade lighter once it goes on.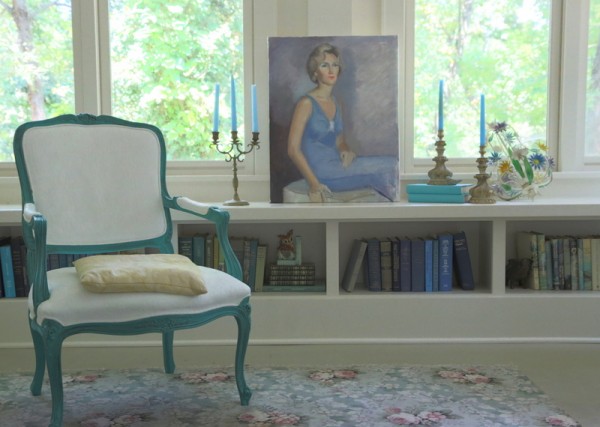 Chair in ASCP Florence, by Kristie Barnett, The Decorologist
Interior color trends for 2014 really hinge on one main idea – casting off fear of color and the embracing new versions of old colors.  That may mean adding in more chalky pastels and whites, punching things up with more vivid jewel tones, using navy rather than black, mixing in gold with your existing metals, or reconsidering your color placement in each room.  Just make sure to always test your color the right way:  paint two good coats of your color choice on a repositionable Small Wall paint sample board and move it to different places in your room at different times of day, so that you know you are making the right choice for your existing finishes (flooring, trim, countertops).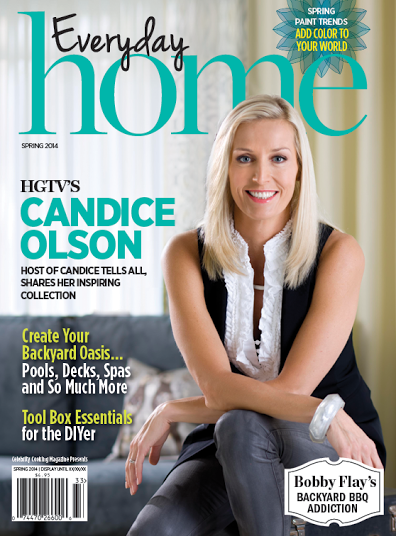 cover girl Candice Olson on Everyday Home
I am giving away several copies of Everyday Home this week.  If you'd like me to send you one so you can get the rest of the scoop on my 2014 Paint Color Trends, just leave a comment and share this post on social media or "pin" one of the photos on Pinterest!