I was invited to join some of the biggest bloggers from the South to tour and photograph HGTV's latest Smart Home 2014 located right here in Nashville.  The "Smart" in Smart Home refers to all the latest in high-tech innovations giving the homeowner better control over energy use, security, interior climate, and lighting, but I found so many "smart" design ideas there, as well!  Here's the top 7 smart design ideas that I wanted to share with you today: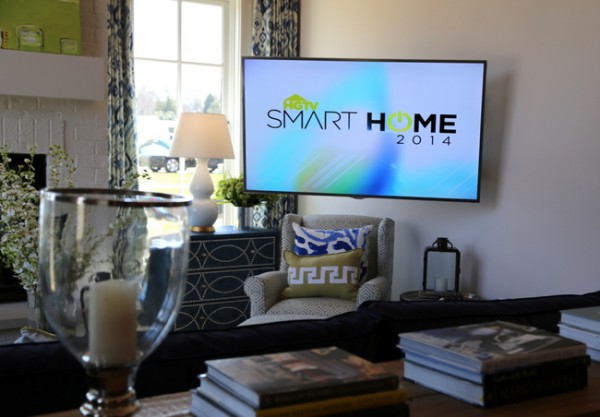 Duncanwood Reserve, Nashville
1. Installing sconces is a great way to shed light and get a custom look in your home.  They warm things up and provides character that plug-in lamps can't.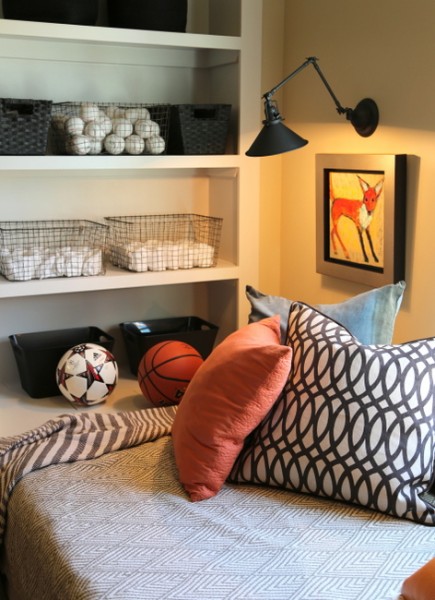 HGTV Smart Home, Nashville – boy's room
The HGTV Smart Home had sconces everywhere – hallways, stairwell, reading nooks, bathrooms, bedsides, etc.  Sconces are the only light sources that give you light at eye level – ceiling lights are well above and table lamps are below eye level much of the time you are in a space.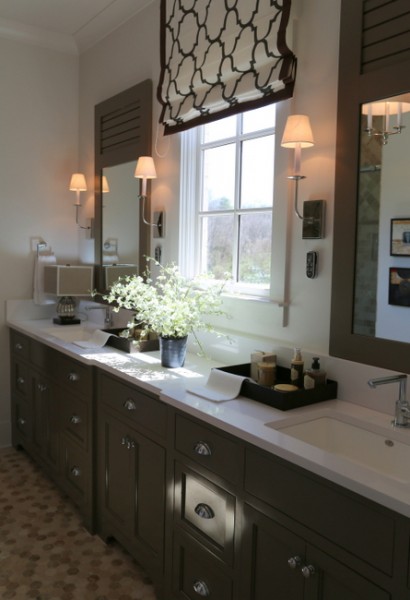 HGTV Smart Home master bathroom
2. Nailhead trim is a great way to add a bit of bling to your furniture, especially if it forms an interesting pattern like on this fabulous bureau.  Designers Linda Woodrum and Kelly Grokulsky chose all the furnishings – yes, I said ALL – in one long, marathon day from Bassett Furniture.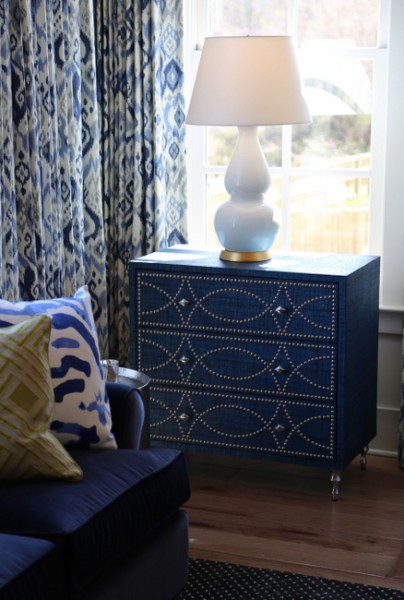 HGTV Smart Home living room
3. You've probably seen pairs of cube tables and ottomans used in place of the typical coffee table, right? Sometimes three is even better than two – take a look at these great wood cube tables in the home's rec room.  They can be pushed together like a rectangular coffee table, or pulled apart to meet the need of whomever is sitting nearest.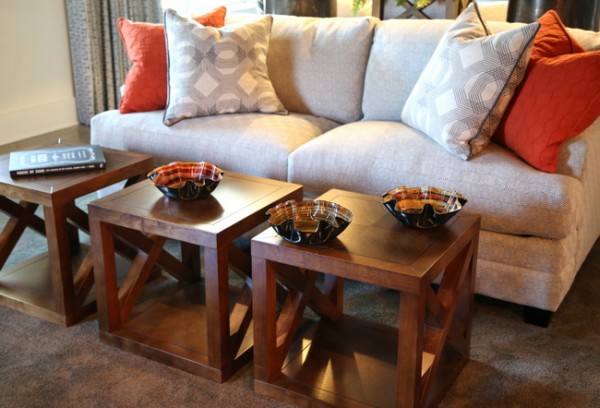 Wood cube tables from Bassett
4. Subway tile is still awesome, but it doesn't always have to be white to be a classic.  One of the bathrooms in the HGTV Smart Home was tiled in a gorgeous navy blue subway tile: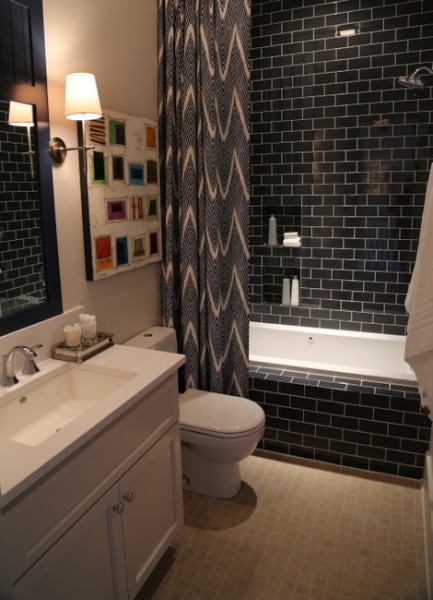 dark blue subway tile
And another featured a soft black subway tile as the bathtub and shower surround.  It was surprisingly sophisticated: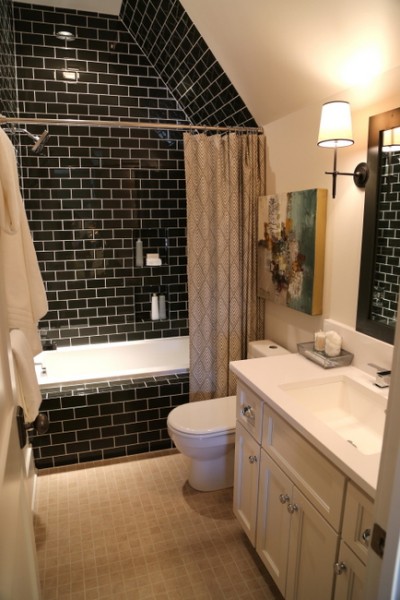 black subway tile
5. Creative wood moldings add texture and architectural gravitas to any space.  This compact upstairs children's den is just big enough for watching movies, playing video games, and reading books, but look at the punch the paneled walls and planked ceilings give it!  I really think this was my FAVORITE room in the house.  You'll notice it's all painted out – not exposed wood.  Painting it doesn't make it any less "wood," y'all.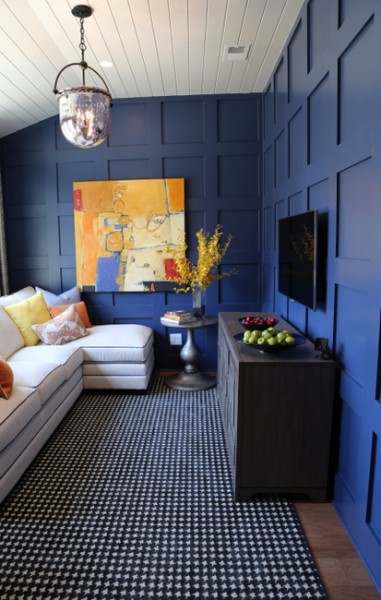 painted paneling and planked ceiling
Here's another example of a wall treatment that includes applied wood.  This is Jack Thomasson, HGTV house planner, with me in front of a fabulous accent wall that combines wood and painted stripes to make a statement in a boy's room.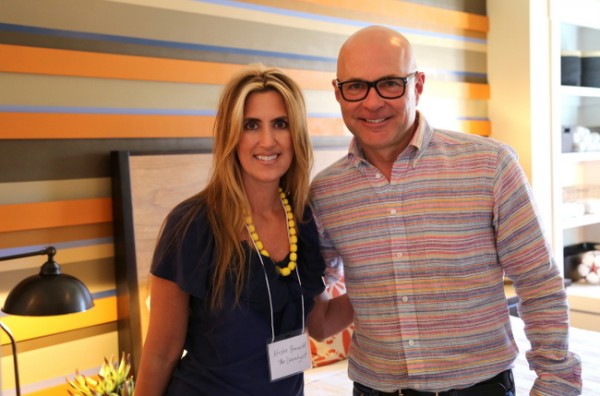 Kristie Barnett and Jack Thomasson
Here, we'll move out the way so you can see what this wall really looks like.  It really has great texture and dimension.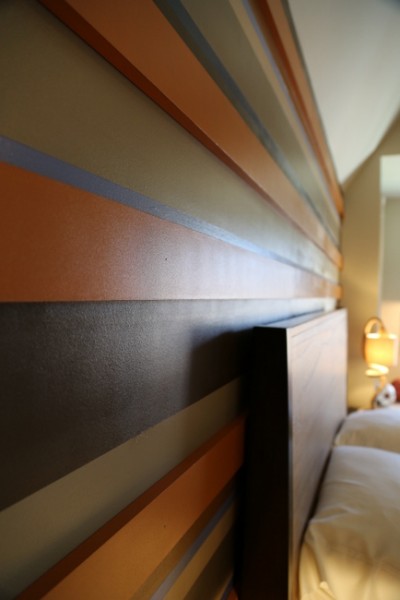 planked wall in HGTV Smart Home
6. Ever thought of installing a backsplash in the kitchen that might be found on a bathroom floor? Maybe you haven't, but I think you'll have to admit that this kitchen design proves that it can be absolutely stunning.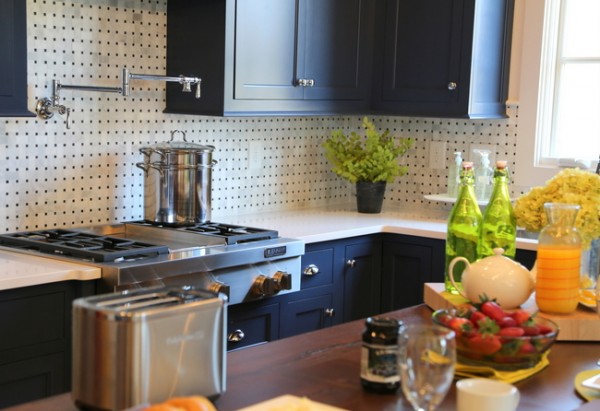 HGTV Smart Home kitchen 
7.  Bound and serged wall-to-wall carpeting can be an cost-friendly alternative to area rugs, and you can have them made whatever size best fits your room.  Designer Kelly Grokulsky told me that she and Linda Woodrum chose all the flooring for the home in one day from Shaw Floors.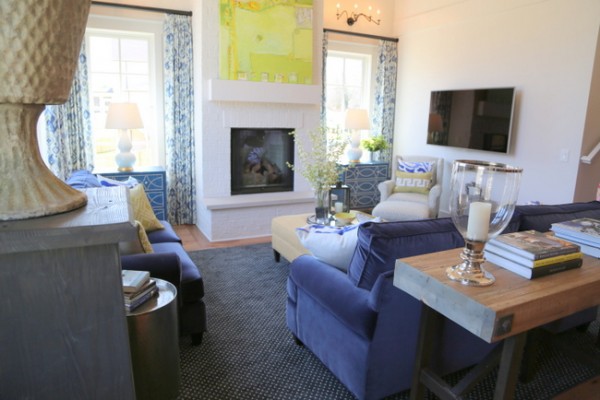 bound rug from Shaw Floors
I have lots more photos and information to share about this house, but there's only so much I can squeeze into one post!  It's NOT going to open to the public, so stay tuned for upcoming posts featuring this beautiful home.  I want to thank Forest Home Media for inviting this band of bloggers for such a special tour of the home.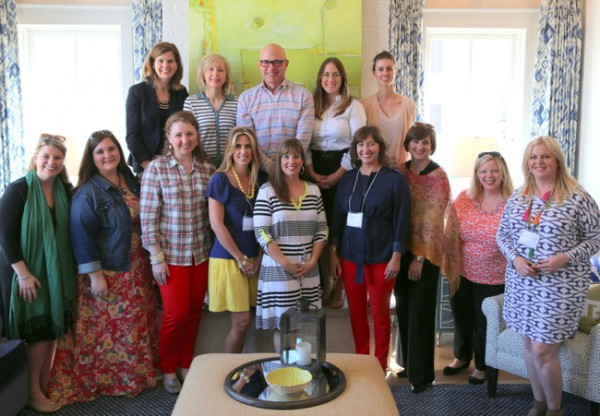 HGTV Smart Home 2014 Exclusive Blogger Tour
Forest Home Media represents Carbine & Associates, the Nashville-based builders of the HGTV Smart Home 2014.  They also provided us with swag bags of goodies from HGTV: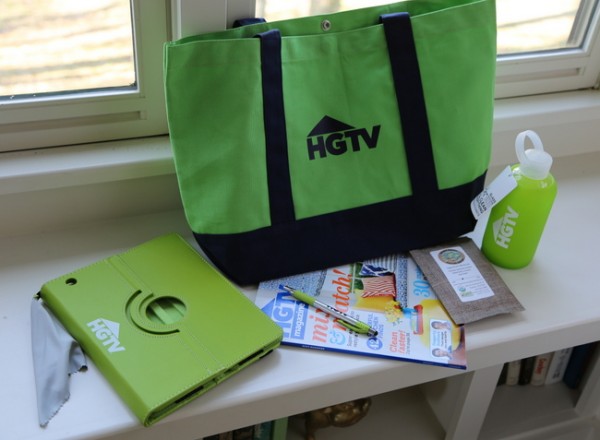 Did you know that you could actually WIN this home?  The HGTV Smart Home 2014 Giveway opens for entries April 15 and runs through June 9.  Visit HGTV.com/smart to learn more about this home and the various prizes you can enter to win, including decor items from inside the home.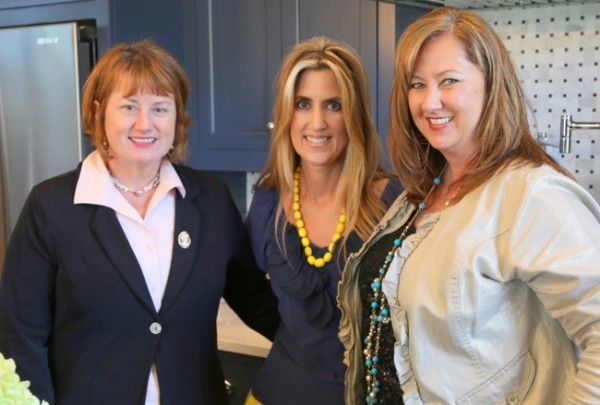 Nancy McNulty and Dana Tucker  of Forest Home Media
What is your favorite smart design idea from the HGTV Smart Home?
Share this Post