If you follow me on Facebook or Instagram, you may know that I recently returned from a trip of a lifetime with my family to the UK. I took a million (ok, actually only 2000) photos while we were there so that I could remember all the amazing things I saw. Because there are so many row houses in London, many like to make a statement with their front door paint colors. There were so many that made me smile, I decided to match them to Sherwin-Williams colors in case you wanted to try one of these gorgeous colors on your own home!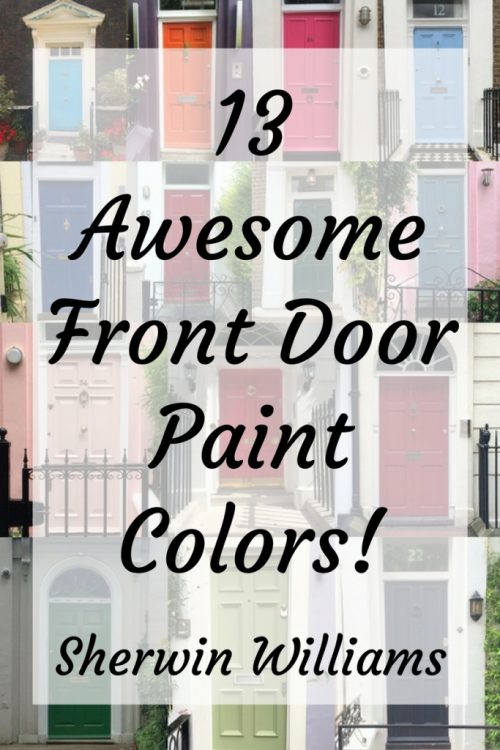 Peruse these lovely front doors and make sure to pay close attention to my VERY IMPORTANT SECRET for choosing front door paint colors at the end of this post!
Most of us would not be brave enough to paint a front door pink – let alone our entire house – but this is the sweetest shade of bubblegum I've ever seen on an exterior: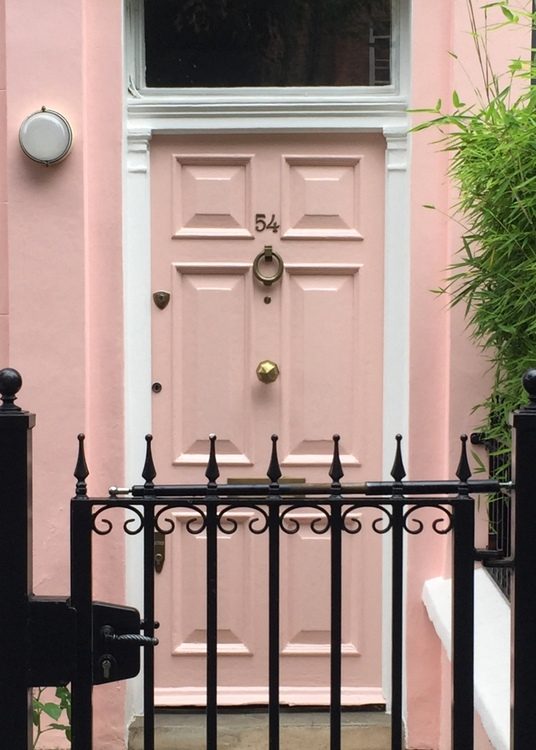 try Sherwin-Williams Pink Shadow SW0070
It seems to me that cornflower blue is very English. It's the blue found in popular British designer Cath Kidson and Laura Ashley fabrics.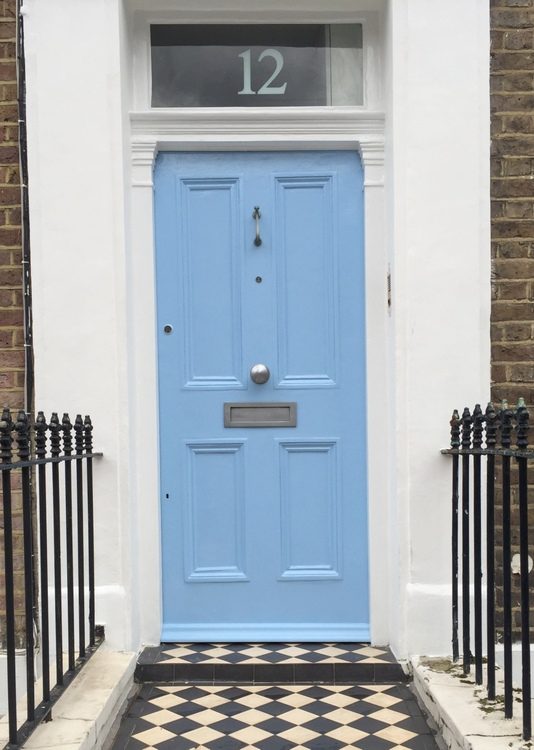 try Sherwin-Williams Porch Ceiling SW9063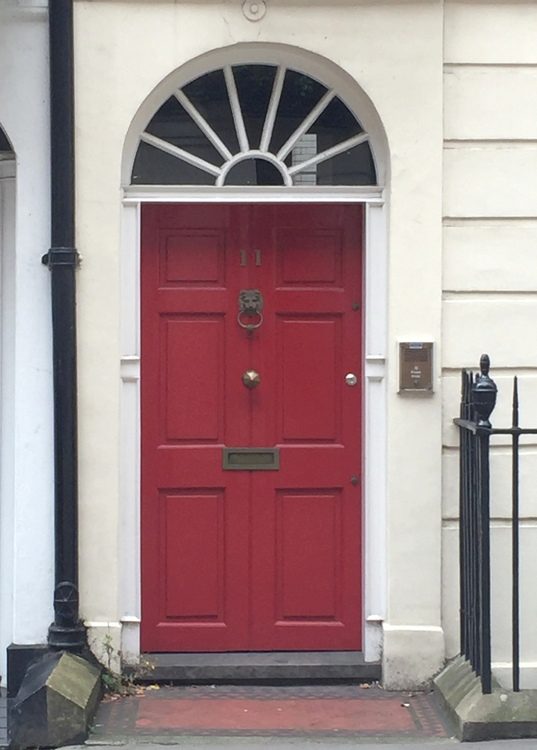 try Sherwin-Williams Heartthrob SW6866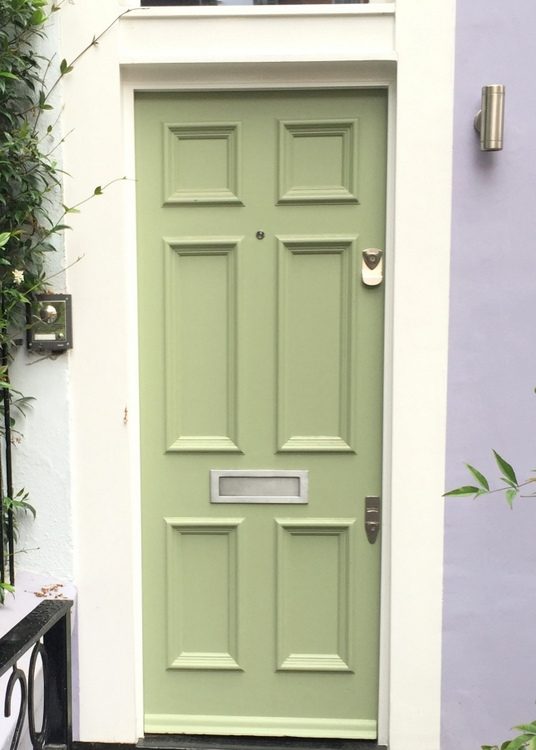 try Sherwin-Williams Parakeet SW6711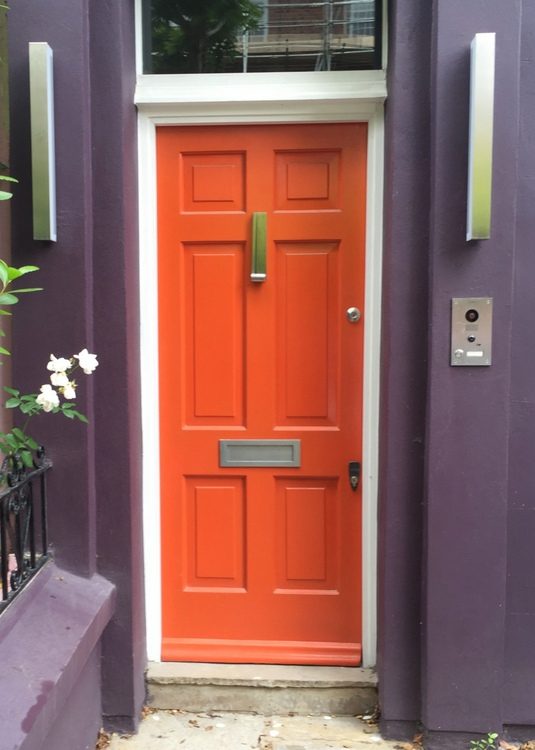 try Sherwin-Williams Obstinate Orange SW 6884
In the ritziest sections of London, the most common door color is a glossy black. Somewhere between a naval and a royal blue, this next door color in one of the most commonly seen alternative to that popular black: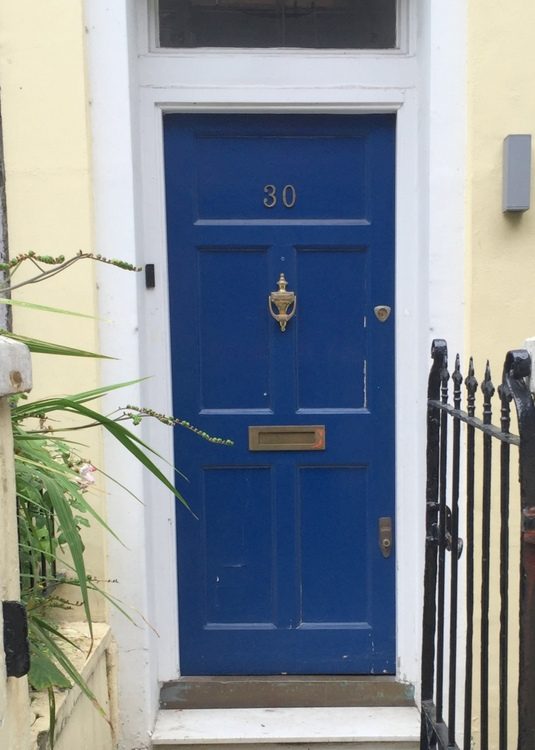 try Sherwin-Williams Hyper Blue SW6965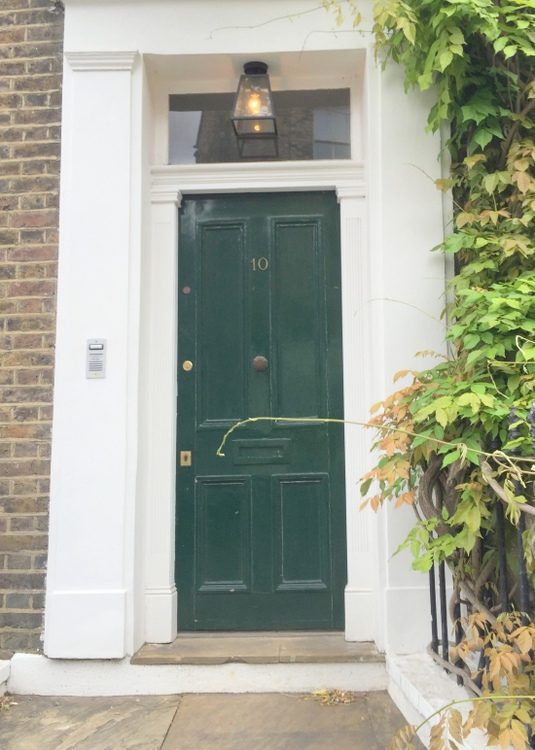 try Sherwin-Williams Billiard Green SW0016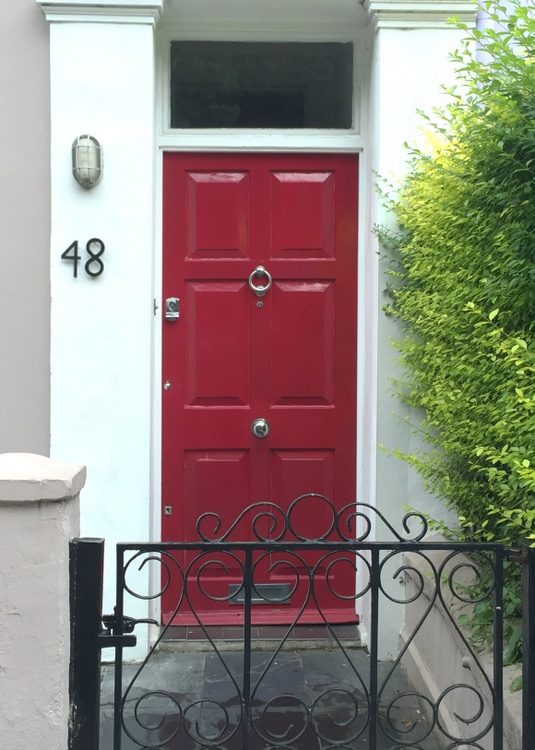 try Sherwin-Williams Positive Red 6871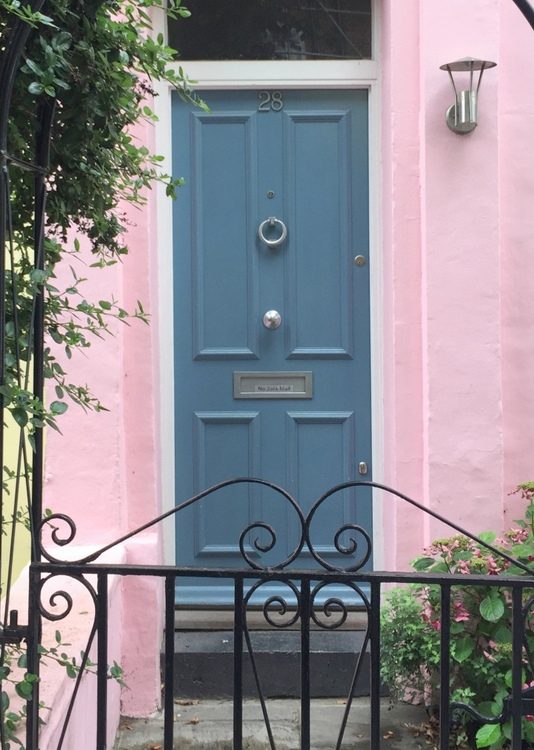 try Sherwin-Williams Turkish Tile SW7610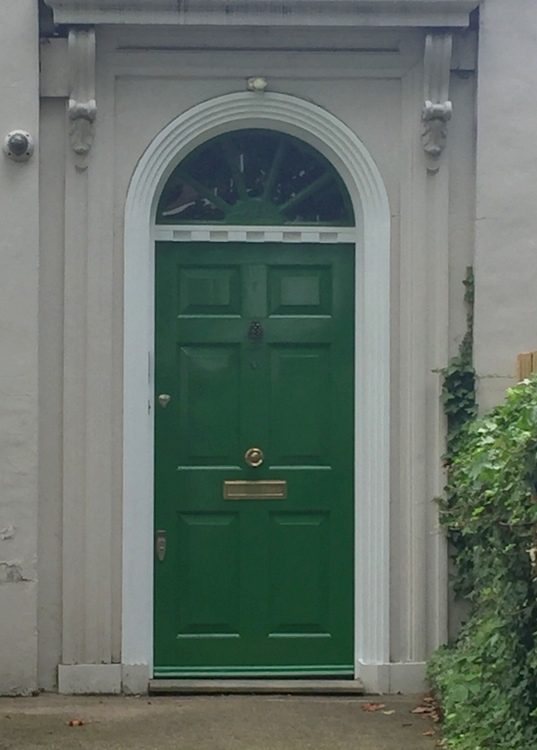 try Sherwin-Williams Alexandrite SW0060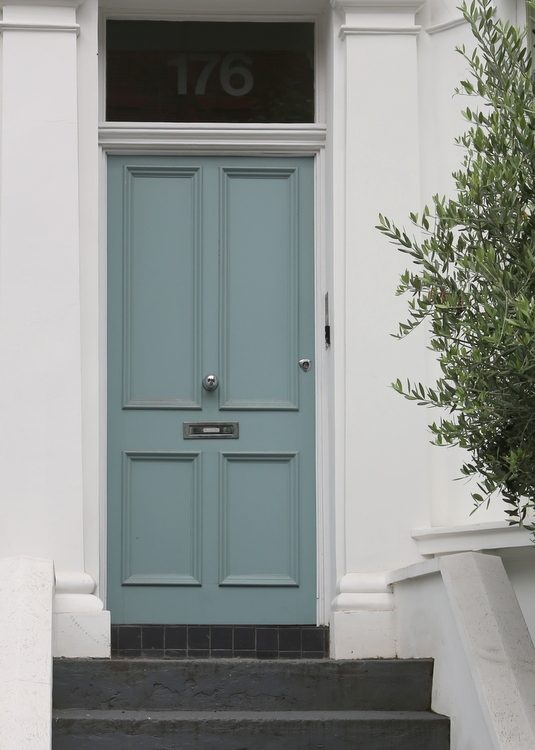 try Sherwin-Williams Dutch Tile Blue SW0031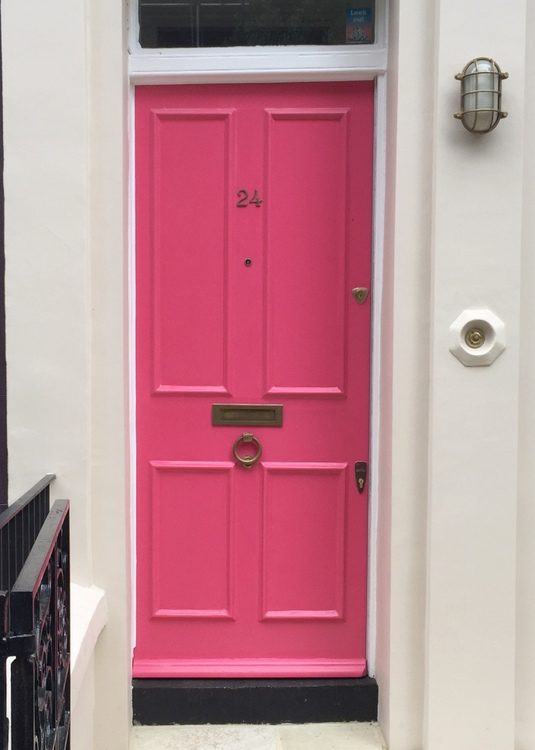 try Sherwin-Williams Exuberant Pink SW6840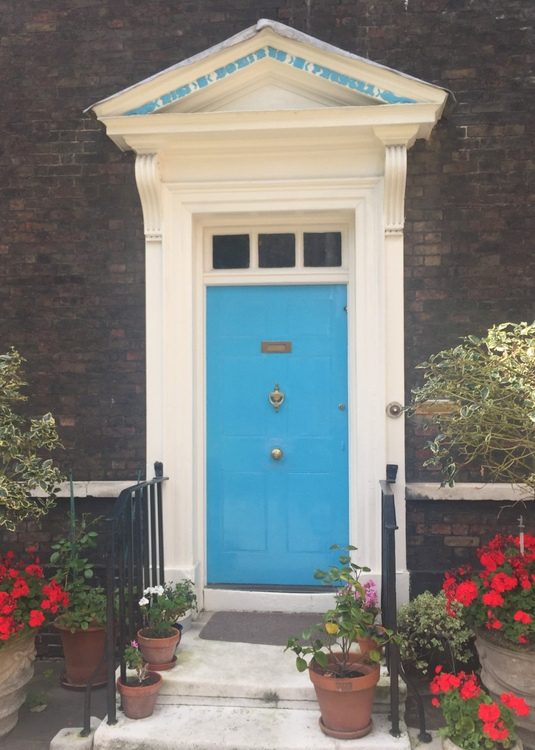 try Sherwin-Williams Dynamic Blue SW6958
It was a little tricky for me to get all these photos. This time of year is peak season for tourists in London, so every time I stopped to take these photos I hindered the progress of the VERY FAST WALKERS all around me! As I was snapping one of them, I noticed a man and his son stopping to stand behind me. As I finished shooting and stepped away, I realized they lived in the house I was taking photos of and were waiting for me to get off their entry stoop! Yes, I'm THAT lady . . .
Anywho, now it's time to share my very important tip for choosing front door paint colors to avoid the mistake of trying to "match" a photo of one you want: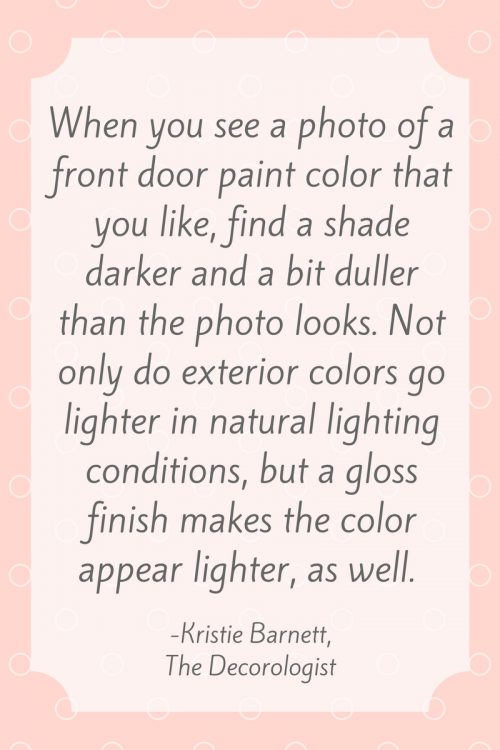 Plus, over time the color fades from the exposure to natural elements.
If you simply "match" the color in the photo to a fandeck, your result will be a noticeably lighter and brighter door color. The glossier you decide to paint your front door, the darker the color you should choose. I hope that helps! If you want to learn more about picking paint colors for your interior, check out my Just the Right Paint Color instructional video.